Toxic Coal Ash Pollution and Do Nothing Governments Prompt Citizen Action
Jun. 19, 2013 04:07PM EST
Health + Wellness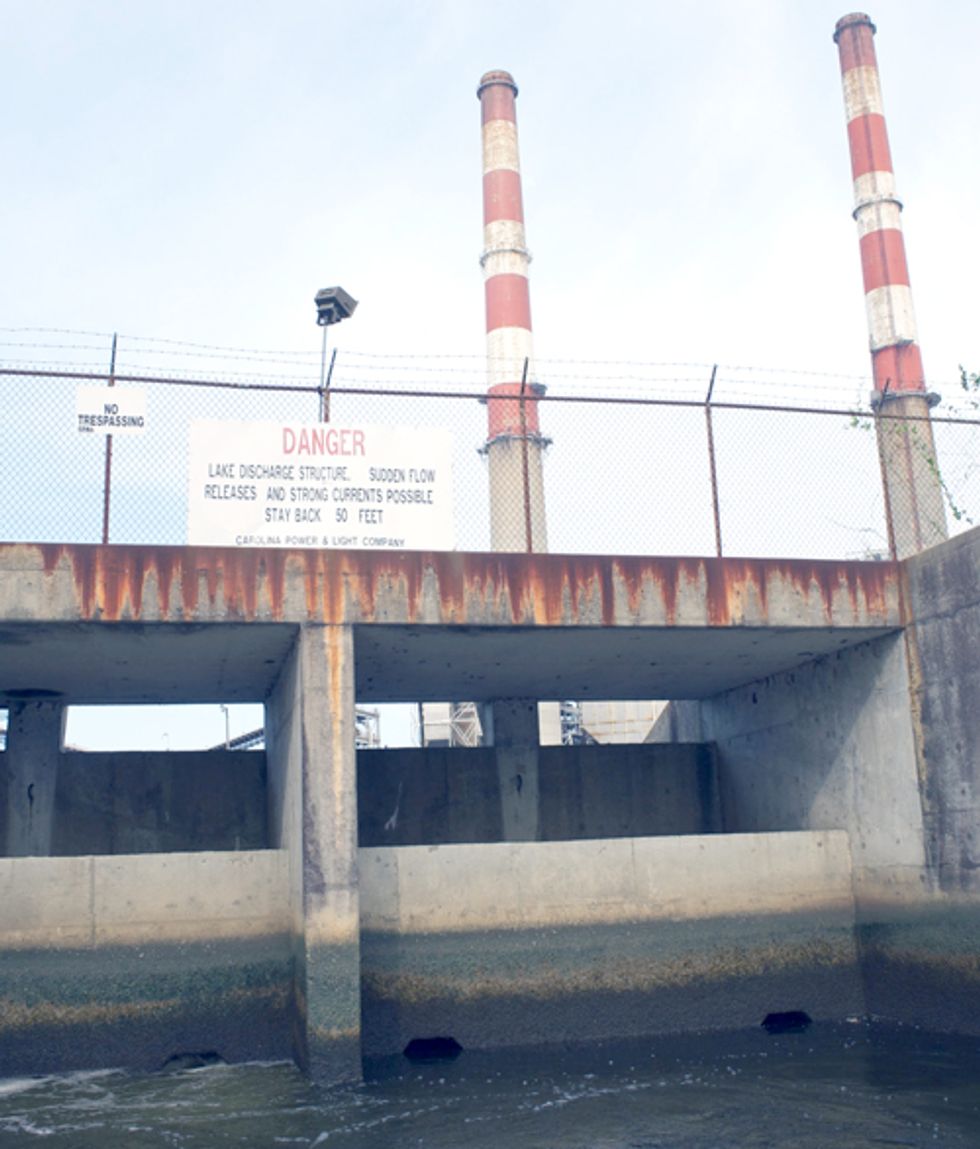 For decades all across America, coal-fired power plants have dumped tons of toxic pollutants into public rivers, lakes, streams and coastal waters. On a toxicity-weighted scale, discharges from coal-fired power plants account for over one half of all toxic water pollution in the U.S. The pollutants dumped by coal-fired power plants are among the most toxic heavy metals listed by the U.S. Department of Health's Agency for Toxic Substances and Disease Registry, including arsenic, cadmium, chromium, lead, mercury and selenium.
The Sutton coal-fired power plant in Wilmington, NC, is a prime example of a coal-fired power plant with a long history of groundwater pollution, surface water contamination and government failure to prevent harm to public waterways.
Underneath the sand and pine trees that surround Sutton, an unseen plume of toxic heavy metals has migrated out of the unlined ash ponds into groundwater. Monitoring well data from the site show the ash ponds have caused numerous pollutants to exceed their respective standards, including:
Arsenic at 34 times the standard
Manganese at 47 times the standard
Iron at 27 times the standard
Boron at four times the standard
Sulfate more than three times the standard
Thallium at three times the standard
Selenium at more than twice the standard
Total Dissolved Solids at twice the standard
Chloride
Antimony
Lead
Unbeknownst to most of the people living in Wilmington, NC, this hidden toxic witches brew of contamination is flowing towards public water supplies that provide drinking water to the community of Flemington. These wells are operated by the Cape Fear Public Utility Authority and are located less than a mile from the leaking Sutton coal ash ponds.
Public water supply wells located less than a mile from the leaking Sutton coal ash ponds. Public records show that polluted groundwater is flowing towards these wells. For decades, neither the U.S. EPA nor the N.C. Department of Environment and Natural Resources have required the utility to clean up of the groundwater contamination. Photo credit: Dot Griffith
Groundwater assessments prepared by Progress Energy and submitted to the North Carolina Department of Environment and Natural Resources (DENR) have found that the contaminated groundwater flows in the direction of the Flemington community wells at a rate of between 109 to 339 feet per year. In 1994, DENR's Division of Environmental Management Groundwater Section explained that the groundwater flow at the Sutton site is "substantially influenced by the pumping activities of the New Hanover Co. well field [i.e., the Flemington wells]" and that "[t]hese pumping activities may result in a groundwater flow pattern that moves from the lake and ash ponds toward the well field."
Indeed, a recent report prepared by the North Carolina Division of Environmental Health, Public Water Supply Section for the water system served by the Flemington wells assigned their "Inherent Vulnerability Rating," "Contaminant Rating" and "Susceptibility Rating" the highest risk rating and listed the Sutton facility numerous times as a "Potential Contaminant Source" for the wells. The report also confirms that many of the highly contaminated groundwater wells at Sutton are within the area that contributes groundwater to the Flemington wells.
This situation also raises an environmental justice issue. Achieving environmental justice involves identifying and addressing disproportionately high and adverse human health or environmental effects of federal programs, policies and activities on minority and low-income populations. Here, failure to enforce provisions of the Clean Water Act, to the detriment of the low-income Flemington community, is an environmental justice concern.
The other huge problem caused by decades of untreated coal ash waste being dumped into Sutton Lake is the accumulation of selenium in fish. Decades of sampling reveals that selenium concentrations have increased dramatically over time, such that in recent years the selenium concentrations in the surface water reached levels that cause reproductive failure of fish and waterfowl and have far exceeded those levels in the lake sediments and in fish tissue itself. The North Carolina Wildlife Resources Commission (WRC) determined that the sediment and fish tissue concentrations represent a "High" hazard. Unsurprisingly, the most recent published assessment of the lake by WRC noted that largemouth bass in Sutton Lake were in poor condition, and that from 2008 to 2010, the abundance and size of the largemouth bass population declined by 50 percent.
Sutton Lake is an extremely popular fishing location. It is frequented both by sport fishermen and by subsistence fishermen, who catch fish that are eaten by themselves and their families. Despite the fact that untreated coal ash sluice water, coal pile runoff, chemical metal cleaning wastes and other wastewater is discharged directly into the public waters of Sutton Lake, the public is encouraged to fish there. As selenium levels rose in fish in recent years, the state of North Carolina could have informed the public that the fish in Sutton Lake are in poor health. But in actuality boat ramps and fishing piers were recently improved to provide even greater public access and allow more people to catch and eat the fish out of Sutton Lake.
Public fishing is encouraged at Sutton Lake even though fish have high levels of selenium. Photo Credit: Dot Griffith
For decades, the regulatory agencies in charge of making sure toxic water pollution doesn't harm public waters have done very little to stop the contamination of ground and surface water caused by the Sutton coal-fired power plant. At the federal level, coal combustion waste regulations have been stalled since 2010. The U.S. Environmental Protection Agency (EPA) continues its abject failure to enact the regulations and protect the public from hazardous coal ash waste contamination at more than 1,000 other coal ash dumps across the U.S. including Sutton. At the state level, conservation groups convened repeated meetings over the last two years with North Carolina DENR to ask them to take decisive action to stop the contamination of public waters from all of North Carolina's leaking coal ash ponds across the state. They too, have failed to stop the contamination.
So today the Cape River Watch, Waterkeeper Alliance and Sierra Club, represented by the Southern Environmental Law Center (SELC), sent a notice to Duke Energy Progress, Inc., that it will bring suit under the Clean Water Act to stop Progress Energy's coal ash pollution of Sutton Lake.
"We're taking action to stop the harmful pollution of one of the area's most popular fishing lakes," said Frank Holleman, senior attorney at the Southern Environmental Law Center. "For years, Progress has dumped untreated pollution from its coal ash lagoons into Sutton Lake. Progress can't treat this public fishing lake as its private wastewater treatment pond—too many people depend on this valuable public resource."
Contaminated groundwater is flowing into a canal that discharges into Sutton Lake, creating an additional unpermitted source of contamination. The Progress facility includes two unlined coal ash lagoons alongside Sutton Lake. In 2010, a portion of the berms collapsed, spilling coal ash out of the lagoon.
"I enjoy fishing at Sutton Lake, and I know a lot of other people do too," said Kemp Burdette, Cape Fear Riverkeeper. "We need to ensure that the contamination from Progress's coal ash is stopped and cleaned up."
The groups' notice letter comes in the wake of two other notices this year in which SELC spotlighted coal ash contamination at Progress's Skyland plant in Asheville and Duke Energy's Riverbend plant north of Charlotte. The state subsequently sued the utilities in both those cases, stating that they were violating state law and that the coal ash pollution "poses a serious danger to the health, safety, and welfare of the people of North Carolina and serious harm to the water resources of the state." SELC also filed a federal court lawsuit over the Riverbend coal ash pollution June 11.
"This pollution of state waters is yet another example of the toxic legacy of coal-fired power plants in North Carolina," said Kelly Martin of the Sierra Club's Beyond Coal Campaign. "Community drinking water and a public fishing lake are both at risk, and now it's time to clean up the mess."
Selenium contamination has harmed fish populations in at least two other lakes at Progress power plants. Selenium contamination from the coal ash lagoon at Progress's Roxboro plant devastated fish populations in Lake Hyco, and fish deformities associated with selenium contamination have been documented recently in Mayo Lake. Meanwhile, at Belews Lake, selenium from a leaking Duke Power coal ash basin eradicated 19 of the 20 species of fish formerly present in the lake. In 2007, EPA classified both Lake Hyco and Belews Lake as "proven ecological damage cases" due to the coal ash pollution. Selenium accumulation can cause developmental abnormalities in fish and amphibians and has led to the death of entire local fish populations.
"To let a utility treat this important fishery as a dumping ground for its coal ash pollutants is bad for the fish, bad for the public, and bad for the state," said Donna Lisenby, global coal campaign coordinator at the Waterkeeper Alliance. "We had to act because it is clear that neither state nor federal agencies are willing to do what is necessary to protect public waterways."
——–
EcoWatch Daily Newsletter