Toxic Chemicals in Salons Linked to Adverse Health Effects, Including Cancer
Issues that primarily impact women often end up on the back burner. Maybe that's why the new study from Women's Voices for the Earth (WVE) on the health impacts of exposure to salon chemicals on the (mostly) women who work in personal care salons is the first of its kind. The study, Beauty and Its Beast: Unlocking the Impact of Toxic Chemicals on Salon Workers, reveals that long-term exposure to products routinely used in salons leads to an array of negative health conditions frequently suffered by beauticians and other salon workers.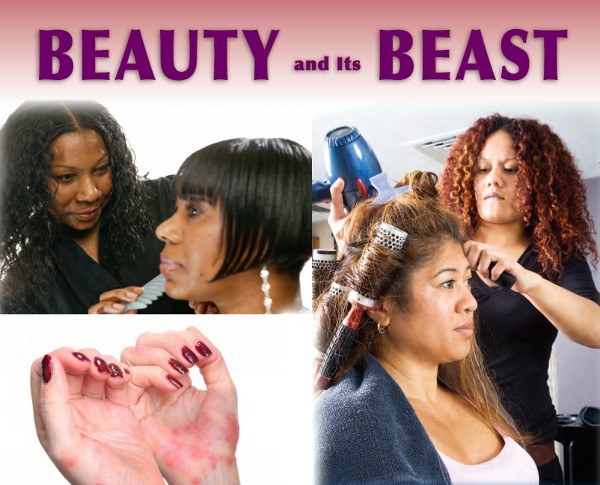 "Studies across the globe have found correlations between chemical exposures in salons and adverse health outcomes in employees," said the study's lead author Alexandra Scranton, director of science and research for WVE. "However, until now, there has never been a comprehensive review of existing science that brings all the players onto one stage."
"Salon workers, a population dominated by women, are exposed to a myriad of chemicals of concern every day in their workplaces," says the study. "Hair sprays, permanent waves, acrylic nail application and numerous other salon products contain ingredients associated with asthma, dermatitis, neurological symptoms and even cancer. Salon workers absorb these chemicals through their skin and breathe them in as fumes build up in the air of the salon over the course of the workday. Research shows that salon workers are at greater risk for certain health problems compared to other occupations."
The report aggregates decades of research on the incidence of those health problems in the beauty care workforce. They include a disproportionate amount of cancers, neurological diseases such as dementia and depression, immune diseases, birth defects, reproductive disorders including a high rate of miscarriages, skin diseases, asthma and other breathing problems, as the workers are exposed to chemicals such as formaldehyde, toluene, methyl methacrylate, p-phenylenediamine and ammonium persulfate, as well as toluene, ammonia and methyl methacrylate, which are often found in the air of the salons.
WVE tracked down studies showing that hair and nail salon workers have higher risk of several types of cancer, including breast cancer, lung cancer, cancer of the larynx, bladder cancer and multiple myeloma, than the rest of the population. They are also more likely to have low birth weight babies, especially when they are repeatedly exposed to hairspray and permanent wave solutions, and have an increased risk of miscarriage and babies born with cleft palates as well. And a majority of salon workers suffer from skin conditions of various kinds and are more likely than other groups of workers to have throat problems like coughs and nasal and throat irritation.
"Once hair-smoothing products like Brazilian Blowout hit salons nationwide, these health issues went to a whole new level because of exposure to formaldehyde, which is very toxic," said Jennifer Arce, a salon worker in San Diego. "Salon workers can experience bloody noses, sore throats, rashes and respiratory infections from breathing in these fumes while working in the salon each day."
The report covers safety precautions that can be taken to protect workers and prevent some of these problems. They include using safer products, proper handling of products, appropriate protective equipment and better ventilation. It suggests the need for legislation to require full disclosure of ingredients in beauty products and their health impacts, such as the Safe Cosmetics and Personal Care Products Act introduced last year by Illinois Congresswoman Jan Schakowsky. It would regulate what chemicals these products could contain and require full a full listing of chemicals in each.
This week, WVE is in Washington, DC with salon workers and advocates from the National Healthy Nail and Beauty Salon Alliance for its annual Healthy Salons Week of Action. The group is visiting congressional offices to discuss the health threats to salon workers and emphasize the need for passing legislation. They will also meet with federal agencies such as the Environmental Protection Agency, the Occupational Health and Safety Administration and the Food and Drug Administration to talk about what those agencies can do to protect health health of workers in the beauty industry.
"I'm going to Washington, DC to speak with policy makers because they have the power to change our laws, and also to put some pressure on the FDA," said Arce. "It's time for them to use the power they do have to issue a voluntary recall of Brazilian Blowout and other hair straighteners containing formaldehyde."
"The salon industry knows how to use really hazardous chemicals to do cool things to hair and nails," said Scranton. "But from our research, the price to salon workers' health is much too high. Ultimately manufacturers need to innovate to create benign solutions for hair and nails that can accomplish the same tasks and achieve the same effects. Salon workers' health depends on it."
YOU MIGHT ALSO LIKE
9 Ways to Boost Your Immune System
How Climate Change Could Increase Pollen Levels by 200%
www.elysee.fr
By Andy Rowell
There is a growing feeling within European capitals that a quiet, but deeply positive, revolution is happening under Emmanuel Macron in France.
Macron's opinion poll rating is high, especially boosted in how the young French president has reacted to Donald Trump on the international stage.
Keep reading...
Show less
www.facebook.com
Keep reading...
Show less
Keep reading...
Show less
www.youtube.com
According to Bloomberg, "SeaWorld Entertainment Inc. received a subpoena earlier this month from regulators investigating disclosures and public statements by executives, including comments about the Blackfish documentary that caused a public backlash against the confinement of orcas.
Keep reading...
Show less
By Mary Mazzoni
In 2013, shoppers were reacquainted with the tragic story of their clothing when a massive factory collapse claimed the lives of more than 1,100 Bangladeshi garment workers.
The nonprofit Fashion Revolution, formed in response to that disaster, continues to track the apparel industry's progress on environmental stewardship and human rights. But four years later, big brands are still not doing enough to disclose their efforts to customers, the organization concluded in a recent report.
Keep reading...
Show less
Hawaii Renewable Energy Alliance
The latest issue of the U.S. Energy Information's "Electric Power Monthly" (with data through April 30) reveals that—for the first time since the beginning of the nuclear era—renewable energy sources (i.e., biomass, geothermal, hydropower, solar—inc. small-scale PV, wind) are now providing a greater share of the nation's electrical generation than nuclear power.
Keep reading...
Show less
www.youtube.com
Check out this great 360° virtual reality video by NowThis on the world's largest indoor vertical farm, AeroFarms. Located in Newark, New Jersey, AeroFarms grows more than 2 million pounds of greens a year without sunlight, soil or pesticides.
As reported by EcoWatch in July 2105, the $30 million, 70,000-square-foot AeroFarms headquarters dwarfs Japan's (already impressive) 25,000-square-foot vertical indoor farm, which had been the world's largest until now.
www.facebook.com
"There's no such thing as clean coal," according to this ATTN: video.
Watch above as ATTN: explains the many hazards of coal beyond carbon emissions, that no matter what there's no reviving the coal industry and how investment in renewable energy is the best way forward.
Share this video if you think America needs real energy solutions.
Wikipedia
By Franziska Spritzler, RD, CDE
Boosting your metabolic rate can help you lose body fat. However, most "fat-burning" supplements on the market are either unsafe, ineffective or both.
Fortunately, several natural foods and beverages have been shown to increase your metabolism and promote fat loss.
Keep reading...
Show less


Get EcoWatch in your inbox