Toxic Chemicals in Brazilian Blowout and Other Salon Products Increase Risk of Cancer
Sep. 25, 2013 10:45AM EST
Health + Wellness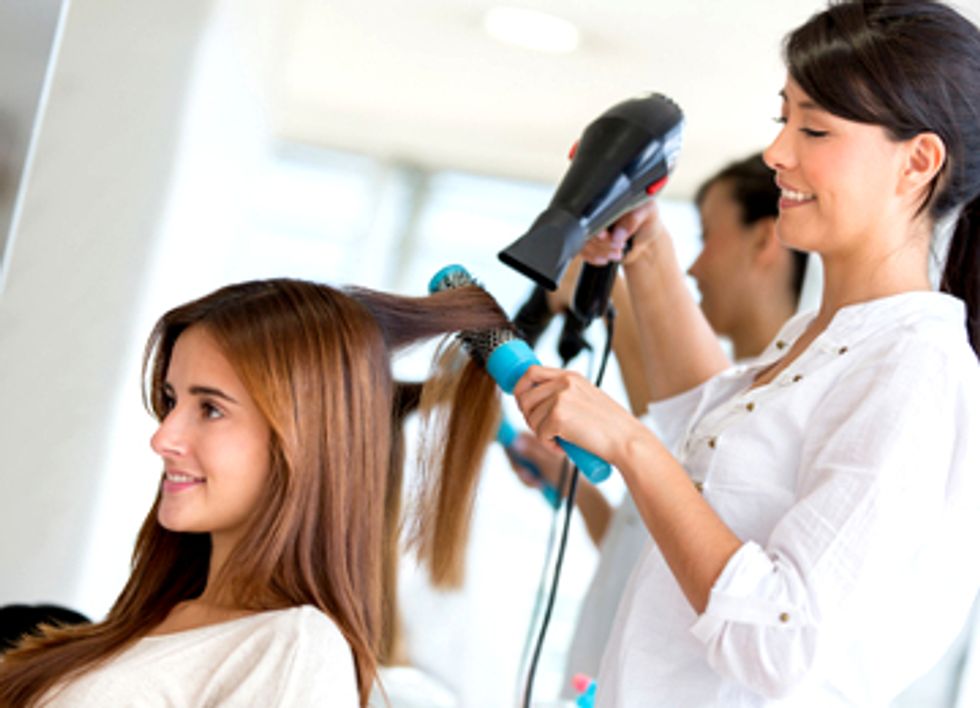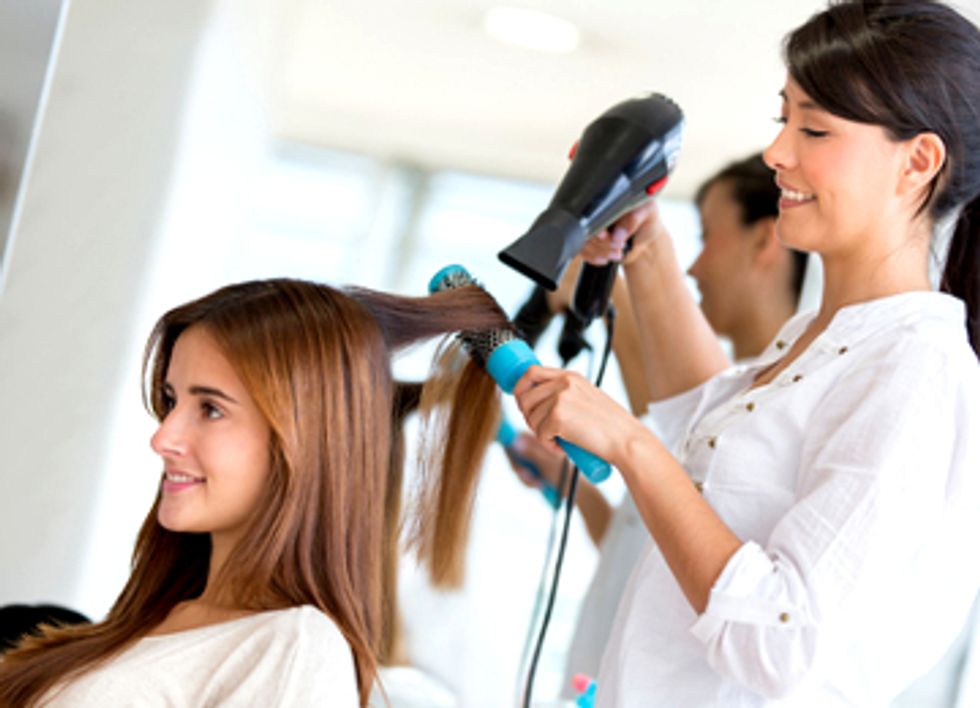 Photo courtesy of Shutterstock
Bloody noses. Blistering rashes. Piercing migraines. These are just a few of the symptoms veteran hairstylist Jennifer Arce experienced after she was diagnosed with chemical poisoning by her physician. The source? A product millions of women use to straighten their hair every day: Brazilian Blowout.
Arce, a stylist in San Diego for more than 18 years, used the experience to organize other affected colleagues to take their stories to California lawmakers and the Food and Drug Administration. Brazilian Blowout has since been banned in the state, but similar hair smoothing products also containing carcinogenic formaldehyde remain on the market. Her next step is distributing a new fact sheet from Women's Voices for the Earth (WVE) to salon workers and clients. The fact sheet describes chemicals to avoid in hopes more salons will choose to go green for the health of their customers and stylists.
"Many of my colleagues have been bullied, threatened physically and threatened to be fired for speaking up about being sick or for not wanting their clients exposed to toxic formaldehyde," Arce said. "Many of us don't have health insurance. Our health and our livelihoods are being taken away from us and we are not going to let this happen without a fight."
"We hope the fact sheet will educate consumers and workers and inspire them to work for change at the policy level," explained Erin Switalski, WVE's executive director. "Salon products are exempt from ingredient labeling requirements, limiting the availability of this important information on chemical exposure, so we are trying to fill in the gaps."
Like many products containing toxic chemicals, what's considered good enough for American consumers is banned in the European Union. A recent study by RAPEX, an EU regulatory body, discovered nine keratin hair smoothing products containing high levels of formaldehyde, which resulted in their removal from European markets.  Yet they remain widely available in the U.S., and several of the products are falsely touted "formaldehyde-free."
Under current federal regulations, it is legal for cosmetics manufacturers to use unlimited amounts of virtually any ingredient in salon and professional use products, as well as those sold to the general public, including chemicals linked to cancer, reproductive and developmental harm, hormone disruption and other adverse health impacts, with no pre-market safety assessment.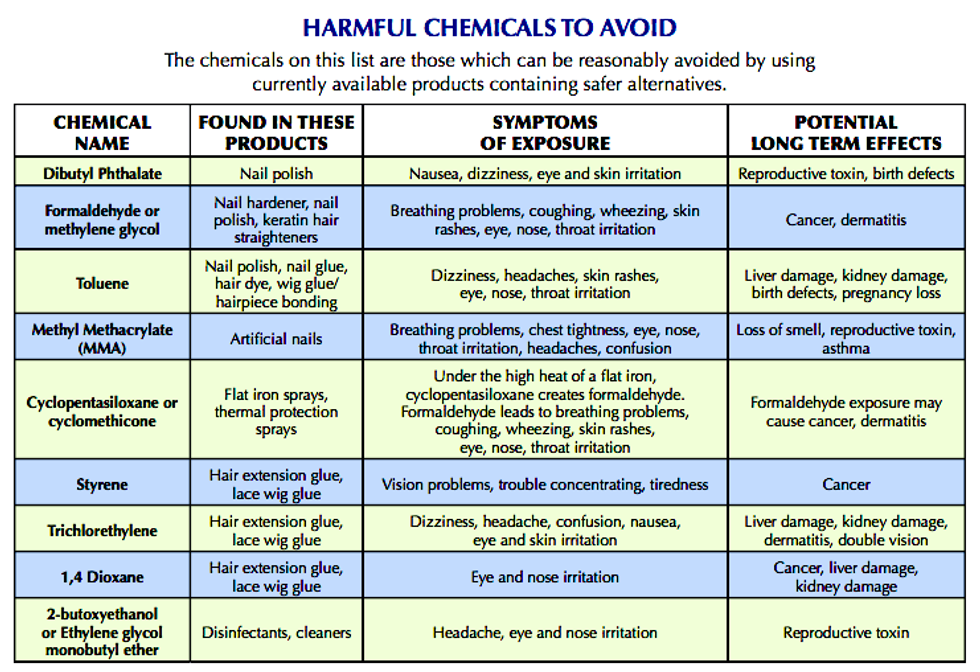 A growing body of scientific evidence indicates there is reason for concern, showing hairdressers are at increased risk of cancers of the lung, larynx, bladder and multiple myeloma compared to the general population. One study has shown that nail salon workers have higher levels of di-n-butyl phthalate (DBP), a reproductive and developmental toxicant, than the general population.
Another study found that beauticians and hairdressers are likely to have significant exposure to solvents that are linked to birth defects. Other studies have found cosmetologists are at a higher risk for having spontaneous abortions and low birth weight babies.
As for Arce, she's considering switching careers. She doesn't want to stop being a stylist—she loves helping her longtime clients look and feel their best, but her health can't withstand the constant exposure.
Visit EcoWatch's HEALTH page for more related news on this topic.
———

A recent study focused on regions in Ethiopia, Africa's largest coffee-producing nation. Edwin Remsberg / Getty Images
Climate change could make it harder to find a good cup of coffee, new research finds. A changing climate might shrink suitable areas for specialty coffee production without adaptation, making coffee taste blander and impacting the livelihoods of small farms in the Global South.
EcoWatch Daily Newsletter
In "Weather," Jenny Offill tells the story of a librarian named Lizzie who prepares for a climate apocalypse. Andrew Merry / Getty Images
By Suzanne Cords
One day Lizzie, the first-person narrator of the novel, receives an old book as a gift, with a dedication wishing the reader to be among the survivors. Like the preppers who build bunkers and stockpile supplies in remote areas to be ready for the end of the world, Lizzie is convinced that the end of the world is definitely near in times of a threatening climate disaster.
Lizzie, who lives in New York with her husband and son, is a university campus librarian. She worries about almost everything: her brother, an ex-junkie, or her dental insurance and the future in the face of the apocalypse. She is obsessed with reading reference books and articles about climate change.
She also devours words of wisdom, including about Buddhist spirituality: "A visitor once asked the old monks on Mount Athos what they did all day, and was told: We have died and we are in love with everything." But nothing can lift her spirits.
'Lizzie Is Just Like Us'
Lizzie observes rich New Yorkers plan their move to regions that are less threatened by climate change, something she simply cannot afford. Sometimes she watches disaster movies, which lead her to worry even more.
Above all, she is a gifted observer of her fellow human beings. "Young person worry: What if nothing I do matters? Old person worry: What if everything I do, does?"
Lizzie, the U.S. author told DW, is a bit like the rest of us — well aware of the climate crisis, but because she cares and worries about so many other things, that awareness falls by the wayside. That's how she felt herself, Jenny Offill said, but the more she looked into the issue, the more she saw a need for action on her part, too.

"I also was trying to see if there was a way to make it funny, because, you know, so much of the world of prepping and imagining disaster is actually sort of strangely funny."
The novel was shortlisted for the 2020 UK's Women's Prize for Fiction and has now been released in German translation.
Climate Activist With a Vision
But then, there is also this serious, scientifically based concern about what climate change means. In the past, says Offill, artists were the ones who would predict disasters; today it's the experts, as well as the students she teaches. In the end, their fears and their justified anger motivated her to take a closer look at the issue. Today, she is a climate activist herself, and is involved in initiatives along with many other artists.
Lizzie, the heroine of Weather, hasn't gotten that far. But she voices her fears, and that's a start. "Of course, the world continues to end," says Sylvia, a mentor of Lizzie's, at one point — and commences to water her garden. There is hope after all.
Reposted with permission from Deutsche Welle.
A Shell oil drilling rig off the coast of Alaska in the Chukchi Sea on May 21, 2015. Orjan F. Ellingvag / Corbis via Getty Images
By Jake Johnson
A federal appeals court on Tuesday dealt the final blow to former President Donald Trump's attempt to open nearly 130 million acres of territory in the Arctic and Atlantic Oceans to oil and gas drilling.
Electric vehicles are the cars of the future. sl-f / Getty Images
By 2035, every new car and truck sold in the U.S. could be an EV, a new report says.
Accelerations in technology and especially battery affordability, paired with new policy, mean the dramatic transition would save American drivers $2.7 trillion by 2050, an average savings of $1,000 per household per year.
The ramp up in EV production would also create 2 million new jobs by 2035. Battery prices have fallen 74% since 2014, and their unexpectedly rapid fall is a key driver of the cost savings.
EVs are far simpler mechanically, and more efficient, than internal combustion engine (ICE) vehicles, which translates to reduced climate pollution and lower costs for consumers.
Strengthened vehicle efficiency standards and investment in fast charging infrastructure are needed to accelerate the transition, which would prevent 150,000 premature deaths and save $1.3 trillion in health environmental costs by 2050.
For a deeper dive:

The Guardian, Fast Company, E&E, Morning Consult, Canary Media

For more climate change and clean energy news, you can follow Climate Nexus on Twitter and Facebook, sign up for daily Hot News, and visit their news site, Nexus Media News.
The Gowanus Canal in Brooklyn, New York, a polluted nearly 2 mile-long waterway that is an EPA Superfund site. Jonathan Macagba / Moment / Getty Images
Thousands of Superfund sites exist around the U.S., with toxic substances left open, mismanaged and dumped. Despite the high levels of toxicity at these sites, nearly 21 million people live within a mile of one of them, according to the U.S. Environmental Protection Agency (EPA).