Toxic Brew of Chemicals Abound in Wake of Superstorm Sandy
Nov. 01, 2012 11:02PM EST
Climate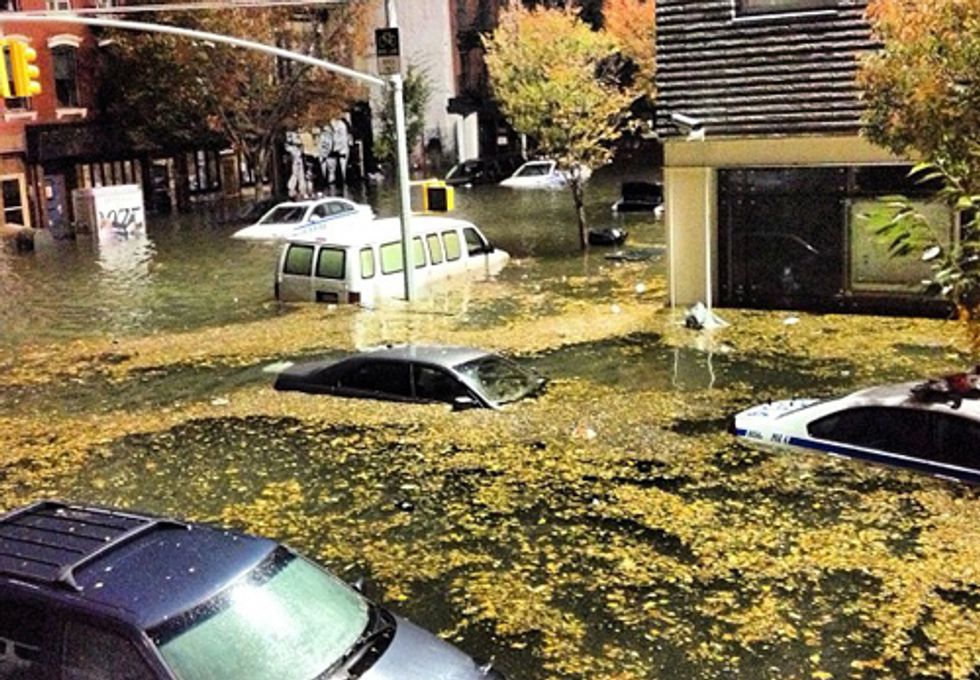 By Paul E McGinniss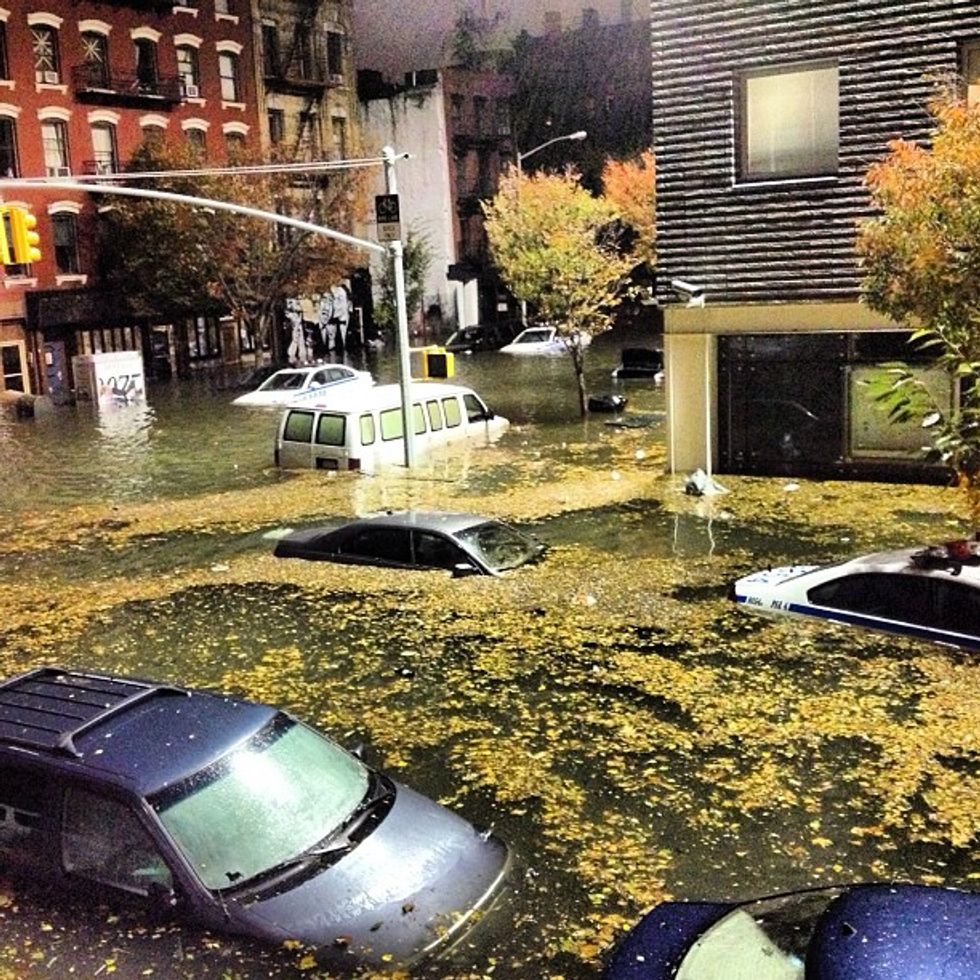 In addition to the many lives lost, houses burned, buildings flooded, coastlines ravaged and families displaced, there's a toxic brew of chemicals polluting local waterways.
On Monday night, it was reported that 350,000 gallons of diesel fuel spilled into Arthur Kill, a waterway that separates Staten Island, New York and New Jersey. The spill occurred after a storage tank burst at a Woodbridge, New Jersey facility owned by Motiva Enterprises LLC, a joint venture of Shell and Saudi Refining Inc.   
The AP states, and NY/NJ Baykeeper Debbie Mans confirmed, that secondary containment [walls and berms] around the tanks seems to have captured much of the spill, so apparently only a portion of it went into the Arthur Kill, not all of it. According to the AP, Woodbridge, New Jersey environmental officials report 336,000 gallons of diesel fuel spilled after a storage tank was lifted and ruptured by superstorm Sandy's surge.
The Coast Guard says all the spilled oil is believed to be contained by booms put in the water. Coast Guard spokesman Les Tippets says a secondary tank caught most of the oil and that the liquid that escaped moved into the Arthur Kill.
New Jersey Department of Environmental Protection spokesman Larry Ragonese says the company reported the spill and hired contractors to clean it up.
 
"While secondary barriers and quick Coast Guard response appear to have captured much of the spill, Shell and Saudi Refining must now be held responsible for the cleanup and any environmental damage to the Arthur Kill. Once cleanup and recovery efforts from this storm are complete,  New York and New Jersey must make it a priority to expand protections at storage facilities like this, to deal with the ever-increasing risk of similar spills in the future," said Paul Gallay, Hudson Riverkeeper.
It's not just the Arthur Kill waterway that has been affected by toxic spills from Sandy. The entire region is seeing a toxic fallout, just like New Orleans experienced when more than 11 million gallons of oil were spilled after Katrina.
"The impact of Sandy's storm surge is enormous, causing widespread pollution of the Hudson River and New York Harbor by a variety of toxic chemicals, including petroleum and fluids from cars and boats; contaminants from flooded subways, roads, parking lots and tunnels; and contaminants washed from shoreline industrial sites, as well as commercial and residential buildings," said Gallay. "Oil sheens and debris have been observed—everything from 55-gallon drums and quart-sized containers of transmission fluid to wrecked boats and swamped vehicles with leaking fuel tanks."
Filmmaker Josh Tickell, director of The Big Fix and New Orleans native, said today, "At the time of Katrina, no one wanted to admit how much oil had been spilled. Official estimates now are maybe only 11 million gallons, but many estimate the total oil spilled because of Katrina at the same amounts as the Exxon Valdez. Most have forgotten that oil spilled during Katrina, and most will forget the oil spilled from Sandy. They will continue to forget until it is in their backyard."
Amy Mall from the Natural Resources Defense Council (NRDC) brings up yet another major concern when it comes to super storms and water contamination. How safe are fracking and wastewater disposal sites when hit by severe storms?
Toxic fracking wastewater is often stored in open air pits close to homes. Pursuant to the Clean Water Act, these facilities are required to prepare, amend and implement spill prevention plans. But, the NRDC reports in Big Storms and Fracking: What's at Stake, that in Fiscal Year 2011, the U.S. Environmental Protection Agency officials visited 120 oil and gas development sites and found 105 were out of compliance with the law. A whopping 87.5 percent of sites are an accident waiting to happen.  
"This is all increasingly terrifying as Sandy bear[ed] down on the Marcellus region, where there are many open pits filled with fracking and related waste. Because the oil and gas industry is also exempt from our hazardous waste laws, no one knows exactly how dangerous the waste at any particular site might be," says Mall.
"Now that the initial storm has passed, New York and New Jersey are dealing with the dangerous consequences of polluted waterways from raw sewage and industrial chemicals," said Marc Yaggi, excutive director of Waterkeeper Allinace. "Clearly our cities are not ready for this type of superstorm as climate change is leading to more extreme weather than we are prepared to deal with."
It's time our elected officials prioritize climate change and pass the policies that will protect our water, transition our country to relying on clean, renewable energy, and reverse the impacts of global warming.
Visit EcoWatch's WATER and CLIMATE CHANGE pages for more related news on this topic.
——–
Paul E McGinniss is The New York Green Advocate. He is a green building consultant and real estate broker in New York. He is pretty much obsessed with all things environment and has lately become a resiliency addict.
EcoWatch Daily Newsletter
Related Articles from EcoWatch
Recent Stories from EcoWatch