This website uses cookies to ensure you get the best experience while browsing it. By clicking 'Got It' you're accepting these terms.


The best of EcoWatch, right in your inbox. Sign up for our email newsletter!
Toxic and Tax Exempt: American Taxpayers Foot the Bill for Tar Sands Oil Spill Cleanup
Apr. 02, 2013 10:09AM EST
Energy
As the Obama Administration continues to ponder a decision on the Keystone XL pipeline, TransCanada has been assuring everyone of it's safety. "Safety of the public and the environment is a top priority for TransCanada" their slick website reads. Any spill is deemed "unlikely."
Hardly. Last year, there were 364 spills from pipelines that released about 54,000 barrels of oil and refined products. In 2010 in Marshall, Michigan an Enbridge pipeline sent 819,000 gallons of toxic tar sands crude into the town's creek just 80 river miles from Lake Michigan. Now in Mayflower, Ark., 22 homes have been evacuated this week as Exxon prepares to attempt to clean 10,000 barrels of this same dirty tar sands crude from neighborhoods.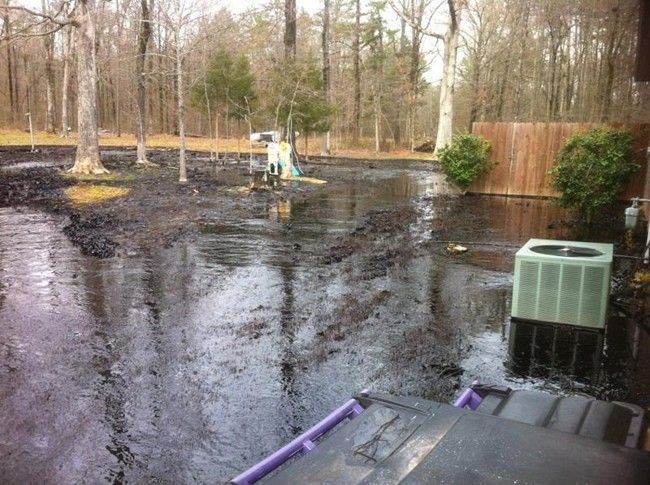 The experiences of people of Marshall, Michigan may shed light on what the citizens of Mayflower, Arkansas may now be in for.
On July 26, 2010, at 7:30 a.m., Marshall resident Susan Connolly dropped off her children at daycare. That Michigan morning there was a strong smell in the air, making it hard to breathe. By the time she picked up her children just a few hours later, the symptoms had started.
That night her son vomited. The week following, her daughter had a rash, as did almost all the children at the daycare. The other children also reported cases of vomiting, upset stomach, shortness of breath, lethargy, headaches, rash, irritation with the eyes, sore throat and cough. Meanwhile, Connolly and her husband experienced migraines, eye irritation, sore throat, nausea and cough. Just six days later, their dog came in from the yard suffering from continuous vomiting and diarrhea.
They quickly learned that this was all related to a broken Enbridge pipe, spilling bitumen ooze into the water just  6/10ths of a mile from their children's day care and just two miles from their home. Bitumen is a thick, sticky, black semi-solid form of petroleum. It is transported from Alberta Canada as diluted bitumen (dilbit) on its way to refineries in the U.S.
"I'm a parent and I see the children and the staff of this center who have been affected by this spill," says Connolly. "Three months after the spill, four parents withdrew six children from the center due to their concern of their short-term health effects of their children. They were concerned about the smell, air quality, and potential long-term effects. An employee who has been with the child care center since it opened, who helped them build it from the ground up, left the center because she has been sick since the day of the spill."
Their concern is understandable. The U.S. Environmental Protection Agency established that there were 15 parts per billion of benzene in the atmosphere in the region of the spill, which is roughly three times the standard established as safe for human exposure.
Connolly reports that "the argument made by Enbridge is: you cannot prove that the spill may be the cause. Well, my response as a parent is you can't prove that it's not … I'm not anti-pipeline, but I am an advocate for safety. You need to know the health impacts. There will be another spill, it's not an if, it's a when."
Connolly's story highlights the clear effects of the revolving door of money from politicians and fossil fuel companies keeping the safety standards and oversight low. In 2009 and 2010 fossil fuel companies like Enbridge spent $25.8 million lobbying Congress and in return they received subsidies and tax loopholes worth $20.5 billion. That's a 5,800 percent return on political investment; about $59 in return for each dollar they spend lobbying.
Connolly sees the influence fossil fuel companies have on Washington, DC, firsthand. She asks, "Who do you think [government officials] are looking out for more? Corporations or the people?"
Companies that transport oil are required to pay into the Oil Spill Liability Trust Fund, giving the government a pot of money for immediate spill responses. The Enbridge pipeline in Michigan and the Exxon pipeline in Arkansas, however, are exempt because these pipelines are not considered to be carrying "conventional oil," despite the fact bitumen spills are more expensive and more dangerous.
In a January 2011 memorandum, the IRS determined that to generate revenues for the oil spill trust fund, Congress only intended to tax conventional crude, and not tar sands or other unconventional oils. This exemption remains to this day, even though the U.S. moves billions of gallons of tar sands crude through its pipeline system every year. The trust fund is liable for tar sands oil spill cleanups without collecting any revenue from tar sands transport. If the fund goes broke,the American taxpayer foots the cleanup bill.
When Connolly learned that Enbridge is not required to pay into the Oil Spill Liability Trust Fund, she was shocked. "I can't believe that," she said. "It's unconscionable, disgusting. I can't believe it's not being brought up … [Companies] get enough tax loopholes; they can pay into the system and should not make taxpayers pay for their cleanup."
Connolly holds that the government needs to hold companies like Enbridge and Exxon accountable. She believes her government representatives should advocate for companies to pay into the Oil Spill Liability Fund and keep discussing the issue. "They're making a ton of money and they're calling the shots, but who do they answer to? We're asking the government to come and look at the impact, but no one comes out. No one looks; no one sees. They think it's all cleaned up."
Connolly has just one piece of advice for politicians and Enbridge CEO Al Monaco: "Come back to Michigan; meet with the residents who have concerns and questions. Don't come just for PR or to hand out checks. Make the time to talk to those involved in pipeline and cleanup. I'm not trying to bash anyone, but we should all learn from it and be better prepared … a spill like this will happen again."

And indeed it has.
Visit EcoWatch's KEYSTONE XL page for more related news on this topic.
——-
EcoWatch Daily Newsletter
Pxhere
By Richard Denison
Readers of this blog know how concerned EDF is over the Trump EPA's approval of many dozens of new chemicals based on its mere "expectation" that workers across supply chains will always employ personal protective equipment (PPE) just because it is recommended in the manufacturer's non-binding safety data sheet (SDS).
By Grant Smith
From 2009 to 2012, Gregory Jaczko was chairman of the Nuclear Regulatory Commission, which approves nuclear power plant designs and sets safety standards for plants. But he now says that nuclear power is too dangerous and expensive — and not part of the answer to the climate crisis.
A lake in Rocky Mountain National Park. Brett Walton / Circle of Blue
By Brett Walton
When Greg Wetherbee sat in front of the microscope recently, he was looking for fragments of metals or coal, particles that might indicate the source of airborne nitrogen pollution in Rocky Mountain National Park. What caught his eye, though, were the plastics.
Gabriele Holtermann Gorden / Pacific Press / LightRocket / Getty Images
In a big victory for animals, Prada has announced that it's ending its use of fur! It joins Coach, Jean Paul Gaultier, Giorgio Armani, Versace, Ralph Lauren, Vivienne Westwood, Michael Kors, Donna Karan and many others PETA has pushed toward a ban.
This is a victory more than a decade in the making. PETA and our international affiliates have crashed Prada's catwalks with anti-fur signs, held eye-catching demonstrations all around the world, and sent the company loads of information about the fur industry. In 2018, actor and animal rights advocate Pamela Anderson sent a letter on PETA's behalf urging Miuccia Prada to commit to leaving fur out of all future collections, and the iconic designer has finally listened.
Amer Ghazzal / Barcroft Media / Getty Images
If people in three European countries want to fight the climate crisis, they need to chill out more.
That's the conclusion of a new study from think tank Autonomy, which found that Germany, the UK and Sweden all needed to drastically reduce their workweeks to fight climate change.
Amazon Employees for Climate Justice held a press conference after the annual shareholder meeting on May 22. Amazon Employees for Climate Justice
An artist's rendering of the recomposition facility. MOLT Studios
Washington became the first U.S. state to legalize human composting Tuesday, offering residents a more environmentally friendly way to dispose of their remains, AFP reported.
Mr.TinDC / Flickr / CC BY-ND 2.0
Many nutrients are essential for good health.