Toxic Algal Blooms Connected to Climate Change and Industrial Agriculture
Nutrient enrichment and climate change are posing yet another concern of growing importance—an apparent increase in the toxicity of some algal blooms in freshwater lakes and estuaries around the world, which threatens aquatic organisms, ecosystem health and human drinking water safety.
As this nutrient enrichment, or "eutrophication" increases, so will the proportion of toxin-producing strains of cyanobacteria in harmful algal blooms, scientists said.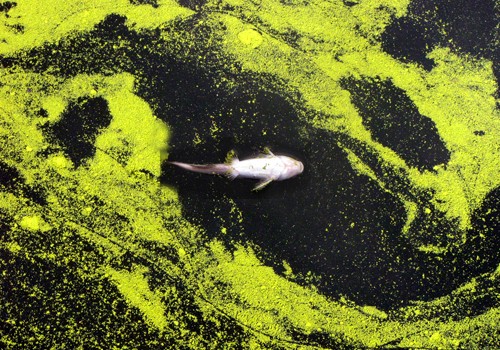 Researchers from Oregon State University and the University of North Carolina at Chapel Hill will outline recent findings in an analysis Friday in the journal Science.
Cyanobacteria are some of the oldest microorganisms on Earth, dating back about 3.5 billion years to a time when the planet was void of oxygen and barren of most life. These bacteria are believed to have produced the oxygen that paved the way for terrestrial life to evolve. They are highly adaptive and persistent, researchers say, and today are once again adapting to new conditions in a way that threatens some of the life they originally made possible.
A particular concern is Microcystis sp., a near-ubiquitous cyanobacterium that thrives in warm, nutrient-rich and stagnant waters around the world. Like many cyanobacteria, it can regulate its position in the water column, and often forms green, paint-like scums near the surface.
In a high-light, oxidizing environment, microcystin-producing cyanobacteria have a survival advantage over other forms of cyanobacteria that are not toxic. Over time, they can displace the nontoxic strains, resulting in blooms that are increasingly toxic.
"Cyanobacteria are basically the cockroaches of the aquatic world," said Timothy Otten, a postdoctoral scholar in the OSU College of Science and College of Agricultural Sciences, whose work has been supported by the National Science Foundation. "They're the uninvited guest that just won't leave."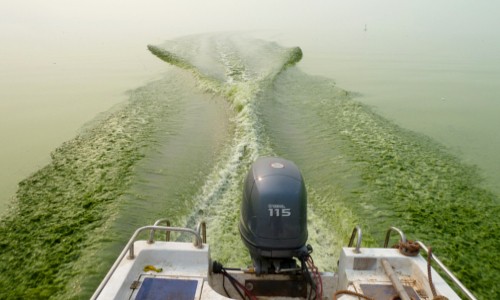 "When one considers their evolutionary history and the fact that they've persisted even through ice ages and asteroid strikes, it's not surprising they're extremely difficult to remove once they've taken hold in a lake," Otten said. "For the most part, the best we can do is to try to minimize the conditions that favor their proliferation."
Researchers lack an extensive historical record of bloom events and their associated toxicities to put current observations into a long-term context.  However, Otten said, "If you go looking for toxin-producing cyanobacteria, chances are you won't have to look very long until you find some."
There are more than 123,000 lakes greater than 10 acres in size spread across the U.S., and based on the last U.S. Environmental Protection Agency's National Lakes Assessment, at least one-third may contain toxin-producing cyanobacteria. Dams, rising temperatures and carbon dioxide concentrations, droughts, and increased runoff of nutrients from urban and agricultural lands are all compounding the problem.
Many large, eutrophic lakes such as Lake Erie are plagued each year by algal blooms so massive that they are visible from outer space. Dogs have died from drinking contaminated water.
Researchers studying cyanobacterial toxins say it's improbable that their true function was to be toxic, since they actually predate any predators. New research suggests that the potent liver toxin and possible carcinogen, microcystin, has a protective role in cyanobacteria and helps them respond to oxidative stress. This is probably one of the reasons the genes involved in its biosynthesis are so widespread across cyanobacteria and have been retained over millions of years.
Because of their buoyancy and the location of toxins primarily within the cell, exposure risks are greatest near the water's surface, which raises concerns for swimming, boating and other recreational uses.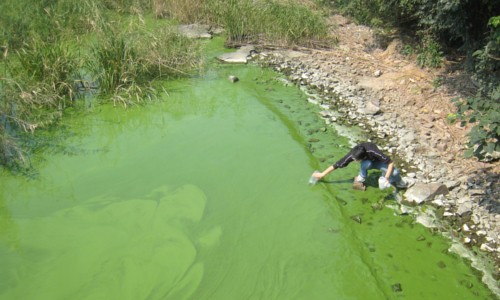 Also, since cyanobacteria blooms become entrenched and usually occur every summer in impacted systems, chronic exposure to drinking water containing these compounds is an important concern that needs more attention, Otten said.
"Water quality managers have a toolbox of options to mitigate cyanobacteria toxicity issues, assuming they are aware of the problem and compelled to act," Otten said. "But there are no formal regulations in place on how to respond to bloom events.
"We need to increase public awareness of these issues," Otten concluded. "With a warming climate, rising carbon dioxide levels, dams on many rivers and overloading of nutrients into our waterways, the magnitude and duration of toxic cyanobacterial blooms is only going to get worse."

Disturbing footage of a snake in Goa, India vomiting an empty soft drink bottle highlights the world's mounting plastic pollution crisis.
Keep reading...
Show less
By Melissa Hellmann
When her eldest son was in elementary school in the Oakland Unified School District, Ruth Woodruff became alarmed by the meals he was being served at school. A lot of it was frozen, processed foods, packed with preservatives. At home, she was feeding her children locally sourced, organic foods.
Keep reading...
Show less
May. 28, 2017 01:33PM EST
Laurie Woolever
By James O'Hare
There are 20 million people in the world facing famine in South Sudan, Somalia, Nigeria and Yemen. In developed nations, too, people go hungry. Venezuela, for instance, is enduring food insecurity on a national level as a result of economic crisis and political corruption. In the U.S., the land of supposed excess, 12.7 percent of households were food insecure in 2015, meaning they didn't know where their next meal would come from.
Keep reading...
Show less
May. 28, 2017 01:22PM EST
Melwater, Greenland ice sheet. Diane Tuft
Artists are taking the climate crisis into frame and the results are emotional, beautiful and stirring.
So you've seen the best climate change cartoons and shared them with your friends. You've showed your family the infographics on climate change and health, infographics on how the grid works and infographics about clean, renewable energy. You've even forwarded these official National Oceanic and Atmospheric Administration graphs that explain the 10 clear indicators of climate change to your colleagues at the office.
Keep reading...
Show less
May. 27, 2017 01:11PM EST
As the Trump administration moves full speed ahead on boosting the oil and fossil fuel industry, opposition to increased pipeline construction is cropping up in different communities around the country.
Keep reading...
Show less
May. 27, 2017 01:02PM EST
Minke whale stranding near Havergate Island in Suffolk. MCGA.
By Simon Evans
Last Saturday, two dead whales washed up on the coast of Suffolk, in eastern England, and a third was spotted floating at sea.
What happened next illustrates how news can spread and evolve into misinformation, when reported by journalists rushing to publish before confirming basic facts or sourcing their own quotes.
Keep reading...
Show less
May. 27, 2017 01:22PM EST
By Monica Amarelo and Paul Pestano
Sun safety is a crucial part of any outdoor activity for kids, and sunscreen can help protect children's skin from harmful ultraviolet rays. Kids often get sunburned when they're outside unprotected for longer than expected. Parents need to plan ahead and keep sun protection handy in their cars or bags.
Keep reading...
Show less
May. 27, 2017 01:02PM EST
By Joe McCarthy
A lot of people take part in community clean-up efforts—spending a Saturday morning picking up litter in a park, mowing an overgrown field or painting a fence.
Keep reading...
Show less