This website uses cookies to ensure you get the best experience while browsing it. By clicking 'Got It' you're accepting these terms.


The best of EcoWatch, right in your inbox. Sign up for our email newsletter!
Torturing Animals with Monsanto's Genetically Engineered Feed
Aug. 07, 2013 10:38AM EST
GMO
By Katherine Paul
"A Culture that views pigs as inanimate piles of protoplasmic structure to be manipulated however cleverly the human mind can conceive will view its citizens the same way—and other cultures." – Joe Salatin, Restoring Health, Wealth and Respect to Food and Farming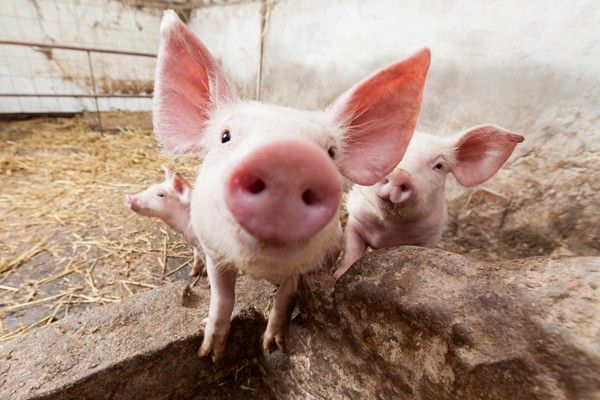 Photo courtesy of Shutterstock
We associate food with, at most, pleasure—at the very least, survival. It's not too different for animals. Lambs turned out on new grass move "quickly over certain grasses to get to others—to nosh on clover and mustard grass, avoiding horse nettle and fescue along the way," writes Dan Barber in A Chef Speaks Out. Wild pigs, capable of seeking out the nutrients they need,"enjoy eating nuts, roots, fruits, mushrooms, bugs, rabbits and, occasionally, dead animals."
But what happens when animals are confined in cramped, filthy environments and force-fed monoculture diets of genetically modified (GMO) corn and soy?
A lot can happen. Calves are born too weak to walk, with enlarged joints and limb deformities. Piglets experience rapidly deteriorating health, a "failure to thrive" so severe that they start breaking down their own tissues and organs—self-cannibalizing—to survive. Many animals suffer from weak, brittle bones that easily fracture. Dairy cows develop mastitis, a painful udder infection. Beef cattle develop liver abscesses and an excruciating condition referred to as "twisted gut."
It all adds up to a lot of misery for animals unfortunate enough to be on the receiving end of industrial agriculture's Big GMO Experiment.
The spotlight on animal rights in Confined Animal Feeding Operations (CAFOs) is typically focused on cramped spaces and blatantly inhumane treatment. But some scientists, farmers and veterinarians are talking about another form of animal abuse: stuffing animals with feed grown from genetically engineered crops drenched in glyphosate, the key ingredient in Monsanto's RoundUp.
What they've uncovered should give us all pause. Because the symptoms veterinarians and researchers have observed in animals are not unlike many of the chronic, and increasingly prevalent, health problems plaguing humans today. Digestive disorders. Damaged organs. Infertility. Weak immune systems. Chronic depression.
"We've got a real mess," says Dr. Art Dunham, an Iowa veterinarian who has treated farm animals for several decades. Dunham is a staunch believer that GMO crops are wreaking havoc with the health of animals and humans. His daughter, Leah Dunham, who tagged along with her father on many a farm visit over the years, recently wrote America's Two-Headed Pig. Drawing on her father's clinical notes, and the work of scientists like Dr. Don Huber, professor emeritus in plant pathology at Purdue University, Leah Dunham outlines some of the ways in which humans are adding to the suffering of farm animals by feeding them a glyphosate-tainted, GMO diet.
Leah Dunham would like to see the CAFO model drastically overhauled or abandoned. Her father believes it's more realistic to tackle the issue of GMO feed without attacking CAFOs. But father and daughter agree that the problems associated with today's industrial agriculture model extend beyond the health and well-being of animals:
"My father has pored over thousands of research papers in attempts to remedy the underlying causes of the illnesses described in this book. His work has embodied a commitment to healthy lands, creatures and farms, as well as the hard work necessary to sustain them. After years of listening to him talk about his attempts to solve reoccurring health problems, I realized that most people don't have a clue as to how modern disease complexities affect farm animals. We both hope that this book will help all medical professionals, farmers and consumers better address the true roots of various medical conditions, including nutrient deficiencies, clostridial infections, diabetes and Parkinsons disease."
Leah Dunham says consumers are alarmed by news reports that focus on outbreaks of food-borne illnesses. But most are unaware that industrial GMO crops are "damaging our health in other, far more insidious ways—among them, by damaging the health of animals raised for food."
Here are a few examples, from America's Two-Headed Pig, of how Art and Leah Dunham believe genetically modified feeds, and particularly glyphosate, inflict suffering on farm animals.
Skeletal Deformities
In his many years of practice, Art Dunham hadn't seen a single case of manganese deficiency in the herds he treated. But that changed in about 2000, when he started seeing more and more calves being born with skeletal deformities—a symptom of a manganese-deficient diet. Initially skeptical, Dunham experimented by adding manganese to the calves' diets. Their health improved. His hunch was confirmed when lab results on some of the dead calves' livers revealed little or no manganese.
Dunham was confused. A diet of corn, soybean meal and hay should contain enough manganese for hogs, dairy and beef cattle. But it started to make more sense when he came across a study conducted in 2007 by Dr. Huber. Huber found that by spraying manganese on soybeans 10-14 days after the soybeans were sprayed with glyphosate, farmers could increase crop yields. Why? Huber postulated that the glyphosate caused some crops to become manganese-deficient because it was binding to nutrients in the soil and plants. Crops sprayed with glyphosate were less able to metabolize the nutrients needed for proper plant function, which made the plants susceptible to disease.
Could this be why calves fed manganese-deficient crops sprayed in glyphosate showed their own symptoms of manganese deficiency, including enlarged joints, deformed limbs and crippling weakness? The evidence was convincing and the theory plausible, if unproven.
Failure to Thrive
It's both disturbing and increasingly common in North America in recent decades, according to Leah Dunham. About five to 10 days after normal, healthy piglets are weaned off their mother's milk, they become gaunt, pale, anorexic. Their health goes south, rapidly. It's called "post-weaning failure to thrive syndrome" or PFTS. It causes piglets to catabolize, or break down, their own tissues and organs, essentially self-cannibalizing. Next comes emaciation. Then euthanasia.
Does a virus cause PFTS? Studies suggest not, says Dunham. More likely, the cause is diet-related, as the disease manifests when the piglets begin eating food. The diet theory is supported by post-mortems showing that the affected piglets have lesions in their stomachs and intestines.
Could PFTS represent another case of something essential missing from the piglets' diets? Possibly. Liver analyses of hogs reveal "rock-bottom" low levels of cobalt. In fact, out of 522 livers tested, none hit the normal range for cobalt, established before GMO feed came on the market. Perhaps not coincidentally, according to Dunham, researchers at Texas A & M University have found that glyphosate ties up cobalt at 102-103 times more than it ties up manganese.
Twisted Gut, Ulcers and Other Digestive Disorders
Nature intended for cows to eat grass. But today, most cattle spend at least the last six months of their lives on feedlots, where they're fattened up with a combination of grains, mostly corn and industrial byproducts including corn distiller, a product of the ethanol manufacturing process. This mixture is supplemented with preemptive antibiotics and growth hormones, to keep the stressed animals from getting sick while making them grow larger, faster. It's an unnatural diet that often leads to digestive disorders. Factor in the glyphosate used to grow the GMO corn, and you've got a recipe for a host of painful conditions, from twisted gut to bloody diarrhea, ulcers and bloat. All of which contribute to a weak immune system, Dunham says.
A cow's stomach has four parts: the rumen, reticulum, omasum and abomasum. A twisted gut, or medically speaking, a displaced abomasum, occurs when a cow's abomasum fills with gas, causing it to balloon up to the top of the cow's abdomen, where it can become twisted. Remedies can include surgery or repositioning the abomasum by rolling the cow on its back.
That's bad enough. But sometimes trapped gas causes a cow's stomach to bloat. To relieve the animal's pain and keep it "productive," a veterinarian will insert a hollow needle into the cow's rumen to try to release the gas. If the cow doesn't recover enough to then start relieving the gas on its own, it will be fitted with a permanent port, similar to what a chemo patient has in order to receive regular doses of chemotherapy.
According to Dunham, twisted gut and bloat are usually related to inadequate nutrition, which leads to bacterial imbalances in the gut, which cause gas. Not unlike humans, cattle host large quantities of bacteria which they need in order to digest plants and grains and absorb available nutrients from their food. Alter the bacterial content of the cow's gut and the gut can become extra acidic, irritated and inflamed, says Dunham.
Consumers know that CAFO cows are routinely fed preemptive antibiotics, which alter the animals' gut bacteria. But what many people don't realize, says Dunham, is that the animals are consuming far more antibiotics than just those intentionally administered at the feeding lots. In fact, many of the pesticides, including glyphosate patented under the number #7771736, act not only as broad-spectrum pesticides, but as broad-spectrum biocides. And these antibiotic chemicals are applied to millions of acres of plants that end up in animal feed, Dunham says. The result? Some of the animals' gut bacteria and parasitic organisms are no longer able to carry out important metabolic processes, says Dunham.
Is it a stretch to say that force-feeding animals GMO feed amounts to a form of torture? Damaged livers. Too weak to walk. Needles jammed into stomachs. Failure to thrive. All unnecessary suffering, all diet-related.
Leah Dunham stops short of using the word "torture," but in her book, she argues that we can do better:
"As other food advocates have pointed out, we have learned how to dissociate what we spend from the farmers and citizens our food dollars affect. In doing so, we can avoid thinking about how our actions affect actual creatures."
I suspect that one day future generations will remember the last three decades as a ridiculous age in American agriculture. This has been an age during which too many human beings treated animals and children like guinea pigs, feeding them genetically modified, chemically coated, antibiotic resistant experiments, despite the overwhelming evidence that these foods are serious risk factors for illness and disease. In today's world of widely accessible research and technological advances, the ability to produce abundant amounts of food without threatening biodiversity and our basic biological rights should be an expectation, not a goal.
And let's not forget the basic biological rights of the four-legged creatures unfortunate enough to be part of industrial agriculture's CAFO systems.
Visit EcoWatch's GE FOOD and FACTORY FARMING pages for more related news on this topic.
———

EcoWatch Daily Newsletter
Blueberry yogurt bark. SEE D JAN / iStock / Getty Images Plus
Having nutritious snacks to eat during the workday can help you stay energized and productive.

A 2017 flood in Elk Grove, California. Florence Low / California Department of Water Resources
By Tara Lohan
It's been the wettest 12 months on record in the continental United States. Parts of the High Plains and Midwest are still reeling from deadly, destructive and expensive spring floods — some of which have lasted for three months.
Mounting bills from natural disasters like these have prompted renewed calls to reform the National Flood Insurance Program, which is managed by Federal Emergency Management Agency and is now $20 billion in debt.
Jennifer A. Smith / Moment / Getty Images
By Brenda Ekwurzel
When temperatures hit the 80s Fahrenheit in May above latitude 40, sun-seekers hit the parks, lakes, and beaches, and thoughts turn to summer. By contrast, when temperatures lurk in the drizzly 40s and 50s well into flower season, northerners get impatient for summer. But when those 80-degree temperatures visit latitude 64 in Russia, as they just did, and when sleet disrupts Mother's Day weekend in May in Massachusetts, as it just did, thoughts turn to: what is going on here?
By Paula Ezcurra and Octavio Aburto
Thousands of hydroelectric dams are under construction around the world, mainly in developing countries. These enormous structures are one of the world's largest sources of renewable energy, but they also cause environmental problems.
Activists in North Dakota confront pipeline construction activities. A Texas bill would impose steep penalties for such protests. Speak Freely / ACLU
By Eoin Higgins
A bill making its way through the Texas legislature would make protesting pipelines a third-degree felony, the same as attempted murder.
An Australian flag flutters in the wind in a dry drought-ridden landscape. Virginia Star / Moment / Getty Images
Australia re-elected its conservative governing Liberal-National coalition Saturday, despite the fact that it has refused to cut down significantly on greenhouse gas emissions or coal during its time in power, The New York Times reported.
Tree lined street, UK. Richard Newstead / Moment / Getty Images
A tropical storm above Bangkok on Aug. 04, 2016. Hristo Rusev/ NurPhoto / Getty Images
By Jeff Turrentine
First off: Bangkok Wakes to Rain, the intricately wrought, elegantly crafted debut novel by the Thai-American author Pitchaya Sudbanthad, isn't really about climate change. This tale set in the sprawling subtropical Thai capital is ultimately a kind of family saga — although its interconnected characters aren't necessarily linked by a bloodline. What binds them is their relationship to a small parcel of urban land on which has variously stood a Christian mission, an upper-class family house, and a towering condominium. All of the characters have either called this place home or had some other significant connection to it.