Torturing Animals with Monsanto's Genetically Engineered Feed
Aug. 07, 2013 11:38AM EST
Health + Wellness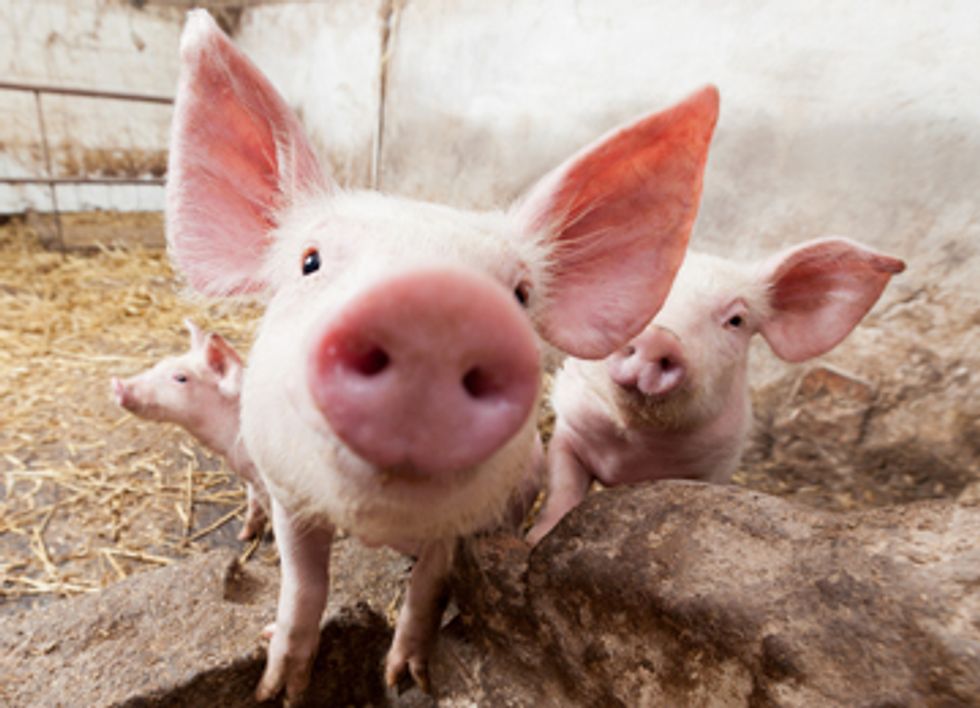 By Katherine Paul
"A Culture that views pigs as inanimate piles of protoplasmic structure to be manipulated however cleverly the human mind can conceive will view its citizens the same way—and other cultures." – Joe Salatin, Restoring Health, Wealth and Respect to Food and Farming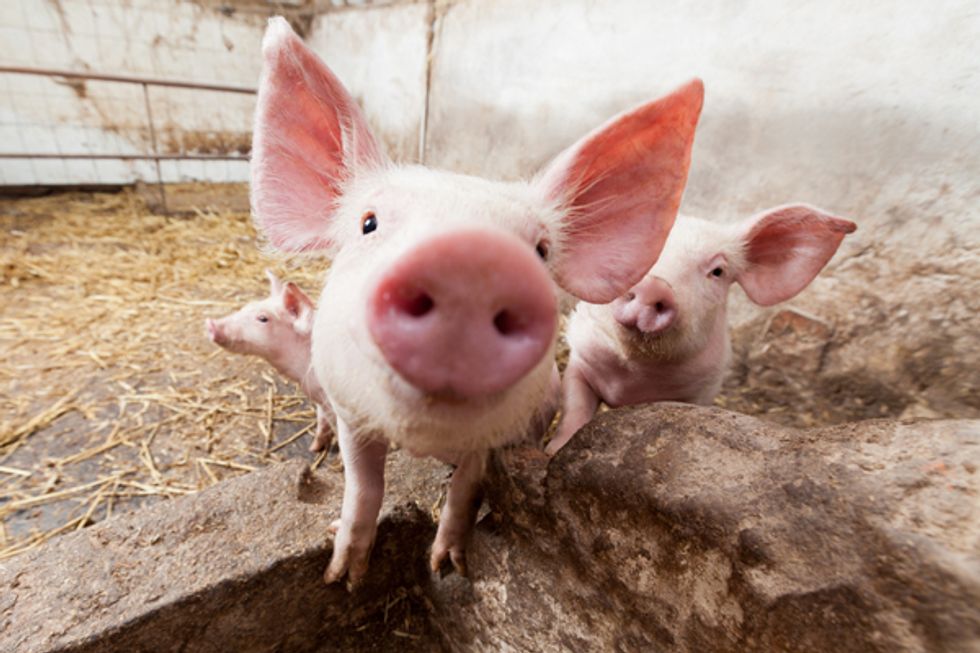 Photo courtesy of Shutterstock
We associate food with, at most, pleasure—at the very least, survival. It's not too different for animals. Lambs turned out on new grass move "quickly over certain grasses to get to others—to nosh on clover and mustard grass, avoiding horse nettle and fescue along the way," writes Dan Barber in A Chef Speaks Out. Wild pigs, capable of seeking out the nutrients they need,"enjoy eating nuts, roots, fruits, mushrooms, bugs, rabbits and, occasionally, dead animals."
But what happens when animals are confined in cramped, filthy environments and force-fed monoculture diets of genetically modified (GMO) corn and soy?
A lot can happen. Calves are born too weak to walk, with enlarged joints and limb deformities. Piglets experience rapidly deteriorating health, a "failure to thrive" so severe that they start breaking down their own tissues and organs—self-cannibalizing—to survive. Many animals suffer from weak, brittle bones that easily fracture. Dairy cows develop mastitis, a painful udder infection. Beef cattle develop liver abscesses and an excruciating condition referred to as "twisted gut."
It all adds up to a lot of misery for animals unfortunate enough to be on the receiving end of industrial agriculture's Big GMO Experiment.
The spotlight on animal rights in Confined Animal Feeding Operations (CAFOs) is typically focused on cramped spaces and blatantly inhumane treatment. But some scientists, farmers and veterinarians are talking about another form of animal abuse: stuffing animals with feed grown from genetically engineered crops drenched in glyphosate, the key ingredient in Monsanto's RoundUp.
What they've uncovered should give us all pause. Because the symptoms veterinarians and researchers have observed in animals are not unlike many of the chronic, and increasingly prevalent, health problems plaguing humans today. Digestive disorders. Damaged organs. Infertility. Weak immune systems. Chronic depression.
"We've got a real mess," says Dr. Art Dunham, an Iowa veterinarian who has treated farm animals for several decades. Dunham is a staunch believer that GMO crops are wreaking havoc with the health of animals and humans. His daughter, Leah Dunham, who tagged along with her father on many a farm visit over the years, recently wrote America's Two-Headed Pig. Drawing on her father's clinical notes, and the work of scientists like Dr. Don Huber, professor emeritus in plant pathology at Purdue University, Leah Dunham outlines some of the ways in which humans are adding to the suffering of farm animals by feeding them a glyphosate-tainted, GMO diet.
Leah Dunham would like to see the CAFO model drastically overhauled or abandoned. Her father believes it's more realistic to tackle the issue of GMO feed without attacking CAFOs. But father and daughter agree that the problems associated with today's industrial agriculture model extend beyond the health and well-being of animals:
"My father has pored over thousands of research papers in attempts to remedy the underlying causes of the illnesses described in this book. His work has embodied a commitment to healthy lands, creatures and farms, as well as the hard work necessary to sustain them. After years of listening to him talk about his attempts to solve reoccurring health problems, I realized that most people don't have a clue as to how modern disease complexities affect farm animals. We both hope that this book will help all medical professionals, farmers and consumers better address the true roots of various medical conditions, including nutrient deficiencies, clostridial infections, diabetes and Parkinsons disease."
Leah Dunham says consumers are alarmed by news reports that focus on outbreaks of food-borne illnesses. But most are unaware that industrial GMO crops are "damaging our health in other, far more insidious ways—among them, by damaging the health of animals raised for food."
Here are a few examples, from America's Two-Headed Pig, of how Art and Leah Dunham believe genetically modified feeds, and particularly glyphosate, inflict suffering on farm animals.
Skeletal Deformities
In his many years of practice, Art Dunham hadn't seen a single case of manganese deficiency in the herds he treated. But that changed in about 2000, when he started seeing more and more calves being born with skeletal deformities—a symptom of a manganese-deficient diet. Initially skeptical, Dunham experimented by adding manganese to the calves' diets. Their health improved. His hunch was confirmed when lab results on some of the dead calves' livers revealed little or no manganese.
Dunham was confused. A diet of corn, soybean meal and hay should contain enough manganese for hogs, dairy and beef cattle. But it started to make more sense when he came across a study conducted in 2007 by Dr. Huber. Huber found that by spraying manganese on soybeans 10-14 days after the soybeans were sprayed with glyphosate, farmers could increase crop yields. Why? Huber postulated that the glyphosate caused some crops to become manganese-deficient because it was binding to nutrients in the soil and plants. Crops sprayed with glyphosate were less able to metabolize the nutrients needed for proper plant function, which made the plants susceptible to disease.
Could this be why calves fed manganese-deficient crops sprayed in glyphosate showed their own symptoms of manganese deficiency, including enlarged joints, deformed limbs and crippling weakness? The evidence was convincing and the theory plausible, if unproven.
Failure to Thrive
It's both disturbing and increasingly common in North America in recent decades, according to Leah Dunham. About five to 10 days after normal, healthy piglets are weaned off their mother's milk, they become gaunt, pale, anorexic. Their health goes south, rapidly. It's called "post-weaning failure to thrive syndrome" or PFTS. It causes piglets to catabolize, or break down, their own tissues and organs, essentially self-cannibalizing. Next comes emaciation. Then euthanasia.
Does a virus cause PFTS? Studies suggest not, says Dunham. More likely, the cause is diet-related, as the disease manifests when the piglets begin eating food. The diet theory is supported by post-mortems showing that the affected piglets have lesions in their stomachs and intestines.
Could PFTS represent another case of something essential missing from the piglets' diets? Possibly. Liver analyses of hogs reveal "rock-bottom" low levels of cobalt. In fact, out of 522 livers tested, none hit the normal range for cobalt, established before GMO feed came on the market. Perhaps not coincidentally, according to Dunham, researchers at Texas A & M University have found that glyphosate ties up cobalt at 102-103 times more than it ties up manganese.
Twisted Gut, Ulcers and Other Digestive Disorders
Nature intended for cows to eat grass. But today, most cattle spend at least the last six months of their lives on feedlots, where they're fattened up with a combination of grains, mostly corn and industrial byproducts including corn distiller, a product of the ethanol manufacturing process. This mixture is supplemented with preemptive antibiotics and growth hormones, to keep the stressed animals from getting sick while making them grow larger, faster. It's an unnatural diet that often leads to digestive disorders. Factor in the glyphosate used to grow the GMO corn, and you've got a recipe for a host of painful conditions, from twisted gut to bloody diarrhea, ulcers and bloat. All of which contribute to a weak immune system, Dunham says.
A cow's stomach has four parts: the rumen, reticulum, omasum and abomasum. A twisted gut, or medically speaking, a displaced abomasum, occurs when a cow's abomasum fills with gas, causing it to balloon up to the top of the cow's abdomen, where it can become twisted. Remedies can include surgery or repositioning the abomasum by rolling the cow on its back.
That's bad enough. But sometimes trapped gas causes a cow's stomach to bloat. To relieve the animal's pain and keep it "productive," a veterinarian will insert a hollow needle into the cow's rumen to try to release the gas. If the cow doesn't recover enough to then start relieving the gas on its own, it will be fitted with a permanent port, similar to what a chemo patient has in order to receive regular doses of chemotherapy.
According to Dunham, twisted gut and bloat are usually related to inadequate nutrition, which leads to bacterial imbalances in the gut, which cause gas. Not unlike humans, cattle host large quantities of bacteria which they need in order to digest plants and grains and absorb available nutrients from their food. Alter the bacterial content of the cow's gut and the gut can become extra acidic, irritated and inflamed, says Dunham.
Consumers know that CAFO cows are routinely fed preemptive antibiotics, which alter the animals' gut bacteria. But what many people don't realize, says Dunham, is that the animals are consuming far more antibiotics than just those intentionally administered at the feeding lots. In fact, many of the pesticides, including glyphosate patented under the number #7771736, act not only as broad-spectrum pesticides, but as broad-spectrum biocides. And these antibiotic chemicals are applied to millions of acres of plants that end up in animal feed, Dunham says. The result? Some of the animals' gut bacteria and parasitic organisms are no longer able to carry out important metabolic processes, says Dunham.
Is it a stretch to say that force-feeding animals GMO feed amounts to a form of torture? Damaged livers. Too weak to walk. Needles jammed into stomachs. Failure to thrive. All unnecessary suffering, all diet-related.
Leah Dunham stops short of using the word "torture," but in her book, she argues that we can do better:
"As other food advocates have pointed out, we have learned how to dissociate what we spend from the farmers and citizens our food dollars affect. In doing so, we can avoid thinking about how our actions affect actual creatures."
I suspect that one day future generations will remember the last three decades as a ridiculous age in American agriculture. This has been an age during which too many human beings treated animals and children like guinea pigs, feeding them genetically modified, chemically coated, antibiotic resistant experiments, despite the overwhelming evidence that these foods are serious risk factors for illness and disease. In today's world of widely accessible research and technological advances, the ability to produce abundant amounts of food without threatening biodiversity and our basic biological rights should be an expectation, not a goal.
And let's not forget the basic biological rights of the four-legged creatures unfortunate enough to be part of industrial agriculture's CAFO systems.
Visit EcoWatch's GE FOOD and FACTORY FARMING pages for more related news on this topic.
———

A new report urges immediate climate action to control global warming. John W Banagan / Getty Images
A new report promoting urgent climate action in Australia has stirred debate for claiming that global temperatures will rise past 1.5 degrees Celsius in the next decade.
EcoWatch Daily Newsletter
Winegrowers check vines during the burning of anti-frost candles in the Luneau-Papin wine vineyard in Le Landreau, near Nantes, western France, on April 12, 2021. SEBASTIEN SALOM-GOMIS / AFP via Getty Images
French winemakers are facing devastating grape loss from the worst frost in decades, preceded by unusually warm temperatures, highlighting the dangers to the sector posed by climate change.
"An important share of the harvest has been lost. It's too early to give a percentage estimate, but in any case it's a tragedy for the winegrowers who have been hit," said Christophe Chateau, director of communications at the Bordeaux Wine Council, told CNN.
Climate change, caused by the extraction and combustion of fossil fuels, has pushed winegrowing seasons earlier, putting crops at higher risk of cold — and wildfires supercharged by climate change also threaten American vignerons and farmworkers as well.
"I think it's good for people to understand that this is nature, climate change is real, and to be conscious of the effort that goes into making wine and the heartbreak that is the loss of a crop," Jeremy Seysses of Domaine Dujac in Burgundy's Côte de Nuits told Wine Enthusiast.
As reported by Wine Enthusiast:
Last week, images of candlelit French vineyards flooded social media. Across the country, winemakers installed bougies, or large wax-filled metal pots, among the vines to prevent cold air from settling in during an especially late frost.

With temperatures in early April as low as 22°F, and following an unseasonably warm March, this year's frost damage may be the worst in history for French winegrowers. Every corner of France reports considerable losses, from Champagne to Provence, and Côtes de Gascogne to Alsace. As a result, there will likely be very little French wine from the 2021 vintage reaching U.S. shores.
For a deeper dive:

CNN, Wine Enthusiast, France24, Eater
For more climate change and clean energy news, you can follow Climate Nexus on Twitter and Facebook, sign up for daily Hot News, and visit their news site, Nexus Media News.
From Your Site Articles
Related Articles Around the Web
A recent study focused on regions in Ethiopia, Africa's largest coffee-producing nation. Edwin Remsberg / Getty Images
Climate change could make it harder to find a good cup of coffee, new research finds. A changing climate might shrink suitable areas for specialty coffee production without adaptation, making coffee taste blander and impacting the livelihoods of small farms in the Global South.
In "Weather," Jenny Offill tells the story of a librarian named Lizzie who prepares for a climate apocalypse. Andrew Merry / Getty Images
By Suzanne Cords
One day Lizzie, the first-person narrator of the novel, receives an old book as a gift, with a dedication wishing the reader to be among the survivors. Like the preppers who build bunkers and stockpile supplies in remote areas to be ready for the end of the world, Lizzie is convinced that the end of the world is definitely near in times of a threatening climate disaster.
Lizzie, who lives in New York with her husband and son, is a university campus librarian. She worries about almost everything: her brother, an ex-junkie, or her dental insurance and the future in the face of the apocalypse. She is obsessed with reading reference books and articles about climate change.
She also devours words of wisdom, including about Buddhist spirituality: "A visitor once asked the old monks on Mount Athos what they did all day, and was told: We have died and we are in love with everything." But nothing can lift her spirits.
'Lizzie Is Just Like Us'
Lizzie observes rich New Yorkers plan their move to regions that are less threatened by climate change, something she simply cannot afford. Sometimes she watches disaster movies, which lead her to worry even more.
Above all, she is a gifted observer of her fellow human beings. "Young person worry: What if nothing I do matters? Old person worry: What if everything I do, does?"
Lizzie, the U.S. author told DW, is a bit like the rest of us — well aware of the climate crisis, but because she cares and worries about so many other things, that awareness falls by the wayside. That's how she felt herself, Jenny Offill said, but the more she looked into the issue, the more she saw a need for action on her part, too.

"I also was trying to see if there was a way to make it funny, because, you know, so much of the world of prepping and imagining disaster is actually sort of strangely funny."
The novel was shortlisted for the 2020 UK's Women's Prize for Fiction and has now been released in German translation.
Climate Activist With a Vision
But then, there is also this serious, scientifically based concern about what climate change means. In the past, says Offill, artists were the ones who would predict disasters; today it's the experts, as well as the students she teaches. In the end, their fears and their justified anger motivated her to take a closer look at the issue. Today, she is a climate activist herself, and is involved in initiatives along with many other artists.
Lizzie, the heroine of Weather, hasn't gotten that far. But she voices her fears, and that's a start. "Of course, the world continues to end," says Sylvia, a mentor of Lizzie's, at one point — and commences to water her garden. There is hope after all.
Reposted with permission from Deutsche Welle.
A Shell oil drilling rig off the coast of Alaska in the Chukchi Sea on May 21, 2015. Orjan F. Ellingvag / Corbis via Getty Images
By Jake Johnson
A federal appeals court on Tuesday dealt the final blow to former President Donald Trump's attempt to open nearly 130 million acres of territory in the Arctic and Atlantic Oceans to oil and gas drilling.