This website uses cookies to ensure you get the best experience while browsing it. By clicking 'Got It' you're accepting these terms.
Tornado Nearly Strikes USEC Centrifuge Facility
Mar. 06, 2012 12:33PM EST
Energy
It was a dark and stormy night, except it wasn't, a full forty minutes before sunset. Last Friday, March 2, darkness came in curtains of rain, whipping winds, and a vengeful cloud front, punctuated by lightning flashes. The horses stabled on my farm fled to shelter, and Mweowa, my white German Shepherd, whimpered at my thigh, afraid to even look outside. Lethal funnels spun off the mother-storm had already wreaked devastation through southeast Indiana, northern Kentucky, and southwest Ohio, moving in a wedge that pointed distinctly at its cyclonic kin—the USEC uranium centrifuge facility south of Piketon, Ohio.
Yes, it's spooky. The death toll from the tornado flock has reached 38, concentrated in the energetic west, before the projectile point crossed the Ohio River at Moscow, site of a long-abandoned nuclear construction project. Afterward, the trees of Moscow-on-the-Ohio were reportedly draped with homeless rugs. A southern prong of twisters obliterated the town of West Liberty in eastern Kentucky. The easternmost tornado of the Ohio swarm cut a two-mile, 100-yard wide swath through the backwoods community of Camp Creek in Pike County—named either for its choice location as an Indian campsite, or for Christian camp revivals, or both. If it had continued eastward just a few more miles, the tornado would have hit "the American Centrifuge Plant" dead-on.
That is indicated by the National Weather Service report of a "March 2, 2012 Tornado SW of Piketon, OH" six miles southwest of the town. The tornado proceeded on a due easterly course for two miles, right on the 39th Parallel. A few miles to the east, that course travels along Hewes Street, an internal road on the Department of Energy (DOE) "reservation," a road that traces the 39th Parallel, the southern utility road of what is now the alleged test facility of the centrifuge uranium enrichment complex leased by USEC, Inc.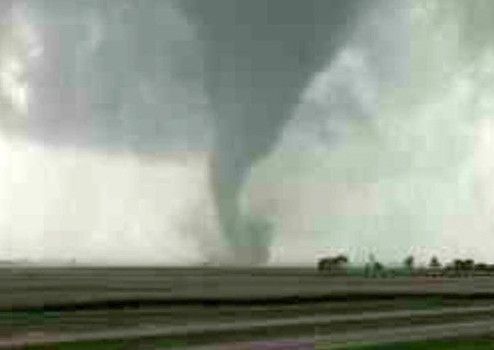 In other words, Mother Nature's lead storm cascade aimed right at the USEC buildings that house its test facility, called the "Lead Cascade." The Lead Cascade was intended to be the prototype for an 11,000-machine array of forty-foot tall centrifuges, until that project ran into monumental problems of financing and technology. A political football, the project is still kicked around, and I attended a "roundtable" at the site exactly two weeks prior to the tornado, hosted by U.S. Sen. Rob Portman (R-OH) of the "No More Solyndras Party." Portman is still angling to secure a $2 billion federal loan guarantee to enable USEC to build its forlorn plant, now proven to be a brave-new-climate tornado target.
One year ago, at a forum hosted by the Fluor Corporation, which has been contracted to clean up the adjacent site of the old shuttered enrichment plant (and is also a subcontractor on USEC's centrifuge misadventure), I wound up discussing Hewes Street with Jamie Jameson, head of Fluor's Piketon project. For some odd reason I couldn't pinpoint even at the time, I tried to explain that Hewes Street was the kind of historic feature the community might want to preserve as the reservation is redeveloped. The 39th Parallel is steeped in Masonic mysticism in these parts. George Washington viewed the parallel with esoteric reverence (the northern corner of the District of Columbia was planned to rest on the parallel, so the ultimate apropos target of the 2012 tornado spear might have been Washington, D.C.), and he can be considered the founder of the numerological cult of 39. While a British officer, Washington surveyed the latitude through Ohio, and he later designed a sundial to work only within one degree. The parallel nearly touches the northern edge of a twenty-acre prehistoric Indian earthwork enclosure just west of the DOE reservation, and local Freemasons of the pioneer generation planned eternal repose in graves set on latitude 39.
Whether the atomic planners who mapped out Hewes Street were part of this Masonic conspiracy I cannot say, nor can I speak for the Higher Power behind the Tornado of 2012. But if signs are had, I think we have one. Take a look at the eastward path of the northern prong of the March 2 tornado front, according to the National Weather Service Storm Map. It hones in on the DOE reservation, which is located just north of the Route 23 marker on the map, between Piketon and Lucasville.
And the spear-point pattern is not happenstance. It generally follows the route of the Ohio River Valley, which in turn follows a line of geologic faults that emanate northeast from the New Madrid earthquake focal point in Missouri. It is conjectured that this geologic fault line has electromagnetic properties conducive to intense electrical storm activity along a recurrent path. That is, Piketon, at the midpoint of the wall of the lower Scioto Valley, sits at the consistent cul-de-sac of one of America's most potent Tornado Alleys.
But there is something very strange about that Storm Map. The easternmost tornado, marked with a red balloon, is the Otway tornado in northwestern Scioto County. The Camp Creek tornado, just northeast of it—the one aiming straight for the USEC facility—is not marked, though it is listed as the last tornado in the time-sequence. Pike County has been preserved on the map, as it is in Department of Energy documentation, as a virtual tornado-free zone.
This might be written off as a chance error, were it not for a very long list of such errors in federal government documentation, including:
Obvious spring-fed wetlands on the southwest boundary of the DOE reservation (mostly on my property) have never been recognized as wetlands, which would merit special environmental assessment and protection. An official of the Ohio Department of Natural Resources (ODNR), while staring at the marsh grass with me, told me the problem was that they were too close to the atomic site, implying that an official designation might be a hindrance to development. DOE documents have so far declared that "there are no wetlands" within a mile of the DOE site, which is patently false.
A letter from the U.S. Fish and Wildlife Service (FWS) declaring the USEC project site to be habitat of the Timber Rattlesnake, listed as an endangered species by the State of Ohio, was mysteriously missing without indication of its absence, from the circulated draft Environmental Report for the American Centrifuge Plant, prepared by USEC and provided by the Nuclear Regulatory Commission (NRC). By the time the crucial document was produced, by way of snail mail in an unmarked envelope, the deadline had passed for licensing intervention on grounds of endangerment to the species. Though the FWS letter was produced to the NRC, the Department of Energy has yet to acknowledge the letter's existence. The letter now can be found in Appendix B of the final revision of the Environmental Report.
The DOE reservation is ringed by properties listed on or eligible for the National Register of Historic Places, including numerous prehistoric earthworks and pioneer-era homes (including mine), but DOE did not conduct an official survey of such properties as required by law until 2011, and prior documentation including that produced for USEC's NRC license, affirmed the absence of nearby historic properties, even though they were known to exist. One unacknowledged geometric earthwork is 300 feet long, perhaps 2,000 years old, and it sits at the western highway entrance ramp to the DOE reservation.
Before 2001, during operation of the old uranium enrichment plant, which emitted large quantities of fluoride to the air and water, ODNR staff discovered fluoride poisoning in local wildlife, but were instructed not to file reports of the discovery, for fear of impeding new projects at the site, including the centrifuge venture.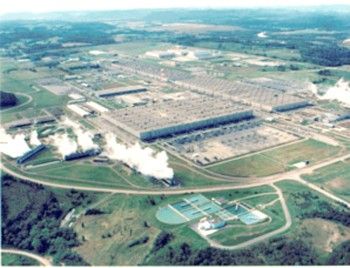 These are only examples of a persistent paranormal phenomenon at Piketon. Projects have been authorized, licensed, and federally funded on the premise of no wetlands, no endangered species, no impacted historic properties, and no serious tornadoes. In plain fact, there are wetlands, endangered species, impacted historic properties, and serious tornadoes. And if they had been recognized in timely fashion, the monumental wastage of funds on USEC's little twisters could have been averted.
But this is Appalachian Ohio, and federal law is assumed inapplicable. The USEC Environmental Report used to obtain expedited NRC licensing downplayed the risk of tornadoes thusly on page 3-52:
Tornadoes do occur in Southern Ohio; however, specific analyses of the frequency of tornadoes in the region show that they are rare...The site had an average of 3 days per year between 1950 and 2002 with severe storms with winds exceeding 58 mph.
Prior environmental reports for Piketon projects had been even more dismissive of tornado threat, conveniently citing the lack of record of severe devastation in Ohio for 50 or 100 years. That was particularly galling to students of history, since the removal of Indians from most of Ohio was accomplished by General "Mad" Anthony Wayne at the infamous Battle of Fallen Timbers in 1794. The battle site acquired its name because a horrendous tornado had felled the trees, removing the Indians' usual camouflage, and though that site is far to the north, another community named Fallen Timbers for like reasons lies close to Piketon toward the southeast.
The disingenuousness of official denials of tornado hazard were revealed to me most poignantly on a site tour aimed at locating "artifacts" for display at a future "atomic museum." Among the rusted paraphernalia of outdated nuclear ingenuity, I spied off to the side the steel door to a room marked in big stenciled letters: TORNADO SHELTER. Also, it bore the funnel-shaped international icon of a tornado, in case non-Anglo migrants might be wandering around the atomic site. I want that door displayed in the future museum—right next to the highlighted passage from old environmental reports, denying that there is any tornado danger at the site.
What might a severe tornado, of the type that struck on March 2, with winds ranging from 75 to 175 mph, mean for a hypothetical commercial-scale centrifuge plant, spinning uranium hexafluoride gas? Neither USEC nor the NRC bothered to conjecture. But on June 11, 2011, in fair weather, a simple power outage initiated a cascade of consequences that included failure of backup power, the crash of six of thirty-eight centrifuges, at least one breached casing, and the disabling of two safety systems. Inspectors noted an atmosphere of employee confusion and improvisation. [see article on the June 11 crash]
Now add hundred-mile-per-hour winds and a cyclonic storm hitting a Portman-pumped facility of eleven thousand super-fast uranium centrifuges. And pray.
That's what I did on the early evening of March 2, looking out over tempest from the cover of my back porch, as the USEC sirens blared non-stop. (Both DOE and NRC officials—none of whom have visited—concluded that they could envision no "visual, auditory, or atmospheric impact" of USEC's project on my historic property. Would that they had stood there with me on March 2.)
My home was secure. The family that built it, and rebuilt it after a partial collapse circa 1870, obviously knew of the tornado danger, for the outer brick walls are twenty-four inches thick and the roof is reinforced with industrial steel. I braved the outdoors to try to make out what the announcer over the USEC PA system was saying. The house is a mile from the USEC buildings, but the company's PA system comes through loud if never clear. (They say the former occupant of my house, a man named Fonzo, went bonkers thinking that the atom-plant voices were speaking to him personally, but never able to make out what they said.)
On March 2, o'er the sweep of rain and through the ionized atmosphere, I listened intently for emergency instructions from on high. But I only heard garble. I suspect the muddle of the message would only have increased had I gone straight to the source.
Late-breaking—a possible second tornado near Piketon on March 2 awaits confirmation by NWS as of Tuesday, March 6.
For background on USEC and the American Centrifuge Plant, see Geoffrey Sea's article series by clicking here.
EcoWatch Daily Newsletter
Protestors and police stand on ether side of railway tracks. dpa / picture-alliance
Police have cleared 250 climate activists who stayed overnight at the Garzweiler brown coal mine in western Germany, officials said Sunday.
Cecilie_Arcurs / E+ / Getty Images
By Megan Jones and Jennifer Solomon
The #MeToo movement has caused profound shake-ups at organizations across the U.S. in the last two years. So far, however, it has left many unresolved questions about how workplaces can be more inclusive and equitable for women and other diverse groups.

Cigarette butts are the most-littered item found at beach clean ups. John R. Platt
By Tara Lohan
By now it's no secret that plastic waste in our oceans is a global epidemic. When some of it washes ashore — plastic bottles, plastic bags, food wrappers — we get a stark reminder. And lately one part of this problem has been most glaring to volunteers who comb beaches picking up trash: cigarette butts.

Andrea Rodgers, second from the right, takes notes during a hearing in the Juliana v. U.S. case before the 9th Circuit Court of Appeals in Portland, Oregon on June 4. Colleague Elizabeth Brown sits to her left, while colleague Julia Olson sits on her right, with co-council Philip Gregory on Julia's right. Robin Loznak / Our Children's Trust
By Fran Korten
On June 4, Andrea Rodgers was in the front row of attorneys sitting before a three-judge panel of the 9th Circuit Court. The court session, held in Portland, Oregon, was to determine whether the climate change lawsuit (Juliana v. United States) brought by 21 young plaintiffs should be dismissed, as requested by the U.S. government, or go on to trial.
Seventy Extinction Rebellion protesters were arrested outside The New York Times building Saturday.
SCOOTERCASTER / YouTube screenshot
Explosions and a blaze at the Philadelphia Energy Solutions Refining Complex on June 21.
VOA News / YouTube screenshot
A fire broke out at a Philadelphia oil refinery Friday morning, starting with an explosion so massive it was felt as far away as South Jersey and Delaware County, Pennsylvania, CNN reported.
Asian elephants in Bandipur National Park, India. Mike Prince / CC BY 2.0
By John R. Platt
Some of the tiniest creatures in Myanmar benefit from living near the largest species in the area.