Top Ten Counties Losing Forests in the South
Nov. 02, 2011 10:06AM EST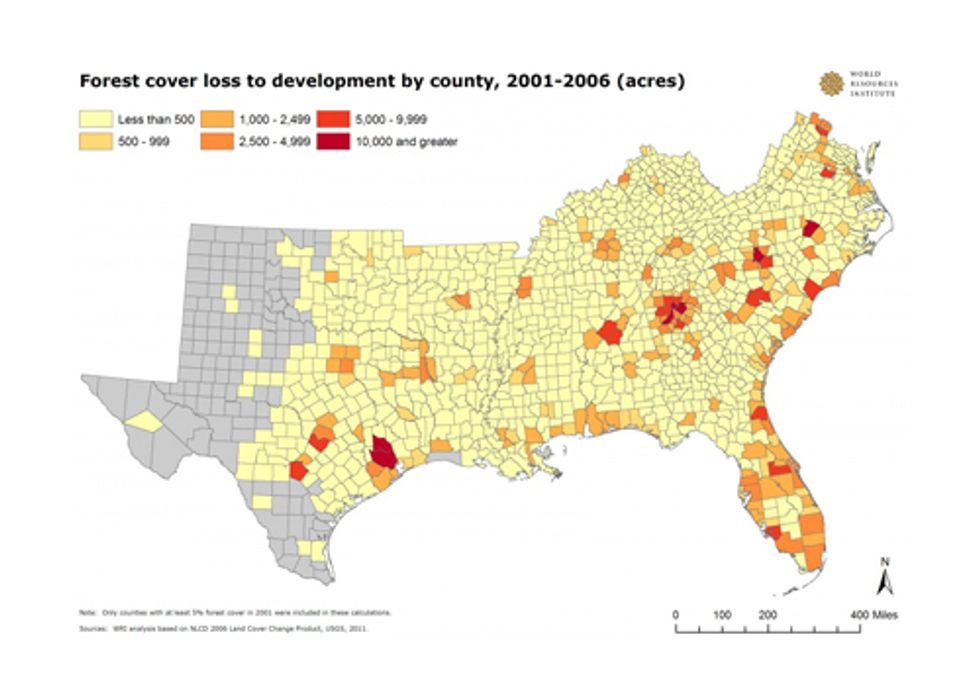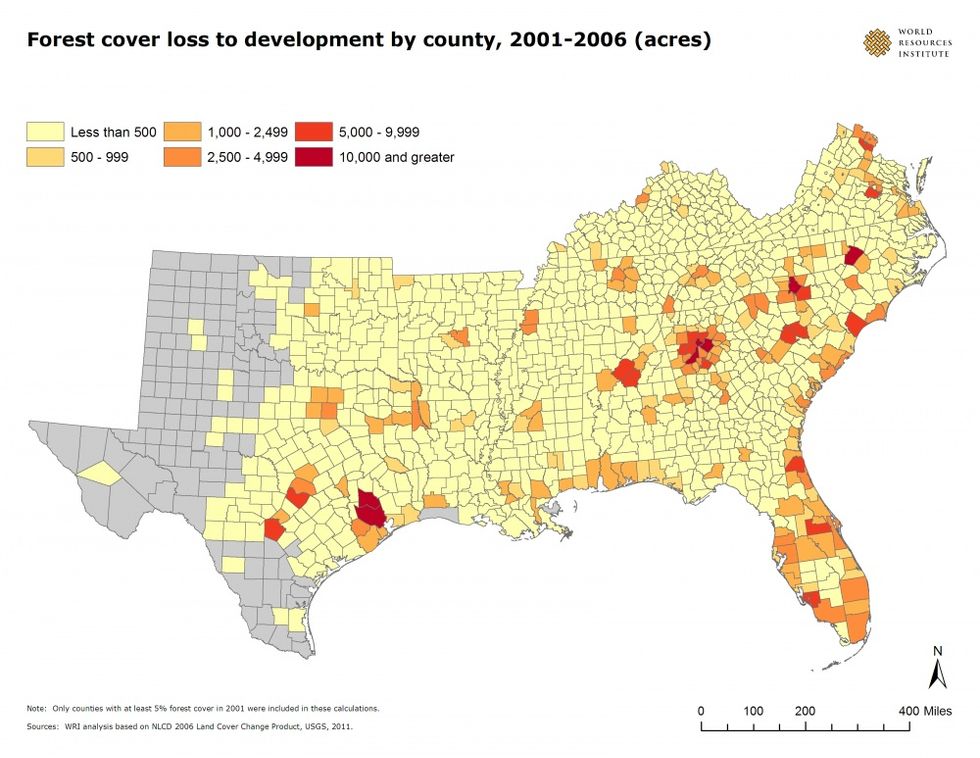 World Resources Institute (WRI) released a new map Nov. 1 that identifies the hotspots where urban and suburban development are putting forests at risk in the southern U.S. Areas experiencing the most forest loss to development between 2001 and 2006 (the most recent years for which data are available) were counties near Houston, Atlanta, Raleigh, N.C., and Charlotte, N.C. Counties around San Antonio, Jacksonville, Fla., and Birmingham, Ala., round out the top ten (Table 1).
Here are some additional highlights:
Harris County near Houston, Texas, lost more forest to development than any other county in the South during this time period.
Among southern states, Georgia experienced the most forest conversion to such development, nearly twice the amount of runner-up Texas.
Development in Georgia, Texas and Florida alone accounted for almost 50 percent of all forest loss in the South due to development.
In total, these top ten counties converted approximately 123,000 acres of forest to development over five years, an area three times the size of Washington, DC.
Table 1. Ten counties in the U.S. South experiencing the most annual deforestation due to urban and suburban development (2001-2006) Rank County (metro area) State Forest acres converted per year (2001-2006)
| Rank | County (metro area) | State | Forest acres converted per year (2001-2006) |
| --- | --- | --- | --- |
| 1 | Harris (Houston) | Texas | 5,230 |
| 2 | Gwinnett (Atlanta) | Georgia | 3,033 |
| 3 | Fulton (Atlanta) | Georgia | 2,801 |
| 4 | Wake (Raleigh) | North Carolina | 2,407 |
| 5 | Montgomery (Houston) | Texas | 2,153 |
| 6 | Mecklenburg (Charlotte) | North Carolina | 2,139 |
| 7 | Bexar (San Antonio) | Texas | 1,897 |
| 8 | Duval (Jacksonville) | Florida | 1,693 |
| 9 | Jefferson (Birmingham) | Alabama | 1,687 |
| 10 | Cobb (Atlanta) | Georgia | 1,644 |
Covering nearly 214 million acres, the forests of the southern U.S. stretch from Texas to Virginia, and from Kentucky down to Florida. These forests are the nation's wood basket, supporting 600,000 jobs. They also provide a multitude of other benefits or ecosystem services such as watershed protection, carbon storage and recreation. As profiled in WRI's Southern Forests for the Future, suburban expansion is the biggest threat to the quality and quantity of these forests.
The new map shows a continuation of trends from the 1990s. But trends since 2006 may be different. It is likely that forest conversion patterns in the region have changed since the economic downturn started in 2008. Given that housing starts have declined over the past few years, we would expect to see a reduction in forest conversion once the data become available.
Therein lies one of the challenges in monitoring changes in the nation's forests. It can take years for data on forest cover change to be processed and made publicly available. A forest cover monitoring system that makes information available more frequently would enable decision-makers and forest stakeholders to better understand what is happening to forests in a more timely manner.
But a more fundamental question raised by the WRI analysis is how can the South break the link between growth and forest conversion? Paradoxically, expanding suburban areas are clearing the same forests that they depend upon for clean freshwater, recreation and the beautiful vistas that make living in those regions so attractive in the first place.
Robust markets for sustainably managed forest products such as timber and pulpwood are an important start. Many woodland owners need to earn financial benefits from working their forests. Without such a revenue stream, selling land for real estate development may become an attractive alternative when the housing market rebounds.
Likewise, innovative approaches for financially rewarding woodland owners for the benefits their forests provide need to become more mainstream. These approaches could include payments for watershed services, working forest conservation easements, habitat credits and others, as recently profiled by WRI.
Through these and similar approaches, the South may be able to have its growth and its forests, too.
For more information, click here.
—————
When developing the map, WRI performed a county level analysis on the National Land Cover Database 2006 Land Cover Change dataset which was produced by the Multi-Resolution Land Characteristics Consortium, a coalition of federal agencies including the U.S. Geological Survey, U.S. Department of Agriculture Forest Service, National Oceanic and Atmospheric Association and others. WRI analyzed forested areas in 2001 that by 2006 had become developed or characterized by a high percentage of buildings, asphalt, concrete and similar constructed infrastructure.
More maps on forest cover loss/gain are available on the Southern Forests for the Future website.
EcoWatch Daily Newsletter