This website uses cookies to ensure you get the best experience while browsing it. By clicking 'Got It' you're accepting these terms.
Top Climate Scientists Urge Clinton to Fully Consider Keystone XL's Impact on Climate Change
Jul. 17, 2012 12:20PM EST
Climate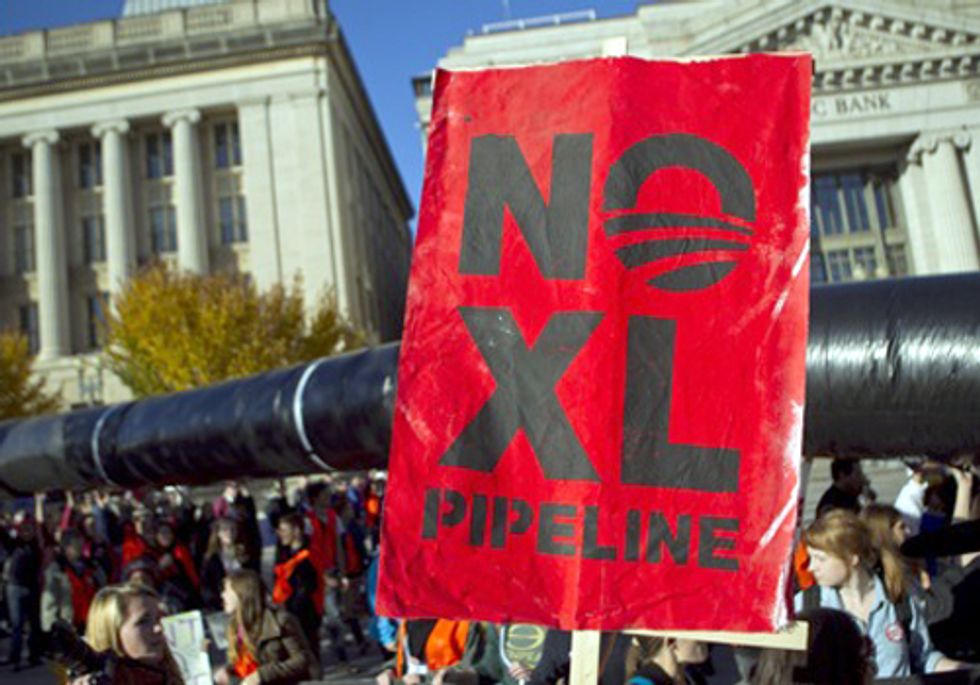 Ten of the nation's top climate scientists released a letter to Secretary of State Hillary Clinton today, urging the State Department to conduct a serious review of the climate change impacts of the Keystone XL pipeline.
"At the moment, your department is planning to consider the effects of the pipeline on 'recreation,' 'visual resources,' and 'noise,' among other factors," wrote the scientists. "Those are important—but omitting climate change from the considerations is neither wise nor credible."
The State Department is currently accepting comments on the scoping evaluation that will determine what environmental considerations will be included in the supplemental environmental impact statement (SEIS) required for the northern leg of the Keystone XL pipeline.
The department's previous pipeline environmental impact statement downplayed climate risks by arguing that the tar sands would be developed with or without Keystone XL and therefore the project had no responsibility for the additional greenhouse gas emissions that come from burning tar sands oil.
"Keystone became the biggest environmental cause of Obama's first term—and the reason most of those who marched and went to jail gave for their concern was the climate impact of those vast tar sands," said May Boeve, executive director of 350.org. "It would be ironic in the extreme if the State Department didn't take the issue seriously in its review."
A coalition of environmental groups including 350.org, Center for Biological Diversity, CREDO, the Natural Resources Defense Council, the National Wildlife Federation and Sierra Club are collecting hundreds of thousands of comments on the SEIS scoping evaluation that will be delivered to the State Department before the July 30 comment deadline.
The full text of the letter follows:
July 17, 2012
Dear Secretary Clinton,
We are writing to ask that the State Department conduct, as part of its evaluation of the Keystone XL pipeline proposal, a serious review of the effect of helping open Canada's tar sands on the planet's climate.
At the moment, your department is planning to consider the effects of the pipeline on "recreation," "visual resources," and "noise," among other factors. Those are important—but omitting climate change from the considerations is neither wise nor credible. The vast volumes of carbon in the tar sands ensure that they will play an important role in whether or not climate change gets out of hand; understanding the role this largescale new pipeline will play in that process is clearly crucial.
We were pleased that President Obama saw fit to review this project more carefully; it would be a shame if that review did not manage to comprehensively cover the most important questions at issue.
Sincerely,
John Abraham
Associate Professor, School of Engineering
University of St. Thomas
Ken Caldeira
Senior Scientist
Department of Global Ecology
Carnegie Institution
James Hansen
Research Scientist
The International Research Institute for Climate and Society
The Earth Institute, Columbia University
Michael MacCracken
Chief Scientist for Climate Change Programs
Climate Institute
Michael E. Mann
Professor of Meteorology
Director, Earth System Science Center
The Pennsylvania State University
James McCarthy
Alexander Agassiz Professor of Biological Oceanography
Harvard University
Michael Oppenheimer
Albert G. Milbank Professor of Geosciences and International Affairs
Woodrow Wilson School and Department of Geosciences
Princeton University
Raymond T. Pierrehumbert
Louis Block Professor in the Geophysical Sciences
The University of Chicago
Richard Somerville
Distinguished Professor Emeritus and Research Professor
Scripps Institution of Oceanography
George M. Woodwell
Founder, Director Emeritus, and Senior Scientist
Woods Hole Research Center
EcoWatch Daily Newsletter
California Gov. Gavin Newsom speaking with attendees at the 2019 California Democratic Party State Convention at the George R. Moscone Convention Center in San Francisco.
Gage Skidmore
/ Flickr /
CC BY-SA 2.0
California Gov. Gavin Newsom imposed new restrictions on oil exploration in his state yesterday by putting a moratorium on hundreds hydraulic fracturing permits until the projects are reviewed by independent scientists, as the AP reported.
The endangered Houston toad. Courtesy of U.S. Fish and Wildlife Service
While the planet continues to heat up, almost every single one of the 459 species listed as endangered in the U.S. will struggle as the climate crisis intensifies, according to new research published in the journal Nature Climate Change.
"This singular scientific achievement was accomplished at Heliogen's commercial facility in Lancaster, California."
Heliogen
A startup backed by Bill Gates unveiled a breakthrough solar technology Tuesday that could free heavy industry from fossil fuels.
Rhodiola rosea is an adaptogenic herb that can help with chronic fatigue and stress-related burnout. Tero Laakso / Flickr
By Gavin Van De Walle, MS, RD
While everyone has specific life stressors, factors related to job pressure, money, health, and relationships tend to be the most common.
Stress can be acute or chronic and lead to fatigue, headaches, upset stomach, nervousness, and irritability or anger.
A video shows a woman rescuing a koala from Australia's wildfires.
VOA News / YouTube screenshot
More than 350 koalas may have died in the wildfires raging near the Australian town of Port Macquarie in New South Wales, but one got a chance at survival after a woman risked her life to carry him to safety.