This website uses cookies to ensure you get the best experience while browsing it. By clicking 'Got It' you're accepting these terms.
Top 20 Health Concerns Related to Fracking
Oct. 17, 2012 11:39AM EST
Energy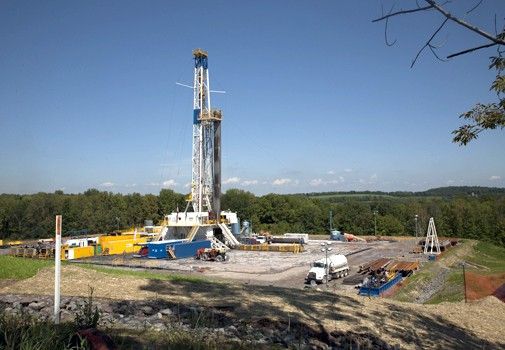 Grassroots Environmental Education, a nonprofit organization that organized and facilitated meetings between medical professionals, scientists and senior staff from the New York Department of Environmental Conservation (DEC) and New York Department of Health as well as representatives from the Governor's office, released a summary report today of those meetings which identifies 20 important public health concerns related to gas drilling in New York State. The report was delivered to meeting participants and the commissioners of both agencies this morning.
"As more independent science on hydrofracking operations becomes available, the full dimension of the potential health impacts is becoming more evident" says Patti Wood, executive director of Grassroots Environment Education and organizer of the meetings. "These are very serious issues, and the emerging science brings into question whether they can ever be answered successfully." 
The document released, Summary Report: Human Health Risks and Exposure Pathways of Proposed Horizontal Hydrofracking in New York State identifies twenty concerns discussed at the meetings or contained in documents furnished to participants. These include:
• Handling and disposal of radioactive wastewater and sludge
• Accidents involving transportation of radioactive/chemical waste
• Unpredicted synergistic catalyzation and interactions with radioactive material
• Groundwater contamination from leaking storage containers, abandoned wells and failed casings
• High levels of radon in natural gas from Marcellus shale
• Respirable crystalline silica exposure of workers and nearby populations
• Air contamination from diesel engines at drilling sites and in local communities
• Air contamination from flaring
• Impacts fall disproportionately on sensitive populations (children, elderly, pregnant women)
• Increased health care costs
"When there's a public health emergency, the primary objective is to stop the exposure," says Dr. David Brown, a public health toxicologist with the Southwest Pennsylvania Environmental Health Project which is helping sick people get medical care in areas of Pennsylvania with active fracking operations. "We try to help people whose water is contaminated and whose air is severely degraded. We tell them to test their water, stay inside, keep their windows closed, take their shoes off, that kind of thing. But really, at this point there are situations where there's not much we can do for them. There's no way for impacted individuals to stop the exposure." 
In addition to Dr. Brown, participants in the meetings in Albany included Dr. David Carpenter, director of the Institute for Health and the Environment, University at Albany; Dr. Ron Bishop, Department of Chemistry, SUNY Oneonta; Dr. Maya Shetreat-Klein, Albert Einstein College of Medicine; Paul Rubin, HydroQuest; and Dr. Sheila Bushkin, public health and preventive medicine consultant.
"We fully support calls for an independent health impact assessment, and this report should not be interpreted as endorsing the internal review proposed by the DEC," says Wood. "But regardless of who does the assessment, each of the public health issues raised in this report must be thoroughly addressed before any decisions are made. Many of our experts concur that some of the more critical issues may indeed be irresolvable."
Visit EcoWatch's FRACKING page for more related news on this topic.
EcoWatch Daily Newsletter
Hedges, 2019 © Hugh Hayden. All photos courtesy of Lisson Gallery
By Patrick Rogers
"I'm really into trees," said the sculptor Hugh Hayden. "I'm drawn to plants."
BruceBlock / iStock / Getty Images
Thanks to their high concentration of powerful plant compounds, foods with a natural purple hue offer a wide array of health benefits.
Environmental Investigation Agency
Last week, the Peruvian Palm Oil Producers' Association (JUNPALMA) promised to enter into an agreement for sustainable and deforestation-free palm oil production. The promise was secured by the U.S. based National Wildlife Federation (NWF) in collaboration with the local government, growers and the independent conservation organization Sociedad Peruana de Ecodesarrollo.
Pixabay
Leaked documents show that Jair Bolsonaro's government intends to use the Brazilian president's hate speech to isolate minorities living in the Amazon region. The PowerPoint slides, which democraciaAbierta has seen, also reveal plans to implement predatory projects that could have a devastating environmental impact.
XL CATLIN SEAVIEW SURVEY / THE OCEAN AGENCY
Hope may be on the horizon for the world's depleted coral reefs thanks to scientists who successfully reproduced endangered corals in a laboratory setting for the first time, according to Reuters.
Last week we received positive news on the border wall's imminent construction in an Arizona wildlife refuge. The Trump administration delayed construction of the wall through about 60 miles of federal wildlife preserves.
PhotoAlto / Frederic Cirou / Getty Images
Drinking water treated with fluoride during pregnancy may lead to lower IQs in children, a controversial new study has found.