This website uses cookies to ensure you get the best experience while browsing it. By clicking 'Got It' you're accepting these terms.


The best of EcoWatch, right in your inbox. Sign up for our email newsletter!
Top 10 Ways to Help Birds This Spring
Mar. 20, 2014 12:25PM EST
Despite persistent late-occurring snowstorms, average temperatures are starting to climb, soon to be followed by the most deadly period of the year for birds: springtime. Although spring means new life and hope to many people, billions of birds face the tribulations of a perilous migration followed shortly by breeding and the production of scores of newborn birds that will spend several highly vulnerable weeks as they grow and fledge.
According to Dr. George Fenwick, president of American Bird Conservancy (ABC), "Spring is a deadly time for birds for three big reasons. Scientists estimate that 300 million to one billion birds die each year from collisions with buildings, many during arduous migrations in unfamiliar environments. Up to 50 million die from encounters with communication towers and up to six million may die each day from attacks by cats left outdoors. These deaths occur year-round, but many occur during spring and fall migration."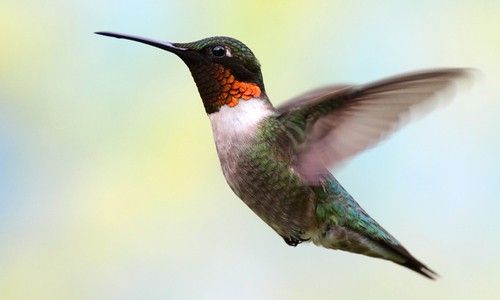 Ruby-throated Hummingbird. Photo courtesy of Shutterstock
"Some studies suggest that perhaps as many as half of all migrating birds do not make it back home," he said, "succumbing to various threats on either end of the journey."
One in five Americans engage in bird watching, so after months of waiting for migrants to return, many people turn to emails, phone lines and social media to ask ABC a dozen variations on the same question: "How can I help the birds?" Here is our answer to that question, just in time for spring.
The top 10 ways to help birds this spring are the following:
1. Keep your cat indoors. This is best for your cat as well as for the birds, as indoor cats live an average of three to seven times longer. Cats are responsible for an estimated 2.4 billion bird deaths each year. In the spring, young birds or nestlings often end up on the ground, attracting the fatal attention of a nearby cat. Ground nesting species that are especially vulnerable include Killdeer and Wood Thrush, but all baby birds—from ducks to warblers—will be on the ground for a critical period of time.
2. Prevent birds from hitting your windows. As many as one billion birds die each year after colliding with glass in buildings. You can reduce this problem at your home by applying a variety of window treatments. For example, ABC BirdTape is a proven solution that is inexpensive and long-lasting. (See a short video here.) Birds most prone to fatal collisions at home windows or glass doors include Ruby-throated Hummingbird and Wood Thrush.
3. Eliminate pesticides from your yard. Even those pesticides that are not directly toxic to birds can pollute waterways and reduce insects that birds rely on for food. For rodent control, seal cracks, remove food sources and use snap and electric traps rather than rodenticides, which can poison raptors such as hawks and owls as well as young children. And be sure not to garden with neonicotinoid-coated seeds, or neonics, which are lethal to songbirds as well as to bees and other invertebrates. Learn more here.
4. Buy organic food and drink Smithsonian-certified Bird Friendly Coffee. Going organic helps to reduce pesticide use on farms and increases the market for produce grown without the use of pesticides, which can be toxic to birds and other animals, and will help to reduce the use of these hazardous chemicals in the U.S. and overseas. Shade coffee farms have been shown to provide far superior habitat for birds than coffee grown in open sun. Buying coffee that is certified Bird Friendly is one of the easiest ways to help migratory birds.
5. Create backyard habitat using native plants. When you garden with plants that evolved in your local habitat, you supply native insects and their larvae with food, which in turn are an irreplaceable food source provided by birds to their nestlings. Yards both large and small can benefit birds and other wildlife. Create a diverse landscape by planting native grasses, flowers and shrubs that attract birds. You will be rewarded by their beauty and song, and will have fewer insect pests as a result. Read more here.
6. Reduce your carbon footprint. While all forms of energy use impact birds, small individual actions can add up and make a difference. Use a hand-pushed or electric lawnmower, carpool and use low-energy bulbs and Energy Star appliances. Less energy used means less habitat destroyed for energy production.
7. Donate old bird-watching equipment. Binoculars or spotting scopes will be appreciated by local bird watching groups—they can get them to schools or biologists in other countries who may not have the resources they need. More people studying birds means more voices for bird conservation!
8. Keep bird feeders and bird baths clean. If you feed the birds, make sure you aren't accidentally allowing the spread of disease. Disinfect feeders and bird baths, and change water regularly or use a drip system to prevent mosquitoes from breeding.
9. Support bird-friendly legislation. U.S. policy makers frequently make decisions that affect birds. For example, decisions are now being made that will impact the survival of the imperiled Greater Sage-Grouse. By raising your voice, you can help to influence the outcome for birds on this and other important issues.
10. Join two bird conservation groups—a local one and American Bird Conservancy. Your support will provide needed dollars for bird conservation, enabling you to help achieve more than is possible through individual efforts. Membership also enables you to become more informed and involved in the issues you're concerned about.
"Protecting and helping birds is not only the right thing to do," said Fenwick. "It is also good for the economy and the future of our environment. Birds are invaluable as controllers of insect pests, as pollinators of crops and as dispersers of native plant seeds. They also generate tremendous economic revenues through the pastimes of bird feeding and bird watching."
A federal government study reports that about 20 percent of the U.S. population—47 million people—participates in bird watching. About 30 percent of all people over 55 enjoy this pursuit. About 40 percent of birders (18 million people) actually travel to see birds and spend about $41 billion annually in pursuit of their pastime. The top five birdwatching states by percentage of total population are: Vermont (39 percent), Wisconsin (33 percent), West Virginia (33 percent), Wyoming (31 percent) and Alaska (30 percent). The states with the greatest raw number of birders are: California (4.9 million), New York (3.3 million), Florida (3.0 million), Pennsylvania (2.7 million), and Texas (2.3 million).
Visit EcoWatch's TIPS and BIODIVERSITY pages for more related news on this topic.

EcoWatch Daily Newsletter
Pexels
Get ready to toast bees, butterflies and hummingbirds. National Pollinator Week is June 17-23 and it's a perfect time to celebrate the birds, bugs and lizards that are so essential to the crops we grow, the flowers we smell, and the plants that produce the air we breathe.
Alexander Spatari / Moment / Getty Images
It seems like every day a new diet is declared the healthiest — paleo, ketogenic, Atkins, to name a few — while government agencies regularly release their own recommended dietary guidelines. But there may not be an ideal one-size-fits-all diet, according to a new study.
The U.S Forest Service unveiled a new plan to skirt a major environmental law that requires extensive review for new logging, road building, and mining projects on its nearly 200 million acres of public land. The proposal set off alarm bells for environmental groups, according to Reuters.
Homes in Washington, DC's Brookland neighborhood were condemned to clear room for a highway in the 1960s. The community fought back. Brig Cabe / DC Public Library
By Teju Adisa-Farrar & Raul Garcia
In the summer of 1969 a banner hung over a set of condemned homes in what was then the predominantly black and brown Brookland neighborhood in Washington, DC. It read, "White man's roads through black men's homes."
Earlier in the year, the District attempted to condemn the houses to make space for a proposed freeway. The plans proposed a 10-lane freeway, a behemoth of a project that would divide the nation's capital end-to-end and sever iconic Black neighborhoods like Shaw and the U Street Corridor from the rest of the city.
Demonstrators outside a Republican presidential debate in Detroit in 2016. Chip Somodevilla / Getty Images
Michigan prosecutors dropped all criminal charges against government officials involved in the Flint water crisis Thursday, citing concerns about the investigation they had inherited from the Office of Special Counsel (OSC) appointed by former Attorney General Bill Schuette, CNN reported.
Samara Heisz / iStock / Getty Images
New York state has joined California, West Virginia, Arizona, Mississippi and Maine in ending religious exemptions for parents who prefer not to vaccinate their children, The New York Times reported.