This website uses cookies to ensure you get the best experience while browsing it. By clicking 'Got It' you're accepting these terms.
Top 10 Superfoods of 2014
Dec. 29, 2014 10:56AM EST
Superfoods were big news this year as part of the growing awareness that what you eat has a major impact on your health. We've written a lot about superfoods this past year. Here are 10 of the top ones you should keep in mind when you go shopping. Remember, this list is just the start. There are dozens more you can add to your diet, and we'll keep writing about them!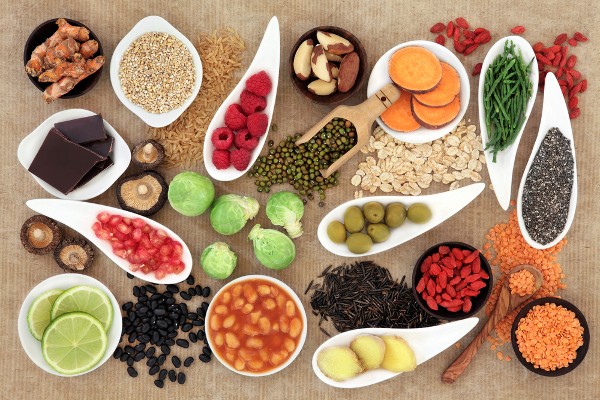 Photo credit: Shutterstock
1. Kale as a superfood isn't exactly news. It's on every restaurant menu and ideas on how to use it in new and creative ways abound. But this oldie-but-goodie remains the most nutrient-dense veggie around. Raw in a salad or cooked in a casserole, it provides protein, iron, calcium and more vitamins and minerals than virtually anything you can pick up in the produce section.
2. Garlic has had a reputation for centuries as a food that can ward off disease as well as vampires. We don't know about the vampires, but it's been shown that garlic is indeed an immune system supercharger, an antibacterial that can help protect you from colds, flu and other winter bugs. As an added benefit, it offers lots of nutrients and few calories.
3. Tomatoes contain a constellation of nutrients, including the carotenoid lycopene, that are believed to be important in reducing the risk of cancer. The antioxidants and anti-inflammatory elements in tomatoes provide a whole host of other benefits as well from reducing heart disease to improving the tone of your skin and the health of your teeth and gums.
4. There's good reason to make sweet potatoes a more than once-a-year-on-Thanksgiving part of your diet. They're packed with beta-carotene, an antioxidant than can help repair cell damage, boost your immune system and reduce inflammation. And they store well so you can eat them for another few months.
5. So-called "ancient grains" are a disparate collection of traditional grains that have be too widely replaced in the contemporary diet by processed white flour. You've probably been hearing more about spelt, quinoa, millet and farro among others—and for good reason. They're a rich source of fiber, as well as nutrients like calcium, magnesium, phosphorus, potassium, vitamin B and even protein. And many are gluten-free.
6. You probably don't think of coffee as a food, let alone a superfood. And you may have heard that too much caffeine has negative effects, which is true. But it's also an excellent source of those essential antioxidants, outranking fruits and vegetables. Studies have suggested that drinking coffee can lower your risk of dying prematurely.
7. Tea is a healthy beverage too, with hundreds of healthy compounds including antioxidant flavonoids. They're essential for staving off the effects of aging, including cancer, heart disease and Alzheimer's. And each type of tea—black, green, white and oolong—has its own set of health benefits, so mix them up.
8. Honey has traces of multiple vitamins and minerals that can be useful in boosting your immune system. It's believed that unrefined honey produced in your own region can help inoculate you against some bacteria and allergens. It's known as a soothing ingredient for coughs and sore throats.
9. Apples are such a staple, especially in the fall and winter, that they seem almost boring and passe. Lose that thought! There's reason for that old saw about "an apple a day ..." They're one of the most antioxidant-laden fruits out there, especially if you eat the peel. Be sure to buy organic though, because apples are often treated with pesticides.
10. Even some favorite indulgences are superfoods. At the top of the list is dark chocolate. Surprisingly, it's packed with antioxidants, minerals like iron and magnesium, and even fiber. Just don't buy the junk candy bars you see at the checkout counter.
YOU MIGHT ALSO LIKE
6 Superfoods to Keep You Healthy All Winter Long
9 Ways to Boost Your Immune System
Plus, learn if there's one that's best for your health.
Catherine Falls Commercial / Moment / Getty Images
An invasive Amynthas worm, also known as a crazy snake worm, Asian jumping worm and Alabama jumper Tom Potterfield / Flickr
By Jason Bittel
My wife and I built a house two years ago on a few acres of woodland outside of Pittsburgh. The backyard is full of maples, poplars, briars and common spicebush. Two-lined salamanders and grumpy-looking crayfish wade among the rocks in the small stream that runs down the edge of the property. Deer, raccoon and opossum tracks appear regularly in the snow and mud. Sometimes, my trail-cam even catches a pair of gray foxes as they slink through the night.
AleksandarNakic / Getty Images
By Kate Murphy
No matter the time of year, there's always a point in each season when my skin decides to cause me issues. While these skin issues can vary, I find the most common issues to be dryness, acne and redness.

David Woodfall / The Image Bank / Getty Images
By Sam Nickerson
The U.S. Environmental Protection Agency (EPA) in April 2018 proposed relaxing standards related to how it assesses the effects of exposure to low levels of toxic chemicals on public health.
Now, correspondence obtained by the LA Times revealed just how deeply involved industry lobbyists and a controversial, industry-funded toxicologist were in drafting the federal agency's proposal to scrap its current, protective approach to regulating toxin exposure.
Steve Irwin poses with a three foot long alligator at the San Francisco Zoo on June 26, 2002. Justin Sullivan / Getty Images
February 22 is the birthday of conservationist and beloved TV personality "Crocodile Hunter" Steve Irwin, who would have been 57 years old today.
Irwin's life was tragically cut short when the barb from a stingray went through his chest while he was filming in 2006, but his legacy of loving and protecting wildlife lives on, most recently in a Google Doodle today honoring his birthday.