This website uses cookies to ensure you get the best experience while browsing it. By clicking 'Got It' you're accepting these terms.
Top 10 Superfoods of 2014
Dec. 29, 2014 10:56AM EST
Food
Superfoods were big news this year as part of the growing awareness that what you eat has a major impact on your health. We've written a lot about superfoods this past year. Here are 10 of the top ones you should keep in mind when you go shopping. Remember, this list is just the start. There are dozens more you can add to your diet, and we'll keep writing about them!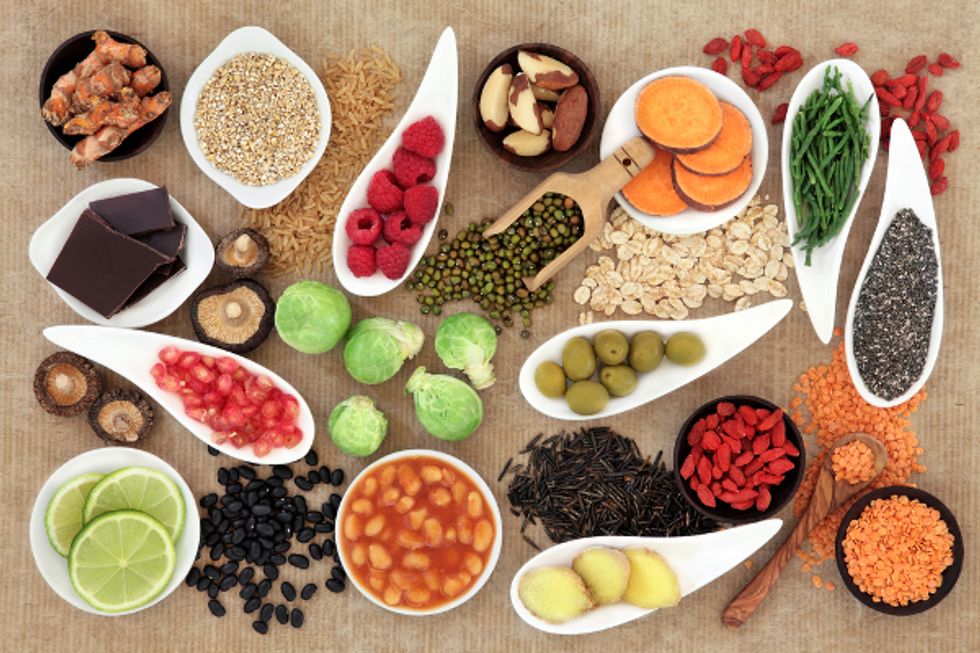 Photo credit: Shutterstock
1. Kale as a superfood isn't exactly news. It's on every restaurant menu and ideas on how to use it in new and creative ways abound. But this oldie-but-goodie remains the most nutrient-dense veggie around. Raw in a salad or cooked in a casserole, it provides protein, iron, calcium and more vitamins and minerals than virtually anything you can pick up in the produce section.
2. Garlic has had a reputation for centuries as a food that can ward off disease as well as vampires. We don't know about the vampires, but it's been shown that garlic is indeed an immune system supercharger, an antibacterial that can help protect you from colds, flu and other winter bugs. As an added benefit, it offers lots of nutrients and few calories.
3. Tomatoes contain a constellation of nutrients, including the carotenoid lycopene, that are believed to be important in reducing the risk of cancer. The antioxidants and anti-inflammatory elements in tomatoes provide a whole host of other benefits as well from reducing heart disease to improving the tone of your skin and the health of your teeth and gums.
4. There's good reason to make sweet potatoes a more than once-a-year-on-Thanksgiving part of your diet. They're packed with beta-carotene, an antioxidant than can help repair cell damage, boost your immune system and reduce inflammation. And they store well so you can eat them for another few months.
5. So-called "ancient grains" are a disparate collection of traditional grains that have be too widely replaced in the contemporary diet by processed white flour. You've probably been hearing more about spelt, quinoa, millet and farro among others—and for good reason. They're a rich source of fiber, as well as nutrients like calcium, magnesium, phosphorus, potassium, vitamin B and even protein. And many are gluten-free.
6. You probably don't think of coffee as a food, let alone a superfood. And you may have heard that too much caffeine has negative effects, which is true. But it's also an excellent source of those essential antioxidants, outranking fruits and vegetables. Studies have suggested that drinking coffee can lower your risk of dying prematurely.
7. Tea is a healthy beverage too, with hundreds of healthy compounds including antioxidant flavonoids. They're essential for staving off the effects of aging, including cancer, heart disease and Alzheimer's. And each type of tea—black, green, white and oolong—has its own set of health benefits, so mix them up.
8. Honey has traces of multiple vitamins and minerals that can be useful in boosting your immune system. It's believed that unrefined honey produced in your own region can help inoculate you against some bacteria and allergens. It's known as a soothing ingredient for coughs and sore throats.
9. Apples are such a staple, especially in the fall and winter, that they seem almost boring and passe. Lose that thought! There's reason for that old saw about "an apple a day ..." They're one of the most antioxidant-laden fruits out there, especially if you eat the peel. Be sure to buy organic though, because apples are often treated with pesticides.
10. Even some favorite indulgences are superfoods. At the top of the list is dark chocolate. Surprisingly, it's packed with antioxidants, minerals like iron and magnesium, and even fiber. Just don't buy the junk candy bars you see at the checkout counter.
YOU MIGHT ALSO LIKE
6 Superfoods to Keep You Healthy All Winter Long
9 Ways to Boost Your Immune System
EcoWatch Daily Newsletter
Deserted view of NH24 near Akshardham Temple on day nine of the 21-day nationwide lockdown to curb the spread of coronavirus on April 2, 2020 in New Delhi, India. Raj K Raj / Hindustan Times via Getty Images
A Unicef social mobilizer uses a speaker as she carries out public health awareness to prevent the spread and detect the symptoms of the COVID-19 coronavirus by UNICEF at Mangateen IDP camp in Juba, South Sudan on April 2. ALEX MCBRIDE / AFP / Getty Images
By Eddie Ndopu
South Africa is ground zero for the coronavirus pandemic in Africa.
Its townships are typical of high-density neighbourhoods across the continent where self-isolation will be extremely challenging.
The failure to eradicate extreme poverty is a threat beyond the countries in question.
The outside of the Food and Drug Administration headquarters in White Oak, Md. on Nov. 9, 2015. Al Drago / CQ Roll Call
The U.S. Food and Drug Administration has approved the use of two malarial drugs to treat and prevent COVID-19, the respiratory infection caused by the SARS-CoV-2 coronavirus, despite only anecdotal evidence that either is proven effective in treating or slowing the progression of the disease in seriously ill patients.

Some
speculate
that the dissemination of the Antarctic beeches or Nothofagus moorei (seen above in Australia) dates to the time when
Antarctica
, Australia and
South America
were connected. Auscape / Universal Images Group / Getty Images
A team of scientists drilled into the ground near the South Pole to discover forest and fossils from the Cretaceous nearly 90 million years ago, which is the time when dinosaurs roamed the Earth, as the BBC reported.
The recovery of elephant seals is one of the "signs of hope" that scientists say show the oceans can recover swiftly if we let them. NOAA /
CC BY 2.0