This website uses cookies to ensure you get the best experience while browsing it. By clicking 'Got It' you're accepting these terms.


The best of EcoWatch, right in your inbox. Sign up for our email newsletter!
Top 10 States Leading the U.S. in Solar Energy Growth
Aug. 05, 2014 12:33PM EST
Renewable Energy
While Ohio has disappointingly become the first state to roll back renewable energy mandates and ALEC continues to attack renewable energy policies to keep America addicted to fossil fuels, there remains plenty of encouraging news on renewable energy growth. Consider this: U.S. solar electric power tripled between 2011 and 2013, and solar photovoltaic capacity has increased more than 120-fold in the last 10 years.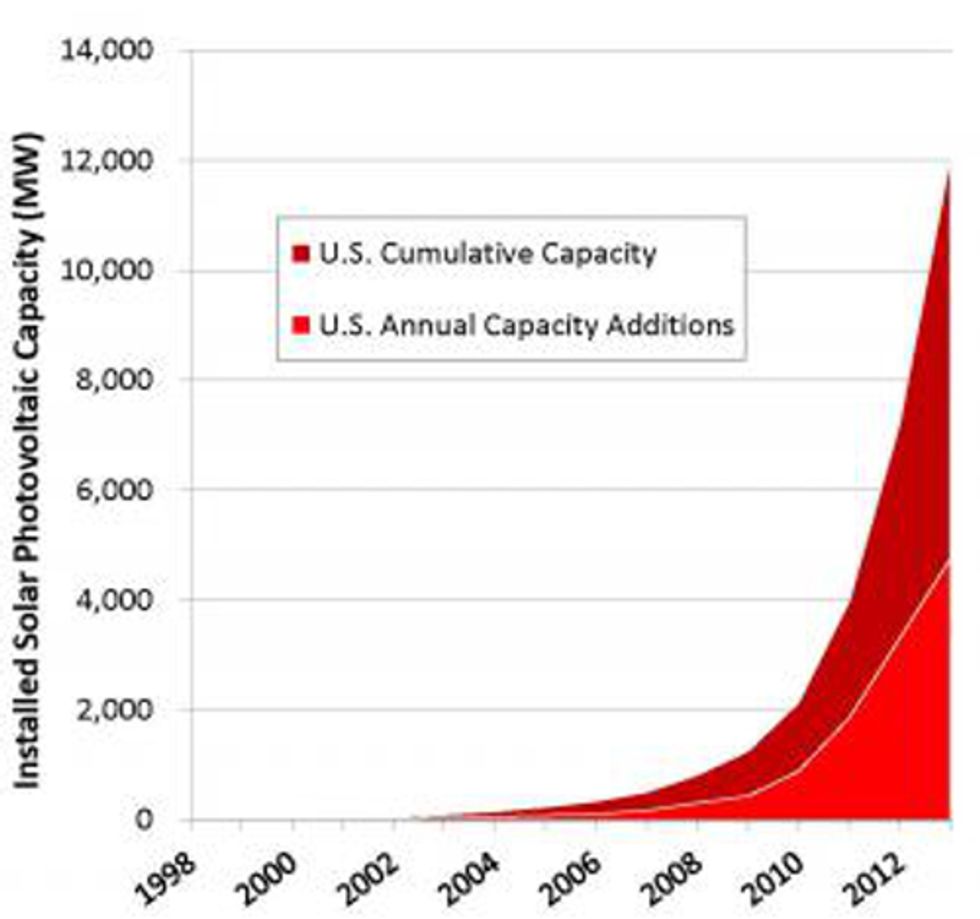 Cumulative U.S. Grid-Connected Solar Photovoltaic Capacity
In fact, the U.S. solar industry had a record-shattering year in 2013. A report released today by Environment America, Lighting the Way: The Top Ten States that Helped Drive America's Solar Energy Boom in 2013, takes a look at the 10 states responsible for 87 percent of that growth. They are:
1. Arizona
2. California
3. Colorado
4. Delaware
5. Hawaii
6. Massachusetts
7. Nevada
8. New Jersey
9. New Mexico
10. North Carolina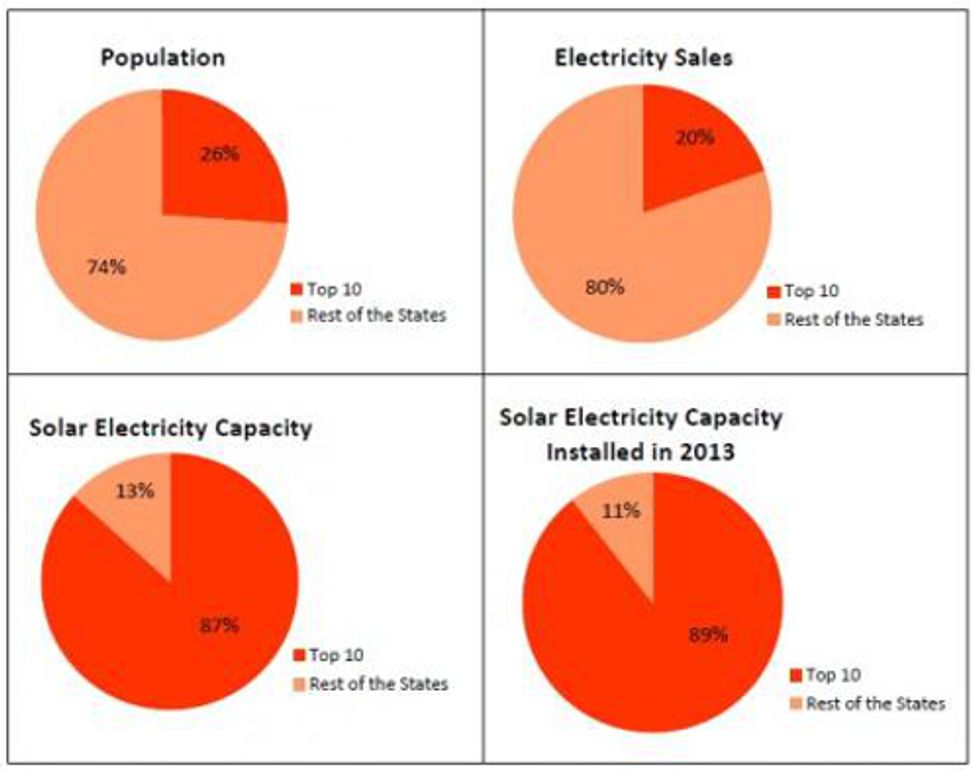 Solar Energy in the Top 10 Solar States versus the Rest of the U.S.
"Solar energy is emerging as a go-to energy option," said Rob Sargent, energy program director with Environment America. "Thanks to the commitment of state and federal leaders, this pollution-free energy option is poised to play a major role in helping us meet our energy needs while achieving our emission reduction goals; including the targets in EPA's recently proposed Clean Power Plan."
The report reaffirms that it is not sunlight availability that makes states solar leaders, rather the degree to which local and state governments utilize effective public policy for the development of the solar industry. States with more homeowners and businesses going solar had these strong policies in common:        
Nine have strong net metering policies. In nearly all of the leading states, consumers are compensated at the full retail rate for the excess electricity they supply to the grid.

Nine have strong statewide interconnection policies. Good interconnection policies reduce the time and hassle required for individuals and companies to connect solar energy systems to the grid.

All have renewable electricity standards that set minimum requirements for the share of a utility's electricity that must come from renewable sources, and eight of them have solar carve-outs that set specific targets for solar or other forms of clean, distributed electricity.

Nine allow for creative financing options such as third-party power purchase agreements, and eight allow Property Assessed Clean Energy (PACE) financing.

States in the top 10 are far more likely to have each of these key solar policies in place than other states, reinforcing the conclusion of U.S. Department of Energy research linking the presence of key solar policies to increases in solar energy deployment.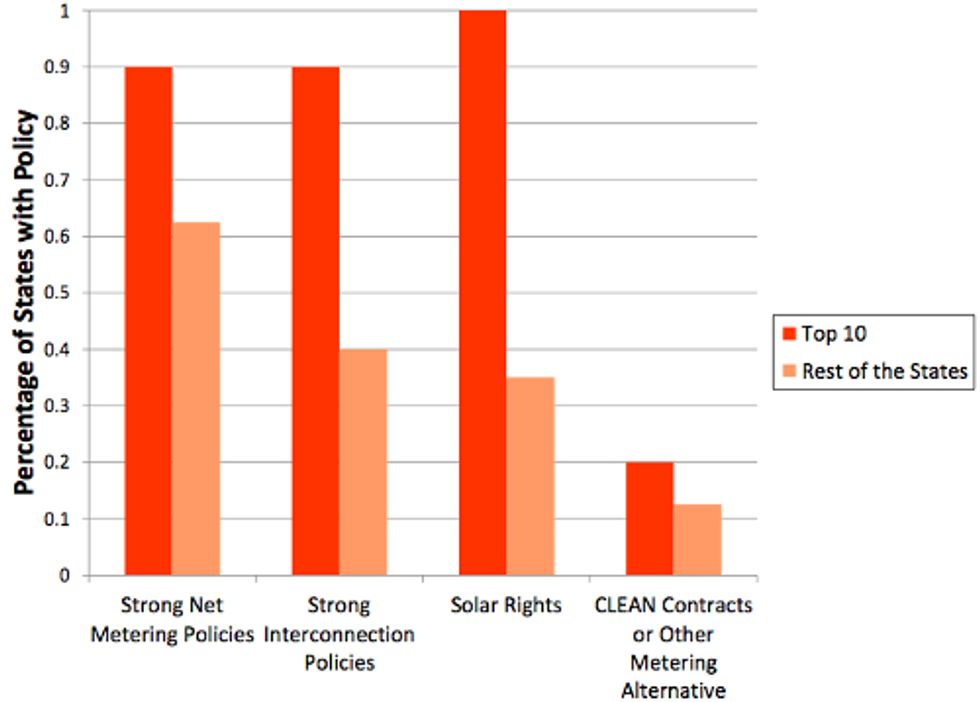 Prevalence of Market Preparation Policies, Top 10 States versus Others
"Environment America's new report rightly points out that smart public policies have been key to the development of clean, renewable solar energy–and the accompanying 143,000 America jobs and nearly $15 billion in annual investment," said Rhone Resch, president and CEO of the Solar Energy Industries Association (SEIA). "The 14,800 megawatts (MW) of solar currently installed in the United States can generate enough pollution-free electricity to displace 18 billion pounds of coal–that's a win for state economies, Americans' health and our environment. We applaud the 10 states detailed in this report and urge policymakers across the nation to look at net metering and renewable energy standards in helping their states catch the solar wave as well."
By following the example of these 10 states, the report concludes, the U.S. can work toward getting 10 percent or more of our energy from solar power by 2030.
You Might Also Like
How Solar Energy Beats Nuclear Power on Earth and in Space
Solar Industry's Sizzling Start to New Year Could Lead to More Broken Records
German Solar Experience Offers Critical 'Lessons Learned' for America
EcoWatch Daily Newsletter
Pexels
Up to 20% of people may have a food addiction or exhibit addictive-like eating behavior.
Spiced hot chocolate. Lilechka75 / iStock / Getty Images
Food is the cornerstone of the holiday season. It brings friends and family together to share memories, cultural traditions, and great flavors.
Solar panels at the Renewable Hydrogen Fueling and Production Station on Joint Base Pearl Harbor-Hickam. U.S. Navy / Mass Communication Specialist 2nd Class Daniel Barker / Released
By Tara Lohan
Three years into the Trump administration, its anti-climate and anti-science agenda is well established. Despite dire warnings from the world's leading scientists about the threats from rising greenhouse gas emissions, the administration has stubbornly continued to deny climate change, obstructed and undermined efforts to curb it, and moved again and again to roll back existing regulations that help reduce emissions.
Pexels
Rye bread tends to have a darker color and stronger, earthier taste than regular white and wheat bread, which is one reason why many people enjoy it.
Elva Etienne / Moment / Getty Images
By Ketura Persellin
Gift-giving is filled with minefields, but the Environmental Working Group's (EWG) got your back, so you don't need to worry about inadvertently giving family members presents laden with toxic chemicals. With that in mind, here are our suggestions for gifts to give your family this season.