Top 10 New Species for 2014
May. 22, 2014 11:43AM EST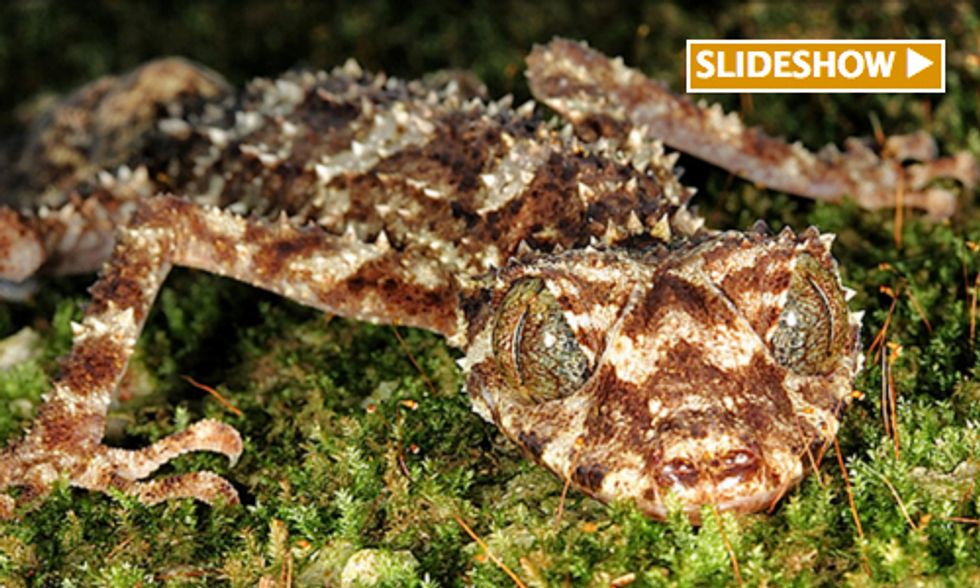 An appealing carnivorous mammal, a 12-meter-tall tree that has been hiding in plain sight and a sea anemone that lives under an Antarctic glacier are among the species identified by the SUNY College of Environmental Science and Forestry's (ESF) International Institute for Species Exploration (IISE) as the top 10 species discovered last year.
An international committee of taxonomists and related experts selected the top 10 from among the approximately 18,000 new species named during the previous year and released the list today to coincide with the birthday, May 23, of Carolus Linnaeus, an eighteenth century Swedish botanist who is considered the father of modern taxonomy.
The list includes a quartet of tiny newcomers to science: a minuscule skeleton shrimp from Santa Catalina Island in California, a single-celled protist that does a credible imitation of a sponge, a clean room microbe that could be a hazard during space travel and a teensy fringed fairyfly named Tinkerbell.
Also on the list are a gecko that fades into the background in its native Australia and a fungus that, conversely, blazed its way into contention by virtue of the bright orange color it displays when it's produced in colonies. Crawling slowly into the final spot on the alphabetical list is Zospeum tholussum, a tiny, translucent Croatian snail from one of earth's deepest cave systems.
The Top 10 Species of 2014:
[blackoutgallery id="335433"]
The annual list, established in 2008, calls attention to discoveries that are made even as species are going extinct faster than they are being identified.
"The majority of people are unaware of the dimensions of the biodiversity crisis," said Dr. Quentin Wheeler, founding director of the IISE and ESF president.
Scientists believe 10 million species await discovery, five times the number that are already known to science.
"The top 10 is designed to bring attention to the unsung heroes addressing the biodiversity crisis by working to complete an inventory of Earth's plants, animals and microbes," Wheeler said. "Each year a small, dedicated community of taxonomists and curators substantively improve our understanding of the diversity of life and the wondrous ways in which species have adapted for survival." 
"One of the most inspiring facts about the top 10 species of 2014 is that not all of the 'big' species are already known or documented," said Dr. Antonio Valdecasas, chair of the selection committee and a biologist and research zoologist with Museo Nacional de Ciencias Naturales in Madrid, Spain. "One species of mammal and one tree species confirm that the species waiting to be discovered are not only on the microscopic scale."
Valdecasas pointed specifically to two of the species: "the shrimp, Liropus minusculus with its phantasmagoric appearance" and the gecko, which bears a "disturbing likeness to some imaginary monster."
"Beautiful beasts, I would rather say!" Valdecasas said.
Why Inventory Matters
"I have been participating in the top 10 since its beginning in 2008, and I am always surprised by the constant number of species discovered in all the organic kingdoms," Valdecasas said. "It makes selecting the species challenging and demanding, but at the same time, inspiring. We are very far from having exhausted the knowledge of the biodiversity on Earth."
Wheeler offered three reasons why an inventory of Earth's species is critical:
1. Without a baseline of what exists, humans will not know if something disappears, moves in response to climate change or invades new habitats. "As long as we remain ignorant of the vast majority of species, we unnecessarily limit our effectiveness at conservation goals."
2. Billions of years of natural selection have driven plants and animals to solve the same survival problems that humans face. "By studying the millions of ways in which organisms have met challenges, we open a great library of possibilities for meeting our own needs more sustainably."
3. Simple curiosity is a factor. "If we want to understand what it means to be human the answer is buried deep in evolutionary history. We are a modified version of our ancestors, and they of theirs … all the way back to the first species on Earth. With the loss of every species, we lose one chapter in our own story that we'll never get back."
Wheeler hopes the Top 10 draws attention to the urgent need, and real possibility, of completing an inventory of all of Earth's species. "Advances in technology and communication mean that the centuries-old dream of knowing all species is within our reach. The benefits of learning our world's species are incalculable and the single most important step we can take in preparation for an uncertain environmental future."
Valdecasas concluded by conjuring an image of a human who had arrived on Mars with a one-way ticket. At some point, that space traveler would begin pining for the flowers and animals of home, the smell of spring and the sound of running water. "Nothing, nothing could ever compensate for that," he said. "Now, think how fortunate we are to have at hand such a universe."
--------
YOU MIGHT ALSO LIKE
Small Wild Cats Face Big Threats Including Lack of Conservation Funds
Overfishing to Blame for Sardine Shortage and Starving Sea Lions
Bird Migration Season: A Journey Fraught With Peril 
--------
EcoWatch Daily Newsletter