This website uses cookies to ensure you get the best experience while browsing it. By clicking 'Got It' you're accepting these terms.
Top 10 Healthiest Plant-Based Diets
Jan. 15, 2015 01:38PM EST
Food
U.S. News and World Report has compiled a list of the best diets for 2015. After examining 35 of the most popular diets, experts identified the best diets overall and broke up the diets into several different categories, including "Best Plant-Based Diets." Plant-based diets are proven to be better for your health and the health of the environment. Studies have proven that diet and climate change are inextricably linked.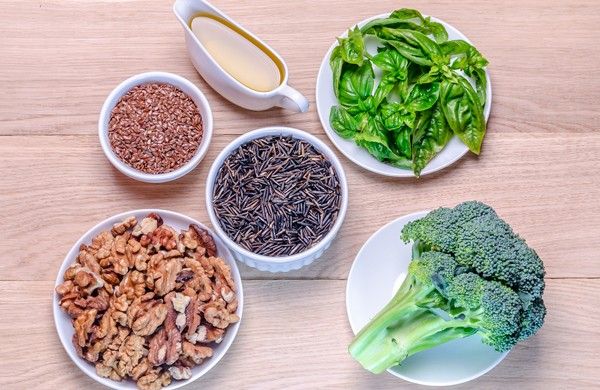 Photo credit: Shutterstock
Diets rich in meat and dairy produce higher amounts of greenhouse gas emissions and have been linked to diabetes, heart disease and high blood pressure among other illnesses. In contrast, plant-based diets have been shown to improve cardiovascular health, curtail high blood pressure and lower plasma lipids. For the rankings, experts used criteria such as a diet's "ability to deliver weight loss, provide good nutrition and safety, and be relatively easy to follow."
If you want a diet that is good for you and good for the Earth, look no further than these diets:
The so-called "mediterranean diet" is nothing more than the typical diet consumed in countries like Spain, France, Greece and Italy, and even countries like Turkey and Morocco, a region where incidence of heart disease is low. It's also connected with reduced risk of cancer, Parkinson's disease and Alzheimer's disease. Overall, the Mediterranean diet is a sensible, balanced diet that is low in red meat, sugar and saturated fat. Instead it emphasizes fruits, vegetables, whole grains, nuts and lean protein.
2. Flexitarian Diet
The flexitarian diet is a very similar concept to the Mediterranean Diet with a plant-heavy emphasis. It is a combination of the words "flexible" and "vegetarian," the idea being that you eat meat but very sparingly. The diet promotes the "new meat"—tofu, beans, lentils, peas, nuts, seeds and eggs. Just like the Mediterranean Diet, this diet helps you maintain a healthy weight and prevents diabetes, heart disease and other illnesses.
3. Ornish Diet
Proposed by Dean Ornish—a professor of medicine at the University of California, San Francisco, and founder of the Preventive Medicine Research Institute in nearby Sausalito—the diet stresses "nutrition, exercise, stress management and emotional support options as a guide toward achieving any goal, from weight loss to preventing or reversing chronic diseases." Ornish breaks foods down into five categories from most to least healthy and encourages people to aim for the most healthy categories as much as possible. The health guru also recommends active lifestyles and meditation to maintain body weight and manage stress.
4. Traditional Asian Diet
Those looking to move away from the western diet have looked east and found that Asians tend to have lower rates of cancer, heart disease and obesity and also have higher life expectancies than their counterparts in western countries. There is obviously no one Asian diet, as the continent is home to a vast number people with various food cultures, but, the diet is generally composed of rice, vegetables, fresh fruit and fish. Experts laud it for its "diverse foods and flavors," but caution "if you don't like rice and noodles, forget it."
5. Vegetarian Diet
This diet tied with traditional Asian diet for fourth place. A meat-free diet has the same health benefits of the aforementioned diets, as well as, the reduced impact on the planet from eschewing industrial-scale animal agriculture. Oldways, a nonprofit nutrition organization, updated their dietary guidelines for vegetarians and vegans. As reported in U.S. News, Sara Baer-Sinnott, Oldways' president, explained: "'Vegetarian eating is at an all-time high, and it's essential for people to realize that vegetarian diets are more than just cutting out meat. Balancing and planning are important.'" It's important to make sure you are getting adequate protein, iron and other nutrients that meat provides.
6. Anti-Inflammatory Diet
The concept behind this diet is that "Chronic inflammation causes chronic disease. Reducing inflammation prevents age-related disease and promotes overall wellness." This diet—developed by Andrew Weil, a doctor and pioneer in the field of integrative medicine—promotes "healthy fats, fiber-rich fruits and veggies, lots of water and limited amounts of animal protein, except when it comes to oily fish." Weil also encourages regular exercise and a low-stress lifestyle.
7. Engine 2 Diet
Low in fats and high in plants, this diet was created by Rip Esselstyn, a firefighter (hence Engine 2), former professional athlete and medical expert. It's a twist on the vegan diet, in which Esselstyn recommends you eat vegan but also cut out vegetable oils too because "They strip the plant of its nutrients, and leave in its place a lot of saturated fat and calories." Some of the experts caution that the diet leaves out important nutrients and might be too extreme.
8. Vegan Diet
Tying with the Engine 2 diet, the vegan diet goes beyond vegetarianism to exclude dairy, eggs and other animal products. Vegans opt for this diet because of the proven health benefits, the reduction in animal cruelty and an even lighter footprint. Despite its benefits in avoiding or reversing diabetes and heart disease, some experts worry that "It's more restrictive than other plant-based options, offers no built-in social support, and may skimp on important nutrients."
9. Eco-Atkins Diet
Just like the original Atkins diet, this one promotes a low-carb regimen. Dieters are encouraged to eliminate all meat or eat very small amounts of lean protein. Eco-Atkins prescribes high-fiber foods and focuses on "beans, nuts, high-protein veggies and grains such as couscous and pearl barley." The diet certainly isn't the best. Experts say "It's restrictive and offers little guidance."
10. Macrobiotic Diet
There isn't one macrobiotic diet. Instead, it's an approach to food that stresses "natural, organically and locally grown, whole foods." Whole grains make up the majority of your daily intake along with vegetables, beans and soybean products. "Fruit, fish and seafood, seeds and nuts might be on the menu once or twice a week, but dairy, eggs, poultry, red meat, and anything artificial, processed, or with chemical additives will almost certainly be absent." There's a reason it's last on the list. Experts say it's very limiting and hard to follow.
YOU MIGHT ALSO LIKE
7 Foods That Nourish Your Skin
Part II: How Regenerative Organic Agriculture Can Save the Planet
EcoWatch Daily Newsletter

georgeclerk / E+ / Getty Images
By Jennifer Molidor
One million species are at risk of extinction from human activity, warns a recent study by scientists with the United Nations. We need to cut greenhouse gas pollution across all sectors to avoid catastrophic climate change — and we need to do it fast, said the Intergovernmental Panel on Climate Change.
This research should serve as a rallying cry for polluting industries to make major changes now. Yet the agriculture industry continues to lag behind.
Edwin Remsburg / VW Pics / Getty Images
Botswana, home to one third of Africa's elephants, announced Wednesday that it was lifting its ban on the hunting of the large mammals.
"The Ministry of Environment, Natural Resources Conservation and Tourism wishes to inform the public that following extensive consultations with all stakeholders, the Government of Botswana has taken a decision to lift the hunting suspension," the government announced in a press release shared on social media.
Pxhere
By Richard Denison
Readers of this blog know how concerned EDF is over the Trump EPA's approval of many dozens of new chemicals based on its mere "expectation" that workers across supply chains will always employ personal protective equipment (PPE) just because it is recommended in the manufacturer's non-binding safety data sheet (SDS).
By Grant Smith
From 2009 to 2012, Gregory Jaczko was chairman of the Nuclear Regulatory Commission, which approves nuclear power plant designs and sets safety standards for plants. But he now says that nuclear power is too dangerous and expensive — and not part of the answer to the climate crisis.
A lake in Rocky Mountain National Park. Brett Walton / Circle of Blue
By Brett Walton
When Greg Wetherbee sat in front of the microscope recently, he was looking for fragments of metals or coal, particles that might indicate the source of airborne nitrogen pollution in Rocky Mountain National Park. What caught his eye, though, were the plastics.
Gabriele Holtermann Gorden / Pacific Press / LightRocket / Getty Images
In a big victory for animals, Prada has announced that it's ending its use of fur! It joins Coach, Jean Paul Gaultier, Giorgio Armani, Versace, Ralph Lauren, Vivienne Westwood, Michael Kors, Donna Karan and many others PETA has pushed toward a ban.
This is a victory more than a decade in the making. PETA and our international affiliates have crashed Prada's catwalks with anti-fur signs, held eye-catching demonstrations all around the world, and sent the company loads of information about the fur industry. In 2018, actor and animal rights advocate Pamela Anderson sent a letter on PETA's behalf urging Miuccia Prada to commit to leaving fur out of all future collections, and the iconic designer has finally listened.
Amer Ghazzal / Barcroft Media / Getty Images
If people in three European countries want to fight the climate crisis, they need to chill out more.
That's the conclusion of a new study from think tank Autonomy, which found that Germany, the UK and Sweden all needed to drastically reduce their workweeks to fight climate change.
Amazon Employees for Climate Justice held a press conference after the annual shareholder meeting on May 22. Amazon Employees for Climate Justice