This website uses cookies to ensure you get the best experience while browsing it. By clicking 'Got It' you're accepting these terms.
Top 10 Dumbest Things Congress Did in 2011
Dec. 28, 2011 10:20AM EST
Climate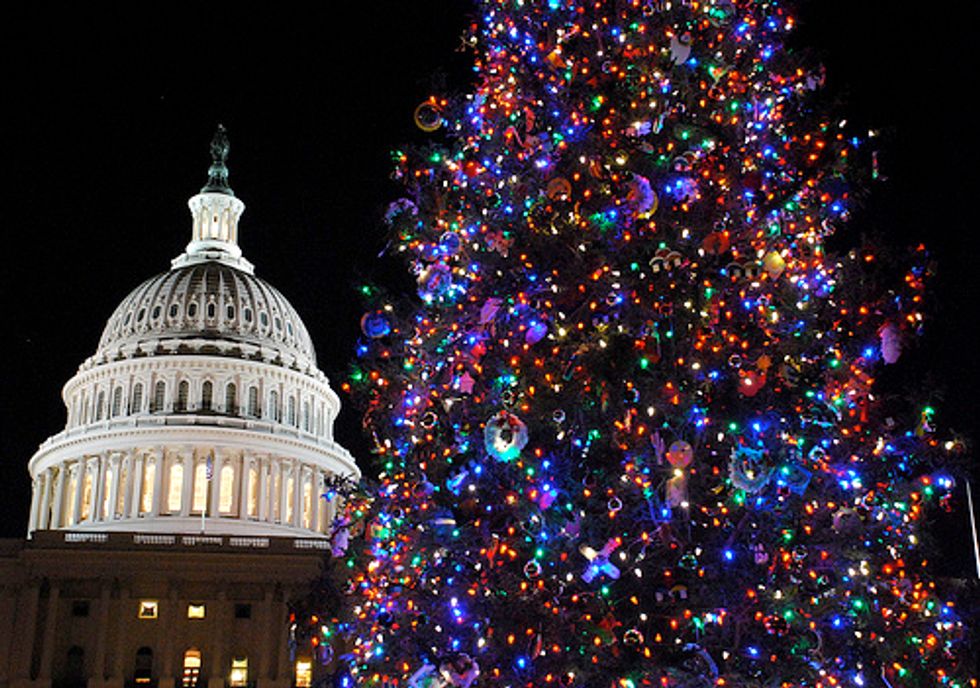 By Miles Grant
How bad was 2011 for America's wildlife, air, water, land and public health? After taking 191 anti-conservation votes, even the House of Representatives' own members called it "the most anti-environment House in the history of Congress."
That's not to say the last year hasn't been without progress in Washington. The U.S. Environmental Protection Agency (EPA) set long-overdue limits on mercury pollution that will prevent 11,000 premature deaths a year. The U.S. EPA and National Highway Traffic Safety Administration set new fuel efficiency standards for cars and trucks that will cut our oil addiction by billions of barrels. And the U.S. EPA is ready to establish landmark global warming pollution limits on power plants.
But those actions represent the Obama administration implementing past acts of Congress, often in the face of opposition from one or both parties in the current Congress. Inside the Capitol, many members of Congress spent 2011 attacking wildlife, trying to roll back public health protections and doing the bidding of its Big Oil donors.
10. The Dirty Water Act
Yes, 2011 will be remembered as the year Congress decided America's water was just too darn clean, attacking the Clean Water Act and investment in clean water programs. The Dirty Water Act passed the House and now Senators Dean Heller (R-NV) and John Barasso (R-WY) have been working to sneak it through the Senate by trying to attach it as a political rider to must-pass budget legislation. Get Smart: Tell Congress to protect river otters' streams from pollution.
9. Banning Imaginary Regulations
The U.S. EPA has no plans to regulate farm dust, but that didn't stop a bipartisan majority in the House from passing the Farm Dust Regulation Prevention Act. "Since I am sure that many little girls all over America care about this deeply, can you commit to me that U.S. EPA will never try to regulate fairy dust?" Rep. Ed Markey (D-MA) jokingly asked U.S. EPA assistant administrator Gina McCarthy. The Senate has no plans to take up the bill and President Obama has promised to veto it. Get Smart: Learn what pollutants are real threats to America's wildlife and public health.
8. Lunch Special: Meat Loaf with Styrene Oligomers
When she served as House Speaker, Rep. Nancy Pelosi (D-CA) led an effort to green the Capitol that cut energy use 23 percent, water use 32 percent and used some of the savings to convert Congressional cafeterias to composting.  But when Republicans took charge of the House in 2011, they eliminated the composting program, diverted cafeteria waste back to a landfill and brought back petroleum-based Styrofoam that can leech toxic styrene oligomers into the food it holds, increasing thyroid hormone levels. Get Smart: Use your own reusable container.
7. Politics Superseding Wildlife Biology
Just two of many examples: The U.S. Forest Service had closed much of Idaho's Payette National Forest to domestic sheep grazing where conflicts with bighorns exist, hoping to protect bighorns from disease, but the budget bill that cleared Congress in December included a political rider reversing that decision. And the House GOP budget (H.R. 1) included language aimed at blocking implementation of two biological opinions intended to ensure the recovery of threatened and endangered salmon, steelhead, green sturgeon and other species in the San Francisco Bay-Delta ecosystem. Get Smart: Support wildlife protections through NWF's Choose Your Cause.
6. Targeting Smokey Bear
Who could want to kill Smokey Bear? Answer: Rep. Scott DesJarlais (R-TN), who included the U.S. Forest Service's conservation education program in its list of possible targets for the House GOP's YouCut voting. Voters spared Smokey, but the incident spoke volumes about how little this Congress valued investments in conservation education. Get Smart: Take Smokey's pledge to be smart whenever you go outdoors.
5. Gulf Coast: Still Not Made Whole
We're just a few months from the 2nd anniversary of start of the Gulf oil disaster, yet Congress still has not acted on legislation to make sure BP's fines and penalties are reinvested in Mississippi River Delta restoration. Get Smart: Ask your members of Congress to support the RESTORE Act.
4. War on Next-Generation Light Bulbs
Just a few years ago, President George W. Bush signed bipartisan legislation to encourage energy-efficient light bulbs. Industry gets certainty, consumers save money, America cuts its carbon footprint: Everybody wins. But extremists attacked the standards and when they couldn't win votes, they snuck the Dim Bulb Act into must-pass budget legislation. "Big companies like General Electric, Philips and Osram Sylvania spent big bucks preparing for the standards, and the industry is fuming over the GOP bid to undercut them," reported Politico. Everybody loses. Get Smart: Check out NWF's Cool It! tips for greening your home, office and garden.
3. Push Pipeline First, Ask Safety Questions Later
Facing concerns from conservationists concerned about protecting critical wildlife habitat, landowners concerned about getting their land seized, and public health advocates worried about water supplies, the Obama administration delayed a decision on the proposed Keystone XL tar sands pipeline from the Canadian border to Texas. But before a revised route could even be drawn up, Big Oil's Congressional allies tacked a political rider onto the payroll tax cut extension moving through Congress right now that would force a decision on the pipeline within 60 days. Get Smart: Ask our elected officials to keep dirty oil out of whooping crane habitat.
2. Protecting Tax Giveaways for Big Oil
Big Oil has already banked a staggering $101 billion in profits in 2011,  and as National Wildlife Federation detailed in Conservation Works, Congress can save more than $100 billion by closing tax loopholes for special interests like the oil and gas industries. But time after time, purported Congressional concern about the deficit came in a distant second to catering to Big Oil donors and lobbyists. Get Smart: Stand up for new vehicle fuel efficiency standards to reduce America's dependence on dirty oil.
1. Fiddling While Our Climate Burns
Our world has now seen 321 consecutive months with a global temperature above the 20th century average, meaning we haven't seen a below-average temperature month since before The Goonies came out in 1985. Extreme weather records fell, with NOAA reporting 12 disasters of at least $1 billion in damage here in the U.S. Through November, 2011 has been the 11th-hottest year on record. If the pace keeps up, it will mean each of the last 11 years (2001–2011) will have been one of the 12 hottest on record. The Arctic continues to warm, melting sea ice and pushing several polar bear populations to the brink.
How has Congress reacted? Sen. John Barasso introduced legislation to not only prohibit the U.S. EPA from regulating carbon pollution, but ban the federal government even from observing what is happening with our climate. The House GOP's H.R. 1 tried to cut programs to invest in clean energy innovation and to help people and wildlife adapt to our warming climate. Get Smart: Tell your members of Congress you support limits on carbon pollution under the Clean Air Act.
With your help, the National Wildlife Federation worked to keep many of these dumb ideas from becoming law. But with the same Congress returning in 2012, you can bet we'll see even more attacks on our wildlife, air, land, water and public health in the year ahead.
For more information, click here.
EcoWatch Daily Newsletter
Pexels
By Dan Nosowitz
It's no secret that the past few years have been disastrous for the American farming industry.
Pexels
Medium-chain triglyceride (MCT) oil and coconut oil are fats that have risen in popularity alongside the ketogenic, or keto, diet.
Pexels
By Bijal Trivedi
The Centers for Disease Control and Prevention (CDC) released a report on Nov. 13 that describes a list of microorganisms that have become resistant to antibiotics and pose a serious threat to public health. Each year these so-called superbugs cause more than 2.8 million infections in the U.S. and kill more than 35,000 people.
Rool Paap / Flickr / CC BY 2.0
By Joe Vukovich
Under the guise of responding to consumer complaints that today's energy- and water-efficient dishwashers take too long, the Department of Energy has proposed creating a new class of dishwashers that wouldn't be subject to any water or energy efficiency standards at all. The move would not only undermine three decades of progress for consumers and the environment, it is based on serious distortions of fact regarding today's dishwashers.
By Emily Moran
If you have oak trees in your neighborhood, perhaps you've noticed that some years the ground is carpeted with their acorns, and some years there are hardly any. Biologists call this pattern, in which all the oak trees for miles around make either lots of acorns or almost none, "masting."
By Catherine Davidson
Tashi Yudon peeks out from behind a net curtain at the rooftops below and lets out a sigh, her breath frosting on the windowpane in front of her.

Some 700 kilometers away in the capital city Delhi, temperatures have yet to dip below 25 degrees Celsius, but in Spiti there is already an atmosphere of impatient expectation as winter settles over the valley.
The Dog Aging Project at the University of Washington is looking to recruit 10,000 dogs to study for the next 10 years to see if they can improve the life expectancy of man's best friend and their quality of life, as CNN reported.