This website uses cookies to ensure you get the best experience while browsing it. By clicking 'Got It' you're accepting these terms.
Top 10 Dumbest Things Congress Did in 2011
Dec. 28, 2011 10:20AM EST
Climate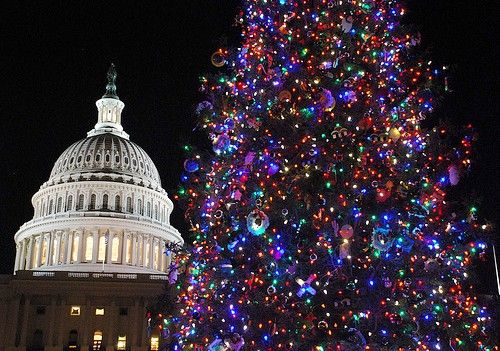 By Miles Grant
How bad was 2011 for America's wildlife, air, water, land and public health? After taking 191 anti-conservation votes, even the House of Representatives' own members called it "the most anti-environment House in the history of Congress."
That's not to say the last year hasn't been without progress in Washington. The U.S. Environmental Protection Agency (EPA) set long-overdue limits on mercury pollution that will prevent 11,000 premature deaths a year. The U.S. EPA and National Highway Traffic Safety Administration set new fuel efficiency standards for cars and trucks that will cut our oil addiction by billions of barrels. And the U.S. EPA is ready to establish landmark global warming pollution limits on power plants.
But those actions represent the Obama administration implementing past acts of Congress, often in the face of opposition from one or both parties in the current Congress. Inside the Capitol, many members of Congress spent 2011 attacking wildlife, trying to roll back public health protections and doing the bidding of its Big Oil donors.
10. The Dirty Water Act
Yes, 2011 will be remembered as the year Congress decided America's water was just too darn clean, attacking the Clean Water Act and investment in clean water programs. The Dirty Water Act passed the House and now Senators Dean Heller (R-NV) and John Barasso (R-WY) have been working to sneak it through the Senate by trying to attach it as a political rider to must-pass budget legislation. Get Smart: Tell Congress to protect river otters' streams from pollution.
9. Banning Imaginary Regulations
The U.S. EPA has no plans to regulate farm dust, but that didn't stop a bipartisan majority in the House from passing the Farm Dust Regulation Prevention Act. "Since I am sure that many little girls all over America care about this deeply, can you commit to me that U.S. EPA will never try to regulate fairy dust?" Rep. Ed Markey (D-MA) jokingly asked U.S. EPA assistant administrator Gina McCarthy. The Senate has no plans to take up the bill and President Obama has promised to veto it. Get Smart: Learn what pollutants are real threats to America's wildlife and public health.
8. Lunch Special: Meat Loaf with Styrene Oligomers
When she served as House Speaker, Rep. Nancy Pelosi (D-CA) led an effort to green the Capitol that cut energy use 23 percent, water use 32 percent and used some of the savings to convert Congressional cafeterias to composting.  But when Republicans took charge of the House in 2011, they eliminated the composting program, diverted cafeteria waste back to a landfill and brought back petroleum-based Styrofoam that can leech toxic styrene oligomers into the food it holds, increasing thyroid hormone levels. Get Smart: Use your own reusable container.
7. Politics Superseding Wildlife Biology
Just two of many examples: The U.S. Forest Service had closed much of Idaho's Payette National Forest to domestic sheep grazing where conflicts with bighorns exist, hoping to protect bighorns from disease, but the budget bill that cleared Congress in December included a political rider reversing that decision. And the House GOP budget (H.R. 1) included language aimed at blocking implementation of two biological opinions intended to ensure the recovery of threatened and endangered salmon, steelhead, green sturgeon and other species in the San Francisco Bay-Delta ecosystem. Get Smart: Support wildlife protections through NWF's Choose Your Cause.
6. Targeting Smokey Bear
Who could want to kill Smokey Bear? Answer: Rep. Scott DesJarlais (R-TN), who included the U.S. Forest Service's conservation education program in its list of possible targets for the House GOP's YouCut voting. Voters spared Smokey, but the incident spoke volumes about how little this Congress valued investments in conservation education. Get Smart: Take Smokey's pledge to be smart whenever you go outdoors.
5. Gulf Coast: Still Not Made Whole
We're just a few months from the 2nd anniversary of start of the Gulf oil disaster, yet Congress still has not acted on legislation to make sure BP's fines and penalties are reinvested in Mississippi River Delta restoration. Get Smart: Ask your members of Congress to support the RESTORE Act.
4. War on Next-Generation Light Bulbs
Just a few years ago, President George W. Bush signed bipartisan legislation to encourage energy-efficient light bulbs. Industry gets certainty, consumers save money, America cuts its carbon footprint: Everybody wins. But extremists attacked the standards and when they couldn't win votes, they snuck the Dim Bulb Act into must-pass budget legislation. "Big companies like General Electric, Philips and Osram Sylvania spent big bucks preparing for the standards, and the industry is fuming over the GOP bid to undercut them," reported Politico. Everybody loses. Get Smart: Check out NWF's Cool It! tips for greening your home, office and garden.
3. Push Pipeline First, Ask Safety Questions Later
Facing concerns from conservationists concerned about protecting critical wildlife habitat, landowners concerned about getting their land seized, and public health advocates worried about water supplies, the Obama administration delayed a decision on the proposed Keystone XL tar sands pipeline from the Canadian border to Texas. But before a revised route could even be drawn up, Big Oil's Congressional allies tacked a political rider onto the payroll tax cut extension moving through Congress right now that would force a decision on the pipeline within 60 days. Get Smart: Ask our elected officials to keep dirty oil out of whooping crane habitat.
2. Protecting Tax Giveaways for Big Oil
Big Oil has already banked a staggering $101 billion in profits in 2011,  and as National Wildlife Federation detailed in Conservation Works, Congress can save more than $100 billion by closing tax loopholes for special interests like the oil and gas industries. But time after time, purported Congressional concern about the deficit came in a distant second to catering to Big Oil donors and lobbyists. Get Smart: Stand up for new vehicle fuel efficiency standards to reduce America's dependence on dirty oil.
1. Fiddling While Our Climate Burns
Our world has now seen 321 consecutive months with a global temperature above the 20th century average, meaning we haven't seen a below-average temperature month since before The Goonies came out in 1985. Extreme weather records fell, with NOAA reporting 12 disasters of at least $1 billion in damage here in the U.S. Through November, 2011 has been the 11th-hottest year on record. If the pace keeps up, it will mean each of the last 11 years (2001–2011) will have been one of the 12 hottest on record. The Arctic continues to warm, melting sea ice and pushing several polar bear populations to the brink.
How has Congress reacted? Sen. John Barasso introduced legislation to not only prohibit the U.S. EPA from regulating carbon pollution, but ban the federal government even from observing what is happening with our climate. The House GOP's H.R. 1 tried to cut programs to invest in clean energy innovation and to help people and wildlife adapt to our warming climate. Get Smart: Tell your members of Congress you support limits on carbon pollution under the Clean Air Act.
With your help, the National Wildlife Federation worked to keep many of these dumb ideas from becoming law. But with the same Congress returning in 2012, you can bet we'll see even more attacks on our wildlife, air, land, water and public health in the year ahead.
For more information, click here.
EcoWatch Daily Newsletter
Extreme weather events supercharged by climate change in 2012 led to nearly 1,000 more deaths, more than 20,000 additional hospitalizations, and cost the U.S. healthcare system $10 billion, a new report finds.
Giant sequoia trees at Sequoia National Park, California. lucky-photographer / iStock / Getty Images Plus
A Bay Area conservation group struck a deal to buy and to protect the world's largest remaining privately owned sequoia forest for $15.6 million. Now it needs to raise the money, according to CNN.
This aerial view shows the Ogasayama Sports Park Ecopa Stadium, one of the venues for 2019 Rugby World Cup. MARTIN BUREAU / AFP / Getty Images
The Rugby World Cup starts Friday in Japan where Pacific Island teams from Samoa, Fiji and Tonga will face off against teams from industrialized nations. However, a new report from a UK-based NGO says that when the teams gather for the opening ceremony on Friday night and listen to the theme song "World In Union," the hypocrisy of climate injustice will take center stage.
Vera_Petrunina / iStock / Getty Images Plus
By Wudan Yan
In June, New York Times journalist Andy Newman wrote an article titled, "If seeing the world helps ruin it, should we stay home?" In it, he raised the question of whether or not travel by plane, boat, or car—all of which contribute to climate change, rising sea levels, and melting glaciers—might pose a moral challenge to the responsibility that each of us has to not exacerbate the already catastrophic consequences of climate change. The premise of Newman's piece rests on his assertion that traveling "somewhere far away… is the biggest single action a private citizen can take to worsen climate change."

Volunteer caucasian woman giving grain to starving African children.
Bartosz Hadyniak / E+ / Getty Images
Food will be scarce, expensive and less nutritious," CNN warns us in its coverage of the UN's new "Climate Change and Land" report. The New York Times announces that "Climate Change Threatens the World's Food Supply."
By Adam Vaughan
Two-thirds of people in the UK think the amount people fly should be reined in to tackle climate change, polling has found.
Climate Week NYC
On Monday, Sept. 23, the Climate Group will kick off its 11th annual Climate Week NYC, a chance for governments, non-profits, businesses, communities and individuals to share possible solutions to the climate crisis while world leaders gather in the city for the UN Climate Action Summit.
By Pam Radtke Russell in New Orleans
Local TV weather forecasters have become foot soldiers in the war against climate misinformation. Over the past decade, a growing number of meteorologists and weathercasters have begun addressing the climate crisis either as part of their weather forecasts, or in separate, independent news reports to help their viewers understand what is happening and why it is important.