This website uses cookies to ensure you get the best experience while browsing it. By clicking 'Got It' you're accepting these terms.


The best of EcoWatch, right in your inbox. Sign up for our email newsletter!
When it comes to climate change and clean energy, America is on the brink of something huge.
Nationally we are seeing clean energy starting to compete head-to-head with fossil fuels—and win. In the first half of 2015, renewables account for more than two-thirds of new electricity generation across the U.S. On a level playing field, these renewable resources are already in many cases the cheapest electricity options for new installations.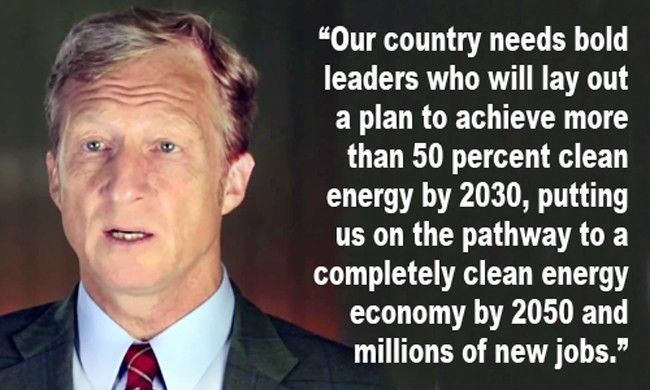 This is fantastic news for consumers, but even better news for American jobs. In 2014, the solar industry was the top job creator in the whole energy sector. Over its lifetime, solar creates more than eight times the jobs per megawatt-hour than natural gas or coal. And accelerating the shift to clean energy would lower electricity bills and add millions more good paying jobs right here in the U.S.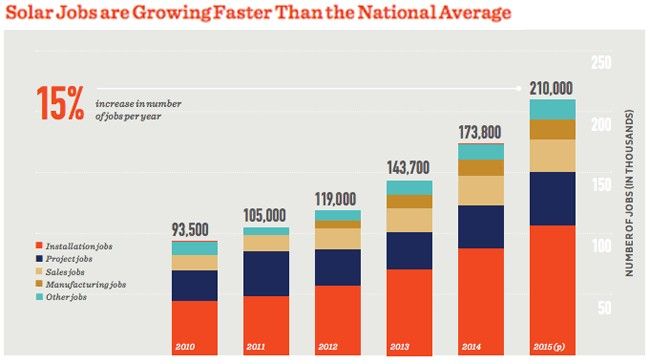 The clean energy revolution is finally happening but in order to lead—or even be competitive—we need leaders who are willing to keep pushing the envelope and accelerate the transition to a clean energy economy.
That is why we're calling on candidates and elected officials to demonstrate bold leadership and lay out a clear and concrete plan to achieve at least 50 percent clean or carbon-free energy by 2030. Reaching this goal would more than triple renewable energy in our country—putting us on the pathway to a 100 percent clean energy economy by 2050 and millions of new jobs.
This goal, which should serve as the minimum starting point for candidates and elected officials truly committed to accelerating America's transition to a clean energy economy, will give our businesses the tools they need to do what they do best—innovate, create, and lead the world. More importantly, it will show the American people that our leaders are getting serious about climate change and finally standing up for our kids.
Whether or not candidates make this commitment will be a critical factor for Americans who are deciding what candidates to support at polls. In fact, a recent NextGen Climate poll found that 69 percent of voters in eight battleground states favored powering America with more than 50 percent clean energy by 2030, and with a completely clean energy economy by 2050.
The American public are clamoring for a better future for our kids. American business is ready to lead the way. The jobs are there for the taking. And I expect serious candidates will read the writing on the wall and embrace this tremendous opportunity to put our country on a sustainable path that will promote prosperity for every American.
Smart people across the political spectrum have been considering this question for years, and I'm confident that our leaders will step up to the plate with bold, thoughtful, and concrete plans to turn the global clean energy opportunity into a story of American success.
I can't wait to hear them.
YOU MIGHT ALSO LIKE
Coal Is No Longer King in America, Says EIA Report
Does Elon Musk's Tesla Model S 'Signal the Beginning of the End for Oil?'
Renewable Energy Accounts for 70% of New U.S. Generating Capacity in First Half of 2015
EcoWatch Daily Newsletter
Ice-rich permafrost has been exposed due to coastal erosion, National Petroleum Reserve, Alaska. Brandt Meixell / USGS
By Jake Johnson
An alarming study released Tuesday found that melting Arctic permafrost could add nearly $70 trillion to the global cost of climate change unless immediate action is taken to slash carbon emissions.
According to the new research, published in the journal Nature Communications, melting permafrost caused by accelerating Arctic warming would add close to $70 trillion to the overall economic impact of climate change if the planet warms by 3°C by 2100.
Jeff Reed / NYC Council
The New York City Council on Thursday overwhelmingly passed one of the most ambitious and innovative legislative packages ever considered by any major city to combat the existential threat of climate change.

Ghazipur is a neighborhood in East Delhi. It has been one of the largest dumping site for Delhi. India is one of many countries where global warming has dragged down economic growth. Frédéric Soltan / Corbis / Getty Images
Global inequality is worse today because of climate change, finds a new study published Monday by Stanford University professors Noah Diffenbaugh and Marshall Burke in the Proceedings of the National Academy of Sciences.
A child playing with a ball from planet earth during Extinction Rebellion rally on April 18 in London, England. Brais G. Rouco / Barcroft Media / Getty Images
Earth Day 2019 just passed, but planning has already begun for Earth Day 2020, and it's going to be a big deal.
Geneva Vanderzeil, A Pair & A Spare / Flickr / CC BY 2.0
Is your closet filled with clothes you don't wear (and probably don't like anymore)? Are you buying cheap and trendy clothing you only wear once or twice? What's up with all the excess? Shifting to a more Earth-conscious wardrobe can help simplify your life, as well as curb fast fashion's toll on people and the planet.
Christine Zenino / Wikimedia Commons / CC BY 2.0

The 18th century St. Catherine of Alexandria church is seen after its bell tower was destroyed following a 6.3 magnitude earthquake that struck the town of Porac, pampanga province on April 23. TED ALJIBE / AFP / Getty Images
At least 16 people have died, 81 are injured and 14 are still missing after an earthquake struck Luzon island in the Philippines Monday, according to the latest figures from the National Disaster Risk Reduction and Management Council, as the Philippine Star tweeted Tuesday.
Climate change activists gather in front of the stage at the Extinction Rebellion group's environmental protest camp at Marble Arch in London on April 22, on the eighth day of the group's protest calling for political change to combat climate change. TOLGA AKMEN / AFP / Getty Images