Tom Steyer: 50% Clean Energy by 2030
Jul. 24, 2015 08:54AM EST
Politics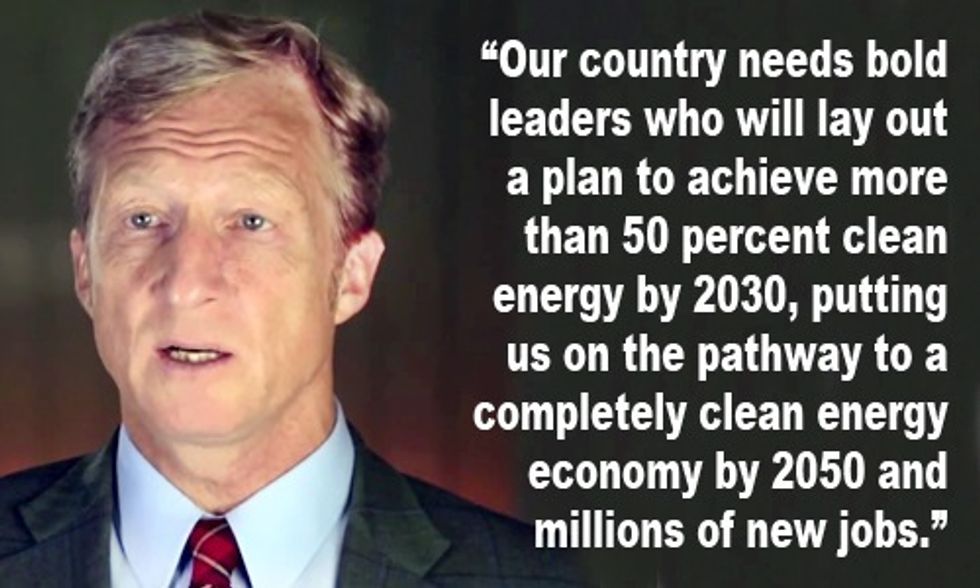 When it comes to climate change and clean energy, America is on the brink of something huge.
Nationally we are seeing clean energy starting to compete head-to-head with fossil fuels—and win. In the first half of 2015, renewables account for more than two-thirds of new electricity generation across the U.S. On a level playing field, these renewable resources are already in many cases the cheapest electricity options for new installations.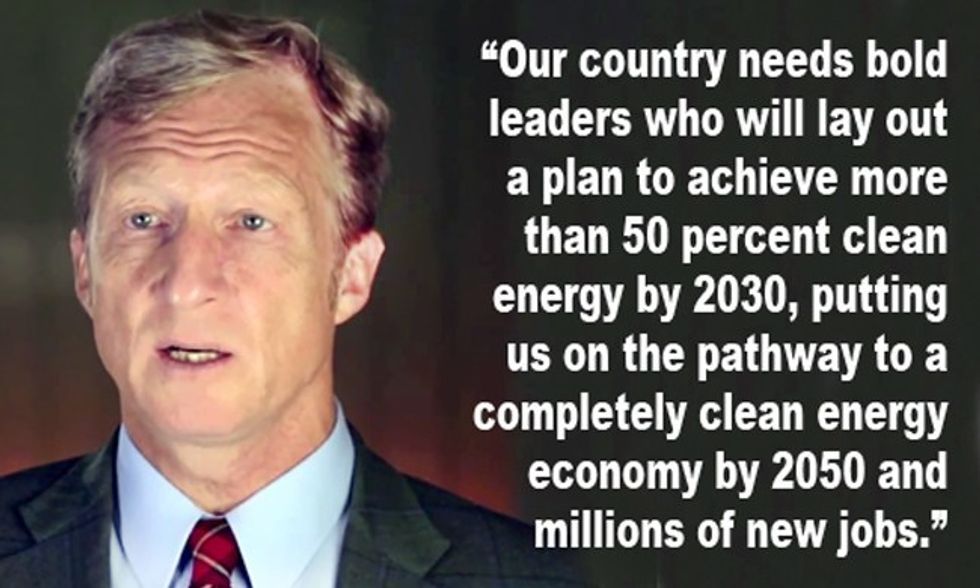 This is fantastic news for consumers, but even better news for American jobs. In 2014, the solar industry was the top job creator in the whole energy sector. Over its lifetime, solar creates more than eight times the jobs per megawatt-hour than natural gas or coal. And accelerating the shift to clean energy would lower electricity bills and add millions more good paying jobs right here in the U.S.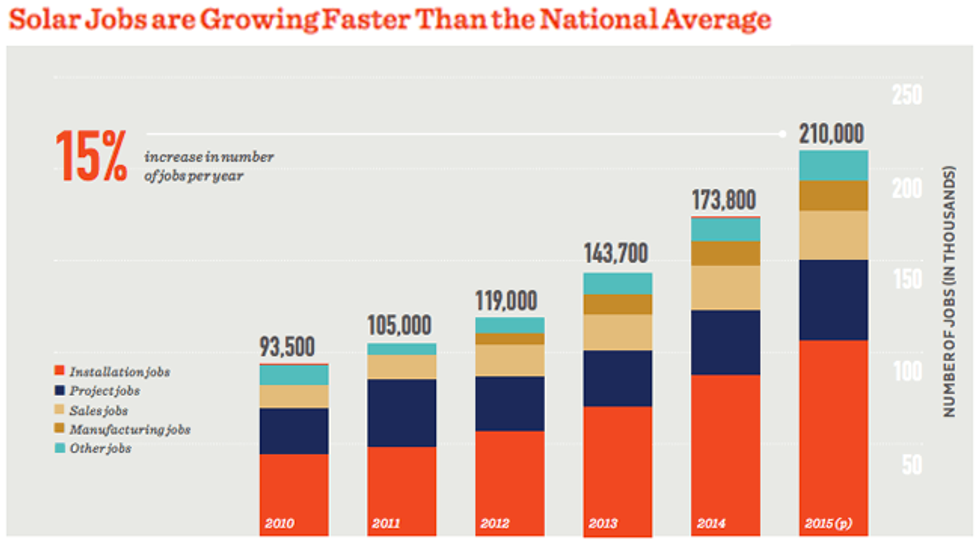 The clean energy revolution is finally happening but in order to lead—or even be competitive—we need leaders who are willing to keep pushing the envelope and accelerate the transition to a clean energy economy.
That is why we're calling on candidates and elected officials to demonstrate bold leadership and lay out a clear and concrete plan to achieve at least 50 percent clean or carbon-free energy by 2030. Reaching this goal would more than triple renewable energy in our country—putting us on the pathway to a 100 percent clean energy economy by 2050 and millions of new jobs.
This goal, which should serve as the minimum starting point for candidates and elected officials truly committed to accelerating America's transition to a clean energy economy, will give our businesses the tools they need to do what they do best—innovate, create, and lead the world. More importantly, it will show the American people that our leaders are getting serious about climate change and finally standing up for our kids.
Whether or not candidates make this commitment will be a critical factor for Americans who are deciding what candidates to support at polls. In fact, a recent NextGen Climate poll found that 69 percent of voters in eight battleground states favored powering America with more than 50 percent clean energy by 2030, and with a completely clean energy economy by 2050.
The American public are clamoring for a better future for our kids. American business is ready to lead the way. The jobs are there for the taking. And I expect serious candidates will read the writing on the wall and embrace this tremendous opportunity to put our country on a sustainable path that will promote prosperity for every American.
Smart people across the political spectrum have been considering this question for years, and I'm confident that our leaders will step up to the plate with bold, thoughtful, and concrete plans to turn the global clean energy opportunity into a story of American success.
I can't wait to hear them.
YOU MIGHT ALSO LIKE
Coal Is No Longer King in America, Says EIA Report
Does Elon Musk's Tesla Model S 'Signal the Beginning of the End for Oil?'
Renewable Energy Accounts for 70% of New U.S. Generating Capacity in First Half of 2015
EcoWatch Daily Newsletter
Recent Stories from EcoWatch