This website uses cookies to ensure you get the best experience while browsing it. By clicking 'Got It' you're accepting these terms.
Toll Mounts Among U.S. Sailors Devastated by Fukushima Radiation
Jan. 11, 2014 11:41AM EST
Insights + Opinion

The roll call of U.S. sailors who say their health was devastated when they were irradiated while delivering humanitarian help near the stricken Fukushima nuke is continuing to soar.
So many have come forward that the progress of their federal class action lawsuit has been delayed.
Bay area lawyer Charles Bonner says a re-filing will wait until early February to accommodate a constant influx of sailors from the aircraft carrier USS Ronald Reagan and other American ships.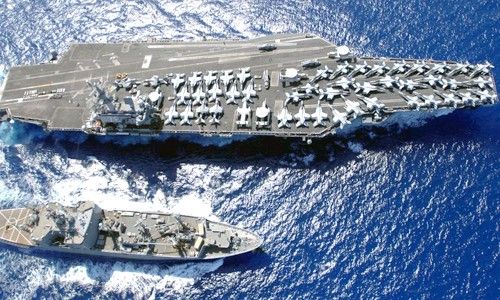 Within a day of Fukushima One's March 11, 2011, melt-down, American "first responders" were drenched in radioactive fallout. In the midst of a driving snow storm, sailors reported a cloud of warm air with a metallic taste that poured over the Reagan.
Then-Prime Minister Naoto Kan, at the time a nuclear supporter, says "the first meltdown occurred five hours after the earthquake." The lawsuit charges that Tokyo Electric Power knew large quantities of radiation were pouring into the air and water, but said nothing to the Navy or the public. 
Had the Navy known, says Bonner, it could have moved its ships out of harm's way. But some sailors actually jumped into the ocean just offshore to pull victims to safety. Others worked 18-hour shifts in the open air through a four-day mission, re-fueling and repairing helicopters, loading them with vital supplies and much more. All were drinking and bathing in desalinated water that had been severely contaminated by radioactive fallout and runoff.
Then Reagan crew members were enveloped in a warm cloud. "Hey," joked sailor Lindsay Cooper at the time. "It's radioactive snow."
The metallic taste that came with it parallels the ones reported by the airmen who dropped the atomic bomb on Hiroshima, and by Pennsylvania residents downwind from the 1979 meltdown at Three Mile Island.
When it did leave the Fukushima area, the Reagan was so radioactive it was refused port entry in Japan, South Korea and Guam. It's currently docked in San Diego.
The Navy is not systematically monitoring the crew members' health problems. But Cooper now reports a damaged thyroid, disrupted menstrual cycle, wildly fluctuating body weight and more. "It's ruined me," she says.
Similar complaints have surfaced among so many sailors from the Reagan and other U.S. ships that Bonner says he's being contacted by new litigants "on a daily basis," with the number exceeding 70.
Many are in their twenties, complaining of a terrible host of radiation-related diseases. They are legally barred from suing the U.S. military. Tepco denies that any of their health problems could be related to radiation from Fukushima. The company also says the U.S. has no jurisdiction in the case.
The suit was initially dismissed on jurisdictional grounds by federal Judge Janis S. Sammartino in San Diego. Sammartino was due to hear the re-filing Jan. 6, but allowed the litigants another month to accommodate additional sailors.
Bonner says Tepco should be subject to U.S. law because "they are doing business in America ... Their second largest office outside of Tokyo is in Washington DC."
Like the lawsuit, the petitions ask that Tepco admit responsibility, and establish a fund for the first responders to be administered by the U.S. courts.
In 2013 more than 150,000 citizens petitioned the United Nations to take control of the Fukushima site to guarantee the use of the best possible financial, scientific and engineering resources in the attempted clean-up. 
The melted cores from Units One, Two and Three are still unaccounted for. Progress in bringing down Unit Four's suspended fuel assemblies is murky at best. More than 11,000 "hot" rods are still scattered around a site where radiation levels remain high and some 300 tons of radioactive water still flow daily into the Pacific.
But with U.S. support, Japan has imposed a state secrets act severely restricting reliable news reporting from the Fukushima site.
So now we all live in the same kind of dark that enveloped the USS Reagan while its crew was immersed in their mission of mercy.
Petitions in the sailors' support are circulating worldwide on NukeFree.org, MoveOn, Avaaz, RootsAction and elsewhere.
Visit EcoWatch's FUKUSHIMA page for more related news on this topic.
——–
Harvey Wasserman edits www.nukefree.org, where petitions calling for the repeal of Japan's State Secrets Act and a global takeover at Fukushima are linked. He is author of SOLARTOPIA! Our Green-Powered Earth.

EcoWatch Daily Newsletter
Europe is gearing up for another extreme heat wave that could set all-time records for several European countries.
Modern agricultural greenhouses in the Netherlands use LED lights to support plant growth. GAPS / iStock / Getty Images Plus
By Kevin M. Folta
A nighttime arrival at Amsterdam's Schiphol Airport flies you over the bright pink glow of vegetable production greenhouses. Growing crops under artificial light is gaining momentum, particularly in regions where produce prices can be high during seasons when sunlight is sparse.
Golde Wallingford submitted this photo of "Pure Joy" to EcoWatch's first photo contest. Golde Wallingford
EcoWatch is pleased to announce our third photo contest!

On Oct. 4, 2017, the Senate EPW Committee held a hearing on Wehrum's nomination.
EPA / YouTube screenshot
The U.S. Environmental Protection Agency's (EPA) former head of the Office of Air and Radiation who was instrumental in drafting policies that eased climate protection rules and pollution standards is under investigation by a federal watchdog for his dealings with the fossil fuel industry he was supposed to be regulating, according to the New York Times.
It's no secret that the Trump administration has championed fossil fuels and scoffed at renewable energy. But the Trump administration is trying to keep something secret: the climate crisis. That's according to a new analysis from the watchdog group Environmental Data and Governance Initiative (EDGI) who found that more than a quarter of the references to climate change on .gov websites vanished.
Pexels
New York is officially the first state in the union to ban cat declawing.
People walk in the Shaw neighborhood on July 20 in Washington, DC, where an excessive heat warning was in effect according to the NWS. Alex Wroblewski / Getty Images
By Adrienne Hollis
Climate change is a threat multiplier. This is a fact I know to be true. I also know that our most vulnerable populations, particularly environmental justice communities — people of color and/or low socioeconomic status — are suffering and will continue to suffer first and worst from the adverse effects of climate change. Case in point? Extreme heat.