Toll Mounts Among U.S. Sailors Devastated by Fukushima Radiation

The roll call of U.S. sailors who say their health was devastated when they were irradiated while delivering humanitarian help near the stricken Fukushima nuke is continuing to soar.
So many have come forward that the progress of their federal class action lawsuit has been delayed.
Bay area lawyer Charles Bonner says a re-filing will wait until early February to accommodate a constant influx of sailors from the aircraft carrier USS Ronald Reagan and other American ships.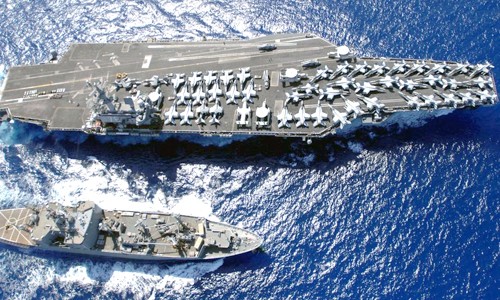 Within a day of Fukushima One's March 11, 2011, melt-down, American "first responders" were drenched in radioactive fallout. In the midst of a driving snow storm, sailors reported a cloud of warm air with a metallic taste that poured over the Reagan.
Then-Prime Minister Naoto Kan, at the time a nuclear supporter, says "the first meltdown occurred five hours after the earthquake." The lawsuit charges that Tokyo Electric Power knew large quantities of radiation were pouring into the air and water, but said nothing to the Navy or the public. 
Had the Navy known, says Bonner, it could have moved its ships out of harm's way. But some sailors actually jumped into the ocean just offshore to pull victims to safety. Others worked 18-hour shifts in the open air through a four-day mission, re-fueling and repairing helicopters, loading them with vital supplies and much more. All were drinking and bathing in desalinated water that had been severely contaminated by radioactive fallout and runoff.
Then Reagan crew members were enveloped in a warm cloud. "Hey," joked sailor Lindsay Cooper at the time. "It's radioactive snow."
The metallic taste that came with it parallels the ones reported by the airmen who dropped the atomic bomb on Hiroshima, and by Pennsylvania residents downwind from the 1979 meltdown at Three Mile Island.
When it did leave the Fukushima area, the Reagan was so radioactive it was refused port entry in Japan, South Korea and Guam. It's currently docked in San Diego.
The Navy is not systematically monitoring the crew members' health problems. But Cooper now reports a damaged thyroid, disrupted menstrual cycle, wildly fluctuating body weight and more. "It's ruined me," she says.
Similar complaints have surfaced among so many sailors from the Reagan and other U.S. ships that Bonner says he's being contacted by new litigants "on a daily basis," with the number exceeding 70.
Many are in their twenties, complaining of a terrible host of radiation-related diseases. They are legally barred from suing the U.S. military. Tepco denies that any of their health problems could be related to radiation from Fukushima. The company also says the U.S. has no jurisdiction in the case.
The suit was initially dismissed on jurisdictional grounds by federal Judge Janis S. Sammartino in San Diego. Sammartino was due to hear the re-filing Jan. 6, but allowed the litigants another month to accommodate additional sailors.
Bonner says Tepco should be subject to U.S. law because "they are doing business in America ... Their second largest office outside of Tokyo is in Washington DC."
Like the lawsuit, the petitions ask that Tepco admit responsibility, and establish a fund for the first responders to be administered by the U.S. courts.
In 2013 more than 150,000 citizens petitioned the United Nations to take control of the Fukushima site to guarantee the use of the best possible financial, scientific and engineering resources in the attempted clean-up. 
The melted cores from Units One, Two and Three are still unaccounted for. Progress in bringing down Unit Four's suspended fuel assemblies is murky at best. More than 11,000 "hot" rods are still scattered around a site where radiation levels remain high and some 300 tons of radioactive water still flow daily into the Pacific.
But with U.S. support, Japan has imposed a state secrets act severely restricting reliable news reporting from the Fukushima site.
So now we all live in the same kind of dark that enveloped the USS Reagan while its crew was immersed in their mission of mercy.
Petitions in the sailors' support are circulating worldwide on NukeFree.org, MoveOn, Avaaz, RootsAction and elsewhere.
Visit EcoWatch's FUKUSHIMA page for more related news on this topic.
——–
Harvey Wasserman edits www.nukefree.org, where petitions calling for the repeal of Japan's State Secrets Act and a global takeover at Fukushima are linked. He is author of SOLARTOPIA! Our Green-Powered Earth.

Dow CEO Andrew Liveris and President Donald Trump in February.
U.S. Environmental Protection Agency (EPA) administrator Scott Pruitt met with Dow Chemical CEO Andrew Liveris before deciding to reverse an earlier EPA decision to ban the company's toxic and widely used pesticide, chlorpyrifos.
According to records obtained by the Associated Press, the EPA boss met with Liveris for about 30 minutes at a Houston hotel on March 9. Later that month, Pruitt announced that he would no longer pursue a ban on chlorpyrifos from being used on food, ignoring his agency's own review that even small amounts of the pesticide could impact fetus and infant brain development.
Keep reading...
Show less
www.facebook.com
Native communities and environmental justice advocates in Louisiana opened a new resistance camp Saturday to oppose the proposed Bayou Bridge Pipeline project. Called L'eau Est La Vie, or Water is Life, the camp will consist of floating indigenous art structures on rafts and constant prayer ceremonies during its first two weeks.
Keep reading...
Show less
Continuing its march toward elimination of key Clean Water Act protections, the U.S. Environmental Protection Agency (EPA) on Tuesday issued a formal notice of withdrawal of the Obama administration's rule defining which waters can be protected against pollution and destruction under federal law.
Keep reading...
Show less
The U.S. Environmental Protection Agency (EPA) is not doing enough to prevent weed resistance to the herbicide glyphosate (Roundup) says a new report from the EPA's Inspector General's Office, which draws in part on a report from the agbiotech company, Pioneer: Weed Management in the Era of Glyphosate Resistance.
Keep reading...
Show less
SUMR
When it comes to the latest wind turbine technologies, size matters. A group of six institutions and universities is designing an offshore wind turbine that will stand 500 meters in height. That's taller than the Eiffel Tower and the Empire State Building.
The research team, led by researchers at the University of Virginia, believes that its wind turbine concept will produce 50 megawatts of peak power, or about 10 times more powerful than conventional wind turbines.
Keep reading...
Show less
www.facebook.com
Natural gas is often considered the cleanest fossil fuel, but could it actually be dirtier than coal?
Watch as New York Times reporter Mark Bittman, in the above Year's of Living Dangerously video, investigates how much methane is leaking at fracking wells. Find out how the natural gas industry's claims compare to what scientists are reporting.
See what happens when Gaby Petron, an atmospheric scientist with NOAA, converts her van into a mobile methane detector and sets out across northeastern Colorado for two years, taking thousands of readings to uncover the truth.
www.youtube.com
Adrian Grenier was named UN Goodwill Ambassador earlier this month. The Hollywood actor, best known for his iconic role of A-list movie star Vincent Chase in the HBO smash hit and film Entourage, will advocate for drastically reducing single-use plastic and protection of marine species, and encourage his followers to make conscious consumer choices to reduce their environmental footprint, according to the UN Environment announcement.
"Together we must usher in a new era of compassion and carefulness through forward thinking environmental programs to drive measurable change," Grenier said. "I am personally committed to creating ways in which the global community can come together to help solve our most critical climate crises through routine, collective action.
"The more we connect to nature in our daily lives, the more dedicated we will become to our individual commitments. Together, I believe we can go further, faster in our race to achieve the UN Sustainable Development Goals by 2030."
Watch the video above to learn more.
The last week has seen a flood of stories on clean energy's prospects—stories that make your head spin with their conflicting tales of renewable energy's prospects of ending our dangerous addiction to fossil fuel power from coal and gas.
Keep reading...
Show less