This website uses cookies to ensure you get the best experience while browsing it. By clicking 'Got It' you're accepting these terms.
Toll Mounts Among U.S. Sailors Devastated by Fukushima Radiation
Jan. 11, 2014 11:41AM EST
Insights + Opinion

The roll call of U.S. sailors who say their health was devastated when they were irradiated while delivering humanitarian help near the stricken Fukushima nuke is continuing to soar.
So many have come forward that the progress of their federal class action lawsuit has been delayed.
Bay area lawyer Charles Bonner says a re-filing will wait until early February to accommodate a constant influx of sailors from the aircraft carrier USS Ronald Reagan and other American ships.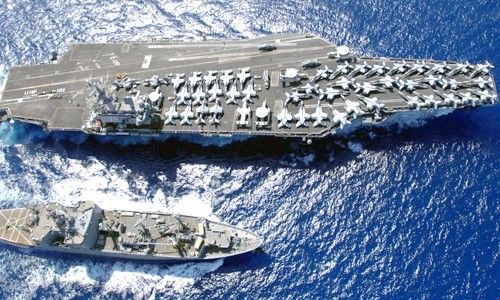 Within a day of Fukushima One's March 11, 2011, melt-down, American "first responders" were drenched in radioactive fallout. In the midst of a driving snow storm, sailors reported a cloud of warm air with a metallic taste that poured over the Reagan.
Then-Prime Minister Naoto Kan, at the time a nuclear supporter, says "the first meltdown occurred five hours after the earthquake." The lawsuit charges that Tokyo Electric Power knew large quantities of radiation were pouring into the air and water, but said nothing to the Navy or the public. 
Had the Navy known, says Bonner, it could have moved its ships out of harm's way. But some sailors actually jumped into the ocean just offshore to pull victims to safety. Others worked 18-hour shifts in the open air through a four-day mission, re-fueling and repairing helicopters, loading them with vital supplies and much more. All were drinking and bathing in desalinated water that had been severely contaminated by radioactive fallout and runoff.
Then Reagan crew members were enveloped in a warm cloud. "Hey," joked sailor Lindsay Cooper at the time. "It's radioactive snow."
The metallic taste that came with it parallels the ones reported by the airmen who dropped the atomic bomb on Hiroshima, and by Pennsylvania residents downwind from the 1979 meltdown at Three Mile Island.
When it did leave the Fukushima area, the Reagan was so radioactive it was refused port entry in Japan, South Korea and Guam. It's currently docked in San Diego.
The Navy is not systematically monitoring the crew members' health problems. But Cooper now reports a damaged thyroid, disrupted menstrual cycle, wildly fluctuating body weight and more. "It's ruined me," she says.
Similar complaints have surfaced among so many sailors from the Reagan and other U.S. ships that Bonner says he's being contacted by new litigants "on a daily basis," with the number exceeding 70.
Many are in their twenties, complaining of a terrible host of radiation-related diseases. They are legally barred from suing the U.S. military. Tepco denies that any of their health problems could be related to radiation from Fukushima. The company also says the U.S. has no jurisdiction in the case.
The suit was initially dismissed on jurisdictional grounds by federal Judge Janis S. Sammartino in San Diego. Sammartino was due to hear the re-filing Jan. 6, but allowed the litigants another month to accommodate additional sailors.
Bonner says Tepco should be subject to U.S. law because "they are doing business in America ... Their second largest office outside of Tokyo is in Washington DC."
Like the lawsuit, the petitions ask that Tepco admit responsibility, and establish a fund for the first responders to be administered by the U.S. courts.
In 2013 more than 150,000 citizens petitioned the United Nations to take control of the Fukushima site to guarantee the use of the best possible financial, scientific and engineering resources in the attempted clean-up. 
The melted cores from Units One, Two and Three are still unaccounted for. Progress in bringing down Unit Four's suspended fuel assemblies is murky at best. More than 11,000 "hot" rods are still scattered around a site where radiation levels remain high and some 300 tons of radioactive water still flow daily into the Pacific.
But with U.S. support, Japan has imposed a state secrets act severely restricting reliable news reporting from the Fukushima site.
So now we all live in the same kind of dark that enveloped the USS Reagan while its crew was immersed in their mission of mercy.
Petitions in the sailors' support are circulating worldwide on NukeFree.org, MoveOn, Avaaz, RootsAction and elsewhere.
Visit EcoWatch's FUKUSHIMA page for more related news on this topic.
——–
Harvey Wasserman edits www.nukefree.org, where petitions calling for the repeal of Japan's State Secrets Act and a global takeover at Fukushima are linked. He is author of SOLARTOPIA! Our Green-Powered Earth.
EcoWatch Daily Newsletter
Bird watching in the U.S. may be a lot harder than it once was, since bird populations are dropping off in droves, according to a new study.
Amazon CEO Jeff Bezos announces the co-founding of The Climate Pledge at the National Press Club on Sept. 19 in Washington, DC. Paul Morigi / Getty Images for Amazon
The day before over 1,500 Amazon.com employees planned a walkout to participate in today's global climate strike, CEO Jeff Bezos unveiled a sweeping plan for the retail and media giant to be carbon neutral by 2040, 10 years ahead of the Paris agreement schedule.
For the past seven years, the Anishinaabe people have been facing the largest tar sands pipeline project in North America. We still are. In these dying moments of the fossil fuel industry, Water Protectors stand, prepared for yet another battle for the water, wild rice and future of all. We face Enbridge, the largest pipeline company in North America, and the third largest corporation in Canada. We face it unafraid and eyes wide open, for indeed we see the future.
The climate crisis often intensifies systems of oppression. Rieko Honma / Stone / Getty Images Plus
By Mara Dolan
We see the effects of the climate crisis all around us in hurricanes, droughts, wildfires, and rising sea levels, but our proximity to these things, and how deeply our lives are changed by them, are not the same for everyone. Frontline groups have been leading the fight for environmental and climate justice for centuries and understand the critical connections between the climate crisis and racial justice, economic justice, migrant justice, and gender justice. Our personal experiences with climate change are shaped by our experiences with race, gender, and class, as the climate crisis often intensifies these systems of oppression.

Lana Del Rey: "call her Doris Doomsday." Darren Gerrish / BFC / Getty Images Entertainment
By Emer McHugh
Popular music has, and always will be, informed by the political and social contexts from which it emerges.
It was early in the morning last Thursday, and Jonathan Butler was standing on the Fred Hartman Bridge, helping 11 fellow Greenpeace activists rappel down and suspend themselves over the Houston Ship Channel. The protesters dangled in the air most of the day, shutting down a part of one of the country's largest ports for oil.
By C.J. Polychroniou
Climate change is by far the most serious crisis facing the world today. At stake is the future of civilization as we know it. Yet, both public awareness and government action lag way behind what's needed to avert a climate change catastrophe. In the interview below, Noam Chomsky and Robert Pollin discuss the challenges ahead and what needs to be done.
Food manufacturer General Mills issued a voluntary recall of more than 600,000 pounds, or about 120,000 bags, of Gold Medal Unbleached All Purpose Flour this week after a sample tested positive for a bacteria strain known to cause illness.