This website uses cookies to ensure you get the best experience while browsing it. By clicking 'Got It' you're accepting these terms.
Tips for Avoiding BPA in Canned Food
Jul. 16, 2015 08:29AM EST
Food
The recently published Environmental Working Group (EWG) study, "BPA in Canned Food: Behind the Brand Curtain," on Bisphenol A (BPA) contamination in canned foods highlighted what many consumers don't know—your food contains literally hundreds of chemicals. Present in trace amounts, some enter food by leaching from the container (such as the epoxy lining of metal cans). Whether or not this continuous, low dose exposure to a complex cocktail of chemicals poses a risk to human health is poorly understood and a polarizing topic that is difficult for consumers to navigate.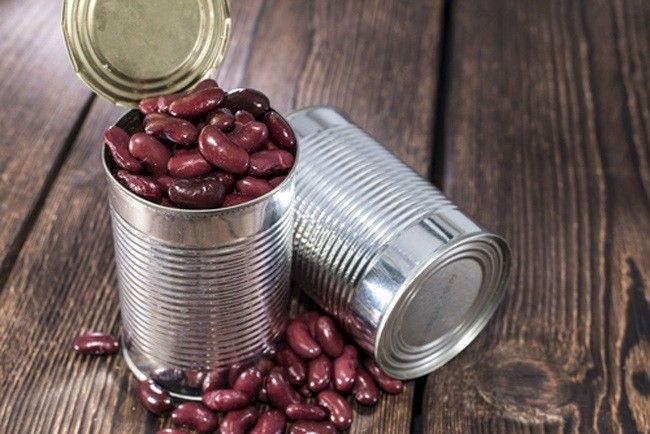 Photo credit: Shutterstock
The EWG focused on one of the most well-known of these chemicals: BPA. Metal food cans are lined with an epoxy resin in order to prevent corrosion and other damage that could heighten the risk of contamination with botulism. BPA is frequently found in these resins because it makes it more durable, and is also found in a myriad of other products including polycarbonate plastics, cash register receipts, medical devices and fire retardants. BPA is also considered an endocrine disrupting chemical (EDC) because it can interfere with hormones, most notably estrogen. It is for this reason that many individuals are seeking ways to reduce exposure.
Whether or not a canned food product is packaged with a BPA-containing lining such as epoxy is typically not disclosed. However, testing by Consumers Union (which publishes Consumer Reports) and other groups have previously found that use of BPA-containing lining in food cans is widespread. Some manufacturers have announced their intention to phase out and discontinue use of BPA-containing can linings in favor of BPA-free linings or alternative packaging methods. The EWG study was conducted to follow up on that manufacturer claim, and assess progress towards that goal. The study found that only 12 percent of brands were truly BPA-free. An important caveat of the study is that the EWG did not conduct independent tests to validate their findings so the conclusions are entirely based on self-reported data. All data for the EWG study came from a market survey, conducted using the tool LabelINSIGHT.
Some cans have a BPA-free label but there are no uniform or enforceable standards for making such a claim. So, importantly, even if a can is labeled as BPA-free, there is no guarantee that the claim is valid. For their survey, the EWG considered a can to be BPA-free if the can lining was not intentionally manufactured with BPA. Companies reporting "trace amounts" of BPA, BPA levels in compliance with Food and Drug Administration (FDA) requirements, or levels "below" or "well below" FDA requirements were classified as containing BPA unless the manufactures could provide data on the specific levels. So the percent of brands that are truly BPA-free may be a little higher than the estimated 12 percent.
Consumers should also be aware that "BPA-free" does not mean "EDC-free." Hundreds of EDCs have now been identified and are ubiquitous in food packaging, personal care products, household cleaners, cookware, furniture and building materials. Some of the most well-known EDCs are fire retardants (used in furniture, electronics and building materials), surfactants (used on waterproof fabrics and cookware,) plasticizers (used in food materials, medical devices, the coating of pharmaceuticals, paints, personal care products, and cosmetics) and pesticides. Although they have different mechanisms of action in the body, they are classified as EDCs because they disrupt aspects of the endocrine system, including the activity of estrogen, testosterone and the thyroid hormone.
One particular concern is exposure during critical windows of development, including gestation (pregnancy), when hormones play a fundamentally important role in shaping organs, such as the brain. Early childhood and puberty are also considered to be especially vulnerable periods to chemical exposures. Health effects associated with EDC exposure include lower sperm counts, infertility, early puberty, increased breast and prostate cancer risk, obesity and metabolic disease.
Because EDCs are present in foods and food packing in such small amounts, the FDA and other regulatory agencies consider them safe and insist that people are not exposed at levels high enough to cause health effects. However, what's disturbing about this practice is that it leaves consumers utterly in the dark about the nature of the potentially dangerous chemicals they unwittingly put into their bodies every day.
BPA is ubiquitous and the Center for Disease Control has estimated that nearly all Americans are continuously exposed. More than a thousand studies, using a variety of animal models and other laboratory tests, have identified BPA-related effects including early puberty, heightened risk of breast and prostate cancer, ovarian malformations and effects on the developing brain. BPA exposure has also been associated with behavioral effects in children and cardiovascular disease risk in adults. The FDA has repeatedly concluded, however, that current exposure levels pose no significant health risk—a position they reiterated last year. This conflicting information can make it difficult for consumers to understand the state of the science and make informed purchasing decisions.
While it's unclear exactly how many EDCs are in food, the FDA is currently tracking hundreds of chemicals present in trace amounts. Most of these chemicals have not undergone any toxicity testing of any kind, and current regulatory policy does not require that they be tested for endocrine disrupting effects. Although it is impossible to know precisely which foods are contaminated and which are not, there are simple, general things consumers can do to significantly reduce chemical exposure.
Avoiding heavily processed and packaged food is one of the most effective ways, as is choosing locally sourced organic foods. Be aware that plastics can leach other chemicals besides BPA, including BPS, a chemical structurally similar to BPA. There is growing evidence that BPS is also capable of interfering with estrogen signaling. Softer plastics and plastic wraps contain a class of chemicals called phthalates, some of which interfere with testosterone signaling.
Cardboard beverage containers are lined with a plastic-like coating to keep them from leaking, and this coating can leach chemicals into the liquid inside. To minimize exposure, choose milk and other liquids sold in glass containers, and store beverages at home in glass. Glass is inert and will not react with the liquid leaving a funny taste like metal. Acidic foods, such as coffee and tomato juice, and alcoholic beverages are most likely to react with the food containers so when possible, purchase these items in glass. Also, avoid microwaving food on plastic or in plastic packaging because this can cause chemicals to leach into the food. Use a ceramic plate or glass container instead.
Can linings were developed for a critical reason: to prevent botulism and spoilage. They do an excellent job at that, but an unintended consequence is that they leach trace amounts of BPA and other chemicals. Plastic food packaging also helps keep food safe from bacteria, but largely exists for another reason: convenience. The vast majority of all disposable plastic water bottles, utensils, cups and take-away cartons end up in a landfill or the ocean, where it takes hundreds if not thousands of years to decay. As a result of all that pollution, there is nowhere on Earth that is not chemically contaminated. Glass bottles, metal utensils and similar materials are recyclable but also durable and reusable, making them a "greener" choice. Using data from the EWG and others to reduce chemical exposures, but also waste, is a good choice for individual health and the health of our planet.
Dr. Heather Patisaul is an Associate Professor of Biological Sciences at NC State University. Dr. Patisaul received her Ph.D. from Emory University in 2001 and explores the mechanisms by which endocrine disruptors alter neuroendocrine pathways in the brain related to sex specific physiology and behavior.
YOU MIGHT ALSO LIKE
What's the Beef with the U.S./China Chicken Deal?
World's Largest Indoor Vertical Farm Breaks Ground in Newark, New Jersey
10 Foods Banned in Other Parts of the World, But Not in America
EcoWatch Daily Newsletter
People take part in a ceremony to mark the 'death' of the Pizol glacier on Sept. 22. FABRICE COFFRINI / AFP / Getty Images
Hundreds of activists gathered in the Swiss Alps on Sunday to mourn the loss of Pizol, a glacier that has steadily retreated over the last decade as temperatures have warmed the mountain tops, according to CNN.
Luis Alfonso de Alba Gongora, the UN secretary-general's special envoy for the climate summit speaks at The World Economic Forum holds the Sustainable Development Impact Summit 2018 in New York on Sept. 24, 2018.
Ben Hider /
World Economic Forum
When United Nations Secretary-General Antonio Guterres decided to hold a high-level climate summit in conjunction with this year's General Assembly kicking off next week, he was well aware of the paradox of his initiative.
Acting U.S. Homeland Security Secretary Kevin McAleenan meets with Guatemalan farmers on May 29 in Santa Rosa, Guatemala. John Moore / Getty Images
The Trump administration ignored its own evidence on how climate change is impacting migration and food security when setting new policies for cutting aid to Central America, NBC reports.
Mike Pence brought the first motorcade to Mackinac Island on Saturday. Cars have been banned on the island since 1898.
13 ON YOUR SIDE / YouTube screenshot
Vice President Mike Pence sparked outrage on social media Saturday when he traveled in the first-ever motorcade to drive down the streets of Michigan's car-free Mackinac Island, HuffPost reported.
Inhaling from an electronic cigarette. 6okean / iStock / Getty Images Plus
By Shawn Radcliffe
As illnesses and deaths linked to vaping continue to rise, health officials urge people to stop using e-cigarettes.
Officials report 8 deaths have been linked to lung illnesses related to vaping.
Vitamin E acetate is one compound officials are investigating as a potential cause for the outbreak.
The number of vaping-related illnesses has grown to 530 cases in 38 states and 1 U.S. territory, federal health officials
reported
.
Activist Greta Thunberg leads the Youth Climate Strike on Sept. 20, 2019 in New York City. Roy Rochlin / WireImage / Getty Images
By Julia Conley
As organizers behind Friday's Global Climate Strike reported that four million children and adults attended marches and rallies all over the world — making it the biggest climate protest ever — they assured leaders who have been reticent to take bold climate action that the campaigners' work is far from over.
Summer has officially come to an end. Luckily, EcoWatch is here to keep its memory alive by sharing the winners of our "Best of Summer" photo contest.
United Nations Secretary-General Antonio Guterres speaks at a news conference at UN headquarters on Sept. 18. Drew Angerer / Getty Images