This website uses cookies to ensure you get the best experience while browsing it. By clicking 'Got It' you're accepting these terms.
Tiny Fish with Huge Impact
Nov. 02, 2011 04:22PM EST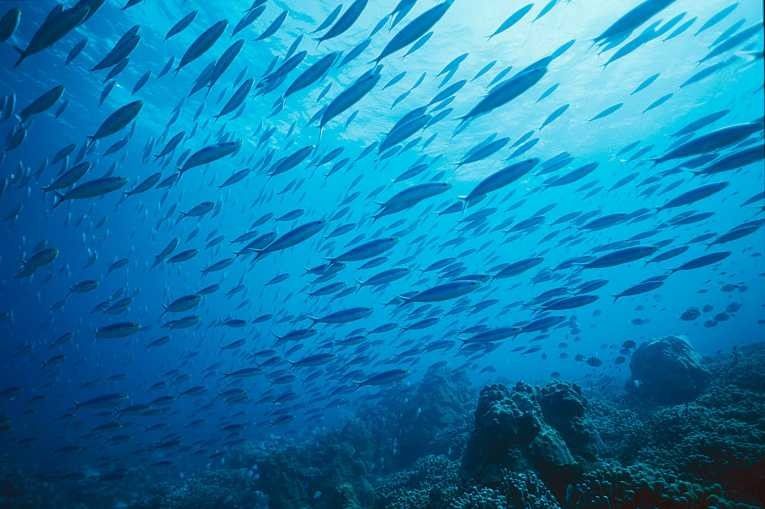 A report released Nov. 1 by Oceana, Forage Fish: Feeding the California Current Large Marine Ecosystem, provides a complete picture of the state of West Coast forage species management and what must be done to sustain a healthy ocean food web and a strong coastal economy into the future. The report's release coincides with major decisions before the Pacific Fishery Management Council (PFMC) on the future of these foundationally important fish species. Forage species, like sardines, herring and market squid are truly the heartbeat of the ocean, providing food for larger fish, marine mammals and seabirds.
"It's time to adopt precautionary and proactive approaches to protect the ocean food web," said Ben Enticknap, Pacific project manager for Oceana and lead author of the report. "The science is increasingly clear that harvest strategies must and can be changed to ensure enough forage for salmon, whales and seabirds."
Among the key findings of the Oceana report:
At multiple levels of state, federal and international governance, there are major gaps in the management of the overall forage fish base that provides the food supply in this large marine ecosystem.
When making decisions to set fishery catch levels, managers do not consider how many forage fish need to be left in the ocean to support other valuable fish and wildlife.
There are ample reasons for concern about the future of forage fish, including overly aggressive harvest rates, increasing demand from aquaculture and documented population declines.
"These tiny species have a colossal impact," said Susan Murray, Oceana's senior director of the Pacific. "The availability of forage can literally mean life or death for many of our iconic Pacific fish, marine mammals and seabirds, as well as our vibrant coastal economies. Luckily, we have the opportunity to avoid such crashes by doing responsible management now."
Coinciding with this report, this week the Pacific Fishery Management Council (PFMC) will respond to two requests made by Oceana to address forage fish management. First, on Friday, the Council will address Oceana's request to revise the way in which annual sardine catch levels are decided to properly account for the needs of the ecosystem. Sardines are both a major food source for wildlife and an important component of the ocean-based economy of the U.S. West Coast. Coast-wide exploitation has steadily increased while the sardine population has been maintained below sustainable levels for the past decade. The problem lies in the system from which annual catch limits are set, which has scientific flaws, does not account for international coastwide catch including Mexico and Canada, and fails to consider how many sardines that higher ocean predators need to survive and thrive.
On Nov. 6 the PFMC will consider Oceana's request that the Council prevent new fisheries from developing on currently unmanaged forage species until specific criteria are met. Many other important forage species, including whitebait smelt, Pacific sandlance and lanternfishes, currently have no federal management and new fisheries could develop at any time without consideration of the consequences. If the PFMC adopts this request, the Council would build on prior protections given to krill and take an important step toward an ecosystem-based approach to fisheries management.
"We all know forage species have value if we catch and sell them, but there is an unseen economic value from leaving some forage fish in the ocean. More available forage fish in the ocean will increase the value of other fisheries and economic sectors like tourism," said Dr. Geoff Shester, California program director for Oceana and one of the authors of the report. "Better forage species management will strengthen our west coast economy and provide thousands of jobs for years to come."
The Oceana report is available here.
What: Pacific Fisheries Management Council meeting
When: Nov. 4, 2011
Where: Hilton Orange County, 3050 Bristol Street, Costa Mesa, Calif. 92626
For more information, click here.
—————
Oceana is the largest international advocacy group working solely to protect the world's oceans. Oceana wins policy victories for the oceans using science-based campaigns. Since 2001, we have protected over 1.2 million square miles of ocean and innumerable sea turtles, sharks, dolphins and other sea creatures. More than 500,000 supporters have already joined Oceana. Global in scope, Oceana has offices in North, South and Central America and Europe. To learn more, please visit www.oceana.org.
EcoWatch Daily Newsletter
Smog over Los Angeles. Westend61 / Getty Images
After four decades of improving air quality, the U.S. has started to take a step backwards, as the number of polluted days has ticked upwards over the last two years, the Associated Press reported.
Photobos / iStock / Getty Images
Governors in Vermont and Maine signed bills on Monday that will ban plastic bags in their states next year, The Hill reported.
The Maine ban will go into effect next Earth Day, April 22, 2020. The Vermont ban, which extends beyond plastic bags and is the most comprehensive plastics ban so far, will go into effect in July 2020. The wait time is designed to give businesses time to adjust to the ban.
picture-alliance / AP Images / D. Goldman
By Daniel Moattar
Eastern Kentucky's hills are interrupted by jarring flats of bare rock: the aftermath of mountaintop removal mining, which uses explosives to destroy and harvest coal-rich peaks.
By Molly Taft
Lisa Marshall isn't your typical activist. For one thing, she's not into crowds. "I don't really like rallies," Marshall, a mom of three from upstate New York, said. "They're a little stressful — not my favorite thing."

An oil drilling site in a residential area of Los Angeles, California on July 16, 2014.
Faces of Fracking / Flickr
By Jake Johnson
A comprehensive analysis of nearly 1,500 scientific studies, government reports, and media stories on the consequences of fracking released Wednesday found that the evidence overwhelmingly shows the drilling method poses a profound threat to public health and the climate.

sonsam / iStock / Getty Images
By Grace Francese
A new Environmental Working Group (EWG) study published in Environmental Research found that nitrate, one of the most common contaminants of drinking water, may cause up to 12,594 cases of cancer per year, but that's not its only danger: It can pose unique health risks to children.
Melt water from Everest's Khumbu glacier. Ed Giles / Getty Images
EPA Administrator Andrew Wheeler signs his replacement for the Clean Power Plan. Win McNamee / Getty Images