This website uses cookies to ensure you get the best experience while browsing it. By clicking 'Got It' you're accepting these terms.
Tiny Fish with Huge Impact
Nov. 02, 2011 04:22PM EST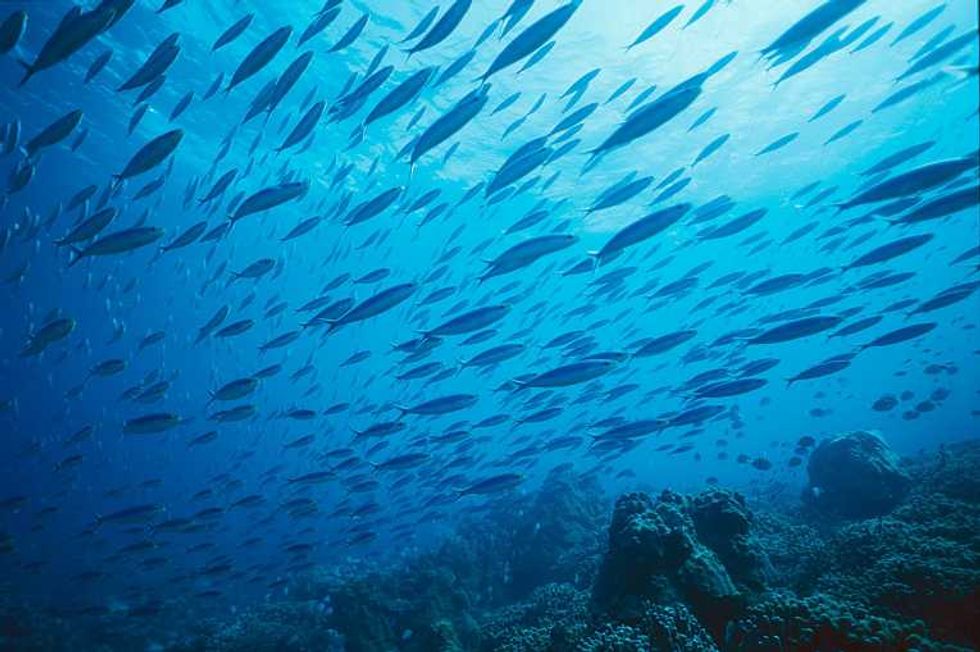 A report released Nov. 1 by Oceana, Forage Fish: Feeding the California Current Large Marine Ecosystem, provides a complete picture of the state of West Coast forage species management and what must be done to sustain a healthy ocean food web and a strong coastal economy into the future. The report's release coincides with major decisions before the Pacific Fishery Management Council (PFMC) on the future of these foundationally important fish species. Forage species, like sardines, herring and market squid are truly the heartbeat of the ocean, providing food for larger fish, marine mammals and seabirds.
"It's time to adopt precautionary and proactive approaches to protect the ocean food web," said Ben Enticknap, Pacific project manager for Oceana and lead author of the report. "The science is increasingly clear that harvest strategies must and can be changed to ensure enough forage for salmon, whales and seabirds."
Among the key findings of the Oceana report:
At multiple levels of state, federal and international governance, there are major gaps in the management of the overall forage fish base that provides the food supply in this large marine ecosystem.
When making decisions to set fishery catch levels, managers do not consider how many forage fish need to be left in the ocean to support other valuable fish and wildlife.
There are ample reasons for concern about the future of forage fish, including overly aggressive harvest rates, increasing demand from aquaculture and documented population declines.
"These tiny species have a colossal impact," said Susan Murray, Oceana's senior director of the Pacific. "The availability of forage can literally mean life or death for many of our iconic Pacific fish, marine mammals and seabirds, as well as our vibrant coastal economies. Luckily, we have the opportunity to avoid such crashes by doing responsible management now."
Coinciding with this report, this week the Pacific Fishery Management Council (PFMC) will respond to two requests made by Oceana to address forage fish management. First, on Friday, the Council will address Oceana's request to revise the way in which annual sardine catch levels are decided to properly account for the needs of the ecosystem. Sardines are both a major food source for wildlife and an important component of the ocean-based economy of the U.S. West Coast. Coast-wide exploitation has steadily increased while the sardine population has been maintained below sustainable levels for the past decade. The problem lies in the system from which annual catch limits are set, which has scientific flaws, does not account for international coastwide catch including Mexico and Canada, and fails to consider how many sardines that higher ocean predators need to survive and thrive.
On Nov. 6 the PFMC will consider Oceana's request that the Council prevent new fisheries from developing on currently unmanaged forage species until specific criteria are met. Many other important forage species, including whitebait smelt, Pacific sandlance and lanternfishes, currently have no federal management and new fisheries could develop at any time without consideration of the consequences. If the PFMC adopts this request, the Council would build on prior protections given to krill and take an important step toward an ecosystem-based approach to fisheries management.
"We all know forage species have value if we catch and sell them, but there is an unseen economic value from leaving some forage fish in the ocean. More available forage fish in the ocean will increase the value of other fisheries and economic sectors like tourism," said Dr. Geoff Shester, California program director for Oceana and one of the authors of the report. "Better forage species management will strengthen our west coast economy and provide thousands of jobs for years to come."
The Oceana report is available here.
What: Pacific Fisheries Management Council meeting
When: Nov. 4, 2011
Where: Hilton Orange County, 3050 Bristol Street, Costa Mesa, Calif. 92626
For more information, click here.
—————
Oceana is the largest international advocacy group working solely to protect the world's oceans. Oceana wins policy victories for the oceans using science-based campaigns. Since 2001, we have protected over 1.2 million square miles of ocean and innumerable sea turtles, sharks, dolphins and other sea creatures. More than 500,000 supporters have already joined Oceana. Global in scope, Oceana has offices in North, South and Central America and Europe. To learn more, please visit www.oceana.org.
EcoWatch Daily Newsletter
European Commission President Ursula von der Leyen delivers a press statement on the European Green Deal at the EU headquarters in Brussels, Belgium on Dec. 11, 2019. Xinhua / Zheng Huansong via Getty Images
The European Commission introduced a plan to overhaul the bloc's economy to more sustainable, climate-conscious policies and infrastructure, with the goal of being carbon-neutral by 2050, according to CNBC.
Young activists shout slogans on stage after Greta Thunberg (not in the picture) took part in the plenary session during the COP25 Climate Conference on Dec. 11 in Madrid, Spain. Pablo Blazquez Dominguez / Getty Images
By Andrea Germanos
Young activists took over and occupied the main stage at the COP25 climate conference in Madrid, Spain Wednesday and demanded world leaders commit to far more ambitious action to address the ecological emergency.
A NASA image showing the ozone hole at its maximum extent for 2015. NASA Goddard Space Flight Center
The Montreal Protocol, a 1987 international treaty prohibiting the production of chlorofluorocarbons (CFCs) to save the ozone layer, was the first successful multilateral agreement to successfully slow the rate of global warming, according to new research. Now, experts argue that similar measures may lend hope to the climate crisis.
Police in Wales are in the midst of an unusual investigation: the sudden death of more than 200 starlings.
Donald Trump Jr. killed an argali sheep like this one on a hunting trip in Mongolia. powerofforever/ iStock / Getty Images Plus
During a hunting trip in Mongolia this August, Donald Trump Jr. shot and killed an endangered argali sheep, and received a permit only after the fact.