Time to Wake Up: 100 Speeches, 100 Reasons to #ActOnClimate
May. 19, 2015 09:55AM EST
Politics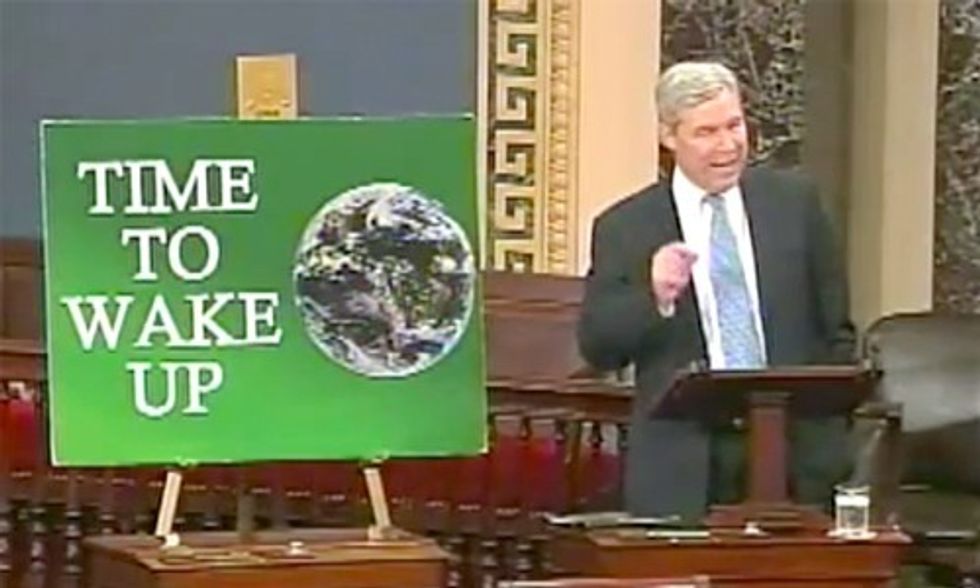 For the past three years, Sen. Sheldon Whitehouse of Rhode Island has been doing a weekly speech, "Time to Wake Up" on the Senate floor to urge his fellow members of Congress to take action on climate change. Yesterday's speech was the 100th such speech in his weekly installment, which started on April 18, 2012.
"Opponents of responsible climate action do best in the dark," Whitehouse said. "I knew that if anything was going to change, we'd need to shine some light on the facts, on the science and on the sophisticated scheme of denial being conducted by the polluters. I decided to come to the floor every week the Senate is in session, to put at least my little light to work, to urge colleagues to wake up and take action."
Whitehouse calls out his fellow Senate members for being "shut down by the fossil fuel industry. The polluters have constructed a carefully built apparatus of lies propped up by endless dark money."
When asked how he keeps coming up with new things to say, he says, "It's easy. There are at least 100 reasons to act on climate. Hundreds of Americans have sent me their reasons to act on climate. I'll highlight some of their reasons in this speech."
Watch Sen. Whitehouse explain why we need to act on climate now in his 100th speech:
YOU MIGHT ALSO LIKE
4 Climate Surprises From Al Gore in Iowa
 Extreme Sports Legend Dean Potter Dies
 Ted Glick: It's Time to Stop FERC's Rubber Stamping of Fracking Infrastructure Projects
EcoWatch Daily Newsletter
Related Articles from EcoWatch
Recent Stories from EcoWatch