This website uses cookies to ensure you get the best experience while browsing it. By clicking 'Got It' you're accepting these terms.
Time to Rethink Roads: Millennials Lead Change in Transportation Trends
May. 17, 2013 09:16AM EST
Health + Wellness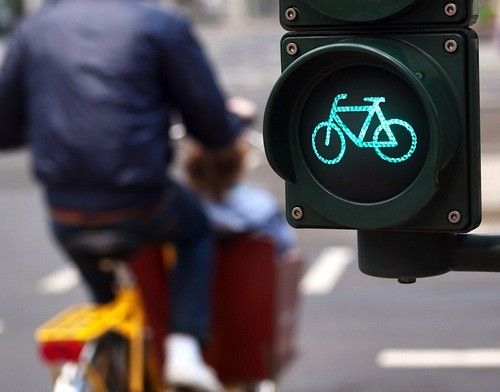 Photo courtesy of Shutterstock
As the average number of miles driven by Americans heads into its eighth year of decline, a new report from the Ohio PIRG Education Fund finds that the slowdown in driving is likely to continue. Baby boomers are moving out of the phase in their life when they do the most commuting, while driving-averse millennials move into that phase. These demographic changes will likely keep driving down for decades, according to the report, A New Direction: Our Changing Relationship with Driving and the Implications for America's Future.
 
"The driving boom is over," said Tabitha Woodruff, advocate for the Ohio PIRG Education Fund. "The constant increases we saw in driving up until 2004 show no sign of returning. As more and more millennials become adults, and their tendency to drive less becomes the norm, the reduction in driving will be even larger."­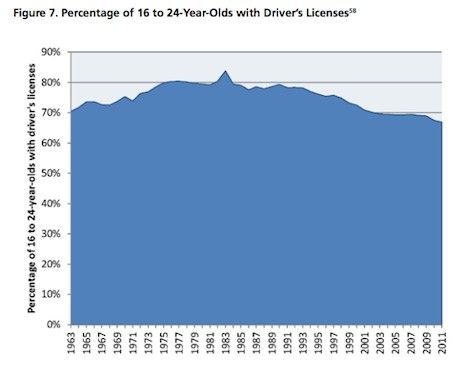 Miles driven per capita peaked in 2004; the total number of miles driven by Americans peaked in 2007. The average American currently drives no more miles than at the end of President Clinton's first term.
 
The millennial generation is leading the change in transportation trends. Sixteen to 34-year-olds drove a whopping 23 percent fewer miles on average in 2009 than in 200—the greatest decline in driving of any age group. In addition, millennials are more likely to want to live in urban and walkable neighborhoods and are more open to non-driving forms of transportation than the older generation of Americans.
 
"A preference for urban living, combined with the increasing viability of transportation alternatives, has meant that cars are no longer the automatic choice for young people," said Mia Young, a senior at Oberlin College in Loraine County.
 
The report found that under any reasonable scenario, the number of miles driven annually will be far fewer in the future than if baby boom trends had continued. During the second half of the twentieth century low gas prices, rapid suburbanization and an ever-increasing number of women commuters entering the workforce fueled the driving boom. The factors that defined that period have since taken a back seat. Under some conservative scenarios outlined by the report, driving won't ever regain its 2007 peak during the range of the study, which extends to 2040.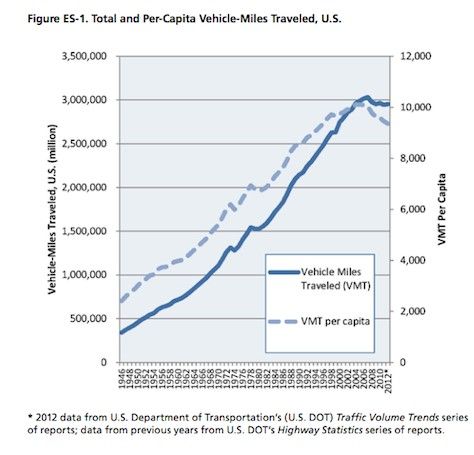 Yet, official forecasts of future vehicle travel continue to assume steady increases in driving, despite the changing trends seen over the past decade. Those forecasts are used to justify spending vast sums on new and expanded highways, even as repairs to existing roads and bridges remain neglected.
 
"Our transportation leaders need to wake up to the momentous changes that have taken place over the last decade," said Woodruff. "The infrastructure we build today will mainly be used and paid for by the millennials who are leading the trend away from driving."
The report examines a number of high-profile official transportation forecasts and finds a consistent pattern of overestimating how much Americans will drive and only partially revising those forecasts when they prove to be incorrect. The government forecasts examined all fall above even the most conservative scenarios forecast in the report and all seem to be based on the assumption that the driving boom's state of ongoing growth will last forever.­­
The change in driving trends will have huge implications for many aspects of Americans' travel life:
• Coupled with improvements in fuel efficiency, reduced driving means Americans will use about half as much gasoline and other fuels in 2040 than they use today, making the real value of gas taxes fall as much as 74 percent. Gas taxes provide the chief source of federal transportation funds and a major source for many states.
• Traffic congestion will be less of a problem.
• Toll roads will be less financially viable.
• Many highway expansion projects will start to look like wasteful boondoggles.
• Forms of travel that are expanding in use, like public transit, will be a better investment.
"Given the magnitude of these trends and the implications for the future, we need to press the reset button on our transportation policy," said Woodruff. "Public officials can't just stay on the only course they've known. They need to learn from current trends to rethink whether it's worth building all those extra highway miles that were planned based on an obsolete understanding of future driving trends."
Visit EcoWatch's HEALTH page for more related news on this topic.
EcoWatch Daily Newsletter
Bird watching in the U.S. may be a lot harder than it once was, since bird populations are dropping off in droves, according to a new study.
Amazon CEO Jeff Bezos announces the co-founding of The Climate Pledge at the National Press Club on Sept. 19 in Washington, DC. Paul Morigi / Getty Images for Amazon
The day before over 1,500 Amazon.com employees planned a walkout to participate in today's global climate strike, CEO Jeff Bezos unveiled a sweeping plan for the retail and media giant to be carbon neutral by 2040, 10 years ahead of the Paris agreement schedule.
For the past seven years, the Anishinaabe people have been facing the largest tar sands pipeline project in North America. We still are. In these dying moments of the fossil fuel industry, Water Protectors stand, prepared for yet another battle for the water, wild rice and future of all. We face Enbridge, the largest pipeline company in North America, and the third largest corporation in Canada. We face it unafraid and eyes wide open, for indeed we see the future.
The climate crisis often intensifies systems of oppression. Rieko Honma / Stone / Getty Images Plus
By Mara Dolan
We see the effects of the climate crisis all around us in hurricanes, droughts, wildfires, and rising sea levels, but our proximity to these things, and how deeply our lives are changed by them, are not the same for everyone. Frontline groups have been leading the fight for environmental and climate justice for centuries and understand the critical connections between the climate crisis and racial justice, economic justice, migrant justice, and gender justice. Our personal experiences with climate change are shaped by our experiences with race, gender, and class, as the climate crisis often intensifies these systems of oppression.

Lana Del Rey: "call her Doris Doomsday." Darren Gerrish / BFC / Getty Images Entertainment
By Emer McHugh
Popular music has, and always will be, informed by the political and social contexts from which it emerges.
It was early in the morning last Thursday, and Jonathan Butler was standing on the Fred Hartman Bridge, helping 11 fellow Greenpeace activists rappel down and suspend themselves over the Houston Ship Channel. The protesters dangled in the air most of the day, shutting down a part of one of the country's largest ports for oil.
By C.J. Polychroniou
Climate change is by far the most serious crisis facing the world today. At stake is the future of civilization as we know it. Yet, both public awareness and government action lag way behind what's needed to avert a climate change catastrophe. In the interview below, Noam Chomsky and Robert Pollin discuss the challenges ahead and what needs to be done.
Food manufacturer General Mills issued a voluntary recall of more than 600,000 pounds, or about 120,000 bags, of Gold Medal Unbleached All Purpose Flour this week after a sample tested positive for a bacteria strain known to cause illness.