This website uses cookies to ensure you get the best experience while browsing it. By clicking 'Got It' you're accepting these terms.
Tim Cook: New Solar Farm Will Be Apple's 'Biggest, Boldest and Most Ambitious Project Ever'
Feb. 11, 2015 09:39AM EST
Business
Apple CEO Tim Cook announced yesterday that the company will partner with First Solar to build 1,300-acre, 280-megawatt solar energy farm in Monterey, California.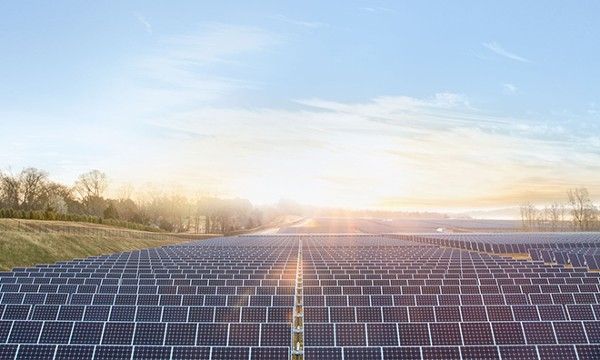 "We know at Apple that climate change is real, and our view is that the time for talk has passed and the time for action is now," Cook told the audience at the Goldman Sachs Technology and Internet Conference in San Francisco as he announced what he called Apple's "biggest, boldest and most ambitious project ever."
He said the new development, which First Solar will build with a $850 million investment from Apple and their commitment to purchase the power generated, will generate enough electricity to power the equivalent of 60,000 homes. It will be able to provide renewable energy for Apple's new campus in Silicon Valley, all of its other California offices, all 52 of its retail stores in California and its data center in Newark. The work will begin in a few months and the farm should be operational in 2016.
"Apple is leading the way in addressing climate change by showing how large companies can serve their operations with 100 percent clean, renewable energy," said Joe Kishkill, First Solar's chief commercial officer. "Apple's commitment was instrumental in making this project possible and will significantly increase the supply of solar power in California. Over time, the renewable energy from California Flats will provide cost savings over alternative sources of energy as well as substantially lower environmental impact."
First Solar and Apple Strike Industry's Largest Commercial Power Deal http://t.co/nZt8j9OLG3 @tim_cook pic.twitter.com/A2QX4OOyCd

— First Solar (@FirstSolar) February 10, 2015
It's not Apple's first foray into solar, although it is one of its most ambitious. The company already has two solar farms in North Carolina and another in Nevada. Apple also has investments in wind, hydropower and fuel cells. Cook said in yesterday's conference presentation that all of Apple's data centers already run on renewable energy and that the new headquarters it's building will be state-of-the-art green.
He assured the audience of investors that Apple's large investment in solar isn't just some feel-good move but also good for business.
"I know this is a financial conference and some of you are interested in, is that a good use of funds or not," he said. "Quite frankly we're doing this because it's right to do, but you may also be interested to know that it's good financially to do it. We expect to have a very significant savings because we have a fixed price for the renewable energy, and there's quite a difference between that price and the price of brown energy. So we're thrilled to continue on this course of doing things that leave the world better than we found it."
Last May, Greenpeace issued a report called Clicking Clean: How Companies Are Creating the Green Internet, rating 19 Internet companies and naming Apple a "green leader" for its commitment to renewable energy.
"It's one thing to talk about being 100 percent renewably powered, but it's quite another thing to make good on that commitment with the incredible speed and integrity that Apple has shown in the past two years," said Greenpeace senior IT sector analyst Gary Cook in response to Tim Cook's announcement.
"Apple still has work to do to reduce its environmental footprint, but other Fortune 500 CEOs would be well served to make a study of Tim Cook, whose actions show that he intends to take Apple full-speed ahead toward renewable energy with the urgency that our climate crisis demands."
YOU MIGHT ALSO LIKE
25 Top Companies Investing in Solar
3 Charts Prove the Solar Revolution Is Here to Stay
EcoWatch Daily Newsletter
Assorted plastic bottles. mali maeder / Pexels
People carry children on a flooded street in Almoradi, Spain on Sept. 13. JOSE JORDAN / AFP / Getty Images
Large food companies are following in the footsteps of fast-food restaurants such as Burger King and KFC by offering meat alternatives. Getty Images
By Elizabeth Pratt
Hormel, Kellogg's, and Kroger are among the large companies now planning to offer "fake meat" products at grocery stores.
Experts say the trend toward plant-based meats coincides with consumers' desires to eat less meat.
However, experts urge consumers to closely check package labels as a product isn't necessarily healthy just because it's described as plant-based.
In grocery stores and fast-food outlets around the U.S., a revolution is taking place.
Colombia rainforest. Marcel Oosterwijk / CC BY-SA 2.0
Many of us think of the Amazon as an untouched wilderness, but people have been thriving in these diverse environments for millennia. Due to this long history, the knowledge that Indigenous and forest communities pass between generations about plants, animals and forest ecology is incredibly rich and detailed and easily dwarfs that of any expert.
picture-alliance / Newscom / R. Ben Ari
By Wesley Rahn
Plastic byproducts were found in 97 percent of blood and urine samples from 2,500 children tested between 2014 and 2017, according to a study by the German Environment Ministry and the Robert Koch Institute.

Pexels
Medically reviewed by Daniel Bubnis, MS, NASM-CPT, NASE Level II-CSS
Hot yoga has become a popular exercise in recent years. It offers many of the same benefits as traditional yoga, such as stress reduction, improved strength, and flexibility.
Lara Hata / iStock / Getty Images
By SaVanna Shoemaker, MS, RDN, LD
Rice is a staple in many people's diets. It's filling, inexpensive, and a great mild-tasting addition to flavorful dishes.