This website uses cookies to ensure you get the best experience while browsing it. By clicking 'Got It' you're accepting these terms.
Thyroid Cancer in Young People Surge in Fukushima Since Nuclear Meltdown
Aug. 25, 2014 01:31PM EST
The impact of the 2011 Fukushima nuclear reactor meltdown on the region's young people is starting to add up.
104 of the area's 300,000 young people who were under 18 at the time of the disaster have been diagnosed with thyroid cancer, Japanese newspaper The Asahi Shinbun reported yesterday. This form of cancer has been linked to radiation exposure.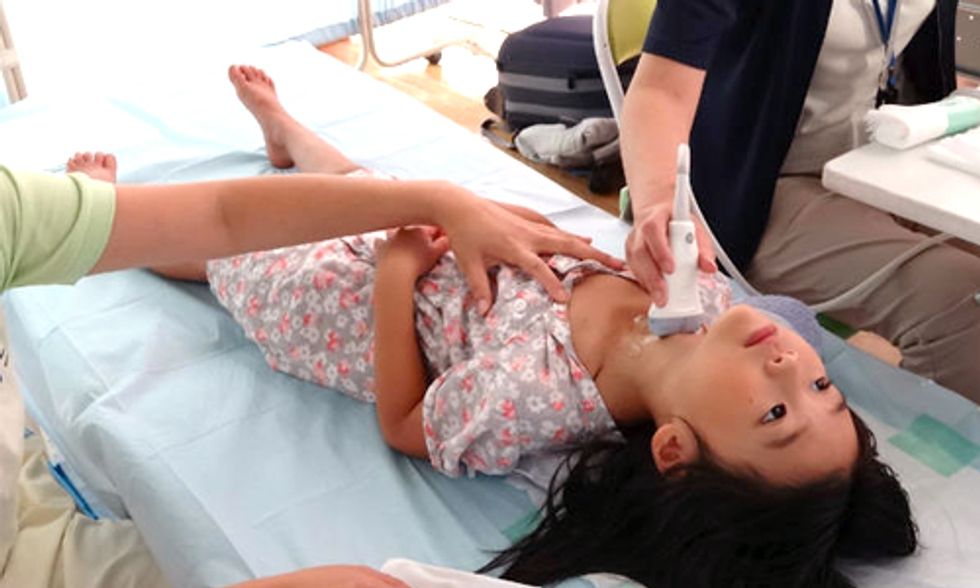 But, government officials in Fukushima say they do not believe the cases of thyroid gland cancer diagnosed or suspected in the 104 young people are linked to the 2011 nuclear accident.
It helps their denial that experts disagree on whether these cases of thyroid cancer can be traced back to the meltdown, which released radiation over a large area. While the slow-developing cancer only appeared in young people four years after the 1986 Chernobyl meltdown in Ukraine, radiation biology professor Yoshio Hosoi told The Asahi Shinbun that better tests allow earlier diagnoses.
"Many people are being diagnosed with cancer at this time, thanks to the high-precision tests," he said. "We must continue closely examining the people's health in order to determine the impact of radiation exposure on causing thyroid tumors."
Whatever the government believes at this time, scientists and public health experts are calling for ongoing studies.
The Ashai Shinbun reports:
Hokuto Hoshi, who chairs a panel that discusses matters related to the prefectural survey on the health impact from radiation on Fukushima's residents, said the panel's subcommittee will soon analyze the test results to determine the impact of the accident on the thyroid tumor rate. The prefecture also plans to continue medical checkups on residents in the prefecture and use the test results as a basis for comparison in the future, prefectural officials said.
"The rising number of thyroid cancer cases in Fukushima area children exposed to the meltdown is disturbing," says Joseph Mangano MPH MBA, executive director of the Radiation and Public Health Project. "The 104 cases either confirmed or very likely to be confirmed is far greater than the expected number of seven for a population of children that size over a three year period. Thyroid cancer is only one of the many diseases whose risk increases after a meltdown, and researchers must conduct studies, both in Japan and other affected nations."
The full extent of the risk from exposure to very high levels of radiation exposure is unknown. The high level of secrecy and denial over those impacts followed both the Chernobyl meltdown and the 1979 Three Mile Island  meltdown in Pennsylvania made the true human cost of the disasters hard to map.
"The massive releases of Iodine 131 spewed out by Fukushima guarantee a skyrocketing thyroid cancer rate among the children in the region," says Harvey Wasserman, editor of Nukefree.org and author of SOLARTOPIA! "A parallel tragedy has been unfolding at Chernobyl for nearly 30 years, and at Three Mile Island since 1979. There is no doubt people—especially children—have been maimed and killed by these releases. But the nuclear industry has been very good at covering them up. Hopefully at Fukushima independent researchers can tell us the real story."
YOU MIGHT ALSO LIKE
Fukushima's Children Are Dying
50 Reasons We Should Fear the Worst from Fukushima
EcoWatch Daily Newsletter
Half of the extracted resources used were sand, clay, gravel and cement, seen above, for building, along with the other minerals that produce fertilizer. Cavan Images / Cavan / Getty Images
The world is using up more and more resources and global recycling is falling. That's the grim takeaway from a new report by the Circle Economy think tank, which found that the world used up more than 110 billion tons, or 100.6 billion metric tons, of natural resources, as Agence France-Presse (AFP) reported.
By Gero Rueter
Heating with coal, oil and natural gas accounts for around a quarter of global greenhouse gas emissions. But that's something we can change, says Wolfgang Feist, founder of the Passive House Institute in the western German city of Darmstadt.

By George Citroner
Recent research finds that official government figures may be underestimating drug deaths by half.
Researchers estimate that 142,000 people died due to drug use in 2016.
Drug use decreases life expectancy after age 15 by 1.4 years for men and by just under 1 year for women, on average.
Government records may be severely underreporting how many Americans die from drug use, according to a new study by researchers from the University of Pennsylvania and Georgetown University.
Water coolers in front of shut-off water fountains at Center School in Stow, MA on Sept. 4, 2019 after elevated levels of PFAS were found in the water. David L. Ryan / The Boston Globe via Getty Images
In a new nationwide assessment of drinking water systems, the Environmental Working Group found that toxic fluorinated chemicals known as PFAS are far more prevalent than previously thought.
An iguana is seen on a tree branch on November 22, 2019 in Marathon Island, Florida. LUDOVIC MARIN / AFP / Getty Images
An unusual weather report made waves this week as meteorologists warned residents of Florida to be aware of "raining iguanas."