Thyroid Cancer in Young People Surge in Fukushima Since Nuclear Meltdown
The impact of the 2011 Fukushima nuclear reactor meltdown on the region's young people is starting to add up.
104 of the area's 300,000 young people who were under 18 at the time of the disaster have been diagnosed with thyroid cancer, Japanese newspaper The Asahi Shinbun reported yesterday. This form of cancer has been linked to radiation exposure.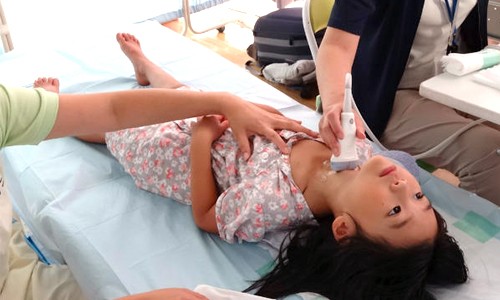 But, government officials in Fukushima say they do not believe the cases of thyroid gland cancer diagnosed or suspected in the 104 young people are linked to the 2011 nuclear accident.
It helps their denial that experts disagree on whether these cases of thyroid cancer can be traced back to the meltdown, which released radiation over a large area. While the slow-developing cancer only appeared in young people four years after the 1986 Chernobyl meltdown in Ukraine, radiation biology professor Yoshio Hosoi told The Asahi Shinbun that better tests allow earlier diagnoses.
"Many people are being diagnosed with cancer at this time, thanks to the high-precision tests," he said. "We must continue closely examining the people's health in order to determine the impact of radiation exposure on causing thyroid tumors."
Whatever the government believes at this time, scientists and public health experts are calling for ongoing studies.
The Ashai Shinbun reports:
Hokuto Hoshi, who chairs a panel that discusses matters related to the prefectural survey on the health impact from radiation on Fukushima's residents, said the panel's subcommittee will soon analyze the test results to determine the impact of the accident on the thyroid tumor rate. The prefecture also plans to continue medical checkups on residents in the prefecture and use the test results as a basis for comparison in the future, prefectural officials said.
"The rising number of thyroid cancer cases in Fukushima area children exposed to the meltdown is disturbing," says Joseph Mangano MPH MBA, executive director of the Radiation and Public Health Project. "The 104 cases either confirmed or very likely to be confirmed is far greater than the expected number of seven for a population of children that size over a three year period. Thyroid cancer is only one of the many diseases whose risk increases after a meltdown, and researchers must conduct studies, both in Japan and other affected nations."
The full extent of the risk from exposure to very high levels of radiation exposure is unknown. The high level of secrecy and denial over those impacts followed both the Chernobyl meltdown and the 1979 Three Mile Island  meltdown in Pennsylvania made the true human cost of the disasters hard to map.
"The massive releases of Iodine 131 spewed out by Fukushima guarantee a skyrocketing thyroid cancer rate among the children in the region," says Harvey Wasserman, editor of Nukefree.org and author of SOLARTOPIA! "A parallel tragedy has been unfolding at Chernobyl for nearly 30 years, and at Three Mile Island since 1979. There is no doubt people—especially children—have been maimed and killed by these releases. But the nuclear industry has been very good at covering them up. Hopefully at Fukushima independent researchers can tell us the real story."
YOU MIGHT ALSO LIKE
Fukushima's Children Are Dying
50 Reasons We Should Fear the Worst from Fukushima
A coalition of conservation groups and others announced Thursday that a historic number of comments and petitions of support have been submitted to the U.S. Department of the Interior in support of Bears Ears National Monument. Despite the entirely inadequate 15-day comment period ending on May 26, more than 685,000 comments in support of Bears Ears National Monument have been collected.
Keep reading...
Show less
Rink Glacier in western Greenland, with a meltwater lake visible center. NASA/OIB
Scientists have had their eyes on Greenland as its iconic glaciers have begun disappearing due to a warming climate. But, what they didn't expect to see was a whole new type of melting.
Keep reading...
Show less
Mountain View Fire
By Lena Moffitt
An oil tanker in Mead, Colorado exploded, killing one and injuring three on Thursday. Authorities are continuing to investigate the cause of the explosion.
Keep reading...
Show less
Banner created by Alliance for Climate Education
Keep reading...
Show less
Twenty-two GOP senators sent a letter Thursday urging Donald Trump to pull out of the Paris agreement. They argued remaining in the deal could "upend" the administration's ability "to fulfill its goal of rescinding the Clean Power Plan."
Keep reading...
Show less
By Cheryl Johncox
The Federal Energy Regulatory Commission (FERC) rejected on Thursday Energy Transfer Partners' request to resume horizontal directional drilling at two sites for its Rover fracked gas pipeline. This rejection comes after numerous leaks into Ohio's wetlands, and Clean Air and Clean Water act violations. FERC has halted the process at only eight locations of the 32 where drilling is taking place under Ohio's wetlands and streams.
Keep reading...
Show less
By Nadia Prupis
A majority of people in eight countries say they are ready to change their lifestyles if it would prevent climate catastrophe, a survey on global threats released Wednesday found.
Keep reading...
Show less
May. 25, 2017 01:55PM EST
Bill Maher is sick of billionaires' obsession with Mars, more like "Mars-a-Lago," he said.
In a new animation produced by ATTN:, the popular talk show host of Real Time, discusses the perils of our planet, including how "climate change is killing us."
Keep reading...
Show less