This website uses cookies to ensure you get the best experience while browsing it. By clicking 'Got It' you're accepting these terms.
Thyroid Cancer in Children Increases 30-Fold in Fukushima, New Study Says
Oct. 15, 2015 09:41AM EST
Energy
A study examining children who were 18 years and younger at the onset of the Fukushima nuclear catastrophe found an increase in thyroid cancers, as predicted by World Health Organization (WHO) initial dose assessments.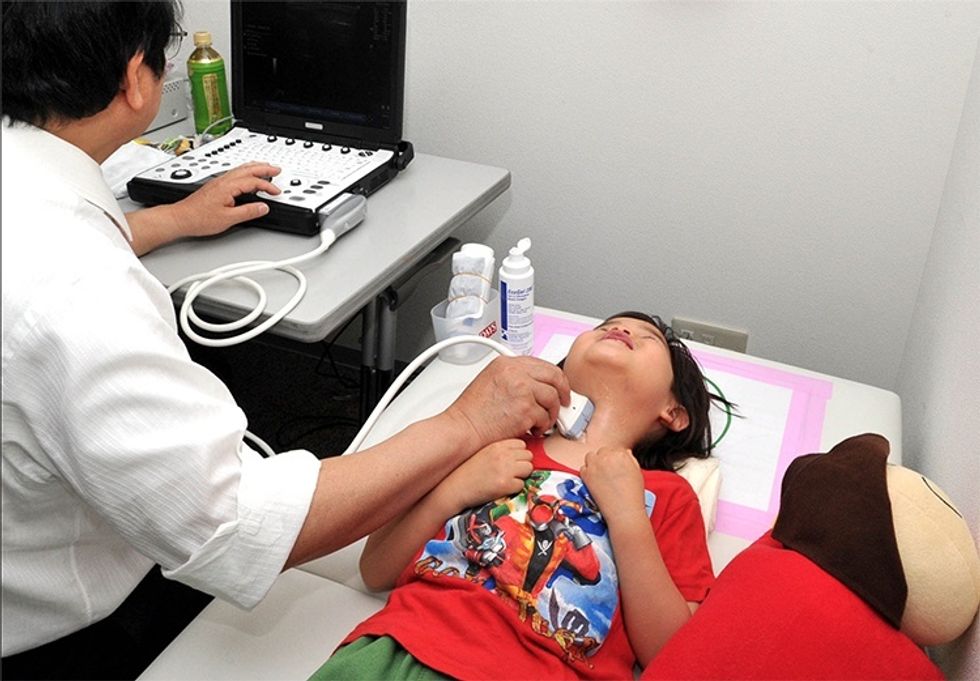 The expected cases of thyroid cancer in children is 1-2 per year per million. Photo credit: Yoshiaki Miura / Japan Times
Lead researcher Toshihide Tsuda, an epidemiologist at Okayama University, says "[t]his is more than expected and emerging faster than expected ... " by either initial WHO predictions or studies of thyroid cancers after the Chernobyl nuclear explosion in 1986. Tsuda was urged by international experts and the publishing journal to publish his study as soon as possible due to its potential implications for public health.
The study, published in Epidemiology, analyzed prefecture data up to Dec. 31, 2014.
There were no precise measurements of internal or external radiation exposure, so researchers used residential addresses at the time the catastrophe began in 2011 as a surrogate for dose. The highest incidence rate ratio was among people whose districts were not evacuated, approximately 50 to 60 km (30 to 40 miles) west of the Fukushima nuclear reactors. Data show 605 thyroid cancer cases per 1 million examinees. The expected cases of thyroid cancer in children is 1-2 per year per million.
A second round of screening, to be completed in March 2016, will include those who were in utero in 2011. Data already show an additional 25 thyroid cancers.
Ground contamination does not necessarily reflect exposure. Some of the most exposed people came from areas where radionuclide deposition was minimal, but radioactive iodine in the air as a result of the catastrophe still left them exposed.
The magnitude of the increase is too great to be explained by increased screening, since available data show that, at most, a 6 to 7–fold increase would be attributable to enhanced screening efforts. The data examined by Tsuda show cancer cases an order of magnitude higher.
The increase cannot be attributed to over-diagnosis, either. The cancers found by the screenings in Fukushima prefecture had metastasized to lymph nodes in 74 percent of cases (40 cases out of 54), meaning that these cases were not in early stages of development; medical professionals support this conclusion: "However, physicians actually involved with diagnosis during the thyroid examination unanimously agree that 'it is not over-diagnosis.' These physicians include Dr. Akira Miyauchi from Kuma Hospital, one of nation's top thyroid clinicians, as well as Dr. Shinichi Suzuki from Fukushima Medical University, director of thyroid examination in Fukushima prefecture." Over-diagnosis "refers to diagnosis of disease that does not require medical treatment, as opposed to screening effect which means early detection of asymptomatic disease that patients are unaware of and which eventually requires medical treatment."
Contrary to claims that we would not see an increase in cancers this early (within a year after exposure to radioactivity), radioactivity from Fukushima could be the cause of the rising number of thyroid cancer cases, as excess cancers were likewise observed in the years immediately following Chernobyl disaster. Further, the U.S. Center for Disease Control recognizes a minimum empirical induction time  of 2.5 years in adults and 1 year in kids for all cancers, including thyroid cancer.
Though the study focused on children, residents who were older than 18 years in 2011 should also be monitored for thyroid cancers.
In addition to predicting increases in thyroid cancers, the WHO also predicted increases in leukemia, breast and other types of cancers. The WHO acceded to demands by the government of Japan to reduce estimated doses. As a result, doses listed in the WHO's report are 1/10th to 1/3rd lower than initially drafted.
The study concludes: "In Chernobyl, excesses of thyroid cancer became more remarkable 4 or 5 years after the accident in Belarus and Ukraine, so the observed excess alerts us to prepare for more potential cases within a few years. Furthermore, we could infer a possibility that exposure doses for residents were higher than the official report or the dose estimation by the World Health Organization, because the number of thyroid cancer cases grew faster than predicted in the World Health Organization's health assessment report."
YOU MIGHT ALSO LIKE
Another U.S Nuke Bites the Dust
Just Released: 100+ New Studies Demonstrating the Risks of Fracking
Monsanto Fights Back Against Cancer Lawsuits as Company Eliminates 12% of Workforce
EcoWatch Daily Newsletter
California Gov. Gavin Newsom speaking with attendees at the 2019 California Democratic Party State Convention at the George R. Moscone Convention Center in San Francisco.
Gage Skidmore
/ Flickr /
CC BY-SA 2.0
California Gov. Gavin Newsom imposed new restrictions on oil exploration in his state yesterday by putting a moratorium on hundreds hydraulic fracturing permits until the projects are reviewed by independent scientists, as the AP reported.
The endangered Houston toad. Courtesy of U.S. Fish and Wildlife Service
While the planet continues to heat up, almost every single one of the 459 species listed as endangered in the U.S. will struggle as the climate crisis intensifies, according to new research published in the journal Nature Climate Change.
"This singular scientific achievement was accomplished at Heliogen's commercial facility in Lancaster, California."
Heliogen
A startup backed by Bill Gates unveiled a breakthrough solar technology Tuesday that could free heavy industry from fossil fuels.
Rhodiola rosea is an adaptogenic herb that can help with chronic fatigue and stress-related burnout. Tero Laakso / Flickr
By Gavin Van De Walle, MS, RD
While everyone has specific life stressors, factors related to job pressure, money, health, and relationships tend to be the most common.
Stress can be acute or chronic and lead to fatigue, headaches, upset stomach, nervousness, and irritability or anger.
A video shows a woman rescuing a koala from Australia's wildfires.
VOA News / YouTube screenshot
More than 350 koalas may have died in the wildfires raging near the Australian town of Port Macquarie in New South Wales, but one got a chance at survival after a woman risked her life to carry him to safety.