This website uses cookies to ensure you get the best experience while browsing it. By clicking 'Got It' you're accepting these terms.
Three Years After Kingston Spill, Coal Ash Dumping Continues to Rise
Jan. 05, 2012 12:56PM EST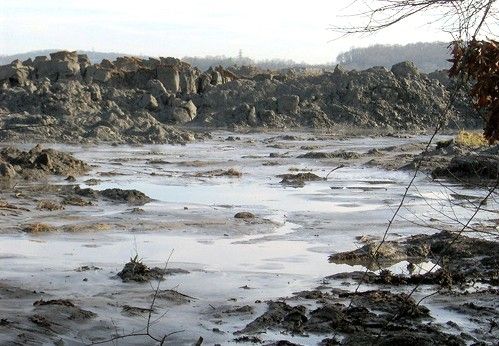 Three years after the coal ash spill in Kingston, Tn., the U.S. has not yet established standards to curb the threat to public health and waterways posed by unstable or leaking ash ponds at coal-fired power plants. Meanwhile, the volume of toxic metals in the ash that power plants dumped in ponds rose 9 percent in 2010, the most recent year for which information is available.
According to an analysis by the Environmental Integrity Project (EIP)—"… the most recent data from the U.S. Toxics Release Inventory show that disposal in these big ponds was higher in 2010 than it has been since 2007, the year before the TVA (Tennessee Valley Authority) spill.  Yet EPA's proposal to set standards for safe disposal—which included a plan to close down ash ponds within five years—has gone nowhere."
In 2010, power plants reported using coal-ash pond dump sites to dispose of wastes containing 113.6 million pounds of toxic metals or metal compounds, a category that includes arsenic, chromium, lead, and other pollutants that are hazardous in small concentrations and difficult to remove from the environment once released. That reflects a 9 percent increase in pond disposal since 2009, and is higher than the total reported in 2008.
In an indication of how power plants vary when it comes to coal-ash dump sites, EIP found that 20 facilities account for more than half (57 million pounds) of the toxic metals contained in power plant waste and disposed of in surface impoundments in 2010. Four of these are in Alabama, three in Georgia, and two in Missouri.  Just ten states accounted for three quarters of total pond disposal in 2010, including (from lowest to highest)—Alabama, Georgia, Illinois, Kentucky, Missouri, Ohio, Indiana, North Dakota, Minnesota and Michigan.
"Not only are coal ash impoundment levels rising, rather than dropping, but we are seeing efforts by some in Congress to thwart EPA efforts to protect the health of Americans from toxic coal ash dump sites," said EIP Director Eric Schaeffer. "EPA proposed in June of 2010 to require the closure of surface impoundments within five years. If the agency manages to issue a final rule before the end of 2012, that ban would take effect at the end of 2017, a full nine years after the TVA spill. In view of the hazards these ash ponds present, that seems long enough."
The concentration of arsenic or other metals in ash or scrubber sludge can vary, based on the source of the coal and the effectiveness of air pollution control devices in removing these contaminants from stack gases. An increase in reported disposal volumes for these metals can mean either a rise in concentration of toxic metals in coal combustion waste, or an increase in the volume of waste containing these metals, or both.
Most surface impoundments are unlined, which means that the toxins in the ash are more likely to seep through the bottom of these ponds and into groundwater or nearby rivers and creeks. The limited amount of monitoring data shows that this is already happening at many sites that have used surface impoundments for ash disposal for decades.
On Dec. 13, 2011, EIP released monitoring data from state files showing that a total of 20 additional coal ash dump sites causing groundwater and soil contamination in 10 states—Florida, Georgia, Illinois, Indiana, Iowa, Kentucky, Nevada, South Carolina, Tennessee and Texas—have been uncovered around the U.S. Previous EIP reports identified similar contamination at 70 other sites across the country.
The full text of the new EIP analysis is available online by clicking here.
For more information, click here.
—————
The Environmental Integrity Project is a nonpartisan, nonprofit organization established in March of 2002 by former EPA enforcement attorneys to advocate for effective enforcement of environmental laws. EIP has three goals—(1) to provide objective analyses of how the failure to enforce or implement environmental laws increases pollution and affects public health; (2) to hold federal and state agencies, as well as individual corporations, accountable for failing to enforce or comply with environmental laws; and (3) to help local communities obtain the protection of environmental laws.
EcoWatch Daily Newsletter
A vegan diet can improve your health, but experts say it's important to keep track of nutrients and protein. Getty Images
By Dan Gray
Research shows that 16 weeks of a vegan diet can boost the gut microbiome, helping with weight loss and overall health.
A healthy microbiome is a diverse microbiome. A plant-based diet is the best way to achieve this.
It isn't necessary to opt for a strictly vegan diet, but it's beneficial to limit meat intake.
New research shows that following a vegan diet for about 4 months can boost your gut microbiome. In turn, that can lead to improvements in body weight and blood sugar management.
Students gathered at the National Mall in Washington DC, Sept. 20. NRDC
By Jeff Turrentine
Nearly 20 years have passed since the journalist Malcolm Gladwell popularized the term tipping point, in his best-selling book of the same name. The phrase denotes the moment that a certain idea, behavior, or practice catches on exponentially and gains widespread currency throughout a culture. Having transcended its roots in sociological theory, the tipping point is now part of our everyday vernacular. We use it in scientific contexts to describe, for instance, the climatological point of no return that we'll hit if we allow average global temperatures to rise more than 2 degrees Celsius above preindustrial levels. But we also use it to describe everything from resistance movements to the disenchantment of hockey fans when their team is on a losing streak.
samael334 / iStock / Getty Images
Berries are small, soft, round fruit of various colors — mainly blue, red, or purple.
A glacier is seen in the Kenai Mountains on Sept. 6, near Primrose, Alaska. Scientists from the U.S. Geological Survey have been studying the glaciers in the area since 1966 and their studies show that the warming climate has resulted in sustained glacial mass loss as melting outpaced the accumulation of new snow and ice. Joe Raedle / Getty Images
By Mark Mancini
On Aug. 18, Iceland held a funeral for the first glacier lost to climate change. The deceased party was Okjökull, a historic body of ice that covered 14.6 square miles (38 square kilometers) in the Icelandic Highlands at the turn of the 20th century. But its glory days are long gone. In 2014, having dwindled to less than 1/15 its former size, Okjökull lost its status as an official glacier.
Members of Chicago Democratic Socialists of America table at the Logan Square Farmers Market on Aug. 18. Alex Schwartz
By Alex Schwartz
Among the many vendors at the Logan Square Farmers Market on Aug. 18 sat three young people peddling neither organic vegetables, gourmet cheese nor handmade crafts. Instead, they offered liberation from capitalism.
Hackney primary school students went to the Town Hall on May 24 in London after school to protest about the climate emergency. Jenny Matthews / In Pictures / Getty Images
Bird watching in the U.S. may be a lot harder than it once was, since bird populations are dropping off in droves, according to a new study.