This website uses cookies to ensure you get the best experience while browsing it. By clicking 'Got It' you're accepting these terms.
Three Years After Kingston Spill, Coal Ash Dumping Continues to Rise
Jan. 05, 2012 12:56PM EST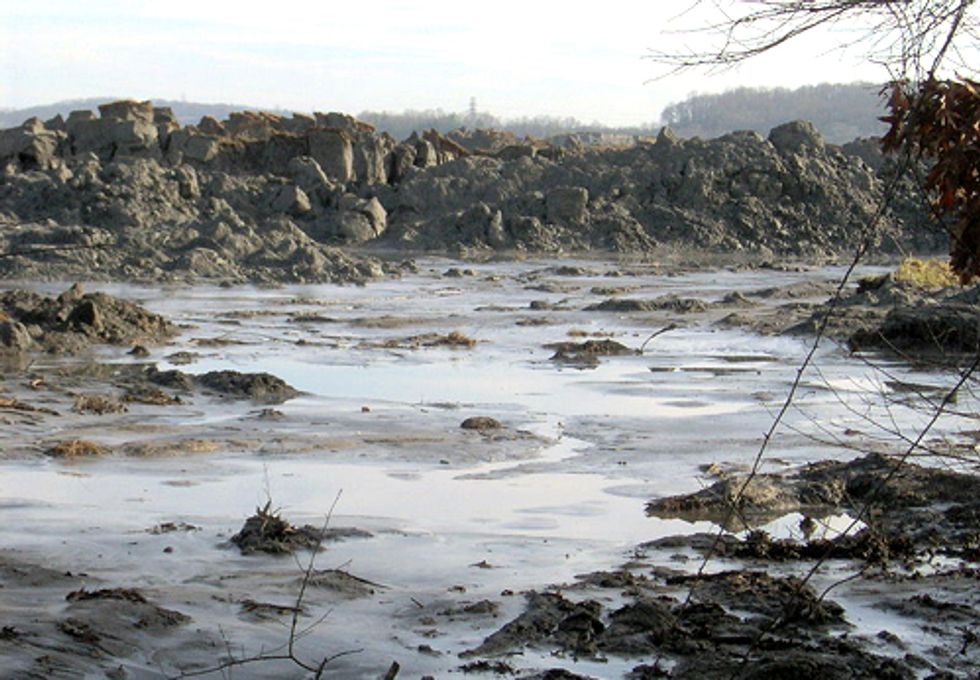 Three years after the coal ash spill in Kingston, Tn., the U.S. has not yet established standards to curb the threat to public health and waterways posed by unstable or leaking ash ponds at coal-fired power plants. Meanwhile, the volume of toxic metals in the ash that power plants dumped in ponds rose 9 percent in 2010, the most recent year for which information is available.
According to an analysis by the Environmental Integrity Project (EIP)—"… the most recent data from the U.S. Toxics Release Inventory show that disposal in these big ponds was higher in 2010 than it has been since 2007, the year before the TVA (Tennessee Valley Authority) spill.  Yet EPA's proposal to set standards for safe disposal—which included a plan to close down ash ponds within five years—has gone nowhere."
In 2010, power plants reported using coal-ash pond dump sites to dispose of wastes containing 113.6 million pounds of toxic metals or metal compounds, a category that includes arsenic, chromium, lead, and other pollutants that are hazardous in small concentrations and difficult to remove from the environment once released. That reflects a 9 percent increase in pond disposal since 2009, and is higher than the total reported in 2008.
In an indication of how power plants vary when it comes to coal-ash dump sites, EIP found that 20 facilities account for more than half (57 million pounds) of the toxic metals contained in power plant waste and disposed of in surface impoundments in 2010. Four of these are in Alabama, three in Georgia, and two in Missouri.  Just ten states accounted for three quarters of total pond disposal in 2010, including (from lowest to highest)—Alabama, Georgia, Illinois, Kentucky, Missouri, Ohio, Indiana, North Dakota, Minnesota and Michigan.
"Not only are coal ash impoundment levels rising, rather than dropping, but we are seeing efforts by some in Congress to thwart EPA efforts to protect the health of Americans from toxic coal ash dump sites," said EIP Director Eric Schaeffer. "EPA proposed in June of 2010 to require the closure of surface impoundments within five years. If the agency manages to issue a final rule before the end of 2012, that ban would take effect at the end of 2017, a full nine years after the TVA spill. In view of the hazards these ash ponds present, that seems long enough."
The concentration of arsenic or other metals in ash or scrubber sludge can vary, based on the source of the coal and the effectiveness of air pollution control devices in removing these contaminants from stack gases. An increase in reported disposal volumes for these metals can mean either a rise in concentration of toxic metals in coal combustion waste, or an increase in the volume of waste containing these metals, or both.
Most surface impoundments are unlined, which means that the toxins in the ash are more likely to seep through the bottom of these ponds and into groundwater or nearby rivers and creeks. The limited amount of monitoring data shows that this is already happening at many sites that have used surface impoundments for ash disposal for decades.
On Dec. 13, 2011, EIP released monitoring data from state files showing that a total of 20 additional coal ash dump sites causing groundwater and soil contamination in 10 states—Florida, Georgia, Illinois, Indiana, Iowa, Kentucky, Nevada, South Carolina, Tennessee and Texas—have been uncovered around the U.S. Previous EIP reports identified similar contamination at 70 other sites across the country.
The full text of the new EIP analysis is available online by clicking here.
For more information, click here.
—————
The Environmental Integrity Project is a nonpartisan, nonprofit organization established in March of 2002 by former EPA enforcement attorneys to advocate for effective enforcement of environmental laws. EIP has three goals—(1) to provide objective analyses of how the failure to enforce or implement environmental laws increases pollution and affects public health; (2) to hold federal and state agencies, as well as individual corporations, accountable for failing to enforce or comply with environmental laws; and (3) to help local communities obtain the protection of environmental laws.
EcoWatch Daily Newsletter
The CDC has emphasized that washing hands with soap and water is one of the most effective ways to prevent the spread of COVID-19. Guido Mieth / Moment / Getty Images
The Centers for Disease Control has emphasized that washing hands with soap and water is one of the most effective measures we can take in preventing the spread of COVID-19. However, millions of Americans in some of the most vulnerable communities face the prospect of having their water shut off during the lockdowns, according to The Guardian.
A California newt (Taricha torosa) from Napa County, California, USA. Connor Long /
CC BY-SA 3.0
Aerial photos of the Sierra Nevada — the long mountain range stretching down the spine of California — showed rust-colored swathes following the state's record-breaking five-year drought that ended in 2016. The 100 million dead trees were one of the most visible examples of the ecological toll the drought had wrought.
Now, a few years later, we're starting to learn about how smaller, less noticeable species were affected.
Disinfectants and cleaners claiming to sanitize against the novel coronavirus have started to flood the market.
Natthawat / Moment / Getty Images
Disinfectants and cleaners claiming to sanitize against the novel coronavirus have started to flood the market, raising concerns for the U.S. Environmental Protection Agency (EPA), which threatened legal recourse against retailers selling unregistered products, according to The New York Times.
A customer packs groceries in reusable bags at a NYC supermarket on March 1, 2020. Eduardo Munoz Alvarez/Getty Images
The global coronavirus pandemic has thrown our daily routine into disarray. Billions are housebound, social contact is off-limits and an invisible virus makes up look at the outside world with suspicion. No surprise, then, that sustainability and the climate movement aren't exactly a priority for many these days.
Ingredients are displayed for the Old School Pinto Beans from the Decolonize Your Diet cookbook by Luz Calvo and Catriona Rueda Esquibel. Melissa Renwick / Toronto Star via Getty Images
By Molly Matthews Multedo
Livestock farming contributes to global warming, so eating less meat can be better for the climate.