This website uses cookies to ensure you get the best experience while browsing it. By clicking 'Got It' you're accepting these terms.
Three Killed in Aussie Mine Protest
Dec. 27, 2011 10:56AM EST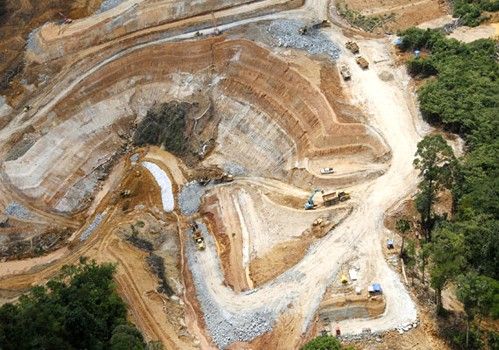 With three dead and nine critically injured, questions are being raised about the role of Australian owned company Arc Exploration after protesters over a planned goldmine, on the island of Sumbawa in eastern Indonesia, were attacked by Indonesian police.
The victims were among nearly 1,000 people in Lambu village in West Nusatenggara province trying to stop the goldmining project by Arc Exploration and its Indonesian partner, PT Sumber Mineral Nusantara. The villagers fear the project will destroy their land and threaten forests and water resources.
"The shooting of peaceful protestors is completely unacceptable anywhere in the world, but with an Australian company involved because of its mining operation, it is imperative that the Australian Government step-in immediately to help calm the situation and ensure no more people are killed," said Derec Davies of Friends of the Earth Australia.
"Foreign Minister Rudd must respond and investigate the role of Arc Exploration and its dealings with the Indonesian National Police, which has responded so violently against the peaceful protest at the Sape Harbor over the Bima Gold Mine project."
"Indonesian police attacked on Christmas Eve, and three days later, questions and concerns from locals go unanswered."
It is unfortunate that after the police shootings, protestors responded by taking up weapons and petrol bombs. Sadly however the video footage by local media shows unarmed protestors being shot by security forces. While the Indonesian Government has said it will 'evaluate' the police response, it is clear that the police exceeded the use of necessary force to calm the situation. Their actions have inflamed the situation.
"Friends of the Earth is a global organization and we work with local communities to support their peaceful non violent environmental struggles. We are appalled by the response of the Indonesian police," said Davies. "The community was protesting against environmental damage caused by the mine. No Australian company should be complicit in any way in this level of violence. It is unacceptable in Australia and shouldn't be acceptable in Indonesia."
"Many tourists to Bali visit the island of Sumbawa. The company has been a trusted partner of locals. But with the problems of the Bima gold mine that trust has turned to outrage. The locals of Bima demand more, and so should Australians of our companies operating in the area."
"Foreign Minister Rudd must step in now and call a halt to Australian operations of Arc Exploration in the Bima area. Halting the mine operations will allow police to pull out and calm to settle. Foreign Minister Rudd is responsible for calling on Chairman Mr Bruce Watson to explain his companies involvement. Australian shareholders have the right to know what is going on."
"The first killings were on Christmas eve, yet the 'battle of Bima' continues. The current violent response is at Pelabuhan Sape Bima. The community is outnumbered by heavily armed national police, which is being supported by the military."
"During this time of holiday peace, we call upon Arc Exploration to halt operations and the Australian Government to intervene to halt the unnecessary and forceful action," continued Davies.
For more information, click here.

EcoWatch Daily Newsletter
Artist's conception of solar islands in the open ocean. PNAS
Millions of solar panels clustered together to form an island could convert carbon dioxide in seawater into methanol, which can fuel airplanes and trucks, according to new research from Norway and Switzerland and published in the Proceedings of the National Academy of Sciences journal, PNAS, as NBC News reported. The floating islands could drastically reduce greenhouse gas emissions and dependence on fossil fuels.
Marcos Alves / Moment Open / Getty Images
More than 40 percent of insects could go extinct globally in the next few decades. So why did the U.S. Environmental Protection Agency (EPA) last week ok the 'emergency' use of the bee-killing pesticide sulfoxaflor on 13.9 million acres?
EcoWatch teamed up with Center for Biological Diversity via EcoWatch Live on Facebook to find out why. Environmental Health Director and Senior Attorney Lori Ann Burd explained how there is a loophole in the The Federal Insecticide, Fungicide, and Rodenticide Act under section 18, "that allows for entities and states to request emergency exemptions to spraying pesticides where they otherwise wouldn't be allowed to spray."
Simple swaps that cut down on kitchen trash.
Sponsored
By Kayla Robbins
Along with the bathroom, the kitchen is one of the most daunting areas to try and make zero waste.
View of downtown Miami, Florida from Hobie Island on Feb. 2, 2019.
Michael Muraz / Flickr
The Democratic candidates for president descended upon Miami for a two-night debate on Wednesday and Thursday. Any candidate hoping to carry the state will have to make the climate crisis central to their campaign, as The New York Times reported.
By Sharon Kelly
On Monday, the Wall Street Journal featured a profile of Scott Sheffield, CEO of Pioneer Natural Resources, whose company is known among investors for its emphasis on drawing oil and gas from the Permian basin in Texas using horizontal drilling and hydraulic fracturing, or fracking.
Pexels
By Craig K. Chandler
The federal government has available to it, should it choose to use them, a wide range of potential climate change management tools, going well beyond the traditional pollution control regulatory options. And, in some cases (not all), without new legislative authorization.
Denis Poroy / Getty Images
By Dan Gray
Processed foods, in their many delicious forms, are an American favorite.
But new research shows that despite increasing evidence on just how unhealthy processed foods are, Americans have continued to eat the products at the same rate.
By Sarah Steffen
With a profound understanding of their environmental surroundings, indigenous communities around the world are often cited as being pivotal to tackling climate change.