This website uses cookies to ensure you get the best experience while browsing it. By clicking 'Got It' you're accepting these terms.
Three Arrested in Biomass Plant Protest
Jul. 07, 2014 08:16PM EST
Energy
Nearly 100 activists with Cascadia Forest Defenders and Earth First! converged on the Seneca Jones biomass plant today protesting the company's privatization of public lands in the Elliott State Forest in Oregon and ongoing pollution in West Eugene.
Several people locked themselves to equipment at the plant, halting a conveyor belt and blocking a "truck dump" where biomass is loaded into the incinerator, while dozens of protesters rallied outside the gates. A banner was dropped off of a tower reading: "Seneca Jones: Privatizing the coast range, polluting West Eugene." After police extracted the blockaders, three were taken to Lane County Jail and are facing several charges, including misdemeanor criminal mischief and felony burglary.
The activists brought attention to Seneca Jones Timber's role in privatizing the Elliott State Forest. This month Seneca closed on their purchase of 788 acres in the Elliott, called East Hakki Ridge. Co-owner of Seneca Kathy Jones recently expressed the company's intention to clearcut East Hakki and replace it with Douglas fir plantation.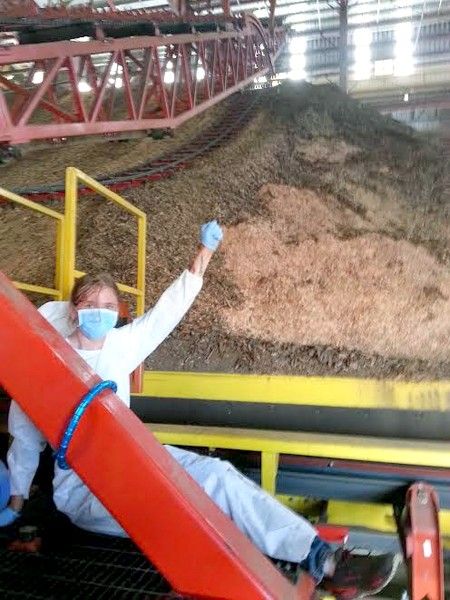 Cascadia Forest Defender Richard Haley commented, "However Kathy Jones paints it, her company is a bad neighbor everywhere it operates. Here in Eugene, Seneca pollutes. In the Elliott, Seneca clearcuts and puts up 'no trespassing' signs in pristine, never before logged forest. East Hakki is no longer a place where locals can go hunt, fish, hike, camp or watch birds. Now it is corporate property."
Coos Bay citizen science group Coast Range Forest Watch documented Marbled Murrelet nesting behavior in East Hakki Ridge in May. The bird is federally protected under the Endangered Species Act, which prohibits actions that injure or kill threatened species, including destruction of habitat. A month after Marbled Murrelets were found in East Hakki, conservation law organizations filed to sue Seneca Jones in the event of logging in the timber sale. Murrelets were also found in two timber sales purchased by timber company Roseburg Forest Products. Another parcel is up for sale this fall, and the State Land Board is considering privatizing the entire forest.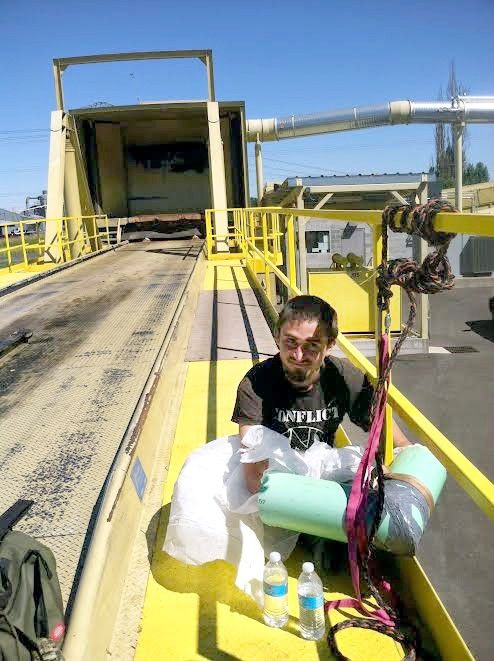 Despite Seneca's claim of being sustainable, the biomass plant failed its first Environmental Protection Agency air pollution test in 2011 but still requested more state funds to offset its production costs. In spite of its high impact on local air quality, Seneca receives $10 million in tax credits from the state of Oregon under the Business Energy Tax Credit Program.  
"The plant has had a bad reputation in this community since its opening," said West Eugene resident Matthew Hawks. "It's marketing itself as a 'green' solution in my neighborhood, but is actually harming the environment around us, especially the air we breathe."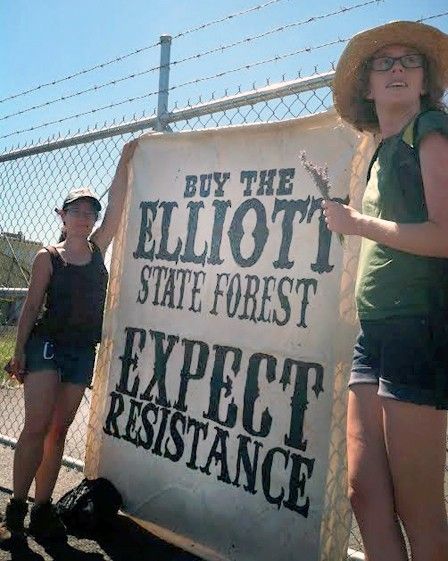 The plant, which only employs 11 people, releases an estimated 17,900 pounds of air toxins into West Eugene Neighborhoods annually, in addition to the 73,000 pounds released each year from the mill itself. There are three schools within three miles of the Seneca biomass facility. 
"While clearcutting and privatization in the Elliott State Forest is done in the name of public schools, this irresponsible company is taking millions of public dollars and impacting the health and safety of school children in their own neighborhood. It feels really twisted," said Cascadia Forest Defender Cordelia Finley.
The Eugene-based Cascadia Forest Defenders carried out this action with activists from across the U.S. following an annual Earth First! camp-out in the woods of Southern Oregon, called the Earth First! Round River Rendezvous.
EcoWatch Daily Newsletter
A. Battenburg / Technical University of Munich
By Sarah Kennedy
Algae in a pond may look flimsy. But scientists are using algae to develop industrial-strength material that's as hard as steel but only a fraction of the weight.
Variety of fermented food korean traditional kimchi cabbage and radish salad. white and red sauerkraut in ceramic plates over grey spotted background. Natasha Breen / REDA&CO / Universal Images Group / Getty Image
Even if you've never taken probiotics, you've probably heard of them.
These supplements provide numerous benefits because they contain live microorganisms, such as bacteria or yeast, which support the healthy bacteria in your gut (1, 2, 3, 4).
Pexels
Singapore will become the first country in the world to place a ban on advertisements for carbonated drinks and juices with high sugar contents, its health ministry announced last week. The law is intended to curb sugar consumption since the country has some of the world's highest diabetes rates per capita, as Reuters reported.
A typical adult takes around 20,000 breaths per day. If you live in a megacity like Beijing, with many of those lungfuls you're likely to inhale a noxious mixture of chemicals and pollutants.
Fred Stone holds his brown swiss cow Lida Rose at his Arundel dairy farm on March 18 after a press conference where he spoke about PFAS chemical contamination in his fields. Gregory Rec / Portland Portland Press Herald via Getty Images
By Susan Cosier
First there was Fred Stone, the third-generation dairy farmer in Maine who discovered that the milk from his cows contained harmful chemicals. Then came Art Schaap, a second-generation dairy farmer in New Mexico, who had to dump 15,000 gallons of contaminated milk a day.
Protesters attend the 32nd annual Fur-Free Friday demonstration on Nov. 23, 2018 in Beverly Hills, California. Ella DeGea / Getty Images
California Governor Gavin Newsom signed into law a bill that that bans the sale and manufacture of fur products in the state. The fur ban, which he signed into law on Saturday, prohibits Californians from selling or making clothing, shoes or handbags with fur starting in 2023, according to the AP.
By Simon Evans
During the three months of July, August and September, renewables generated an estimated total of 29.5 terawatt hours (TWh), compared with just 29.1TWh from fossil fuels, the analysis shows.
A demonstrator waves an Ecuadorian flag during protests against the end of subsidies to gasoline and diesel on Oct. 9 in Quito, Ecuador. Jorge Ivan Castaneira Jaramillo / Getty Images