This website uses cookies to ensure you get the best experience while browsing it. By clicking 'Got It' you're accepting these terms.
Thousands to Rally for a Nuclear-Free Future at 3-Day DC Event in September
Aug. 08, 2012 11:08AM EST
Energy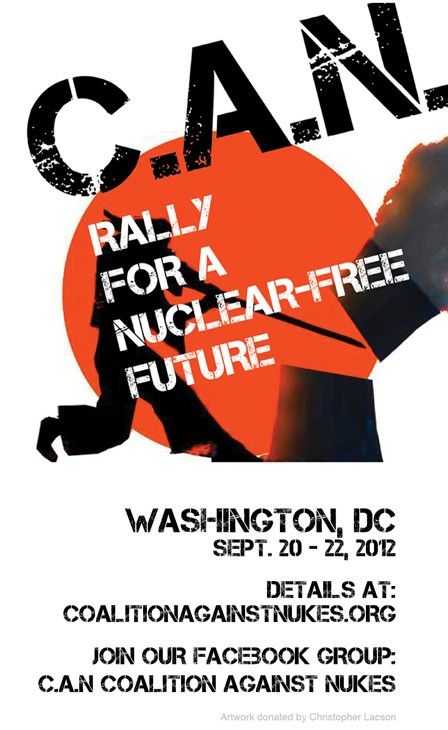 Thousands of anti-nuclear activists from across the U.S. will converge on Washington, D.C. this Sept. 20 - 22 for a Rally for a Nuclear-Free Future.
The three-day event, brought together by the grassroots network Coalition Against Nukes (CAN), will feature a Congressional briefing on nuclear dangers attended by Rep. Dennis Kucinich (OH), a peaceful demonstration at the Nuclear Regulatory Commission (NRC), a presentation of petitions at the embassies of Japan and India, and a demonstration at the Capitol to increase awareness of the dangers of nuclear power plants and spread of global radiation.
Speakers over the three days (confirmed) will include: nationally recognized experts Dr. Arjun Makhijani, president, Institute for Energy and Environmental Research; Arnie Gundersen of www.Fairewinds.com; Alice Slater of the Nuclear Age Peace Foundation; Michael Mariotte of Nuclear Information and Resource Service; Beyond Nuclear's Paul Gunter; Harvey Wasserman of www.nukefree.org; Congressman Dennis Kucinich; Green Party Presidential Candidate Jill Stein; and Japanese activist Yuko Tonohira.
"In the wake of the ongoing disaster at the Fukushima nuclear plants, we are witnessing a mass uprising against nuclear power in Japan," said Gene Stone of Residents Organized for a Safe Environment, a watchdog group working to keep the San Onofre Nuclear Generating Station shut down permanently in Southern California. "Let's hope that it doesn't take a major nuclear catastrophe in the United States for the American people to awaken to the dangers posed by the production of nuclear energy."
A vocal and visible grassroots anti-nuclear movement has re-emerged across the U.S. since the ongoing catastrophe at Fukushima Daiichi began on March 11, 2011. Citizen watchdog groups from across the country have expressed outrage over the U.S. government's reckless pro-nuclear agenda and the dangers posed by the deteriorating condition of the 104 aging nuclear reactors in the U.S.—23 of them GE Mark I reactors, which are the same design as the Fukushima Daiichi nuclear power plants in Japan.
Organizers have scheduled a range of peaceful actions:
Thursday, Sept. 20: Parents and Children Against Nukes rally on the Capitol grounds (11:30—1 p.m.); Congressional briefing (2—4 p.m.); and a gathering of musicians, speakers and some surprise guests at Busboys and Poets.
Friday, Sept. 21: International Nuclear-Free Solidarity, with petitions to the Japanese and Indian embassies (9:30—11:30 a.m.); A No Nukes/No War/Occupy peaceful protest outside the NRC (2-5 p.m.); film screenings and a candlelight vigil.
Saturday, Sept. 22: "What's Next" strategy session for national and regional groups to set agenda and establish ongoing dialog with our elected officials at the local, state and federal levels.
"It is time to raise our voices more urgently about the dangers of nuclear energy production and place it at the forefront of the national agenda," said Priscilla Star, who founded the Coalition Against Nukes after the catastrophic accident at Fukushima. "In an effort to mobilize an election year policy shift, we hope to break through the apathy and silence on nuclear issues condoned by our elected officials and the two major party presidential candidates," Star said.
According to CAN organizer Michael Leonardi, "The Nuclear Regulatory Commission allows nuclear reactors to operate by weakening safety standards and ignoring safety issues. This puts millions of Americans, trillions of dollars of real estate, and water and food supplies at risk of a major nuclear accident. Nuclear watchdog groups from Vermont to Virginia, from Florida to the Great Lakes, and from Portland to Southern California are outraged at the government's reckless pro nuclear agenda and the omnipresent danger posed by this country's 104 aging nuclear reactors."
"On Friday, we will take our movement directly to the headquarters of the Nuclear Regulatory Commission," said Peter Rugh of the Occupy Wall Street movement in New York City.
Endorsing Organizations:
Blue Ridge Environmental Defense League; Cape Downwinders; Environmental Solidarity Occupy Wall Street; Fukushima Diary; Green Party—Jill Stein For President; Helen Caldicott Foundation; Indian Point Safe Energy Coalition; Manhattan Project; Mothers for Peace; NIRS; No Nukes NW; Nuclear Age Peace Foundation; Nuclear Hotseat; Nuke Professional; Ohio Sierra Club Nuclear Committee; OWS Environmental Solidarity Working Group; Orange country Green Party of CA; Peace Nick (Detroit); The Peace Resource Center of San Diego; Physicians For Social Responsibility; Pilgrim Anti-Nuclear Action group; Cecile Pineda, author of Devil's Tango; S.A.F.E. Carolinas; San Clemente Green; Radiation and Public Health Project; Radiation Truth; Residents Organized for a Safe Environment; Rock The Reactors—Shut Down Indian Point Now; Shut Down San Onofre; Solartopia; Todos Somos Japan; Fissures in the Planetary Apparatus; Toledo Coalition For Safe Energy; Tri-Valley CARES; Veterans For Peace; and War Is A Crime.org.
Visit EcoWatch's NUCLEAR page for more related news on this topic.
EcoWatch Daily Newsletter
Smog over Los Angeles. Westend61 / Getty Images
After four decades of improving air quality, the U.S. has started to take a step backwards, as the number of polluted days has ticked upwards over the last two years, the Associated Press reported.
Photobos / iStock / Getty Images
Governors in Vermont and Maine signed bills on Monday that will ban plastic bags in their states next year, The Hill reported.
The Maine ban will go into effect next Earth Day, April 22, 2020. The Vermont ban, which extends beyond plastic bags and is the most comprehensive plastics ban so far, will go into effect in July 2020. The wait time is designed to give businesses time to adjust to the ban.
picture-alliance / AP Images / D. Goldman
By Daniel Moattar
Eastern Kentucky's hills are interrupted by jarring flats of bare rock: the aftermath of mountaintop removal mining, which uses explosives to destroy and harvest coal-rich peaks.
By Molly Taft
Lisa Marshall isn't your typical activist. For one thing, she's not into crowds. "I don't really like rallies," Marshall, a mom of three from upstate New York, said. "They're a little stressful — not my favorite thing."

An oil drilling site in a residential area of Los Angeles, California on July 16, 2014.
Faces of Fracking / Flickr
By Jake Johnson
A comprehensive analysis of nearly 1,500 scientific studies, government reports, and media stories on the consequences of fracking released Wednesday found that the evidence overwhelmingly shows the drilling method poses a profound threat to public health and the climate.

sonsam / iStock / Getty Images
By Grace Francese
A new Environmental Working Group (EWG) study published in Environmental Research found that nitrate, one of the most common contaminants of drinking water, may cause up to 12,594 cases of cancer per year, but that's not its only danger: It can pose unique health risks to children.
Melt water from Everest's Khumbu glacier. Ed Giles / Getty Images
EPA Administrator Andrew Wheeler signs his replacement for the Clean Power Plan. Win McNamee / Getty Images