Thousands to Gather in New Orleans to Stop New Oil and Gas Leases in the Gulf
By Janet MacGillivray and Lee Ziesche
In Gabriel Garcia Marquez' masterpiece 100 Years of Solitude, the story of generations doomed to repeat history, the town of Macondo never learns from the past and is eventually wiped off the map. In a chilling and unconsciously ironic foretelling, BP nicknamed the ill fated oil field where the Deepwater Horizon oil exploded "Macondo."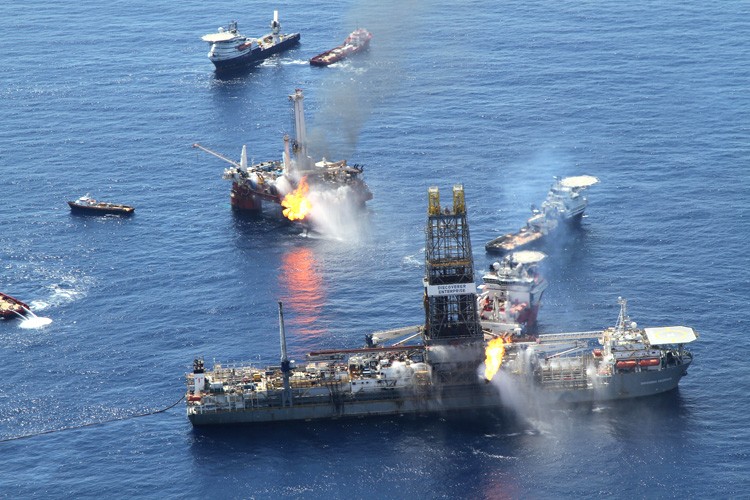 Now, the Obama administration's Bureau of Land Management (BLM) has become the agency that never learns and may doom Louisiana to be wiped off the map.
The state was hit last week by another storm that dumped two feet of rain, causing widespread flooding in neighborhoods that can't seem to get ahead of climate change induced weather events. Portions of 1-10 were so flooded they had to close down and the state is reporting more than 6,000 buildings and homes were damaged by floodwaters.
Unfortunately, our upcoming community screenings of Josh Fox's new film, How To Let Go of the World (and Love All the Things Climate Can't Change), has become even more pertinent for communities in Louisiana.
While the community is still recovering from this state of emergency, Obama's BLM is sticking to plans to auction off 43 million acres of federal waters in the Gulf of Mexico for offshore drilling leases on March 23. These oil and gas leases contain the eighth largest source of carbon pollution on our planet.
While the president has issued a moratorium on new coal leases on public lands and the BLM has canceled an oil and gas lease in the Badger-Two Medicine region in northwest Montana, the government is expanding offshore oil and gas drilling in the Gulf and putting these communities and families at risk for another disaster like the BP oil spill—the largest oil spill in U.S. history.
In December 2015, the U.S. joined the world in Paris to commit to climate change action and keeping carbon in the ground. But these offshore oil leases will accelerate climate change and extreme weather events like the recent flooding in Louisiana. In February, French-speaking Indians who live deep in Louisiana bayou, in the coastal community of the Biloxi Chaktawsome 50 miles south of New Orleans, were named the first climate refugees in America. If the Obama administration allows offshore oil drilling in the gulf, more communities will be forced to leave their home.
In sad irony, the government auction will take place inside the Superdome in New Orleans, the place where refugees from Hurricane Katrina had to flee to when floodwaters drove them from their homes.
The writing is on the wall when it comes to the dangers offshore drilling pose to Gulf Coast communities and the planet, but the Obama administration continues to ignore the lessons taught to us by Hurricane Katrina and BP's Deepwater Horizon disaster.
Gulf Coast communities, Indigenous Elders and climate activists from around the country are refusing to sit by and let America's energy policy continue down a doomed fossil fuel path that will bring more extreme weather and put them underwater with rising sea levels. In support of Louisiana and Gulf Coast communities, thousands are gathering on March 23 in New Orleans to stop the next generation of oil and gas leases, and unite with communities to claim a fossil fuel free future.
A larger scale action is being planned to surround the Superdome and call for an end to new drilling and new leases, and put forward a vision for a Gulf region powered by solar and wind energy.
The Obama administration just last week abandoned plans to drill off the Atlantic Coast. The momentum is in our favor. March 19 was the anniversary of the Superdome auction of Block 252—cursed Macondo oil lease. If the president is serious about climate change, he must halt all new drilling leases in the Gulf.
The victory against offshore drilling in the Atlantic was achieved because communities up and down the coast came together and passed resolutions against offshore drilling. If we're going to stop drilling the in Gulf, the same strong showing of community will be key.
In addition to offshore drilling, fracking on land is impacting the health and well-being of the people living in Louisiana. St. Tammany Parish, one of many parishes currently flooded, banned fracking in 2014, but last year a state judge ruled the parish cannot block fracking in their community. When Denton became the first town in Texas to ban fracking, the state turned around and banned fracking bans.
It's a pattern we've seen all over the country. The industry gets scared when communities start standing up to fossil fuel extraction. Communities who bear the burden of climate change are standing together saying fossil fuels are the past. By stopping these leases on March 23—the day after World Water Day—there will be no more Macondos in the Gulf.
To learn more about the community building events, Indigena has organized in the four days leading up to March 23, click here. For more information on the Let Go And Love Tour screening in Abita Springs and New Orleans, click here.
YOU MIGHT ALSO LIKE
Congress, Listen to the People, Not the Polluters
Musk, DiCaprio and Rive Talk the Future of Solar at Tesla Gigafactory
Worldwide Shift to Renewable Energy Played 'Critical Role' in Stalling Carbon Emissions
3 Cities Disrupting the Local Electricity Market With Innovative Renewable Energy Projects
A coalition of conservation groups and others announced Thursday that a historic number of comments and petitions of support have been submitted to the U.S. Department of the Interior in support of Bears Ears National Monument. Despite the entirely inadequate 15-day comment period ending on May 26, more than 685,000 comments in support of Bears Ears National Monument have been collected.
Keep reading...
Show less
Rink Glacier in western Greenland, with a meltwater lake visible center. NASA/OIB
Scientists have had their eyes on Greenland as its iconic glaciers have begun disappearing due to a warming climate. But, what they didn't expect to see was a whole new type of melting.
Keep reading...
Show less
Mountain View Fire
By Lena Moffitt
An oil tanker in Mead, Colorado exploded, killing one and injuring three on Thursday. Authorities are continuing to investigate the cause of the explosion.
Keep reading...
Show less
Banner created by Alliance for Climate Education
Keep reading...
Show less
Twenty-two GOP senators sent a letter Thursday urging Donald Trump to pull out of the Paris agreement. They argued remaining in the deal could "upend" the administration's ability "to fulfill its goal of rescinding the Clean Power Plan."
Keep reading...
Show less
By Cheryl Johncox
The Federal Energy Regulatory Commission (FERC) rejected on Thursday Energy Transfer Partners' request to resume horizontal directional drilling at two sites for its Rover fracked gas pipeline. This rejection comes after numerous leaks into Ohio's wetlands, and Clean Air and Clean Water act violations. FERC has halted the process at only eight locations of the 32 where drilling is taking place under Ohio's wetlands and streams.
Keep reading...
Show less
By Nadia Prupis
A majority of people in eight countries say they are ready to change their lifestyles if it would prevent climate catastrophe, a survey on global threats released Wednesday found.
Keep reading...
Show less
May. 25, 2017 01:55PM EST
Bill Maher is sick of billionaires' obsession with Mars, more like "Mars-a-Lago," he said.
In a new animation produced by ATTN:, the popular talk show host of Real Time, discusses the perils of our planet, including how "climate change is killing us."
Keep reading...
Show less