This website uses cookies to ensure you get the best experience while browsing it. By clicking 'Got It' you're accepting these terms.
Thousands of Walruses Stranded Ashore in Alaska Once Again Due to Rapidly Melting Sea Ice
Aug. 28, 2015 09:55AM EST
Climate
In what has now become a regular occurrence, thousands of walruses are being forced ashore on a remote barrier island in Alaska, threatening their survival. Walruses use sea ice to rest and feed. But with Arctic sea ice hitting a new low this past winter and fears that the Arctic could be entirely ice-free in summer months by the 2030s, walruses have no choice but to crowd ashore in mass numbers.
The first reported sighting this year was earlier this week. Gary Braasch, an environmental photographer, told The Guardian he first spotted the walruses coming ashore on the southern end of the barrier island, about two miles from the hamlet of Point Lay. The mass stranding comes ahead of President Obama's visit to Alaska to shed a spotlight on the toll climate change is taking on the Arctic region.
Last year, upwards of 35,000 walruses were forced ashore, setting a record. U.S. government agencies and the Native village of Point Lay ask that the media refrain from visiting the community to film or "sightsee" as "the walruses need space to reduce disturbance and possible trampling of animals." Since at least 2007, due to the loss of sea ice in the Chukchi Sea, "walrus females and calves are coming ashore in the late summer/early fall in large numbers near the community," said U.S Fish and Wildlife Service (USFWS), National Oceanic and Atmospheric Administration and U.S. Geological Survey in a joint statement.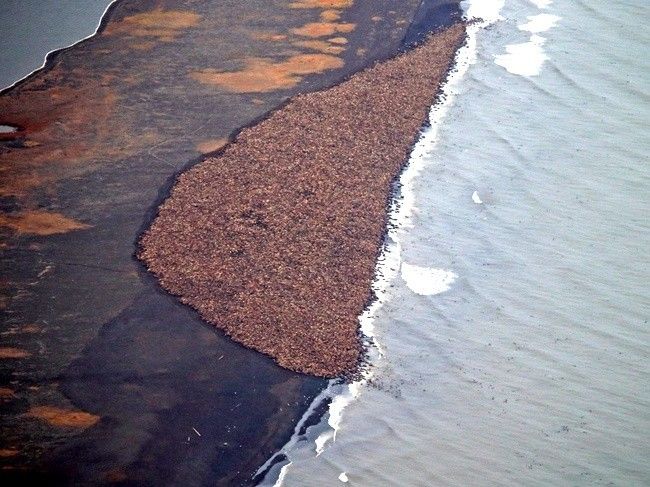 The site has been occupied by as many as 20,000 to 40,000 animals at its peak, according to Jim MacCracken, supervisory wildlife biologist with the USFWS. Scientists worry that any disturbances could lead to large stampedes, which injure and kill some walruses, especially calves.
"Last year, it was estimated that 60 young walruses were killed because of the sheer number of animals gathered together," said the agencies. The noise from overhead aircraft is of particular concern, and the agencies are considering placing temporary flight restrictions within the vicinity of the "haulout"—the term given to when walruses rest and feed in coastal areas during their migration.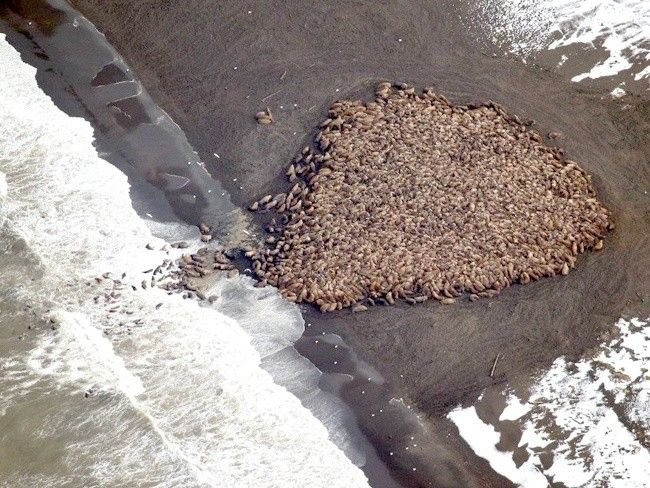 It's common for Pacific walruses to use coastal haulouts for resting during the fall southward migration, the agencies explained. Adult males, in particular, routinely use coastal haulouts along the Bering Sea in both Russia and the U.S. during the summer months, as evidenced by this live cam of 14,000 walruses relaxing on an Alaskan island. But females and their calves prefer to rest and feed more on ice floes until they begin to migrate back to the Bering Sea for the winter.
"Ice floes provide protection from predators, allow walrus to haul out in smaller groups and provide easy access to feeding areas below," said the agencies. With Alaska and the rest of the Arctic rapidly warming, that leaves walruses no choice but to come ashore.
YOU MIGHT ALSO LIKE
30 Whales Have Died Off the Coast of Alaska and No One Knows Why
Historic Wildfire Season Has Burned More Than 7.5 Million Acres (That's Larger Than Massachusetts)
EcoWatch Daily Newsletter
For the past seven years, the Anishinaabe people have been facing the largest tar sands pipeline project in North America. We still are. In these dying moments of the fossil fuel industry, Water Protectors stand, prepared for yet another battle for the water, wild rice and future of all. We face Enbridge, the largest pipeline company in North America, and the third largest corporation in Canada. We face it unafraid and eyes wide open, for indeed we see the future.
The climate crisis often intensifies systems of oppression. Rieko Honma / Stone / Getty Images Plus
By Mara Dolan
We see the effects of the climate crisis all around us in hurricanes, droughts, wildfires, and rising sea levels, but our proximity to these things, and how deeply our lives are changed by them, are not the same for everyone. Frontline groups have been leading the fight for environmental and climate justice for centuries and understand the critical connections between the climate crisis and racial justice, economic justice, migrant justice, and gender justice. Our personal experiences with climate change are shaped by our experiences with race, gender, and class, as the climate crisis often intensifies these systems of oppression.

Lana Del Rey: "call her Doris Doomsday." Darren Gerrish / BFC / Getty Images Entertainment
By Emer McHugh
Popular music has, and always will be, informed by the political and social contexts from which it emerges.
It was early in the morning last Thursday, and Jonathan Butler was standing on the Fred Hartman Bridge, helping 11 fellow Greenpeace activists rappel down and suspend themselves over the Houston Ship Channel. The protesters dangled in the air most of the day, shutting down a part of one of the country's largest ports for oil.
By C.J. Polychroniou
Climate change is by far the most serious crisis facing the world today. At stake is the future of civilization as we know it. Yet, both public awareness and government action lag way behind what's needed to avert a climate change catastrophe. In the interview below, Noam Chomsky and Robert Pollin discuss the challenges ahead and what needs to be done.
Food manufacturer General Mills issued a voluntary recall of more than 600,000 pounds, or about 120,000 bags, of Gold Medal Unbleached All Purpose Flour this week after a sample tested positive for a bacteria strain known to cause illness.
Imelda flooded highway 69 North in Houston Thursday. Thomas B. Shea / Getty Images
Extreme weather events supercharged by climate change in 2012 led to nearly 1,000 more deaths, more than 20,000 additional hospitalizations, and cost the U.S. healthcare system $10 billion, a new report finds.