This website uses cookies to ensure you get the best experience while browsing it. By clicking 'Got It' you're accepting these terms.
Thousands Mourn Loss of Larry Gibson
Sep. 10, 2012 01:15PM EST
Energy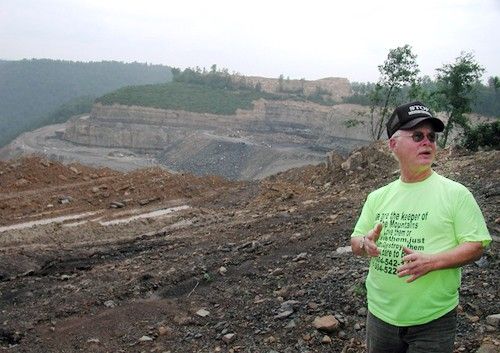 More than four years ago, decked out in his trademark yellow cap and shirt, Larry Gibson famously waited his turn at a political rally in Beckley, West Virginia, and finally got the chance to ask then-presidential candidate Barack Obama whether he would defend the land and people of central Appalachia.
Few people in our country were so fearless in the face of political pressure, bankers, Big Coal backlash and even death threats; and fewer people had the inspiring impact of this determined mountaineer, who had spent the last two decades crisscrossing the country, leading protests and beseeching power brokers to defend his Appalachian mountains from reckless strip mining operations.
His message was simple and to the point: Love them or leave them, just don't destroy them.
Yesterday, working on his beloved Kayford Mountain homeplace—the symbolic sky island surrounded by nearly 8,000 acres of mountaintop removal devastation that has served as an important training ground for a generation of activists, educators and chroniclers—66-year-old Larry Gibson reportedly died from a heart attack, as committed as ever as one of the most indefatigable, cherished and courageous spokespeople in the movement to abolish mountaintop removal mining.
And still waiting for Washington, DC to end to one of the most egregious human rights and environmental crimes in the nation.
And still waiting for an uprising in the hills of Appalachia, and the halls of Congress and the White House to join him on the frontlines of social justice.
"I never wanted to become an activist, but I had to," Gibson told interviewer Taylor Lee Kirkland in 2009. "If I hadn't I would have been torn off this mountain a long time ago. There are thousands of people around the world who have heard me speak since I started this work, but honestly I wish to God no one knew my name. I wish I didn't have to leave my home and talk to people about mountaintop removal. Last year I traveled eight months out of the year talking to people about this stuff. But I know I have to bring this message to the world and I'm gonna fight for justice in every way I can. We have to have an uprising. This isn't an uprising that can be bought with money, but one that's coming from the hearts of honest and hardworking people."
As the news of Gibson's tragic loss spreads tonight, thousands of students, educators, activists, Washington wonks and policy analysts, and journalists and filmmakers from around the nation and world continue to release statements and post photos of how one mountaineer changed their lives in his pursuit for justice on Kayford Mountain, and his patience in greeting everyone at this homeplace.
"I spent the day with Larry on Thursday," acclaimed photographer Paul Corbit Brown emailed me. "To say he had an enormous impact on all of our lives wouldn't be enough. To say he was a hero wouldn't be enough. To say he changed our lives wouldn't be enough. To say has was deeply loved and will be missed wouldn't be enough. But let me tell you what was on his heart just days ago. He stressed that this fight was never about him or his mountain alone. It was, and is, about all of us and our shared future. It is about the thousands of young people that he called his kids. It is about those not yet born. It wasn't about Larry Gibson and a mountain. He wanted to be a voice for all people and the mountains and homes they love. He wanted to speak for Justice and to inspire those too frightened to speak. And even those who called Larry an enemy and wished to do him harm, he spoke of them, still, as "his People." Rest in Peace, Larry. It was only appropriate that you should be on your mountain when you left this world. You can rest assured that we who you left behind will not rest until we finish the work you so passionately and courageously began."
"Larry was one of the strongest, kindest, most dedicated peaceful warriors for justice I've ever known in my life," said Rory McIlmoil, a West Virginia-based coal and clean energy analyst. "And that no matter who you were, or which side you were on, Larry's smile, his laugh, and his compassion would remind you that we're all human and that we should care and fight for each other. I'm definitely going to miss Larry Gibson."
"The world is better for all Larry did to try to ensure a future hope for besieged and blasted generations of Appalachia," said Bob Kincaid, president of the Coal River Mountain Watch board. "At Kayford Mountain, he was among the first to show the world the ravages of Mountaintop Removal, making real and immediate and undeniable the coal industry's most dirty secret. Where I'm sure he is, I know the waters run clear and cool, and the air is no longer choked with dust, and Larry smiles in leisure well-earned."
"For those who love mountains, Larry was a god," wrote Rob Perks, with the Natural Resources Defense Council in Washington, DC. "There was no one like him, a man who literally put his life on the line to keep the coal industry from stealing our shared legacy. His spirit will live on in our continued fight to end The travesty of mountaintop removal."
"Larry's endlessly inspiring efforts and words are exemplary of a true hero," noted Chelsea Marie Ritter-Soronen, a St. Louis-based artist who took part in Mountain Justice and direct action protests in West Virginia. "Like many, I'll never forget the first time I heard him speak about mountaintop removal, it simply changed my life."
"I'm heartbroken to hear about the passing of Larry Gibson," said Scott Parkin, with Rainforest Action Network. "He was an uncompromising force, a relentless voice that spoke truth to power and put his body on the line. Every time I saw him speak, he moved the audience to tears and then to action. Once you learned about his story and his fight against mountaintop removal, you were hooked. You wanted to move to West Virginia and join him. He recently told a crowd in Charlotte, NC "They tell us we're collateral damage, well I ain't collateral damage. I am somebody. My name is Larry Gibson." Now we're all Larry Gibson."
Visit EcoWatch's MOUNTAINTOP REMOVAL page for more related news on this topic.
EcoWatch Daily Newsletter
Artist's conception of solar islands in the open ocean. PNAS
Millions of solar panels clustered together to form an island could convert carbon dioxide in seawater into methanol, which can fuel airplanes and trucks, according to new research from Norway and Switzerland and published in the Proceedings of the National Academy of Sciences journal, PNAS, as NBC News reported. The floating islands could drastically reduce greenhouse gas emissions and dependence on fossil fuels.
Marcos Alves / Moment Open / Getty Images
More than 40 percent of insects could go extinct globally in the next few decades. So why did the U.S. Environmental Protection Agency (EPA) last week OK the 'emergency' use of the bee-killing pesticide sulfoxaflor on 13.9 million acres?
EcoWatch teamed up with Center for Biological Diversity via EcoWatch Live on Facebook to find out why. Environmental Health Director and Senior Attorney Lori Ann Burd explained how there is a loophole in the The Federal Insecticide, Fungicide, and Rodenticide Act under section 18, "that allows for entities and states to request emergency exemptions to spraying pesticides where they otherwise wouldn't be allowed to spray."
Simple swaps that cut down on kitchen trash.
Sponsored
By Kayla Robbins
Along with the bathroom, the kitchen is one of the most daunting areas to try and make zero waste.
View of downtown Miami, Florida from Hobie Island on Feb. 2, 2019.
Michael Muraz / Flickr
The Democratic candidates for president descended upon Miami for a two-night debate on Wednesday and Thursday. Any candidate hoping to carry the state will have to make the climate crisis central to their campaign, as The New York Times reported.
By Sharon Kelly
On Monday, the Wall Street Journal featured a profile of Scott Sheffield, CEO of Pioneer Natural Resources, whose company is known among investors for its emphasis on drawing oil and gas from the Permian basin in Texas using horizontal drilling and hydraulic fracturing, or fracking.
Pexels
By Craig K. Chandler
The federal government has available to it, should it choose to use them, a wide range of potential climate change management tools, going well beyond the traditional pollution control regulatory options. And, in some cases (not all), without new legislative authorization.
Denis Poroy / Getty Images
By Dan Gray
Processed foods, in their many delicious forms, are an American favorite.
But new research shows that despite increasing evidence on just how unhealthy processed foods are, Americans have continued to eat the products at the same rate.
By Sarah Steffen
With a profound understanding of their environmental surroundings, indigenous communities around the world are often cited as being pivotal to tackling climate change.