Thousands March in Lima Demanding Climate Action
Dec. 11, 2014 11:24AM EST
Climate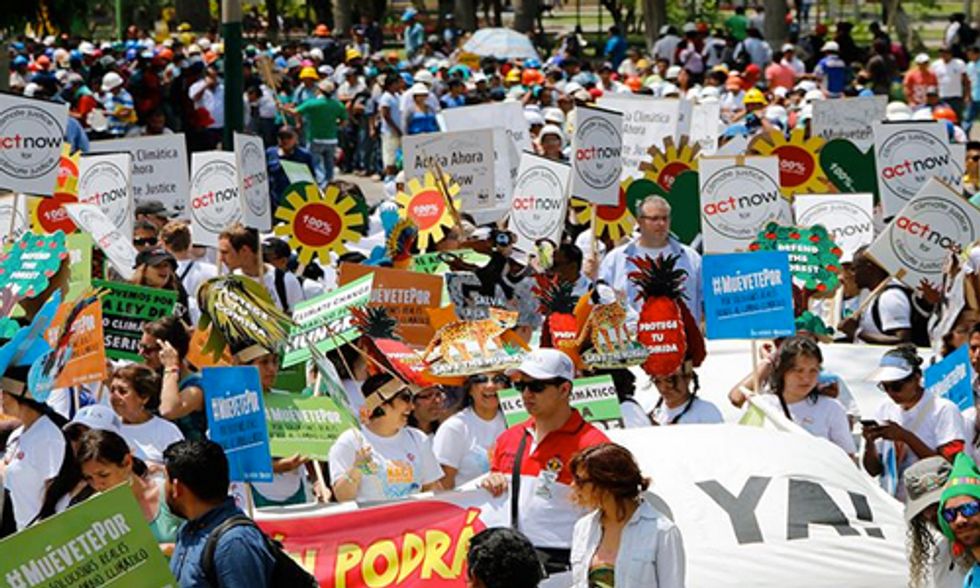 Democracy Now! is broadcasting from the United Nations climate summit in Lima, Peru, where high-level talks have just gotten under way. Here is the coverage from today:
Putting People Before Profit: Thousands March in Peruvian People's Climate March in Lima
On Wednesday, climate justice activists from around world marched in Lima at the people's climate march. We hear voices from Uganda, Mozambique, Australia, Canada Peru, Nigeria, and more. "We the people have come together to stand up against injustice. We are saying enough is enough," says Godwin Uyi Ojo, executive director of Environmental Rights Action/Friends of the Earth
"We Are Like the Walking Dead": Latin American Indigenous Groups Decry Corporate Destruction of Land
As the United Nations Climate Conference in Peru enters its final phase, thousands of people marched in downtown Lima on Wednesday to call for action on global warming. We hear from some of the voices who took to the streets: frontline indigenous and rural communities from across Latin America who are among the most impacted by both the industrial practices that fuel climate change, and among the most vulnerable to the impacts of global warming.
From the Streets to the Suites, Protesters Call for Climate Justice at Corporate Gathering in Lima
At the United Nations Climate Change Conference in Lima, Peru, protesters gathered inside Monday to protest the invitation of oil giants Shell and Chevron to speak on summit panels. Democracy Now! producer Mike Burke was there when scores of summit delegates attempted to walk into an event featuring Shell climate change adviser David Hone.
El Pentagonito: U.N. Climate Summit Held at Peru Army HQ, a Site of Torture and Disappearances
The U.N. climate summit in Lima is being held at the Peruvian army headquarters, known as "El Pentagonito." It is a site with a dark history, built in 1975 by the dictator Juan Velasco Alvarado. The army, under President Alberto Fujimori, later used the base to torture and interrogate political prisoners. We speak with Marly Anzualdo Castro, whose brother, Kenneth Anzualdo Castro, was disappeared in 1993 during Fujimori's reign. Last year, the Inter-American Court of Human Rights determined the state was responsible for Kenneth's forced disappearance. To this date, his whereabouts remain unknown. Castro joined Wednesday's climate march in Lima holding a sign reading "No Olvidamos," translated "we don't forget."
Peru's Deadly Environment: Host Nation of UN Summit is Among Most Dangerous for Land Defenders
The United Nations Climate Conference is being held in Peru, which is now the world's fourth most dangerous country for environmental defenders. Four were killed in September alone. In a brutal incident in a remote region of Peru's Amazon rainforest, leading indigenous activist Edwin Chota was ambushed as he traveled to neighboring Brazil for a meeting on how to address the region's illegal logging crisis. Illegal loggers allegedly killed and dismembered Chota along with his colleagues Jorge Ríos, Francisco Pinedo and Leoncio Quinticima. Chota is among at least 57 environmental activists who have been assassinated in Peru since 2002. The Peruvian government has recently passed legislation that rolls back forest protections, which has increased the pace of such murders. We are joined by Chris Moye, the environmental governance campaigner for Global Witness and author of their new report, "Peru's Deadly Environment."
YOU MIGHT ALSO LIKE
Federal Bill Introduced to Ban Fracking on Public Lands
Green Climate Fund Reaches Its $10 Billion Goal
EcoWatch Daily Newsletter