This website uses cookies to ensure you get the best experience while browsing it. By clicking 'Got It' you're accepting these terms.
Thousands Call on Gov. Brown to Stand Up to Big Oil and Support 100% Renewable Energy
Jan. 13, 2015 10:13AM EST
Fracking
Thousands of Californians will take part in the California Crossroads Tour, calling on Gov. Jerry Brown to ban fracking, stand up to Big Oil and move California beyond fossil fuels to 100 percent renewable energy.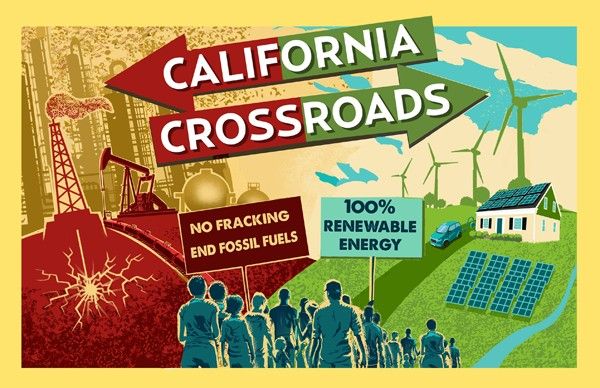 "California is at a crossroads. Our governor and our elected officials need to decide if we're going to be a real leader on climate change, or if we will continue to allow fracking and other dangerous extractions methods that put our communities and environment at risk," said David Braun of Californians Against Fracking and an organizer of the tour.
"Californians around the state are affected by the oil industry in different ways—whether they are exposed to dangerous toxins from living near a drilling site, have potentially explosive trains rumbling through their neighborhoods carrying crude oil—but we all stand to lose if we continue to ignore warnings that spell out doom if we don't put an end to the use of fossil fuels," said Braun.
For the next nine days, leaders from Californians Against Fracking will travel to eight cities as a part of the California Crossroads Tour to provide an opportunity for community members and experts to speak out against the health and environmental impacts of oil drilling, wastewater injection disposal wells and likelihood of increased oil by rail.
The tour kicked off last night at the King Chavez High School auditorium in San Diego, California, and will stop in Los Angeles, Oxnard, Santa Barbara, Delano, San Juan Bautista and Oakland. It will culminate Jan. 20 at the State Capitol in Sacramento, where residents will deliver messages from communities across the state to Gov. Jerry Brown.
Watch the livestream of tonight's event right here from 7 - 9 p.m. PST, which is taking place at the Holman United Methodist Church in Los Angeles:
Several California communities have been at the forefront of the fracking fight. In the November 2014 election, Santa Cruz and Mendocino counties joined the city of Beverly Hills in passing measures to ban fracking and similar oil drilling techniques. During the same election, San Benito County voters approved a fracking ban with a 59 percent majority, despite a $2 million opposition campaign by the oil industry.
"The City of Los Angeles is considering a ban and two cities in Los Angeles County—La Habra Heights and Hermosa Beach—are slated to vote on fracking and oil projects in March," according to Californians Against Fracking.
On Feb. 7 the March for Real Climate Leadership will bring thousands of people from across the state to the streets of Oakland, California, calling on Gov. Brown to stand up to Big Oil and support 100% renewable energy.
YOU MIGHT ALSO LIKE
Pope Francis Says No to Fracking
11 Earthquakes Rock Texas Fracking Heartland in 24 Hours
EcoWatch Daily Newsletter
Assorted plastic bottles. mali maeder / Pexels
People carry children on a flooded street in Almoradi, Spain on Sept. 13. JOSE JORDAN / AFP / Getty Images
Large food companies are following in the footsteps of fast-food restaurants such as Burger King and KFC by offering meat alternatives. Getty Images
By Elizabeth Pratt
Hormel, Kellogg's, and Kroger are among the large companies now planning to offer "fake meat" products at grocery stores.
Experts say the trend toward plant-based meats coincides with consumers' desires to eat less meat.
However, experts urge consumers to closely check package labels as a product isn't necessarily healthy just because it's described as plant-based.
In grocery stores and fast-food outlets around the U.S., a revolution is taking place.
Colombia rainforest. Marcel Oosterwijk / CC BY-SA 2.0
Many of us think of the Amazon as an untouched wilderness, but people have been thriving in these diverse environments for millennia. Due to this long history, the knowledge that Indigenous and forest communities pass between generations about plants, animals and forest ecology is incredibly rich and detailed and easily dwarfs that of any expert.
picture-alliance / Newscom / R. Ben Ari
By Wesley Rahn
Plastic byproducts were found in 97 percent of blood and urine samples from 2,500 children tested between 2014 and 2017, according to a study by the German Environment Ministry and the Robert Koch Institute.

Pexels
Medically reviewed by Daniel Bubnis, MS, NASM-CPT, NASE Level II-CSS
Hot yoga has become a popular exercise in recent years. It offers many of the same benefits as traditional yoga, such as stress reduction, improved strength, and flexibility.
Lara Hata / iStock / Getty Images
By SaVanna Shoemaker, MS, RDN, LD
Rice is a staple in many people's diets. It's filling, inexpensive, and a great mild-tasting addition to flavorful dishes.