Thousands Call on Gov. Brown to Stand Up to Big Oil and Support 100% Renewable Energy
Jan. 13, 2015 11:13AM EST
Energy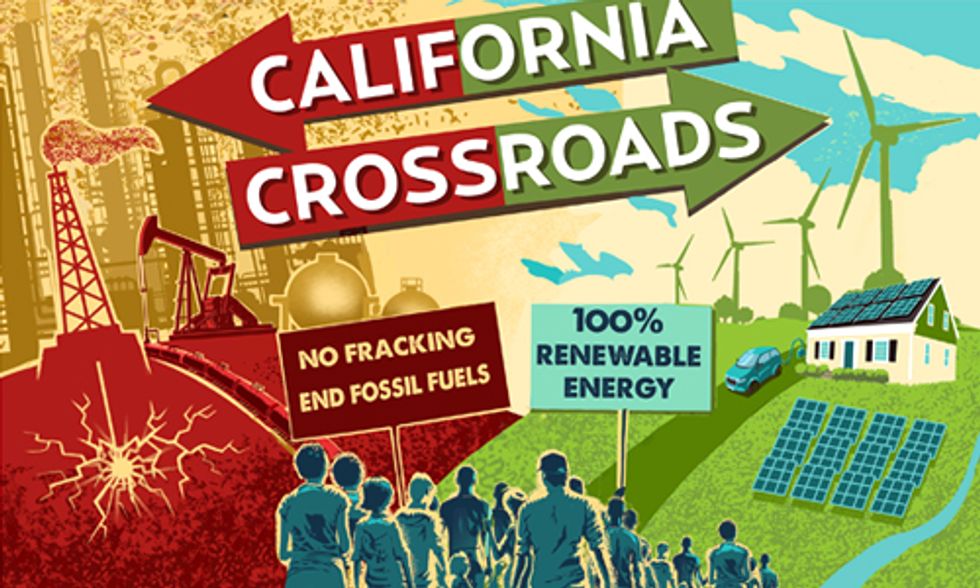 Thousands of Californians will take part in the California Crossroads Tour, calling on Gov. Jerry Brown to ban fracking, stand up to Big Oil and move California beyond fossil fuels to 100 percent renewable energy.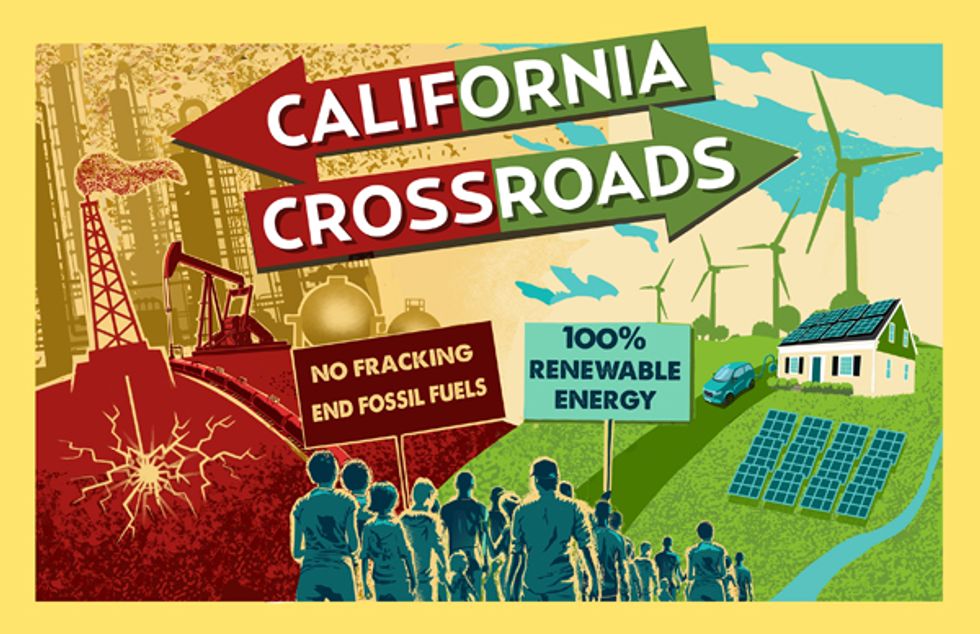 "California is at a crossroads. Our governor and our elected officials need to decide if we're going to be a real leader on climate change, or if we will continue to allow fracking and other dangerous extractions methods that put our communities and environment at risk," said David Braun of Californians Against Fracking and an organizer of the tour.
"Californians around the state are affected by the oil industry in different ways—whether they are exposed to dangerous toxins from living near a drilling site, have potentially explosive trains rumbling through their neighborhoods carrying crude oil—but we all stand to lose if we continue to ignore warnings that spell out doom if we don't put an end to the use of fossil fuels," said Braun.
For the next nine days, leaders from Californians Against Fracking will travel to eight cities as a part of the California Crossroads Tour to provide an opportunity for community members and experts to speak out against the health and environmental impacts of oil drilling, wastewater injection disposal wells and likelihood of increased oil by rail.
The tour kicked off last night at the King Chavez High School auditorium in San Diego, California, and will stop in Los Angeles, Oxnard, Santa Barbara, Delano, San Juan Bautista and Oakland. It will culminate Jan. 20 at the State Capitol in Sacramento, where residents will deliver messages from communities across the state to Gov. Jerry Brown.
Watch the livestream of tonight's event right here from 7 - 9 p.m. PST, which is taking place at the Holman United Methodist Church in Los Angeles:
Several California communities have been at the forefront of the fracking fight. In the November 2014 election, Santa Cruz and Mendocino counties joined the city of Beverly Hills in passing measures to ban fracking and similar oil drilling techniques. During the same election, San Benito County voters approved a fracking ban with a 59 percent majority, despite a $2 million opposition campaign by the oil industry.
"The City of Los Angeles is considering a ban and two cities in Los Angeles County—La Habra Heights and Hermosa Beach—are slated to vote on fracking and oil projects in March," according to Californians Against Fracking.
On Feb. 7 the March for Real Climate Leadership will bring thousands of people from across the state to the streets of Oakland, California, calling on Gov. Brown to stand up to Big Oil and support 100% renewable energy.
YOU MIGHT ALSO LIKE
Pope Francis Says No to Fracking
11 Earthquakes Rock Texas Fracking Heartland in 24 Hours
EcoWatch Daily Newsletter
Related Articles from EcoWatch