This website uses cookies to ensure you get the best experience while browsing it. By clicking 'Got It' you're accepting these terms.
This Woman Wears 15,000 Bees to Help Others Connect to Nature
Jan. 06, 2016 03:10PM EST
It may sound outlandish, but Sara Mapelli dances with thousands of bees on her naked torso to help bring others closer to nature. Known as the Bee Queen, Mapelli is an Oregon-based artist and self-described energy therapist.
The bee dance, which she's been performing for more than a decade, is designed to be "healing" and "meditative," Mapelli told National Geographic in an interview. She hopes to help others get over their fears—including fear of bees—and help people who feel disconnected to nature.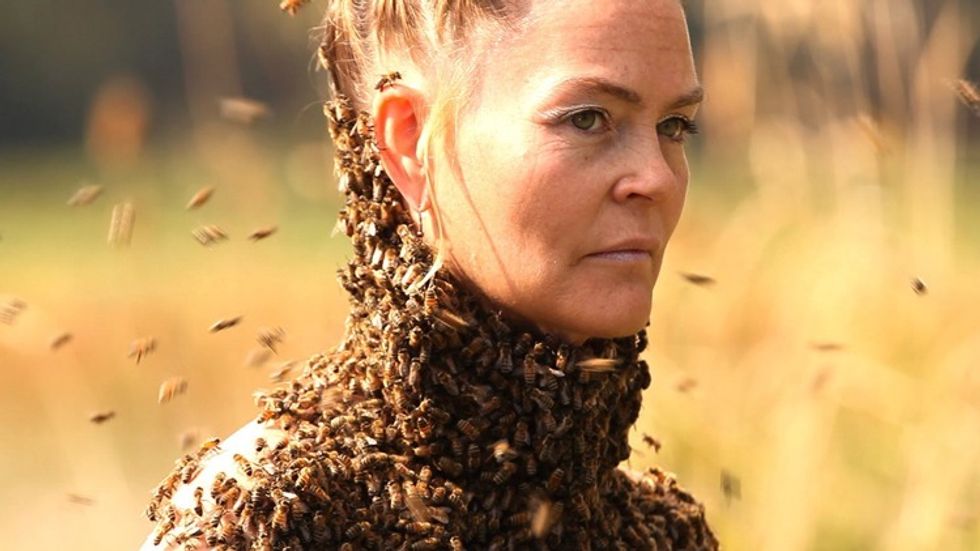 Bees' communal nature provides a great example of the feeling of interconnectedness that Mapelli wants to share with others. When her clients express feelings of separation or dissatisfaction, one of her solutions as part of her alternative medicine practice is to perform a bee dance.
To attract the bees, she rubs the same pheromone on her chest that a queen bee would give off (Queens use the pheromone to control the hive). Then a beekeeper lifts a frame that contains the hive, and bees begin to swarm her body. The pheromone, given to her by Oregon State University entomologist Michael Burgett, has the potency of what would be given off by a hundred queen bees.
"I'm like a tree with a huge tornado above me that gets smaller and smaller as the bees land," she said, describing how it feels to be swarmed by thousands of bees. "They are so loud; it's an engulfing, beautiful sound."
Yes, it can be uncomfortable, she said, as up to 15,000 bees swarm her body, and she has been stung many times. But to her, it's all part of the therapy. She even started doing apitherapy, in which she uses bee products, including bee venom, to treat illness.
Mapelli said some people think she's crazy, but, apart from being therapeutic, the practice gives her an opportunity to talk about the important role bees play in pollinating our food and their larger role in the ecosystem. She also educates her clients on how we can protect these crucial pollinators.
Bees' vital role in the environment has been well documented. Bees are the most critical animal to human survival. In fact, Earth's entire planetary ecology has been shaped by bees. Since they first evolved from wasps some 100 million years ago, bees have driven the evolution of plant life.
And yet, bees are in danger. A report from the U.S. Department of Agriculture last year found that the U.S. honeybee population had plummeted by more than 40 percent since the previous year. Dr. David Suzuki and other leading experts have called for a global ban on the class of pesticides known as neonicotinoids, or neonics, which have been linked to the mass die off in bees. President Obama organized a Pollinator Health Task Force, but many believe the plans for improving pollinator health do not go far enough.
Bees' critical role in our food system has even led some to wonder: If all the bees disappear, would we disappear with them?
YOU MIGHT ALSO LIKE
FDA Bans Three Chemicals Linked to Cancer From Food Packaging
Two Indoor Farm Startups Stand Up to Alaska's Short Growing Season
Venezuela Bans GMO Crops, Passes One of World's Most Progressive Seed Laws
EcoWatch Daily Newsletter
By Richard Connor
A blood test that screens for more than 50 types of cancer could help doctors treat patients at an earlier stage than previously possible, a new study shows. The method was used to screen for more than 50 types of cancer — including particularly deadly variants such as pancreatic, ovarian, bowel and brain.
By Raya A. Al-Masri
Different strategies for resisting the spread of the new coronavirus have emerged in different countries. But the one that has cut through everywhere is simple and, supposedly, can be done by anyone: "Wash your hands with water and soap for at least 20 seconds."
A USGS map showing the location of a 6.5 magnitude quake that shook Idaho Tuesday evening. USGS
Idaho residents were rattled Tuesday evening by the biggest earthquake to shake the state in almost 40 years.
A sign marks the ground covering TransCanada's Keystone I pipeline outside of Steele City, Nebraska on April 21, 2012. Lucas Oleniuk / Toronto Star via Getty Images

The company behind the controversial and long-delayed Keystone XL pipeline announced it would proceed with the project Tuesday, despite concerns about the climate impacts of the pipeline and the dangers of transporting construction crews during a pandemic.
Penguins are seen near the Great Wall station in Antarctica, Feb. 9, days after the continent measured its hottest temperature on record at nearly 65 degrees Fahrenheit. Xinhua / Liu Shiping / Getty Images
By Richard Connor
Scientists have recorded Antarctica's first documented heat wave, warning that animal and plant life on the isolated continent could be drastically affected by climate change.