This Tesla-Loving Superstar Is Helping Power Africa With Solar
Akon is probably best known for being a multi-platinum singer and rapper, but he's also a major solar advocate and Tesla enthusiast. In 2014, Akon, along with Samba Bathily and Thione Niang, launched Akon Lighting Africa to provide solar power to homes in parts of Africa that do not have reliable access to the grid.
According to the organization's website, Akon Lighting Africa has brought "a wide range of quality solar solutions, including street lamps, domestic and individual kits" to 14 African countries. For some of those communities, it was the first time they ever had electricity.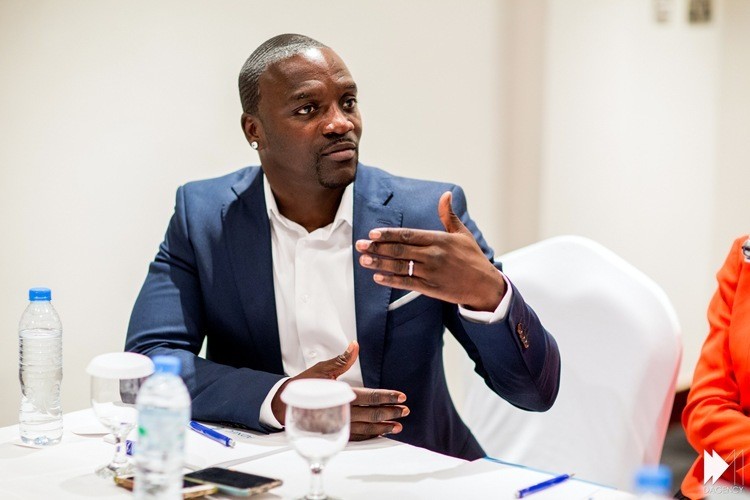 Clean Technica director Zachary Shahan had a chance to interview Akon last week at Abu Dhabi Sustainability Week. Akon explained to Shahan that his motivation for starting the project is very personal. Growing up in Dakar, Senegal, he did not have electricity.
"It was always a dream of mine to be a part of Africa's building infrastructure," Akon told Shahan. "And the whole idea was to start with energy because energy was the key to starting the infrastructure-building in Africa."
Just how, Shahan asked, did he go from rap sensation to clean energy advocate? Akon explained that when he was young, "music wasn't even a thought. I wanted to be a doctor—a brain surgeon" he said. He later added "I just wanted to be rich."
"It's crazy, but that was my goal," he said. But after serving time in prison for his involvement in an auto theft ring, his employment options were limited.
"I kind of made a lot of decisions that landed me locked up, and by the time I was released I couldn't get into a Fortune 500 company," he explained. So Akon, whose father was a jazz musician and whose mother was a dancer, turned to music. Even amid all of his musical success, though, Akon said he "always looked at music as a vehicle to get to bigger and better things in my life."
For now, he hopes to continue to expand the reach of his organization. "My idea is, just keep doing what you're doing and learn as you go," he said.
Finally, Shahan half-jokingly wanted to know if Akon had a Tesla. It turns out he's a huge Tesla fan. He used to have 28 cars, including Ferraris, BMWs and Lamborghinis, all of which he sold. He now owns four Teslas (a Model S and Model X at his home in Georgia, and a Model S and Model X at his home in California). He said he was one of the first people to put down a deposit for the Model X years ago.
Akon joined partners Bathily and Niang today at the Powering Africa Summit 2016 in Washington, DC. The three are there to present their projects supporting electrification of Africa. Bathily, who's also CEO of Solektra International, will speak on Friday on a panel focusing on how to finance access to renewables in Africa.
Watch the full interview of Akon here:
YOU MIGHT ALSO LIKE
Huge Hydropower Plant to Harness Seawater and Solar Power in South America's Driest Desert
Slaughter of Up to 900 Wild Bison at Yellowstone Park Sparks Federal Lawsuit to Protect First Amendment Rights
Jul. 21, 2017 01:50PM EST
Will Rose / Greenpeace
Eleven peaceful activists from the Greenpeace ship Arctic Sunrise have taken to the water in inflatable boats with handheld banners to oppose the Statoil Songa Enabler oil rig, 275 km North off the Norwegian coast, in the Arctic Barents sea.
The banners say: "People Vs. Arctic Oil" and are directed at Statoil and the Norwegian government, which has opened a new, aggressive search for oil in the waters of the Barents Sea.
Keep reading...
Show less
Jul. 21, 2017 10:34AM EST
Dominion Pipeline Monitoring Coalition
The Federal Energy Regulatory Commission (FERC) paved the way Friday for the 600-mile, 42-inch fracked gas Atlantic Coast Pipeline to proceed when it issued the final environmental impact statement (FEIS). A joint project of utility giants Duke Energy and Dominion Energy, the Atlantic Coast Pipeline would move fracked gas from West Virginia into Virginia and North Carolina.
In April, the Sierra Club submitted more than 500 pages of legal and technical comments on FERC's draft EIS, which were joined by more than 18,000 individual comments detailing opposition to the project. The pipeline has been met with widespread opposition, with more than 1,000 people participating in public hearings across the three affected states. The Sierra Club recently requested that FERC issue a new environmental review document analyzing information that came in after or late in, the public comment process.
Keep reading...
Show less
Jul. 21, 2017 08:25AM EST
Greenpeace / PolluterWatch
By Jessica Corbett
"It's time Rex Tillerson step down or be removed," said Gigi Kellett of Corporate Accountability International, following an announcement on Thursday that ExxonMobil will pay $2 million for violating U.S. sanctions against Russian officials while the now-secretary of state was the company's CEO.
"ExxonMobil demonstrated reckless disregard for U.S. sanction requirements," according to enforcement filing released by the Treasury Department's Office of Foreign Assets Control (OFAC), which issued the penalty. Though the fine is reportedly the maximum penalty allowed, it's pittance to one of the world's most profitable and powerful corporations, which last year reported a profit of $7.8 billion.
Keep reading...
Show less
Jul. 21, 2017 11:15AM EST
New analysis from Amory B. Lovins debunks the notion that highly unprofitable, economically distressed nuclear plants should be further subsi­dized to meet financial, security, reliability and climate goals. The analysis, which will appear shortly in The Electricity Journal, shows that closing costly-to-run nuclear plants and reinvesting their saved operating costs in energy efficiency provides cheaper elec­tricity, increases grid reliability and security, reduces more carbon, and preserves (not distorts) market integrity—all without subsidies.

Keep reading...
Show less
Jul. 21, 2017 08:44AM EST
Oil Change International / Twitter
By Christian Detisch and Seth Gladstone
In the wake of Senate Republicans' ever-deepening debacle over their flailing attempts to strip health insurance from 22 million people, Majority Leader Mitch McConnell is desperate to do something—anything—to show that he can get legislation passed. To this end, he's bypassing the standard committee review process to push a complex 850+ page energy bill straight to the full Senate floor. Perhaps not surprisingly, this legislation, the Energy and Natural Resources Act of 2017, would be a disaster for public health and our climate.
Keep reading...
Show less
Jul. 21, 2017 08:11AM EST
Rooftop solar panels on a beach house in southern Florida. TAI VIINIKKA / CC BY-NC-ND 2.0
A new law passed this week in South Miami will require all new homes built in the city to install solar panels. The measure, which was inspired by a proposal from a teenage climate activist, will go into effect in September.
The text of the ordinance details the climate impacts facing South Miami.
Keep reading...
Show less
Jul. 21, 2017 10:27AM EST
www.youtube.com
Keep reading...
Show less
Jul. 21, 2017 08:49AM EST
iStock
By Katherine Paul and Ronnie Cummins
A recent series of articles by a Washington Post reporter could have some consumers questioning the value of the U.S. Department of Agriculture's (USDA) organic seal. But are a few bad eggs representative of an entire industry?
Consumers are all for cracking down on the fraudulent few who, with the help of Big Food, big retail chains and questionable certifiers give organics a bad name. But they also want stronger standards, and better enforcement—not a plan to weaken standards to accommodate "Factory Farm Organic."
Keep reading...
Show less


Get EcoWatch in your inbox