This Super Sustainable House Can Be Built in One Day
A Dutch design firm has redefined living by creating a house that doesn't need a foundation, can be built in one day and is three times more sustainable than a normal house.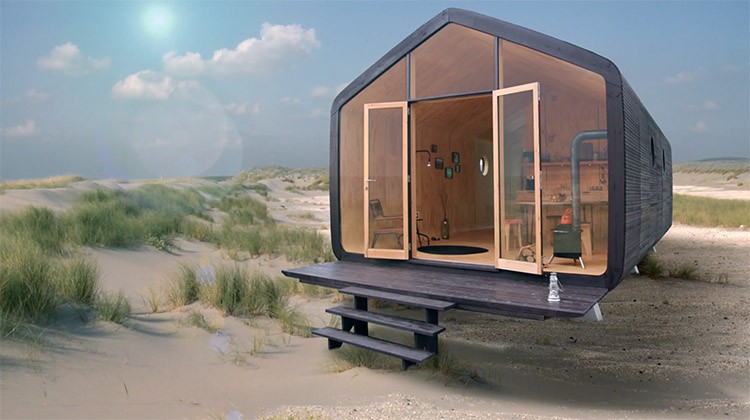 Photo credit: Wikkelhouse
The Wikkelhouse, designed by Fiction Factory in Amsterdam, is built by snapping multiple 1.2 meter (4 feet) wide sections together. Each section is made by wrapping a basic house shape with curved edges in 24 layers of cardboard that are glued together. The sections are then finished with waterproof, breathable foil and covered with a layer of wood paneling for extra protection.
"Using cardboard as its main building material, Wikkelhouse is a cutting-edge sustainable house with a beautiful design and exceptional constructive strength," the website explains.
With the flexible construction process, a house can range from the standard order of three sections to as many as desired.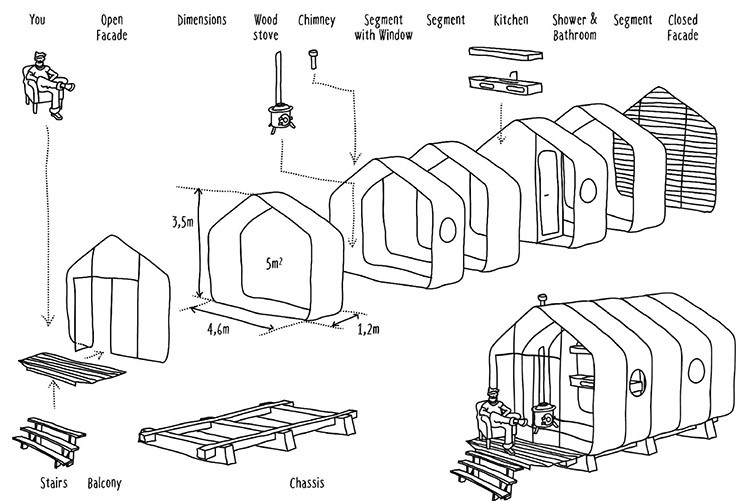 Each section of the Wikkelhouse only weighs 500 kilos (1,100 pounds). It can be taken apart and moved easily when you want to relocate or remodel. You can place the house on the beach, in your backyard or even on top of a building, Fiction Factory boasts.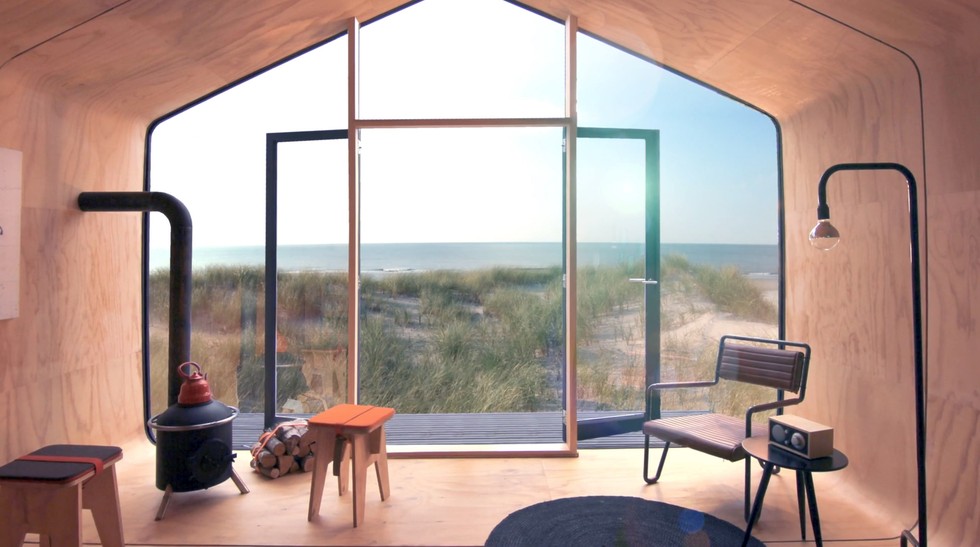 Photo credit: Wikkelhouse
Despite being lightweight, the Wikkelhouse is durable and has a minimum life span of 50 years. The wood outer layer is designed to protect the house from all types of weather elements and events. The cardboard layers also provide maximum insulation, cutting down on energy costs for the owner.
The Wikkelhouse is designed to accommodate a kitchen, bathroom and bedrooms, making it fully functional. Customers can pick the inside wall and floor design as well as glazed or opaque facades.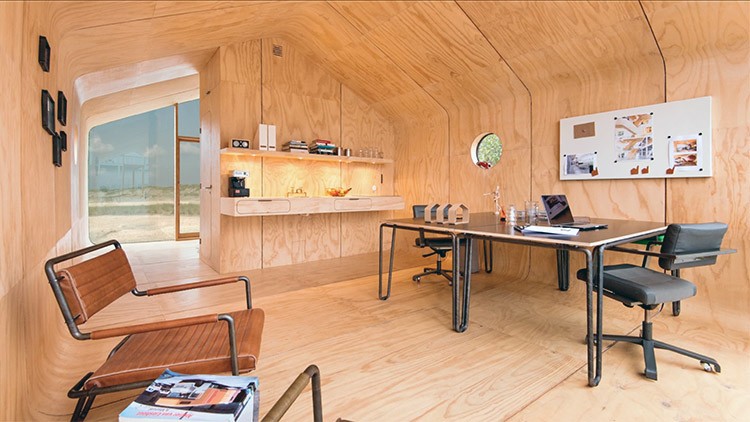 Photo credit: Wikkelhouse
Fiction Factory only produces 12 homes a year to maintain optimum quality control, each selling for 25,000 Euros or around $28,000. There is a wait list for orders.
YOU MIGHT ALSO LIKE
17 Young Social Entrepreneurs Who Are Making the World a Better Place
Legalization of Industrial Hemp in America Is a No-Brainer, Says New Patagonia Film
Bike-Powered Farming Program Turns Lawns Into Urban Farms
Leonardo DiCaprio Invests in Runa, Donates All His Shares to Ecuadorian Farmers
Risa Scott / RF Scott Imagery
The Bioscience Resource Project and the Center for Media and Democracy released a trove of rediscovered and newly digitized chemical industry and regulatory agency documents Wednesday stretching back to the 1920s. The documents are available here.
Together, the papers show that both industry and regulators understood the extraordinary toxicity of many chemical products and worked together to conceal this information from the public and the press. These papers will transform our understanding of the hazards posed by certain chemicals on the market and the fraudulence of some of the regulatory processes relied upon to protect human health and the environment.
Keep reading...
Show less
Trevor Hall. PHOTO CREDIT: Emory Hall
I'm a huge Trevor Hall fan so when I saw he was playing in my hometown of Cleveland, I was stoked. I knew seeing the show would be fantastic, but I was also thinking an interview with Trevor would be something really cool to give EcoWatch readers. So, lucky enough, I was offered an interview and was able to hop on my paddleboard from Whiskey Island on the shore of Lake Erie, head up the Cuyahoga River and get to the Music Box Supper Club just in time to chat with Trevor before the show.
"My dad was a drummer, so most my musical influence comes from my dad," Trevor said during our nearly hour interview. "Growing up, my dad had this CD collection in the hallway and I was always fascinated by all the CDs. My hobby was pulling out a CD that looked cool and I'd put it on the stereo and pretend I was rocking out. My dad was really into The Doobie Brothers, Allman Brothers, Earth Wind & Fire, Simply Red, and Crosby, Stills, Nash & Young."
Keep reading...
Show less
The Arbuckle Mountain Wind Farm in southern Oklahoma. Brian Hardzinski / KGOU
American Electric Power (AEP) will invest $4.5 billion in a wind energy project in Oklahoma that could become the largest wind farm in the U.S., the utility announced Wednesday.
AEP will develop a 350-mile transmission line for the 2 GW farm.
Keep reading...
Show less
Environment America / Twitter
The sun is rising on a newer, cleaner era of American energy use.
The U.S. generates nearly eight times as much electricity from the sun and the wind than it did in 2007—enough to power more than 25 million homes—and the average American uses 10 percent less energy than he or she did 10 years ago, according to a new report by Environment America Research and Policy Center.
The report, Renewables on the Rise: A Decade of Progress Toward a Clean Energy Future, also cites a 20-fold increase in battery storage of electricity and the meteoric rise in sales of electric cars—from virtually none in 2007 to nearly 160,000 last year—as evidence that despite attempted rollbacks in Washington, a clean energy revolution is under way across the U.S.
Keep reading...
Show less
Cirrus clouds over Golden Gate Bridge. Brocken Inaglory / Wikimedia Commons
By Tim Radford
Geoengineering, the deliberate alteration of the planet to undo its inadvertent alteration by humans over the past 200 years, is back on the scientific agenda, with a climate compromise suggested as a possible solution.
One group wants to turn down the global thermostat and reverse the global warming trend set in train by greenhouse gases released by fossil fuel combustion, by thinning the almost invisible cirrus clouds that trap radiation and keep the planet warm.
Keep reading...
Show less
By Joe McCarthy
This past June was the third hottest June in recorded history—only 2016 and 2015 had hotter Junes.
The global average temperature has been surpassing the 20th century average for 41 straight years. "Record-breaking temperatures" has almost become a platitude since the turn of the century, yet the consequences of this shift are devastating communities and environments in new ways around the world.
Keep reading...
Show less
iStock
By Joe McCarthy
Tony Maphosa, a Zimbabwean poacher, is accused of putting cyanide in watering holes and salt pans used by elephants numerous times over several years.
All told, his poisoning spree is said to have killed more than 100 elephants, according to Zimbabwean authorities who have been searching for Maphosa for four years.
Keep reading...
Show less
iStock
By David Doniger
As the nation and the world swelter through another year of extraordinary heat, storms, drought and disrupted weather, Senators Sheldon Whitehouse and Brian Schatz introduced carbon fee legislation Wednesday to help curb the heat-trapping pollution that drives this dangerous climate disruption.
Representatives Earl Blumenauer and David Cicilline are introducing companion legislation in the House of Representatives.
Keep reading...
Show less