This Pug is Ready for the Paris Climate Talks. Are You?
Nov. 27, 2015 01:37PM EST
Climate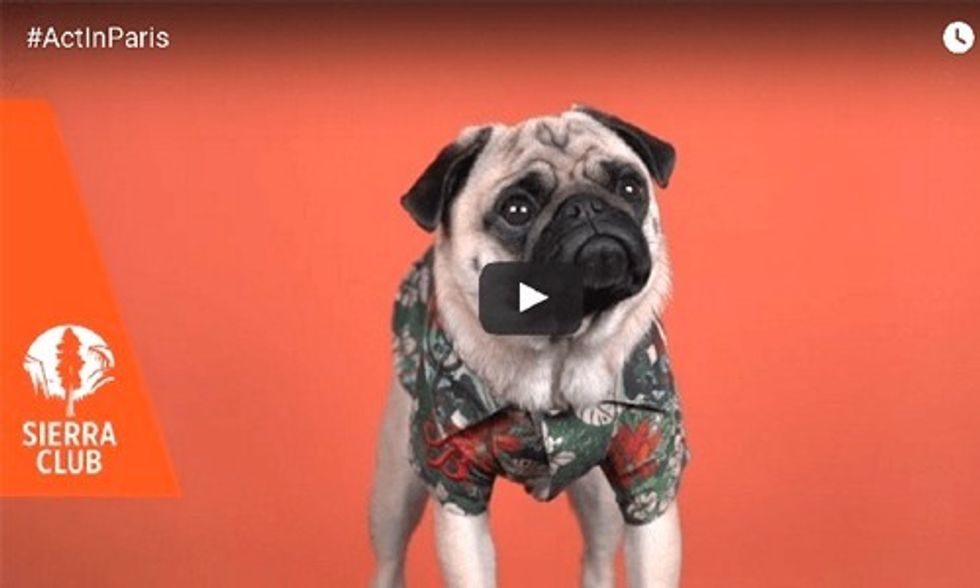 With less than a week to go before the 21st annual Conference of the Parties to the United Nations Framework Convention on Climate Change (COP21), environmental organizations are working hard to get the public engaged. The Sierra Club innovatively pulled at its members' heartstrings with a video that features a pug in a Hawaiian shirt.
A pug in a Hawaiian shirt. A pug in a Hawaiian shirt demanding a progressive climate accord from every world leader congregating in Paris this December. If they're not already motivated enough by their mother, brother, cousin or partner who will be affected by climate disruption, then hopefully they'll be moved to action by all the pugs out there wearing Hawaiian shirts.
That is the hope of the Sierra Club's #ActInParis campaign anyway. The aim is to demonstrate strong public support for climate action on local, national and international levels, generating momentum and awareness for the climate negotiations. Grassroots efforts have been spearheaded by members and non-members alike who have come across this action alert, Jared Leto's virtual reality promotional video or the #ActInParis selfies that can be found across all social media networks.
Why all the effort? After all, 20 climate conferences have come and gone with very little fanfare outside of the environmental world. That will not be the case in 2015. This year is different. It marks the first time that leaders from all 195 United Nations recognized countries will be in attendance at the conference.
That's right. 2015, the warmest year ever on record, has the potential to be the first year on record to unite the biggest economies in the world around climate action. Can you imagine? Countries like the U.S., China, the UK and Germany finding common ground on something this divisive is groundbreaking and deserves our recognition.
Does this dog not deserve a world populated with people who believe that it is our moral imperative to keep climate disruption under two degrees centigrade?
That is what world leaders hope to achieve at the climate negotiations this year and, with new Intended Nationally Determined Contributions (INDCs) summarizing the actions each country intends to take in the next fifteen years coming in every day, that goal is within their reach.
Our acknowledgement of COP21 will make a difference. World leaders need to know that the world is, in fact, watching. That we are, in fact, watching. That we care about the text of their next international agreement on climate. That we know that any agreement that elicits temperature increases of more than two degrees centigrade is unacceptable. That we will hold them accountable for their climate commitments. That we care about what they will accomplish in Paris because we know that their actions will determine our collective future on a healthy, functional plant Earth. The pug in the Hawaiian shirt will be watching President Obama and 194 other world leaders #ActInParis. Will you?
YOU MIGHT ALSO LIKE
4 Ways Exxon Stopped Action on Climate Change
Groups Demand French President Lift Ban on Climate Protests and Marches
Viral Video: Watch Your Favorite YouTube Stars Demand Climate Action
EcoWatch Daily Newsletter
Related Articles from EcoWatch