Adventure
28 December 2015
This Man Just Completed World's First Solo Row From California to Australia
British-Canadian adventurer John Beeden completed his 7,400-mile solo row across the Pacific Ocean on Saturday. He is the first to have rowed across the Pacific, from the Northern to Southern Hemisphere, without stopping.
After spending almost six months at sea in his 20-foot boat, Beeden set foot on the Australia mainland at 10 a.m Australian Eastern Standard Time. He departed from San Francisco 209 days prior.
He completed his final day of rowing on just two hours of sleep. Prior to his expedition, which he calls the Solo Pacific Row, 53-year-old Beeden trained by rowing up to 15 hours per day, Reuters reported.
Beeden initially intended for his journey to end in mid-November, but inclement weather added about one month to his estimated arrival to Cairns, Australia.
"Didn't think I could go on and had to dig deep and getting pushed back hundreds of miles that you have already rowed and you have to row it all again," Beeden told the Australian Broadcasting Corporation.
His boat, Socks II, uses 12v batteries, which are powered by solar panels. He documented his journey in a progress log, which includes stats on daily times and distances rowed.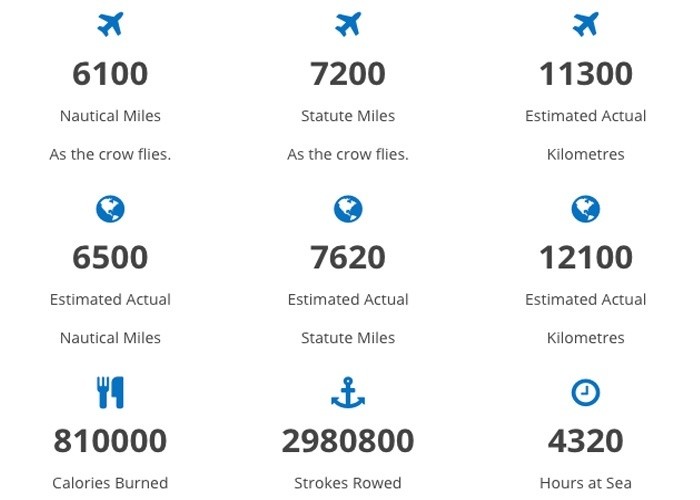 As Beeden explains on his website, in his view, a true cross-ocean rower "should have to row continent to continent otherwise you have only completed a partial Ocean crossing or a passage." He completed his travels alone out of necessity per his goal of becoming an "unassisted" record breaker.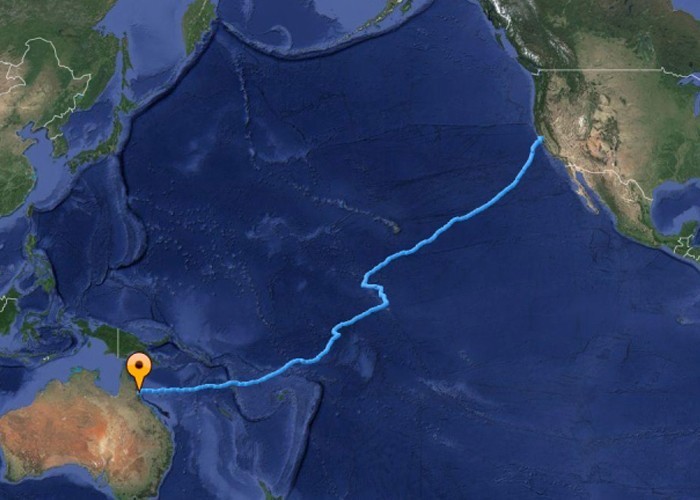 Beeden was promptly greeted by a teary wife and two daughters upon his arrival. A crowd of reporters and interested civilians watched as he stepped onto land, presenting his passport to Australian customs officials.
Though the Solo Pacific Row was his first record-breaking row, this is not Beeden's first time successfully rowing across an ocean by himself. His trip across the Atlantic Ocean, the Solo Atlantic Row, took more than 53 days to complete. After departing from the Canary Islands in Nov. 2011, he set foot on solid ground in Jan. 2012.
On his website, Beeden explains his motivation for these long, lonely travels:
"The quest to prove worthy of an almost inconceivable challenge is our greatest reward. To us it is not the final result that matters but how we measure up to our self-imposed task to confront and do battle with Nature at its rawest. And those who die in the attempt do not die in defeat; quite the opposite, their death is, in many ways, a triumph, the symbol of that indomitable human spirit that will break before it bends. To test what we are made of, that is our pursuit."
His travels were entirely self-funded. Any money raised was donated to his chosen charities, Prostate Cancer UK and Breast Cancer Care.
YOU MIGHT ALSO LIKE
Yogurt Cups, Food Wrappers and a Shoe Found in Stomach of Dead Orca
Dead Humpback Calf Found Entangled in Illegal Gillnet
One Woman's 2,000 Mile Paddle From the Big Apple to the Big Easy
10 Spectacular Hikes to Consider for Your Next Outdoor Adventure
A coalition of conservation groups and others announced Thursday that a historic number of comments and petitions of support have been submitted to the U.S. Department of the Interior in support of Bears Ears National Monument. Despite the entirely inadequate 15-day comment period ending on May 26, more than 685,000 comments in support of Bears Ears National Monument have been collected.
Keep reading...
Show less
Rink Glacier in western Greenland, with a meltwater lake visible center. NASA/OIB
Scientists have had their eyes on Greenland as its iconic glaciers have begun disappearing due to a warming climate. But, what they didn't expect to see was a whole new type of melting.
Keep reading...
Show less
Mountain View Fire
By Lena Moffitt
An oil tanker in Mead, Colorado exploded, killing one and injuring three on Thursday. Authorities are continuing to investigate the cause of the explosion.
Keep reading...
Show less
Banner created by Alliance for Climate Education
Keep reading...
Show less
Twenty-two GOP senators sent a letter Thursday urging Donald Trump to pull out of the Paris agreement. They argued remaining in the deal could "upend" the administration's ability "to fulfill its goal of rescinding the Clean Power Plan."
Keep reading...
Show less
By Cheryl Johncox
The Federal Energy Regulatory Commission (FERC) rejected on Thursday Energy Transfer Partners' request to resume horizontal directional drilling at two sites for its Rover fracked gas pipeline. This rejection comes after numerous leaks into Ohio's wetlands, and Clean Air and Clean Water act violations. FERC has halted the process at only eight locations of the 32 where drilling is taking place under Ohio's wetlands and streams.
Keep reading...
Show less
By Nadia Prupis
A majority of people in eight countries say they are ready to change their lifestyles if it would prevent climate catastrophe, a survey on global threats released Wednesday found.
Keep reading...
Show less
May. 25, 2017 01:55PM EST
Bill Maher is sick of billionaires' obsession with Mars, more like "Mars-a-Lago," he said.
In a new animation produced by ATTN:, the popular talk show host of Real Time, discusses the perils of our planet, including how "climate change is killing us."
Keep reading...
Show less