This website uses cookies to ensure you get the best experience while browsing it. By clicking 'Got It' you're accepting these terms.
This Land Was Made for You and Me ... And Fracking?
Jun. 19, 2015 08:37AM EST
Energy
For most people, the image of a fracking rig is probably not the first thing that comes to mind when they think about public lands. In Colorado, we think of rushing rivers, majestic mountains, colorful wildflowers, and fish and wildlife. But a new Bureau of Land Management (BLM) Resource Management Plan (RMP) could open nearly 7 million acres of BLM-managed federal mineral estate in eastern Colorado to fracking—with little input or oversight from the very Colorado residents who stand to lose the most if the BLM allows the extreme oil and gas extraction process on these lands. If the agency's plans for Colorado follow a pattern that's played out in RMPs elsewhere in the western U.S., fracking is most assuredly on the table.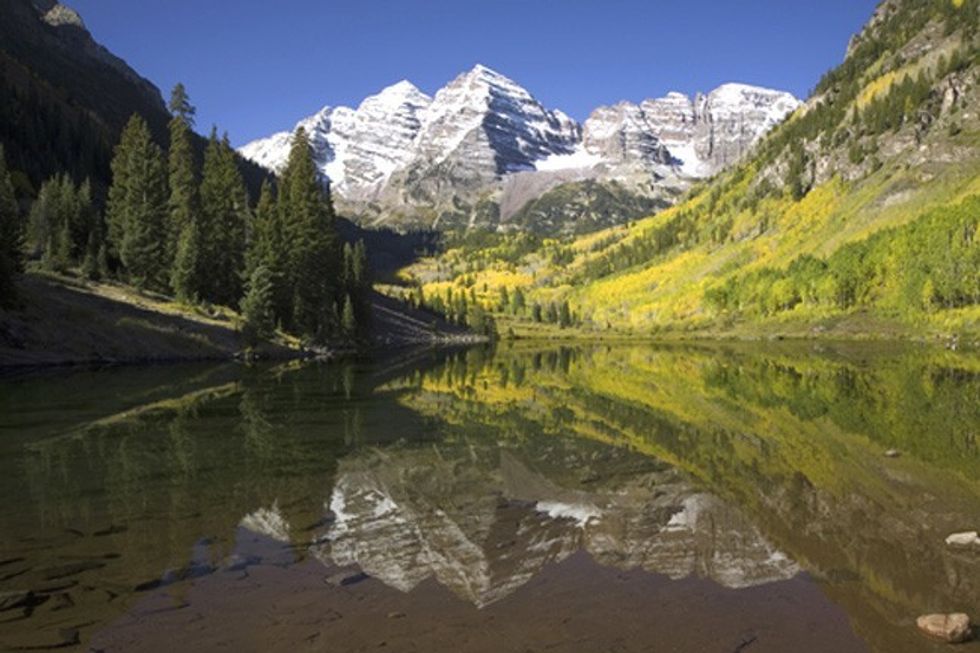 Photo credit: Shutterstock
This week in Colorado, the BLM launched a scoping process—a "big picture" project evaluation designed to inform the public and solicit feedback before the agency drafts the RMP for Colorado's Front Range. Sadly, BLM's public process seems fatally flawed from the start.
The seven scheduled hearings are far removed from the majority of Coloradans who will be affected by the new plans. For example, the BLM failed to schedule a scoping hearing in Denver, the state's most populous city, which gets 40 percent of its drinking water from the South Platte River Basin, comprising some 280,000 acres of land under consideration by the BLM. In addition, Denver's thriving tourism, fishing and microbrew industries rely on the water from these lands and would be jeopardized by inappropriate land uses such as fracking. The closest hearing to Denver was inconveniently scheduled for 5:30 p.m. in Golden, which is not easily accessible via public transit and is a 25-minute drive from downtown Denver in the mellowest of traffic.
Unsurprisingly, the turnout was sparse at that hearing, held open-house style on Monday evening, and featuring about a dozen "stations" set up around the perimeter of a room, each staffed by one or two BLM representatives that specialized in a particular area. Staffers proffered information sheets and displayed giant maps depicting potentially affected areas along with existing and potential land-use designations.
In a strange case of one-of-these-things-is-not-like-the-other, a fossil fuel company, Noble Energy, hosted a table among the BLM stations. No other organization, stakeholder or company had a table. When asked why no business representing, for example, the renewable energy or tourism sector was present, BLM staff claimed an "oversight" on the agency's part. According to the BLM, Congress mandates that oil and gas leases be considered in all resource management plans. So, it would seem that the cards are stacked in the industry's favor right from the start.
The BLM representatives were unable to answer specific inquiries about the lands under consideration. When asked how many fracked wells exist on the entirety of the land covered by the new RPM, staff admitted being unsure and could only provide a rough estimate of 500-1,000. More challenging questions also appeared to flummox BLM staff: What about reduced property values near fracking wells? The steel and cement wells will eventually corrode over time—to what extent is the BLM considering how their inevitable failure will affect our land and water resources? BLM staff stated that these things had never been studied, or that the agency didn't have the resources to conduct such large-scale studies. Does this mean that the BLM is simply going to overlook such critical issues before deciding whether or not to allow fracking on the public's land?
For an agency with the mission "to sustain the health, diversity and productivity of America's public lands for the use and enjoyment of present and future generations," BLM seems to be leaving the public it serves out of the conversation. Instead of preserving and protecting public lands, the BLM is actually allowing the oil and gas industry to exploit lands that the public relies on for water, agriculture, recreation, tourism, historic value and local economic opportunities.
Just last week, the BLM became embroiled in a legal battle with several environmental groups after it approved a similar RMP in California that will open 1 million acres of public lands to fracking. The groups claim that the plan failed to take into consideration the effects that widespread fracking in California's Central Valley would have on water resources, air quality, public health and climate change. The BLM's resource management plan moved forward even after a federal judge ruled in 2013 that oil and gas leases granted previously by the BLM in Monterey County were in violation of the law for failing to adequately address environmental risks.
And it doesn't stop there. The BLM was also sued in New Mexico for granting fracking permits in the lower San Juan Basin in close proximity to the Chaco Culture Historic National Park. The suit claims that the BLM's issuance of fracking permits fails to consider the impacts that fracking will have on the quality of the environment and integrity of cultural resources in the region.
Even though the scoping process just began in Colorado, the BLM already knows that Americans think fracking and public lands don't mix. Since the launch of a nationwide campaign in 2013, the BLM has received over 650,000 public comments demanding a ban on fracking on our public lands. At the hearing in Golden this week, one participant asked how many public comments it would take to ban fracking on public lands. The BLM representative's response was measured and instructive: public comments are not votes; the BLM simply considers public comments when crafting the RMP. The question is: How does the BLM weight the comments of the public against other interests, like those of the oil and gas industry?
Thankfully, legislators are taking notice. On April 22, U.S. Representatives Mark Pocan of Wisconsin and Jan Schakowsky of Illinois introduced the bill Protect Our Public Lands Act (POPLA), which would effectively ban fracking on all public lands. The bill—hailed as the strongest piece of anti-fracking legislation that has ever been introduced into Congress—has already picked up more than 20 co-sponsors. In Colorado, Denver-area U.S. Representative Diana DeGette could help protect 40 percent of her constituents' drinking water supply by signing on as a sponsor of POPLA.
The BLM's failure to listen to the public emphasizes the need for Congressional action to protect our cherished public lands. As Representative Schakowsky so eloquently stated, "[W]e owe it to future generations to maintain their natural beauty and rich biodiversity. I believe the only way to do that is to enact the Protect Our Public Lands Act."
YOU MIGHT ALSO LIKE
Pope Francis' Encyclical Urges Swift Action on Climate Change Ahead of Paris Climate Talks
Presidential Candidate Martin O'Malley: "I Believe Within 35 Years We Can and Should Be 100% Powered By Clean Energy"
EPA's Asbestos Guidelines Pose Serious Threat to Public Health, Says Agency's Own Inspector General
EcoWatch Daily Newsletter
Coldplay is releasing a new album on Friday, but the release will not be followed by a world tour.
Ash dieback is seen infecting a European ash (Fraxinus excelsior) in Bottomcraig, Scotland, UK on Aug. 10, 2016.
nz_willowherb / Flickr
Scientists have discovered a genetic basis to resistance against ash tree dieback, a devastating fungal infection that is predicted to kill over half of the ash trees in the region, and it could open up new possibilities to save the species.
Truth in Action is a day-long global conversation on the climate crisis and how we solve it. The Climate Reality Project
Former Vice President Al Gore kicked off 24 hours of climate talks in the U.S. and 77 other countries around the world Wednesday night.
Activists highlighted the climate emergency outside Scottish Government headquarters at St Andrew's House in Edinburgh on Oct. 13, 2017. Usage of the term "climate emergency" spiked in 2019, according to Oxford Dictionaries.
By Jessica Corbett
Climate advocates and experts celebrated Oxford Dictionaries' announcement Wednesday that "climate emergency" is the Oxford Word of the Year 2019.
By Kieran Cooke
There could be a way of countering one key aspect of the climate emergency by making much greater use of a widely-available plant: bamboo building.