This Just Might Be the Greenest College in the World
Dec. 23, 2015 12:38PM EST
Business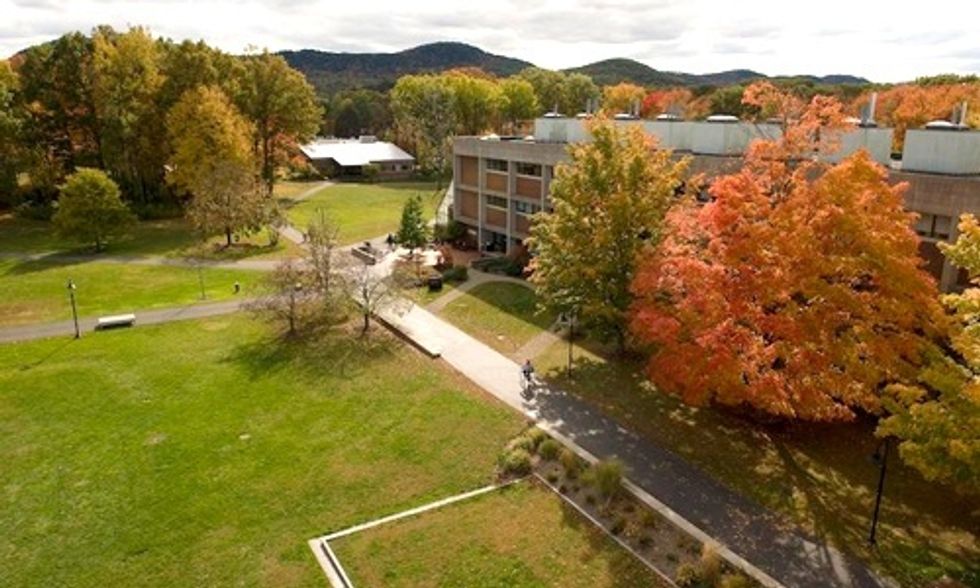 Hampshire College in Amherst, Massachusetts, may be a small school at 1,400 students, but it's making huge leaps and bounds in sustainability. The school will soon be home to a living building and will be the only college generating all of its electricity from solar energy.
Hampshire Plans to be the First U.S. Residential College Supplying 100 Percent of Electricity from On-Site Solar https://t.co/43CTMU98O8

— Hampshire College (@Hampshire College)1446042217.0
The Living Building Challenge is the most world's most rigorous environmental standard buildings. It requires net-zero energy waste and water systems, as well as sustainable, local construction materials. There are only eight school buildings worldwide that have been certified to date. Hampshire's 17,000-square-foot R.W. Kern Center—slated to open March 2016—will be the ninth.
"This building wears our culture on its sleeve," Hampshire President Jonathan Lash told the Christian Science Monitor. "The Living Building Initiative challenges people to build buildings that leave no footprint, that push the boundaries of what is possible and that promote positive social and ethical standards."
The current estimate for the project is $11 million. "The building costs about 10 percent more than a traditional building of its size," principal contractor Jonathan Wright of Wright Builders Inc. told the Washington Times.
But those costs will be recouped by long-term energy savings. "A building of this size would typically use 7,000 gallons of water a day; we estimate the Kern Center will use 150," Lash said. "And honestly, if we're saving $500,000 dollars [annually], why not?"
It's not just about saving money in the long run, though. The socially conscious college felt an obligation to take the lead. "What if, in 10 years, 20 percent of the nation's buildings met something like this standard?" Lash asked. "Think of the impact and the quality of people's interactions with each other [because] physical spaces define how we interact."
Inspiring Example: Hampshire College Fueled by Solar https://t.co/dAT4ijO6wg @JonathanLash @hampshirecolg https://t.co/vJKrfQylHZ

— Solution Generation (@Solution Generation)1450880114.0
The project has been bold, to say the least. The college eliminated a roadway and parking lot in the middle of campus to site the building, converting the rest of the space back into meadows and pathways. The school also stopped mowing 15 acres of lawn at the students' requests, allowing the area to be restored to a meadow. "Students have been tracking the return of wildlife and we've been able to save about $30,000 a year," Lash said.
Hampshire will also install 19 acres of solar panels next year and SolarCity is offering Tesla batteries with 10 kilowatts of storage to provide back up power during periods of low generation. Additionally, the school sources food from its campus farm and other local farms.
"I want our students to experience a culture that is always challenging itself to become sustainable," Lash said. "A lot of students are enthusiastic, but everyone agrees that what we're doing feels right and matches our values."
Hampshire College's initiatives are receiving praise far and wide. "These sustainability initiatives are impressive and inspirational," wrote Sharon Chen in a blog post on Solution Generation, "especially because students are the ones who are pushing for green changes; as Lash puts it, 'if anything is to change, it would happen with kids like these.'"
"Today's young people are tomorrow's leaders, and with our future resting on such passionate and determined college students, we are in good hands," said Chen. "From solving billion dollar problems to successfully lobbying corporations for green changes to reducing on-campus waste, students are demonstrating that they not only care about solving our climate challenge, but that they fully intend to do so."
YOU MIGHT ALSO LIKE
World's First Off-Grid EcoCapsule Runs Entirely on Renewable Energy
Solar-Powered Water Wheel Removes 350 Tons of Trash From Baltimore Harbor
$300 Underground Greenhouse Grows Your Food Year-Round
Couple Builds Greenhouse Around Home to Grow Food and Keep Warm
EcoWatch Daily Newsletter
Recent Stories from EcoWatch