This website uses cookies to ensure you get the best experience while browsing it. By clicking 'Got It' you're accepting these terms.
This Is What Epic Drought Looks Like: Lake Mead Hits Historic Low
Apr. 28, 2015 07:49AM EST
Climate

The big doom-and-gloom news in the water world this week is that America's former largest reservoir, Lake Mead near Las Vegas on the Colorado River, hit a historic low on Sunday. The reservoir serves water to the states of Arizona, Nevada and California, providing sustenance to nearly 20 million people and crops that feed the nation.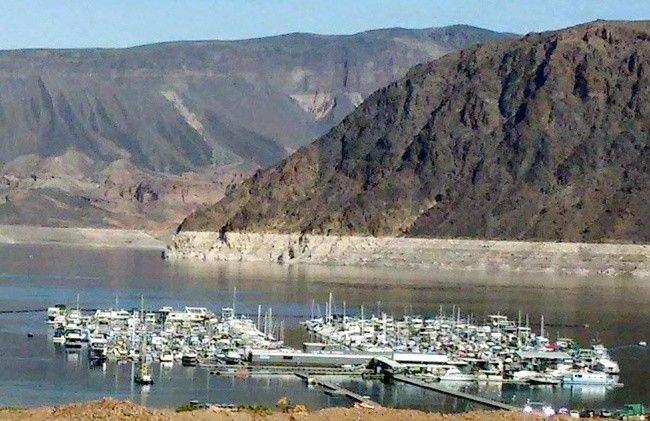 All the news stories and pundits blame the historic draining of Lake Mead on drought and/or climate change, but I'm going to take a different tack on this story. The reservoir hit a historic low because the entire Colorado River water supply system has been grossly mismanaged. Further, the gross mismanagement is escalating as the upstream states plot their next moves to further drain the reservoirs imperiling the economy of the region as well as degrading the health of the Colorado River.
For nearly two decades every water supply agency in the Southwest U.S., including the U.S. Bureau of Reclamation which manages the Colorado River system, has known that the river is "over-allocated"—i.e., that more water is taken out than flows in. Yet, almost nothing has been done to stem the decline which is likely to get worse as climate change progresses. Finally in 2013, the Bureau of Reclamation publicly created the "Colorado River Basin Study" that, sure enough, said the system is in severe decline and offered a bunch of ideas on how to address it. However, few of those ideas have been enacted as the nation watches the reservoir drop and Nevada, Arizona and California still take almost all of their full allotment of water out of the river.
Even more malevolently, the level of water in Lake Mead is partly driven by how much water flows into it from the upstream states of Colorado, Utah and Wyoming. At the same time that Mead hit a historic low, those three states are not only still taking all of the same water out of the system, they are aggressively planning to build even more dams and reservoirs that divert more water.
In Colorado, Denver Water is proposing to build a larger dam/reservoir, Northern Water (which supplies water to Northern Colorado) is also proposing to build a new reservoir, and the State of Colorado is going through a planning process to build billions of dollars worth of water projects, all of which would further drain the Colorado River ecosystem.

In Utah, state and local planners are moving forward with a massive pipeline proposal out of the Colorado River at Lake Powell, and the state government is going through a planning process that proposes to put more dams on every river in the state.

In Wyoming, water planners are aggressively trying to start two reservoir projects that would further drain the Green River which flows into the Colorado, and are planning more water diversion projects in the future.
All of these projects are being proposed so the upstream states can get the last legally allowed drops of water out of the system before it collapses in the near future. This water management is a kind of "Mutually Assured Destruction" escalating the water war across the Southwest U.S.
If there is a slight bright side here it's that the states have agreed to some "trigger" points in Lake Mead—levels to which if the reservoir drops, the states will start taking out less water, led first by Arizona. Those triggers will likely be hit in the next 12 to 18 months. Further, water agencies in Nevada, Arizona and Southern California have also agreed to some new conservation measures that will take less water out of the reservoir.
But that's not enough. Here's the bold action that needs to be taken:
Every water supply agency needs to agree to water conservation measures that stabilize the system right now, before it reaches trigger points and collapse scenarios. The conservation measures should occur in cities and on farms across the Southwest U.S. If the water supply agencies won't do it, the federal government—which has the authority—needs to step in and get it done.

No water supply agency should propose to take one more new drop of water out of the Colorado River system. Instead of Mutually Assured Destruction, we need Multi-Lateral Disarmament. All of the proposed projects should be stopped—if the agencies won't stop them, then the federal government should. If the federal government won't do it, then the court system should as these project go through permitting processes and get hit with inevitable lawsuits.

The health of the Colorado River needs to addressed for the first time in history. At the top of the system in Colorado, the river is nearly drained and even more endangered by proposed dam projects. In the middle section of the river in Utah and Arizona, the dams have completely degraded the ecosystem leading to multiple endangered fish and a massively disrupted flow regime and ecology. At the bottom of the system, the Colorado River is still drained bone dry—all 5 trillion gallons drained out before it reaches the Gulf of California creating a holocaust of environmental degradation.
Gross mismanagement needs to be replaced with bold action, and then the doom and gloom news stories would be replaced with hope for a brighter future.
Gary Wockner, PhD, is executive director of the Save The Colorado River Campaign. 
YOU MIGHT ALSO LIKE
Can This 'Airbnb for Water' Help Drought-Stricken Farmers?
Must-See: Obama's Key and Peele Skit at White House Correspondents' Dinner
California's First Zero Net Energy Community Is a Model for Future Living
EcoWatch Daily Newsletter
A vegan diet can improve your health, but experts say it's important to keep track of nutrients and protein. Getty Images
By Dan Gray
Research shows that 16 weeks of a vegan diet can boost the gut microbiome, helping with weight loss and overall health.
A healthy microbiome is a diverse microbiome. A plant-based diet is the best way to achieve this.
It isn't necessary to opt for a strictly vegan diet, but it's beneficial to limit meat intake.
New research shows that following a vegan diet for about 4 months can boost your gut microbiome. In turn, that can lead to improvements in body weight and blood sugar management.
Students gathered at the National Mall in Washington DC, Sept. 20. NRDC
By Jeff Turrentine
Nearly 20 years have passed since the journalist Malcolm Gladwell popularized the term tipping point, in his best-selling book of the same name. The phrase denotes the moment that a certain idea, behavior, or practice catches on exponentially and gains widespread currency throughout a culture. Having transcended its roots in sociological theory, the tipping point is now part of our everyday vernacular. We use it in scientific contexts to describe, for instance, the climatological point of no return that we'll hit if we allow average global temperatures to rise more than 2 degrees Celsius above preindustrial levels. But we also use it to describe everything from resistance movements to the disenchantment of hockey fans when their team is on a losing streak.
samael334 / iStock / Getty Images
Berries are small, soft, round fruit of various colors — mainly blue, red, or purple.
A glacier is seen in the Kenai Mountains on Sept. 6, near Primrose, Alaska. Scientists from the U.S. Geological Survey have been studying the glaciers in the area since 1966 and their studies show that the warming climate has resulted in sustained glacial mass loss as melting outpaced the accumulation of new snow and ice. Joe Raedle / Getty Images
By Mark Mancini
On Aug. 18, Iceland held a funeral for the first glacier lost to climate change. The deceased party was Okjökull, a historic body of ice that covered 14.6 square miles (38 square kilometers) in the Icelandic Highlands at the turn of the 20th century. But its glory days are long gone. In 2014, having dwindled to less than 1/15 its former size, Okjökull lost its status as an official glacier.
Members of Chicago Democratic Socialists of America table at the Logan Square Farmers Market on Aug. 18. Alex Schwartz
By Alex Schwartz
Among the many vendors at the Logan Square Farmers Market on Aug. 18 sat three young people peddling neither organic vegetables, gourmet cheese nor handmade crafts. Instead, they offered liberation from capitalism.
Hackney primary school students went to the Town Hall on May 24 in London after school to protest about the climate emergency. Jenny Matthews / In Pictures / Getty Images
Bird watching in the U.S. may be a lot harder than it once was, since bird populations are dropping off in droves, according to a new study.