This website uses cookies to ensure you get the best experience while browsing it. By clicking 'Got It' you're accepting these terms.
This Eco-Village Is Being Built From More Than 1 Million Recycled Plastic Bottles
May. 23, 2016 10:40AM EST
Business
Recyclable plastic bottles now have a new purpose: to create homes.
The Plastic Bottle Village is a planned 83-acre community in Bocas Del Toro, Panama. The community will consist of 120 homes, all built with plastic bottles as the main component. The village's creator Robert Bezeau said the idea came to him in a dream, according to the community's website. One day he woke up and had a vision of what could be done with the more than 35 billion plastic bottles thrown away each year in the U.S. alone.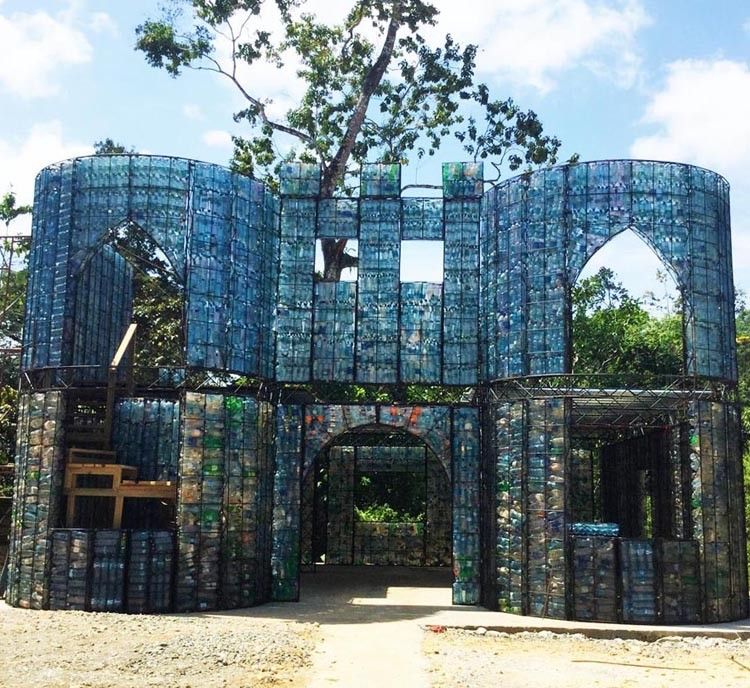 Photo credit: plasticbottlevillage.com
The project started in August 2015 with a model single-story two-bedroom house. More than 10,000 bottles were used in that single home, according to the village's website. The village has already started to sell some of the houses in the community.
Plastic bottles are packed inside 2-feet long by 9-feet high wire cages that are 7-inches thick. The cages are then reinforced with rebar. Bezeau said he can make all types of shapes with this configuration—many of the houses have arches and curves. Once the house is built, the walls are then covered with cement and can be painted.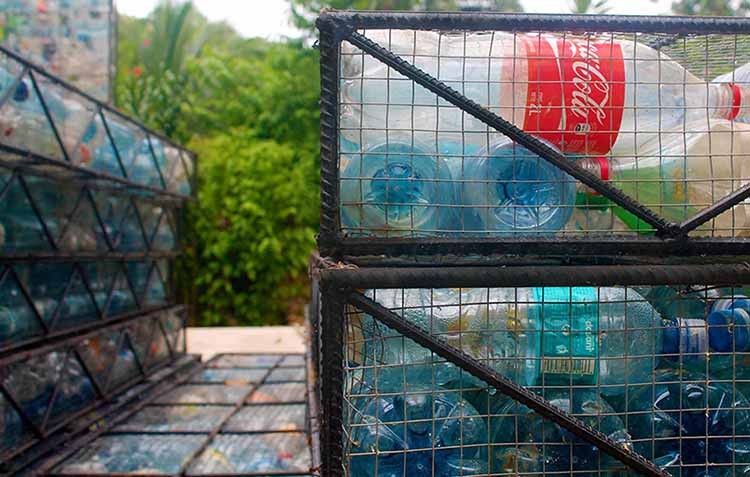 Photo credit: plasticbottlevillage.com
Building homes with plastic bottles has more benefits than just keeping them out of the oceans and landfills. The bottles, which are filled with air, provide insulation, keeping the inside of the house 17 degrees Celsius cooler than the outside temperature with no energy input. Using bottles also makes the homes earthquake-resistant, according to the community's website.
An average human who lives for 80 years can use a minimum of 14,400 plastic bottles, according to the community's website. That's more than enough plastic bottles to build a single-story two-bedroom house.
Watch this NowThis video or visit the project's GoFundMe page to learn more:
YOU MIGHT ALSO LIKE
Jeff Bridges: Plastic Is a Substance the Earth Cannot Digest
There Will Be More Plastic Than Fish in the Ocean by 2050
World's First Plastic Fishing Company Wants to Rid the Oceans of Plastic Pollution
These 5 Countries Account for 60% of Plastic Pollution in Oceans
EcoWatch Daily Newsletter
By Anita Desikan
The Trump administration is routinely undermining your ability — and mine, and everyone else's in this country — to exercise our democratic rights to provide input on the administration's proposed actions through the public comment process. Public comments are just what they sound like: an opportunity for anyone in the public, both individuals and organizations, to submit a comment on a proposed rule that federal agencies are required by law to read and take into account. Public comments can raise the profile of an issue, can help amplify the voices of affected communities, and can show policymakers whether a proposal has broad support or is wildly unpopular.
Alena Gamm / EyeEm / Getty Images
Picture this: a world where chocolate is as rare as gold. No more five-dollar bags of candy on Halloween. No more boxes of truffles on Valentine's day. No more roasting s'mores by the campfire. No more hot chocolate on a cold winter's day.
Who wants to live in a world like that?
Fabian Krause / EyeEm / Getty Images
Water protectors of all persuasions gathered in talking circles at Borderland Ranch in Pe'Sla, the heart of the sacred Black Hills, during the first Sovereign Sisters Gathering. At the center are Cheryl Angel in red and white and on her left, Lyla June. Tracy Barnett
By Tracy L. Barnett
Sources reviewed this article for accuracy.
For Sicangu Lakota water protector Cheryl Angel, Standing Rock helped her define what she stands against: an economy rooted in extraction of resources and exploitation of people and planet. It wasn't until she'd had some distance that the vision of what she stands for came into focus.
Hedges, 2019 © Hugh Hayden. All photos courtesy of Lisson Gallery
By Patrick Rogers
"I'm really into trees," said the sculptor Hugh Hayden. "I'm drawn to plants."
BruceBlock / iStock / Getty Images
Thanks to their high concentration of powerful plant compounds, foods with a natural purple hue offer a wide array of health benefits.