This Eco-Village Is Being Built From More Than 1 Million Recycled Plastic Bottles
Recyclable plastic bottles now have a new purpose: to create homes.
The Plastic Bottle Village is a planned 83-acre community in Bocas Del Toro, Panama. The community will consist of 120 homes, all built with plastic bottles as the main component. The village's creator Robert Bezeau said the idea came to him in a dream, according to the community's website. One day he woke up and had a vision of what could be done with the more than 35 billion plastic bottles thrown away each year in the U.S. alone.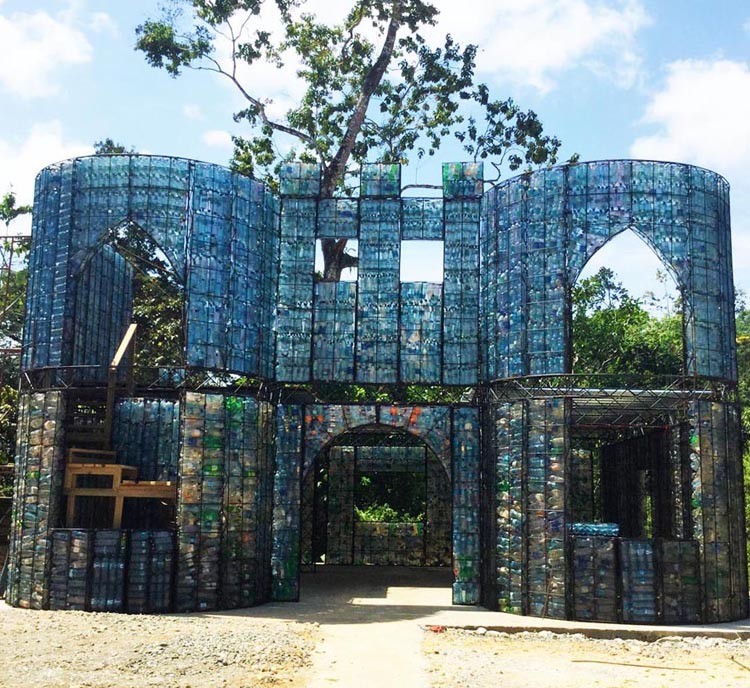 Photo credit: plasticbottlevillage.com
The project started in August 2015 with a model single-story two-bedroom house. More than 10,000 bottles were used in that single home, according to the village's website. The village has already started to sell some of the houses in the community.
Plastic bottles are packed inside 2-feet long by 9-feet high wire cages that are 7-inches thick. The cages are then reinforced with rebar. Bezeau said he can make all types of shapes with this configuration—many of the houses have arches and curves. Once the house is built, the walls are then covered with cement and can be painted.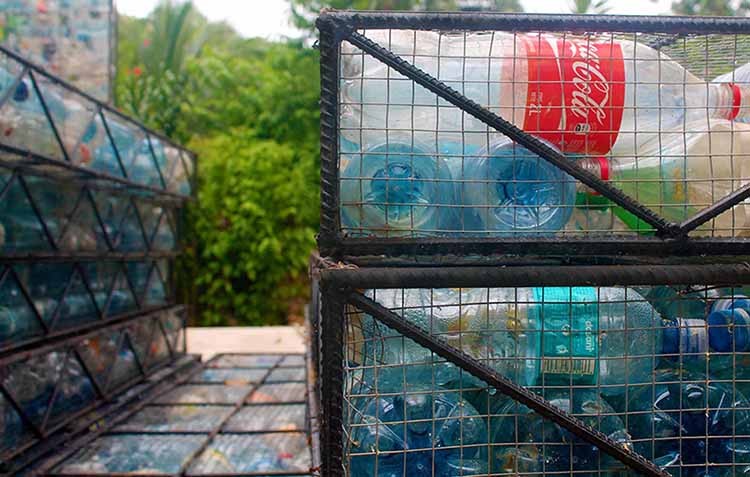 Photo credit: plasticbottlevillage.com
Building homes with plastic bottles has more benefits than just keeping them out of the oceans and landfills. The bottles, which are filled with air, provide insulation, keeping the inside of the house 17 degrees Celsius cooler than the outside temperature with no energy input. Using bottles also makes the homes earthquake-resistant, according to the community's website.
An average human who lives for 80 years can use a minimum of 14,400 plastic bottles, according to the community's website. That's more than enough plastic bottles to build a single-story two-bedroom house.
Watch this NowThis video or visit the project's GoFundMe page to learn more:
YOU MIGHT ALSO LIKE
Jeff Bridges: Plastic Is a Substance the Earth Cannot Digest
There Will Be More Plastic Than Fish in the Ocean by 2050
World's First Plastic Fishing Company Wants to Rid the Oceans of Plastic Pollution
These 5 Countries Account for 60% of Plastic Pollution in Oceans
iStock
By Robert Coleman
The Environmental Working Group's (EWG) just-released Tap Water Database shows that a startling number of cancer-causing chemicals contaminate the nation's drinking water. Of 250 different contaminants detected in tests by local utilities, 93 are linked to an increased risk of developing cancer.
Keep reading...
Show less
Aaron Teasdale
By Aaron Teasdale
"How much moon do we have tonight?" I yelled to my friend Greg, trying to make myself heard over the sounds of wind and surging water. The sun was sinking toward the mountains all too quickly and our float-in campsite lay somewhere down the river's bends in darkening forest.
Greg shrugged. He had no clue of the moon's cycle either, which showed just how tragically pasty and over-civilized we'd turned. Our days had become filled with computer screens, not forest scenes; our nights capped with ceilings, not stars. All of which made this journey on standup paddleboards so sweet—or at least we hoped it would be sweet, if the pesky headwind would let up before we had to risk disfiguring ourselves while navigating boulder-strewn waters by headlamp and whatever light the moon might spare.
Keep reading...
Show less
By Rebekah Wilce
The world of independent chemical testing has a shiny veneer. The public is reassured that chemicals they're exposed to on a daily basis are certified by technicians in spotless white lab coats who carefully conduct scientific studies, including on animals in neat rows of cages.
But a federal grand jury investigation that ended with convictions in the early 1980s discovered that Industrial Bio-Test Laboratories (IBT), the largest such lab in the U.S., conducted trials with mice that regularly drowned in their feeding troughs. The dead animals would decompose so quickly that "their bodies oozed through wire cage bottoms and lay in purple puddles on the dropping trays." IBT even invented an acronym "TBD/TDA" for its raw safety data, later discovered to mean "too badly decomposed."
Keep reading...
Show less
iStock
Roman officials are considering shutting off the water supply to one-third of the city's residents for eight hours per day as early as this weekend, according to reports.
Keep reading...
Show less
Ararat Rock Solar farm in Mount Airy, North Carolina. NARENCO
North Carolina Gov. Roy Cooper signed a bill into law Thursday that will boost solar production but curb wind energy in the state.
House Bill 589, the result of months of arduous negotiations between utilities and the solar industry, is intended to encourage the continued growth of solar in the state, but it includes a moratorium on new wind projects for the next 18 months.
Keep reading...
Show less
Algal blooms in Lake St. Clair and in western Lake Erie in 2015. NASA Earth Observatory
Heavier rainfall linked to rising temperatures could substantially increase the volume of agricultural runoff flowing into waterways, triggering toxic algal blooms, according to new research.
A study published Thursday in the journal Science finds that heavier rainfall could increase nitrogen runoff in U.S. lakes, rivers and streams by 19 percent by the end of this century.
Keep reading...
Show less
iStock
By Jen Sawada
Sharks have been around for 400 million years, before the time of the dinosaurs, but there's much more to them than big teeth and summer blockbusters. Consider these facts, which will change what you think about sharks.
Keep reading...
Show less
Felix Kramer / Wikimedia
By Jason Mathers
The high level of confidence that automotive industry leaders have in the future of electric vehicles (EVs) has been on full display recently.
Keep reading...
Show less


Get EcoWatch in your inbox