This website uses cookies to ensure you get the best experience while browsing it. By clicking 'Got It' you're accepting these terms.
This Country Generated So Much Renewable Energy It Paid People to Use It
May. 11, 2016 09:41AM EST
Energy
On May 8—a particularly sunny and windy day—Germany's renewable energy mix of solar, wind, hydropower and biomass generated so much power that it met 88 percent of the country's total electricity demand, or 55 GW out of 63 GW being consumed.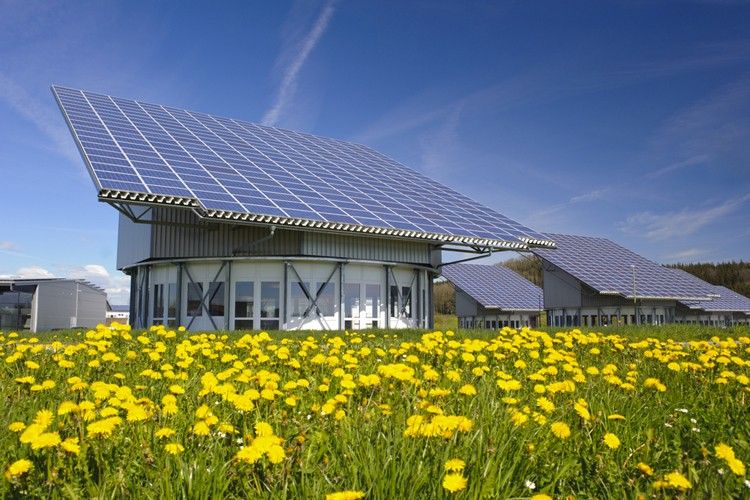 This means, as Quartz reported, "power prices actually went negative for several hours, meaning commercial customers were being paid to consume electricity."
"We have a greater share of renewable energy every year," said Christoph Podewils of Agora Energiewende, a German clean energy think tank.
"The power system adapted to this quite nicely. This day shows again that a system with large amounts of renewable energy works fine."
According to Quartz, industrial customers such as refineries and foundries were able to earn money by consuming electricity because nuclear and coal plants were unable to shut down production during the spike and had to continue selling power to the grid.
Germany's power system "is still too rigid for power suppliers and consumers to respond quickly to price signals," the publication noted.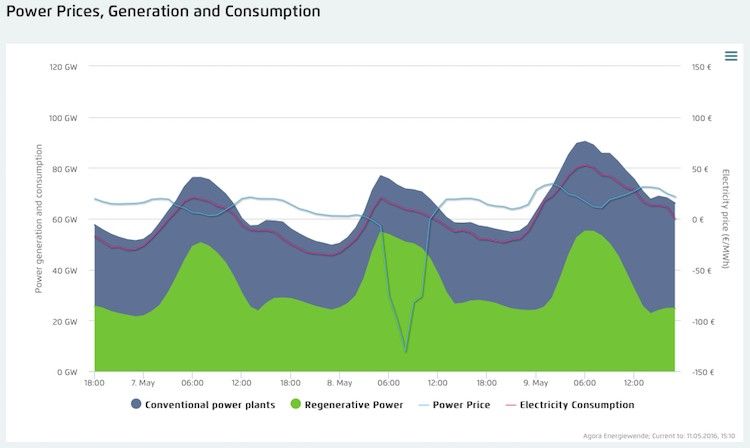 Renewables supplied nearly 90 percent of Germany's power supply on Sunday, meaning electricity prices were in the negatives. Photo credit: Agora Energiewende
Germany, the fourth largest economy in the world, is one of the global leaders of clean energy as it attempts to phase out fossil fuels. The country has an ambitious goal of hitting 100 percent renewable energy by 2050.
The European country already hit a milestone on July 25, 2015 when solar, wind and other sources of renewable energy met 78 percent of the day's energy demand. That beat its previous record of 74 percent in May 2014.
Renewables supplied nearly 33 percent of German electricity in 2015, according to Agora Energiewende. To compare, the U.S. receives around 10 percent of its electricity from renewable sources.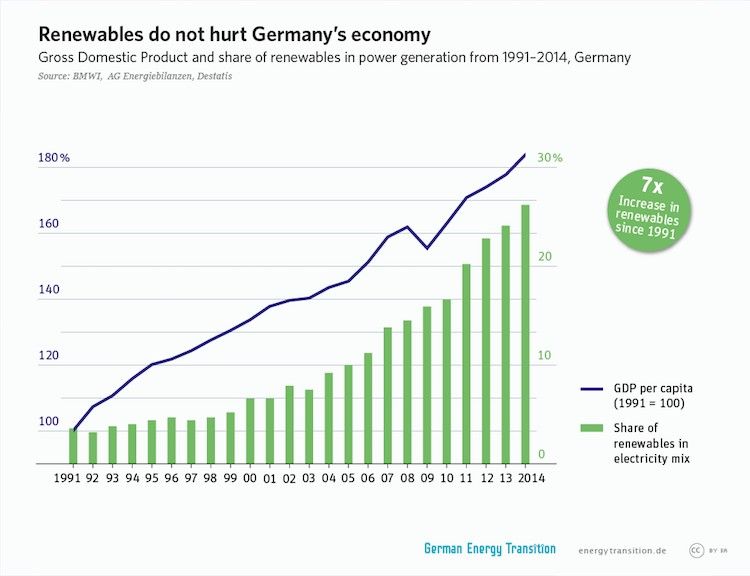 Osha Gray Davidson, author of Clean Break, a book about Germany's transition to carbon-free energy, said that Germany is a model for the U.S., "because manufacturing accounts for much more of the German economy than the American economy and they have 80 million people—much larger than a country like Denmark, which gets more of its power from renewables but has a much smaller industrial base and has a population of five and a half million people."
CleanTechnica reported that the rural German states of Mecklenburg-Vorpommern and Schleswig-Holstein already generate more renewable power than households and businesses in each state consume.
Germany is also aiming to slash carbon emissions by 40 percent in 2020 and by 80 to 95 percent in comparison with 1990 levels by 2050.
YOU MIGHT ALSO LIKE
'World's Most Sustainable City' to Run on 100% Solar
Wind and Solar Outpaced Fossil Fuels Again Even in Republican-Led States Fighting Climate Action
New Record Set for World's Cheapest Solar
Breakthrough Proclamation Puts Iowa City on the Forefront of Climate Action
EcoWatch Daily Newsletter
Lara Hata / iStock / Getty Images
By SaVanna Shoemaker, MS, RDN, LD
Rice is a staple in many people's diets. It's filling, inexpensive, and a great mild-tasting addition to flavorful dishes.
An image of the trans-alaskan oil pipeline that carries oil from the northern part of Alaska all the way to valdez. This shot is right near the arctic national wildlife refuge. kyletperry / iStock / Getty Images Plus
The Trump administration has initialized the final steps to open up nearly 1.6 million acres of the protected Alaskan National Wildlife Refuge to allow oil and gas drilling.
Kaboompics / Pexels
Tensions between lawmakers and several large manufacturing companies came to a head on Capitol Hill this week during a hearing on toxic fluorochemicals in U.S. drinking water.
A male african lion plays with his 4 month old cub at Big Marsh in Serengeti National Park, Tanzania. Nick Garbutt / Barcroft Media / Getty Images
A Florida man has been allowed to import a Tanzanian lion's skin, skull, claws and teeth, a first since the animal was listed as threatened under the Endangered Species Act, according to US Fish and Wildlife Service records uncovered by the Center for Biological Diversity through the Freedom of Information Act.
A fracked natural gas well in northwest Louisiana has been burning for two weeks after suffering a blowout. A state official said the fire will likely burn for the next month before the flames can be brought under control by drilling a relief well.
The universe is expanding much quicker than previously thought, according to researchers in Germany, leading scientists to suggest it may be more than 2 billion years younger than past estimates.