This Company Is Leading the Charge to Expedite Renewable Energy
May. 19, 2015 02:16PM EST
Climate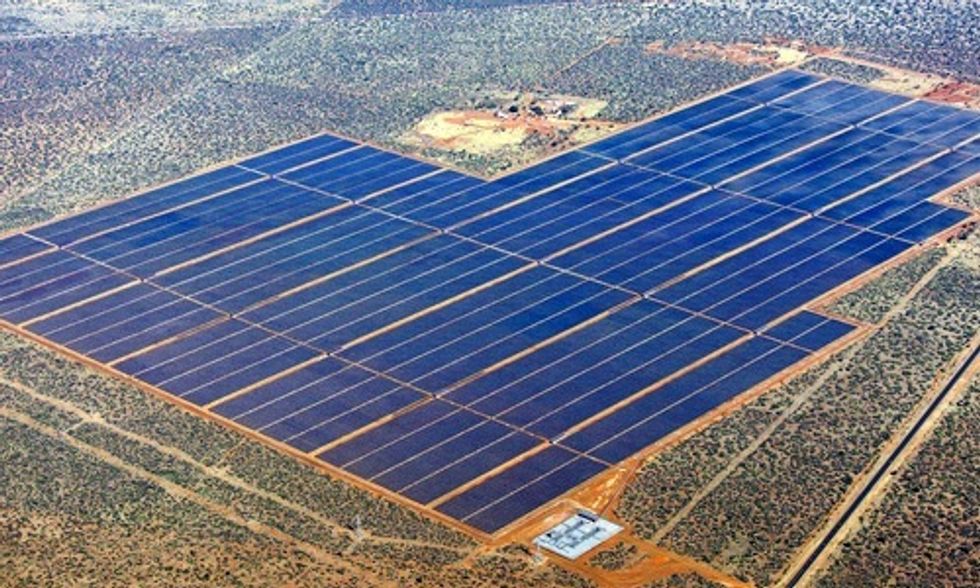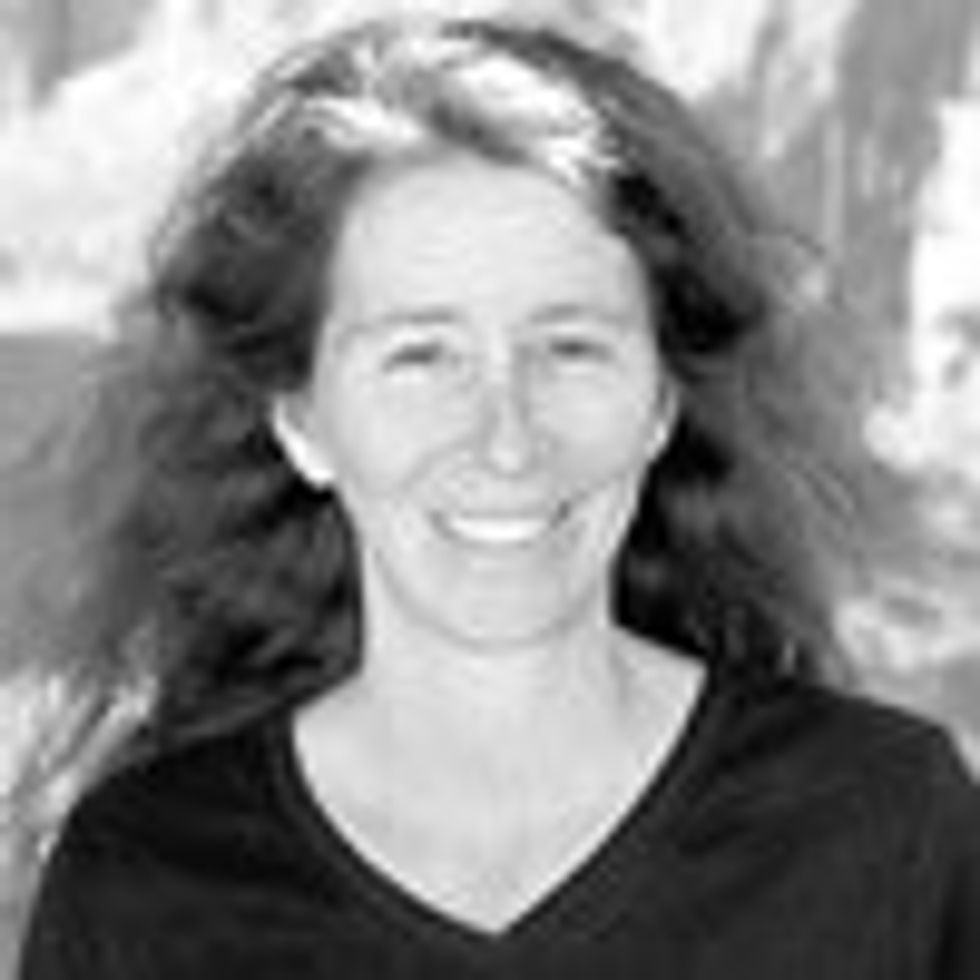 I'm fascinated by companies that are leading the charge in transitioning our energy use from fossil fuels to clean energy. One company that wasn't yet on radar, until I met them at the Global Citizen 2015 Earth Day festivities in DC, is Building Energy.
I had the pleasure of meeting several top players in the company and had the chance to interview Building Energy's CEO Fabrizio Zago and Managing Director of North America Andrea Braccialarghe.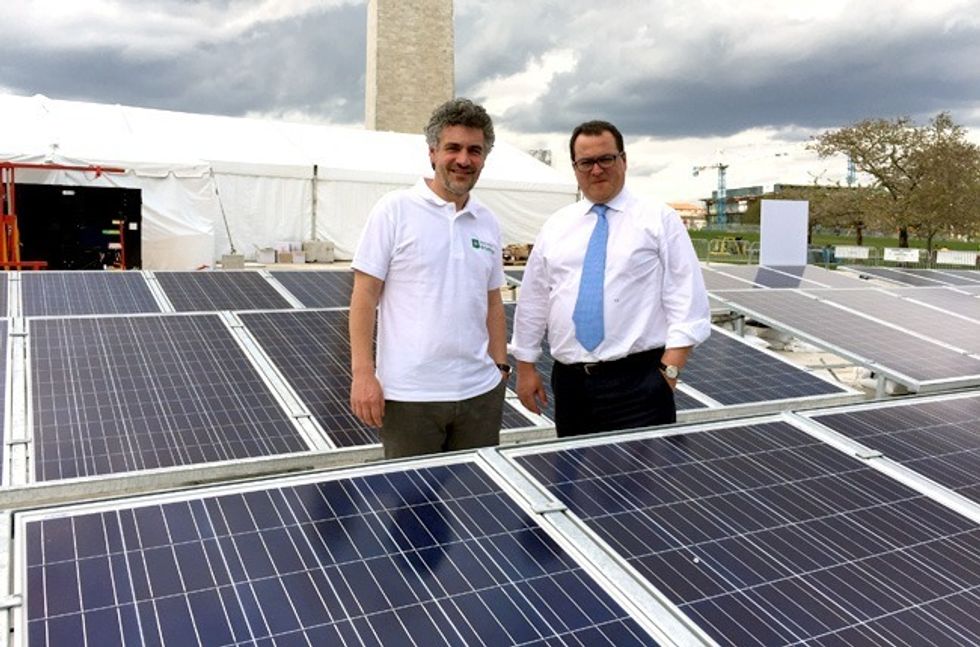 In just a few years Building Energy has achieved an impressive track record:
230 MW (megawatts) total plants completed worldwide;

110 MW of plants in operations;

212 GWh (gigawatt hour) annual global production;

150 MW photovoltaic systems produced directly or indirectly in Italy;

81 MW largest single photovoltaic project completed (Kathu, South Africa);

Development pipeline for a total of approximately 2,000 MW from photovoltaic, mini- hydroelectric, wind and biomass technology in 24 countries worldwide.
When I first arrived at the Alcantara Magic Garden-Connect4Climate pavilion, the Building Energy crew was busy installing the first-ever solar array on the National Mall to power the pavilion using energy entirely from the sun. The 3,000-square-foot solar field—about the size of a basketball court—was just hundreds of feet from the Washington Monument.
While visiting the pavilion, I sat down with Zago and Braccialarghe to learn more about their company.
Spear: How long ago did you start your company?
Zago: We started Building Energy in 2010 in Italy. It was a very interesting time because Italy was seeing huge investments in renewable energy. More than 20 percent of electricity used was made by renewable energy at that time. Today we are an international company with our world headquarters in Milan, Italy and other offices in Cape Town, South Africa, Washington DC for North and Central America, Tokyo for the Asian market, Dubai for the Middle East and Belgrade for Eastern Europe.
Spear: Are the majority of your projects large-scale solar farms?
Zago: In South Africa we have several projects we've recently been rewarded for solar, wind, biomass and hydro. Seventy percent of our business is in Africa. We have several projects we've done in the U.S., including a solar job at Cornell University in Ithaca, New York, completed last year, and projects in Eygpt and Jordan. We started as a solar company. Eighty percent of our business is in solar, but the other big part is in wind. And, now we have two projects in biomass, one in South Africa, which is the first biomass plant in South Africa, and one in Serbia. The biomass plant in South Africa burns the by-product of producing sugar cane—the parts of the sugar cane plant that are considered waste. The biomass plant produces electricity for the electrical system of South Africa.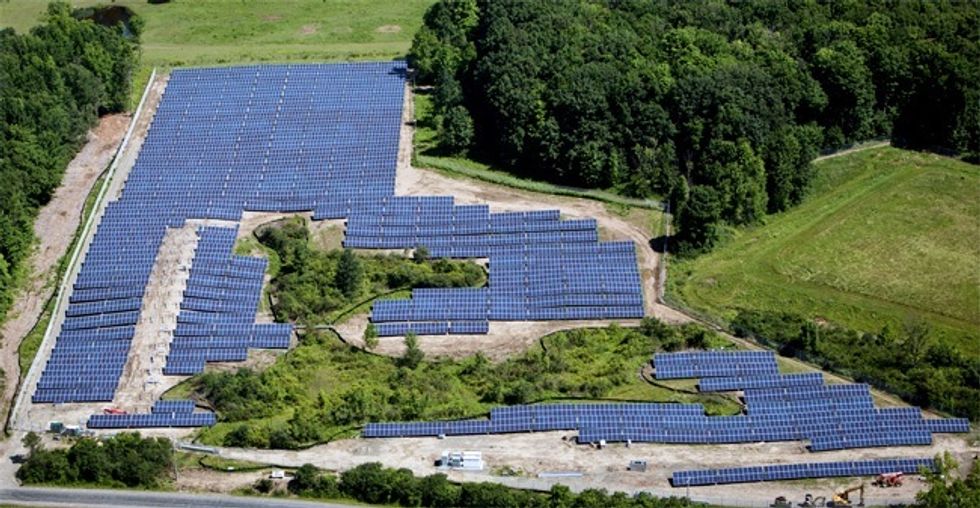 Spear: What's your role with the company, Andrea?
Braccialarghe: I'm leading the U.S. efforts based in Washington, DC. In America we also do projects in solar, wind, biomass and hydro. But, different from our work in South Africa where we have large utility scale projects, in the U.S. we are more focused on distributed generation. One of our flagship projects is a wind project in Iowa. The project is based on different wind turbines located in a radius of 50 miles providing energy to different communities. We are a very flexible company. We can install a 18 kilowatt system like we did here on the Washington Mall, but we can also build multi-scale, multi-megawatt solar plants in South Africa.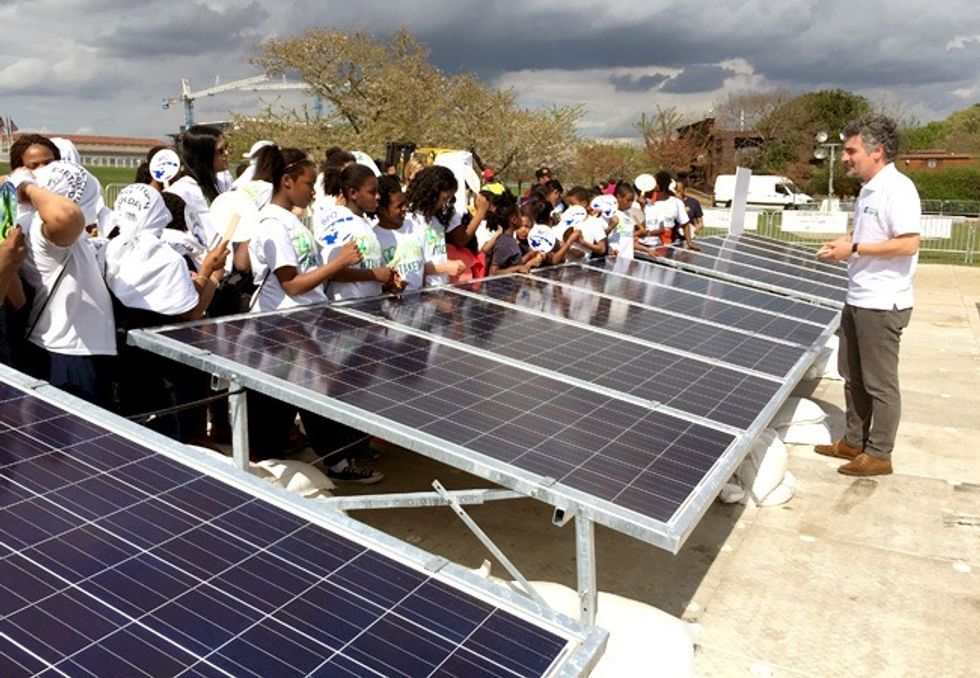 Spear: How do you see the mission and vision of your company helping to mitigate climate change?
Braccialarghe: Building Energy's expertise is its ability to develop new solutions for the production of energy from renewable sources. This is crucial in countering the harmful effects of climate change because it contributes to the reduction of CO2 emissions and to the decrease in the dependency on fossil fuels. Moreover, the company's commitment in the fight against climate change has been recently shown also by its participation in the Global Citizen 2015 Earth Day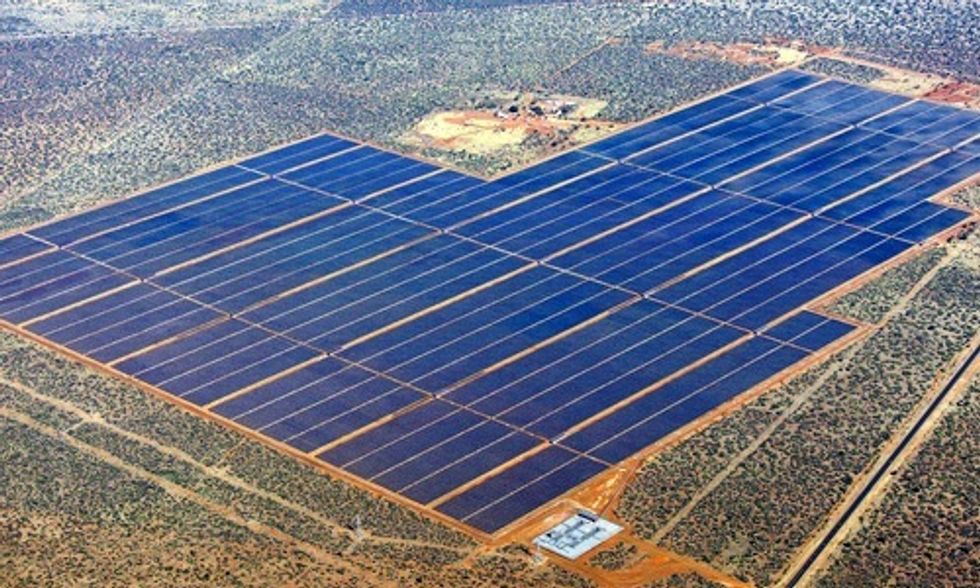 , the most famous world event about environmental protection, and by the partnership with Connect4Climate, the global community launched by the World Bank Group and the Italian Ministry for the Environment Land and Sea to raise global awareness and expand the debate around climate change issues.
Spear: What countries have the most appealing policies to implement renewables?
Braccialarghe: The U.S. is taking some steps to fight climate change. In June 2014, the U.S. Environmental Protection Agency proposed the Clean Power Plan, aiming to decrease carbon pollution by 30 percent from the power sector by 2030, also through an expansion in the production of energy from renewable sources.
However, one of the most promising markets for renewable energy is South Africa, thanks to its decision to invest in this field to make its economic growth more sustainable. In order to move away from a market historically focused on coal, in 2011, the government launched a National Energy Plan with the objective of changing the energy balance within the country by 2030. The National Energy Plan, which aims to increase available power while diversifying the country's energy sources, also includes the Renewable Energy Independent Power Producer Procurement Program.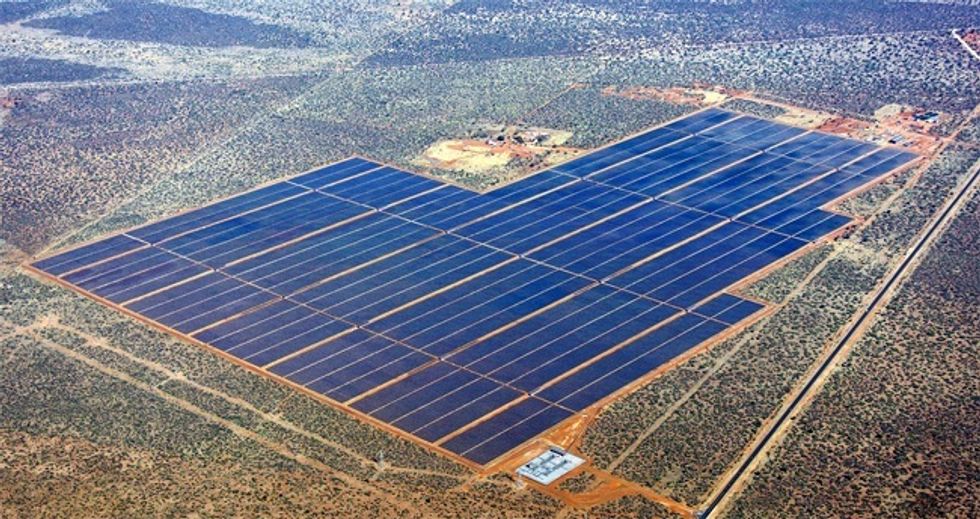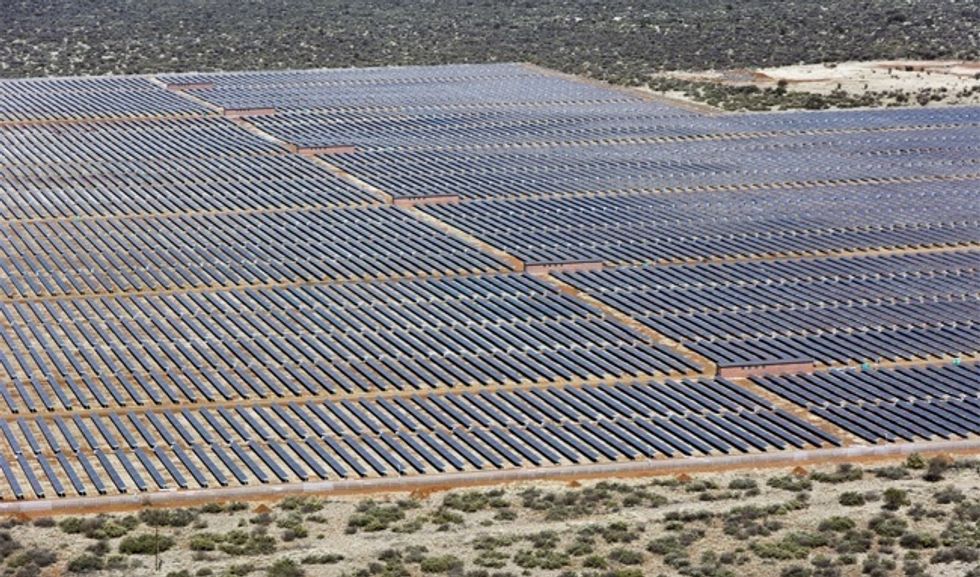 Spear: What are you hoping to see at the climate talks in Paris?
Zago: We hope that, through the United Nations conference in Paris, world leaders will manage to reach an agreement, accepted by all nations, to stop the harmful effects of climate change. Governments need to set some fair rules, but also ambitious targets, so that every country, within their grasp, might give their contribution to the climate change fight. And we're sure that renewable energy could play a decisive role in helping countries reach their goals.
Watch this video Building Energy created in celebration of Earth Day 2015:
YOU MIGHT ALSO LIKE
Elon Musk's Tesla Battery + SolarCity's Solar Systems = Clean Energy Future
America's First Offshore Wind Farm Breaks Ground
EcoWatch Daily Newsletter