This website uses cookies to ensure you get the best experience while browsing it. By clicking 'Got It' you're accepting these terms.
This City Plans to Be the 'Greenest City in the World by 2020'
May. 13, 2015 11:57AM EST
Climate
In a country reckoned to have the worst climate policies in the industrialized world, one big city is setting out to defy the central government and become 100 percent carbon neutral.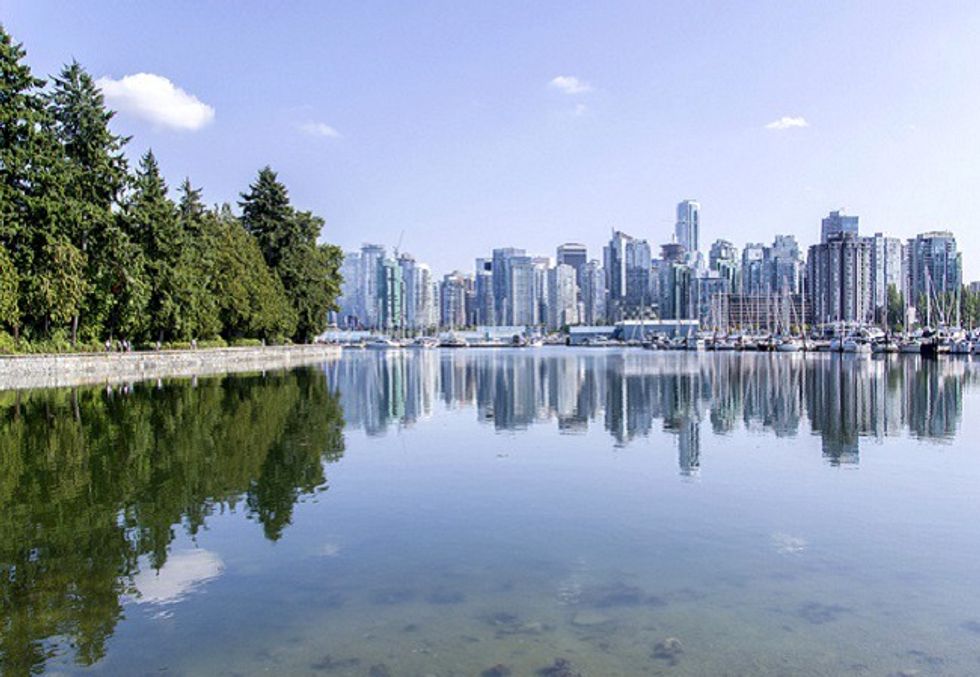 Vancouver, in British Columbia, Canada, wants to establish itself as "the greenest city in the world by 2020" by demonstrating that economic growth and the welfare of its citizens depends on developing renewables, rapid transit systems, and promoting cycling and walking to curb car use.
It is one of dozens of cities worldwide working towards improving the life of their citizens while reducing fossil fuel use, but it claims to have the most ambitious targets.
Many city administrations in Europe have the support of their governments, but in other countries—particularly Australia and Canada, where governments are actively promoting fossil fuels—cities are having to act alone.
A conference in Vancouver, attended by leaders from 45 countries, opens today to help the local government reach its goals.
Doubling green jobs
Among the "Green Vancouver" targets are doubling the number of green jobs in the city by 2020, from a 2010 baseline of 16,700, and making all new building in the city carbon neutral from 2020, while dramatically cutting emissions from existing buildings.
Progress towards meeting the city's impressive list of targets includes reductions in air pollution, waste, water use and car journeys. Other aims are to provide a green space within five minutes walk for every citizen, planting thousands of trees and growing food locally.
The city's environment credentials go back to the 1970s, when there was a long battle to stop a freeway being built through the city. As a result, it is not possible to drive easily into the center.
Between 1996 and 2011, while the population in the city center increased by 40 percent, there was a 25 percent decrease in the number of vehicle journeys and a rise in the use of public transport, dedicated cycle routes and walkways.
Many other cities in the world that believe the way forward is to rid themselves of fossil fuels are attending to share experience—both of successes and failures.
That Vancouver is to become a center of excellence is ironic, considering the fact that the federal government is seen as an international disgrace to the environmental movement.
In 2011, it repudiated the Kyoto Protocol on emissions reduction targets and has vigorously promoted the exploitation of oil from tar sands—the most polluting form of oil extraction with high carbon dioxide emissions.
Power from renewables
In contrast, Vancouver, which has a population of 600,000, believes that all its power can come from renewables—although getting all heating and cooling and transport without using fossil fuels may take until 2040, depending on whether there is any help from the central government.
One of the organizers of the conference, Shauna Sylvester, said: "When I first heard that Vancouver wanted to go 100 percent renewable, I thought it was a dream, but having looked at the possibilities I am a total convert.
"The people who run Vancouver do not have normal political affiliations. They are a bunch of business-savvy people who can see a vibrant green economy being a magnet for new business and forward-looking people. They are neither Labour nor Conservatives, but new progressives."
Sylvester works at the Simon Fraser University Centre for Dialogue's Renewable Cities Initiative, one of a number of organizations that aim to bring cities together to tackle climate change because many local leaders believe that governments do not have the political will to do so.
Among those supporting the conference is the United Nations Environment Programme, which has its own campaign to green cities.
YOU MIGHT ALSO LIKE
3 Steps to a Zero-Carbon Future
How Does Your State Rank for Being Bike Friendly?
Why Renewables Are a Better Investment Than Cheap Oil to Grow the Global Economy
EcoWatch Daily Newsletter
A First Nations protester walks in front of a train blockade in Tyendinaga, near Belleville, Ontario, Canada on Feb. 21, 2020. LARS HAGBERG / AFP via Getty Images
An indigenous rail blockade that snarled train travel in Canada for more than two weeks came to an end Monday when police moved in to clear protesters acting in solidarity with another indigenous community in British Columbia (B.C.), which is fighting to keep a natural gas pipeline off its land.
A rainbow snake, a rare reptile spotted in a Florida county for the first time in more than 50 years, seen here on July 5, 2013.
Kevin Enge / FWC Fish and Wildlife Research Institute / Flickr
A Florida hiker recently stumbled across a slithering surprise — a rare snake that hadn't been spotted in the area for more than 50 years.
We need our government to do everything it can to stop PFAS contamination and exposure from wreaking havoc in communities across the country. LuAnn Hun /
Unsplash
By Genna Reed
The EPA announced last week that it is issuing a preliminary regulatory determination for public comment to set an enforceable drinking water standard to two of the most common and well-studied PFAS, PFOA and PFOS.
This decision is based on three criteria:
PFOA and PFOS have an adverse effect on public health
PFOA and PFOS occur in drinking water often enough and at levels of public health concern;
regulation of PFOA and PFOS is a meaningful opportunity for reducing the health risk to those served by public water systems.
Charging EVs in Stockholm: But where does a dead battery go? Ranjithsiji / Wikimedia Commons
By Kieran Cooke
Driving an electric-powered vehicle (EV) rather than one reliant on fossil fuels is a key way to tackle climate change and improve air quality — but it does leave the old batteries behind as a nasty residue.
U.S. Secretary of the Treasure Steven Mnuchin arrives for a welcome dinner at the Murabba Palace in Riyadh, Saudi Arabia on Feb. 22, 2020 during the G20 finance ministers and central bank governors meeting. FAYEZ NURELDINE / AFP via Getty Images
Finance ministers from the 20 largest economies agreed to add a scant mention of the climate crisis in its final communiqué in Riyadh, Saudi Arabia on Sunday, but they stopped short of calling it a major economic risk, as Reuters reported. It was the first time the G20 has mentioned the climate crisis in its final communiqué since Donald Trump became president in 2017.