This City Just Banned Single Use Coffee Pods: Will Others Follow?
The city of Hamburg, Germany has banned single use coffee pods in state-run buildings as part of an initiative to reduce waste.
The BBC reported:
"As part of a guide to green procurement, the German city of Hamburg last month introduced a ban on buying 'certain polluting products or product components' with council money. The ban includes specific terms for 'equipment for hot drinks in which portion packaging is used'—specifically singling out the 'Kaffeekapselmaschine,' or coffee capsule machine, which accounts for one in eight coffees sold in Germany.
'These portion packs cause unnecessary resource consumption and waste generation, and often contain polluting aluminium,' the report says. 'The capsules can't be recycled easily because they are often made of a mixture of plastic and aluminium,' adds Jan Dube, spokesman of the Hamburg Department of the Environment and Energy."
Amid growing concern over the environmental impact of these single use pods, manufacturers have responded by making their product recyclable. One manufacturer, Nespresso, claims it has 14,000 pod pickup locations in 31 countries, capable of processing 80 percent of all the capsules they make, but they did not tell the BBC how many of their pods are actually recycled.
And worrying about recycling them is missing the point, Piotr Barczak, waste policy officer at the European Environmental Bureau, said: "The point with coffee pods isn't about recycling—it's about cutting down on the amount of stuff that we need to throw away or recycle."
"Recycling should be the last resort when tackling waste, not the immediate solution," he added.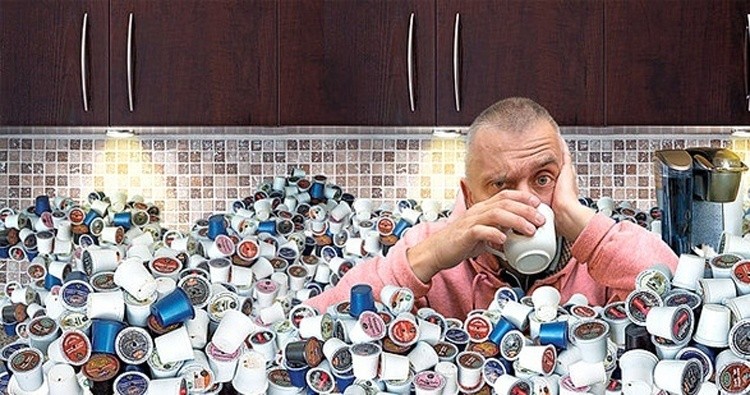 And as Martin Bourque, director of the Ecology Center in Berkeley, told the East Bay Express:
"We can get to a cup of coffee dozens of different ways. The best way is a large volume of coffee that goes into a cup that's washed and re-used a thousand times, and the coffee goes to compost or mushroom production. That's best-case scenario. The worst-case scenario is these pods."
Many in the environmental community feel the same way. Even the inventor of the popular Keurig K-Cup, John Sylvan, admitted last year he regrets making the product, saying "I feel bad sometimes that I ever did it."
One filmmaker Mike Hachey started a website Kill the K-Cup to track the activities of Keurig Green Mountain and made a short, mock-horror film about K-Cups. Watch here:
YOU MIGHT ALSO LIKE
Solar-Powered Vacuum Could Suck Up 24,000 Tons of Ocean Plastic Every Year
Baby Dolphin Dies After Being Passed Around by Tourists Taking Selfies
NASA: 4 Billion People at Risk as 'Water Table Dropping All Over the World'
Gruesome Tumors on Sea Turtles Linked to Climate Change and Pollution
A coalition of conservation groups and others announced Thursday that a historic number of comments and petitions of support have been submitted to the U.S. Department of the Interior in support of Bears Ears National Monument. Despite the entirely inadequate 15-day comment period ending on May 26, more than 685,000 comments in support of Bears Ears National Monument have been collected.
Keep reading...
Show less
Rink Glacier in western Greenland, with a meltwater lake visible center. NASA/OIB
Scientists have had their eyes on Greenland as its iconic glaciers have begun disappearing due to a warming climate. But, what they didn't expect to see was a whole new type of melting.
Keep reading...
Show less
Mountain View Fire
By Lena Moffitt
An oil tanker in Mead, Colorado exploded, killing one and injuring three on Thursday. Authorities are continuing to investigate the cause of the explosion.
Keep reading...
Show less
Banner created by Alliance for Climate Education
Keep reading...
Show less
Twenty-two GOP senators sent a letter Thursday urging Donald Trump to pull out of the Paris agreement. They argued remaining in the deal could "upend" the administration's ability "to fulfill its goal of rescinding the Clean Power Plan."
Keep reading...
Show less
By Cheryl Johncox
The Federal Energy Regulatory Commission (FERC) rejected on Thursday Energy Transfer Partners' request to resume horizontal directional drilling at two sites for its Rover fracked gas pipeline. This rejection comes after numerous leaks into Ohio's wetlands, and Clean Air and Clean Water act violations. FERC has halted the process at only eight locations of the 32 where drilling is taking place under Ohio's wetlands and streams.
Keep reading...
Show less
By Nadia Prupis
A majority of people in eight countries say they are ready to change their lifestyles if it would prevent climate catastrophe, a survey on global threats released Wednesday found.
Keep reading...
Show less
May. 25, 2017 01:55PM EST
Bill Maher is sick of billionaires' obsession with Mars, more like "Mars-a-Lago," he said.
In a new animation produced by ATTN:, the popular talk show host of Real Time, discusses the perils of our planet, including how "climate change is killing us."
Keep reading...
Show less