This City is the World's First to Mandate Climate Change Warning Labels on Gas Pumps
Nov. 20, 2015 03:14PM EST
Climate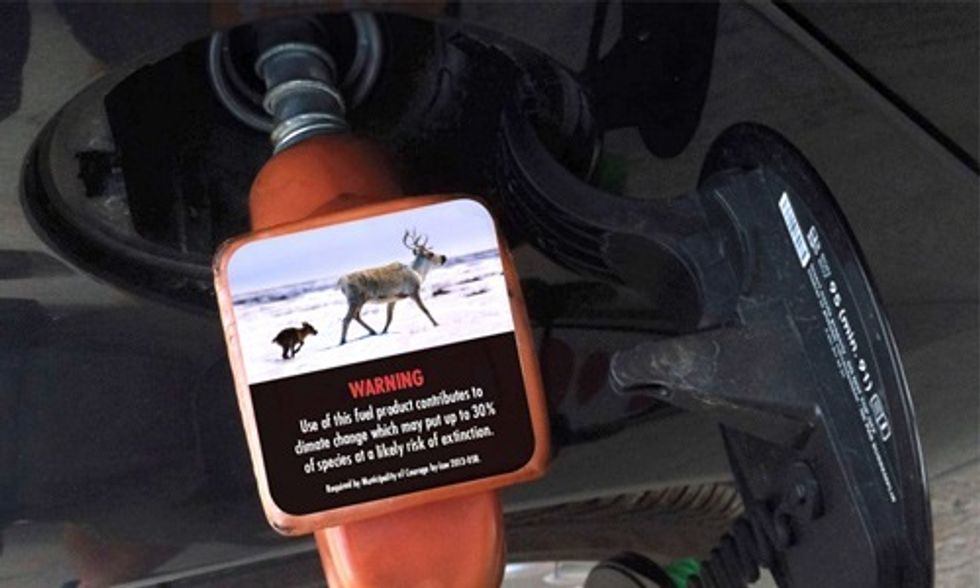 What if every time you fueled up at your local gas station, you were reminded that the world's addiction to oil contributes to climate change? Would it change your habits? The city of North Vancouver, British Columbia is hoping so. The city council voted unanimously earlier this week to approve mandatory climate change labels on gas pumps.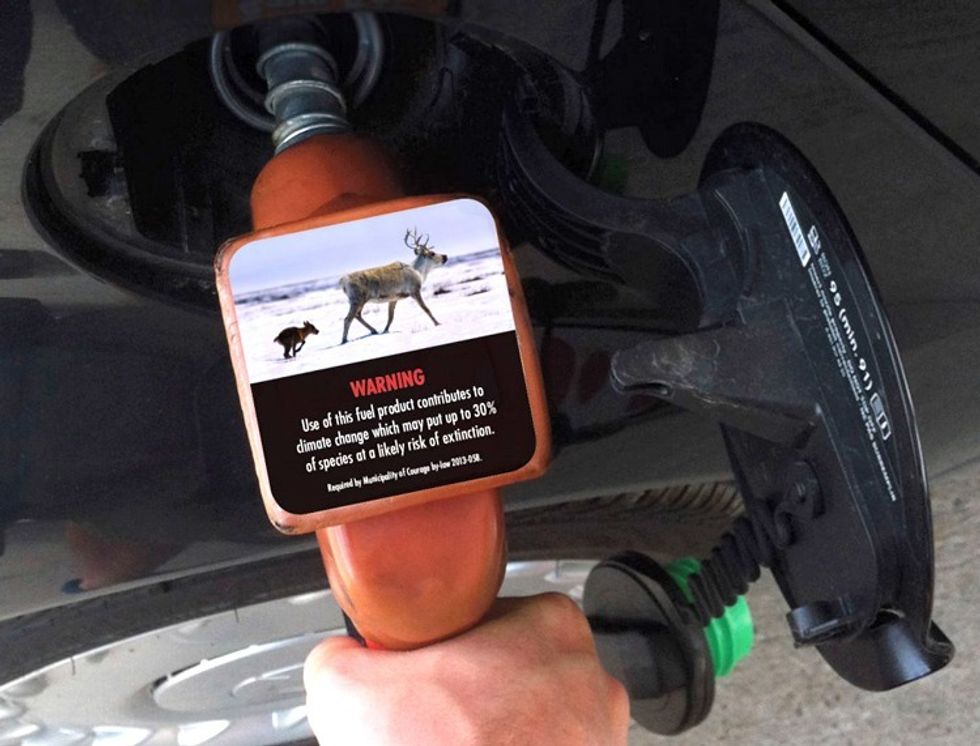 It's a "historic global first," said Rob Shirkey, the founder of the nonprofit Our Horizon which lobbied for the law. He told CBC News that "other Canadian and American cities have come close by supporting similar initiatives, but the city of North Vancouver is the first to make it mandatory." San Francisco, Berkeley and Seattle have all recently considered instituting warning labels.
Passed! Proud to support this initiative in @CityOfNorthVan and further our leadership in #climatechange https://t.co/t7rofGmdCn

— Linda Buchanan (@Linda Buchanan)1447733195.0
CONGRATS @CityOfNorthVan on just passing #bylaw8437, becoming 1st in Canada to require #climatechange labels on gas pumps! @OurHorizonOrg

— Anthony Ho (@Anthony Ho)1447732964.0
The city council still has to approve designs for the stickers, which they are hoping to do by early next year. Once they do, they will require gas pumps to have them as part of a business license. City staff are currently working on pitching ideas for the exact message of the sticker. City officials don't think that residents of North Vancouver are going to just abandon their cars overnight, but they're hoping it will shift the way they think about climate change.
"[The goal] is not to have someone drop the pump and walk away from the vehicle," Shirkey explained. "We have a habitual automatic downstream behavior—we don't think about pumping gas. We all say in Canada, 'shame on Alberta, shame on tar sands,' but by pointing finger up-stream, we distance ourselves from the problem. We're providing most of the demand for that product."
In other words, they're hoping the stickers remind residents of their own complicity in causing climate change and start to change people's behavior. It's important to offer "pragmatic solutions an ordinary person could implement," said North Vancouver Mayor Darrell Mussatto.
"The message is that burning fossil fuels causes climate change and … to add a positive spin, here are some tips when using your automobile on how to make it more fuel efficient," Mussatto added. "I couldn't live without my vehicle, but I can certainly reduce the number of trips I do use it for."
Shirkey cautioned, though, that the city shouldn't "shy away from negative messaging" too much. He said it's been an effective strategy for health warnings on cigarettes. "If it's too positive, which is what the industry is advocating for, then we're avoiding the problem and not addressing the issue of climate change," Shirkey said.
The stickers will cost the city between $3,000 and $5,000 to make. Here are some sample messages from a city staff report:
Benefits of active transportation: "Walking has zero GHG emissions and improves your health"

Electric vehicle incentives: "Get $5,000 towards a purchase of a new electric car"

B.C. Scrap-It program: "Trade in your clunker for a transit pass worth $1,360"

Facts about vehicle idling: "Idling your vehicle for more than 10 seconds wastes more gas than restarting your engine"

Facts about climate change: "Burning fossil fuel contributes to climate change"
Our Horizon also offered some ideas: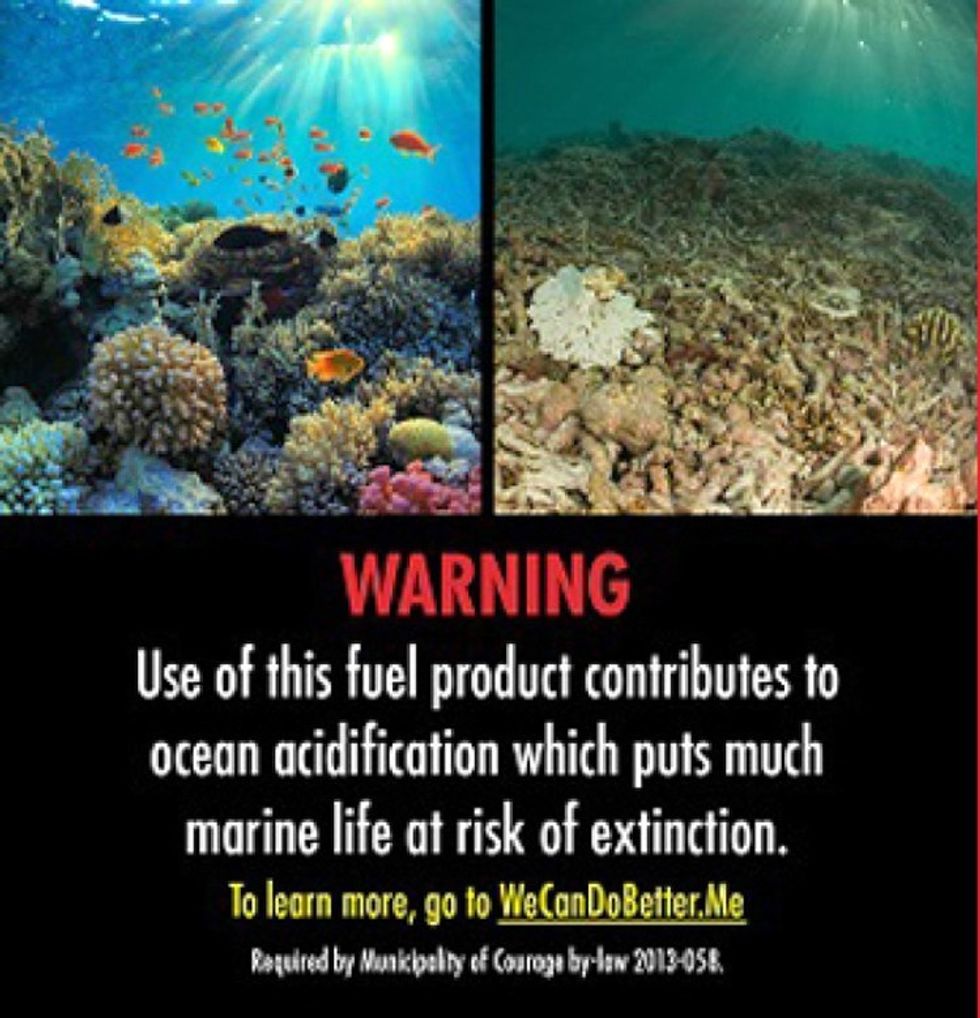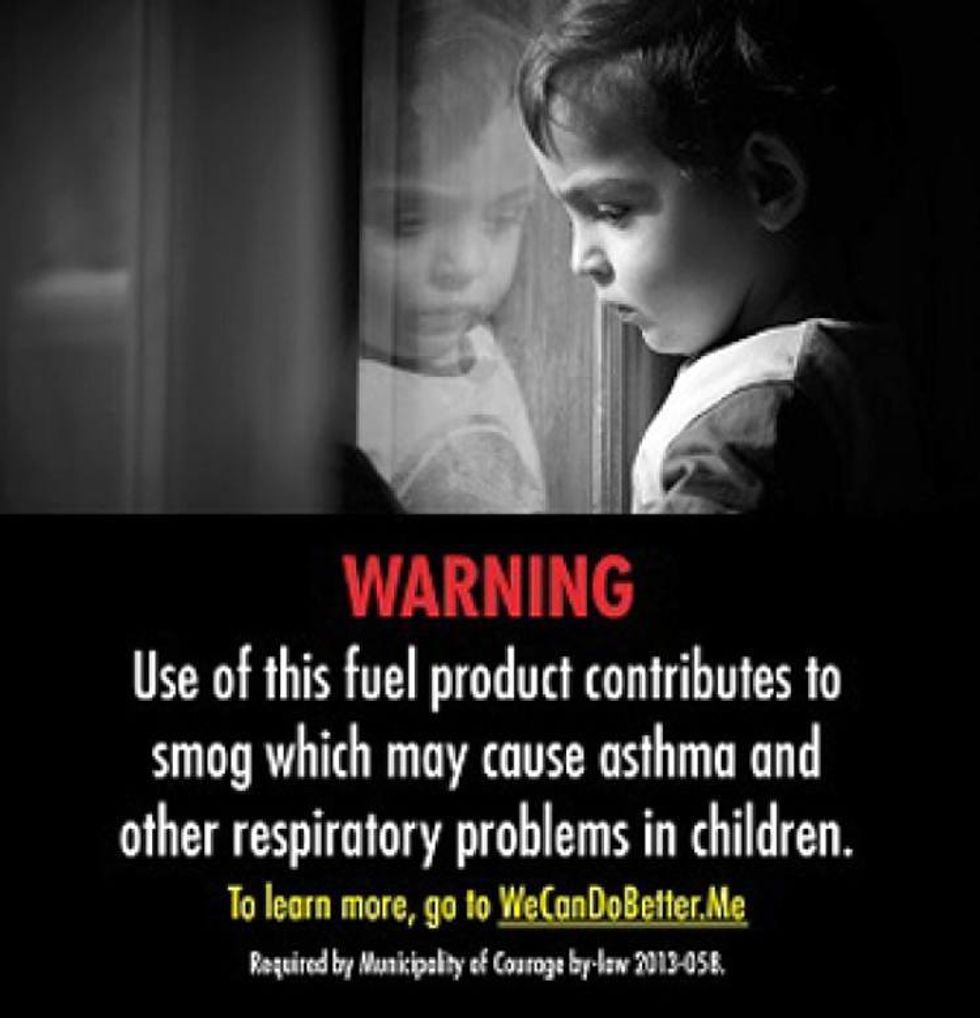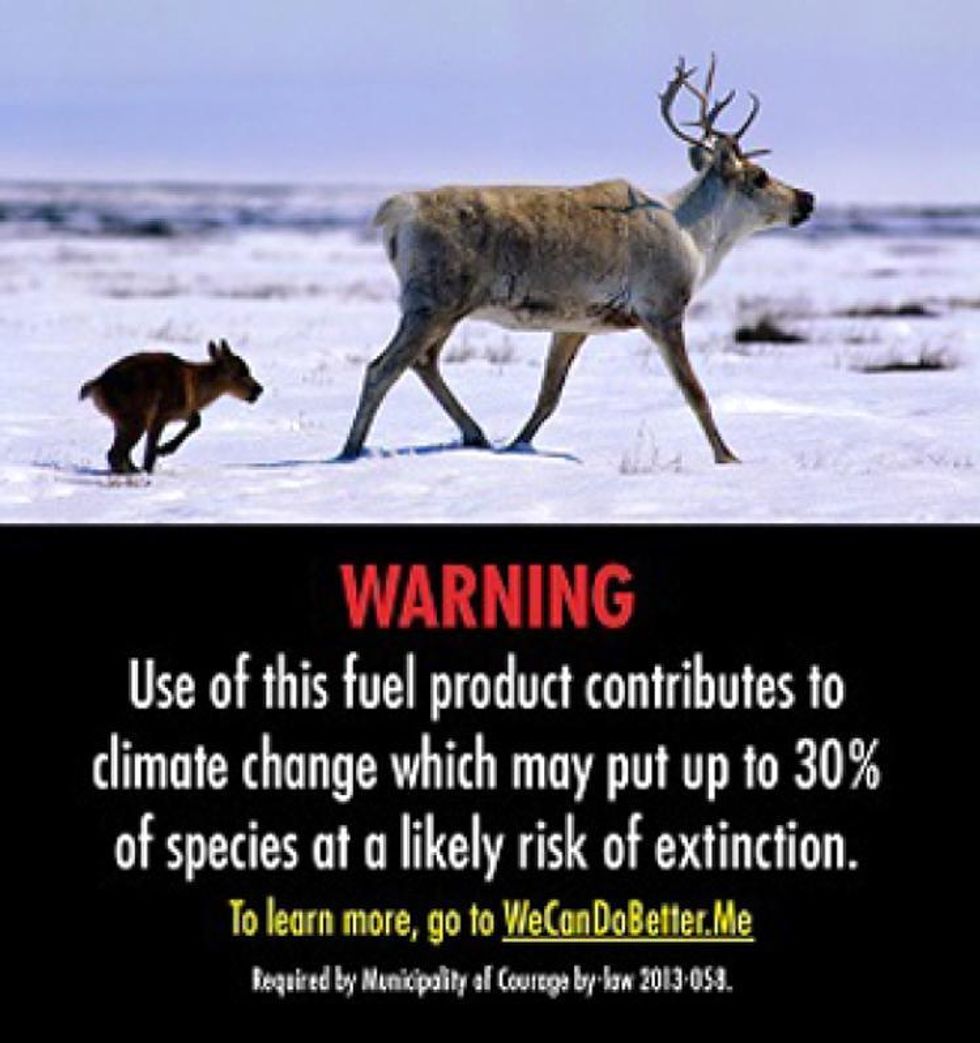 YOU MIGHT ALSO LIKE
NASA Carbon Map Shows Which Countries are Polluting the World
4 U.S. Cities That Have Gone 100% Renewable
10 Photos Show the Reality of a Warming Planet
Bernie Sanders: 'Climate Change Is Directly Related to the Growth of Terrorism'
EcoWatch Daily Newsletter
Related Articles from EcoWatch
Recent Stories from EcoWatch