This website uses cookies to ensure you get the best experience while browsing it. By clicking 'Got It' you're accepting these terms.
They're Back: 17-Year Cicadas to Blanket Northeastern U.S.
Jun. 01, 2016 10:35AM EST
Food
Roughly a billion cicadas will soon take over parts of Ohio, West Virginia, Virginia, Pennsylvania, Maryland and New York, filling the air with their raucous mating call.
Brood V cicadas, just one of type of 17-year cicada, have already made their debut in Northeast Ohio, according to Cleveland.com. While Ohio will definitely see cicadas in 2016, other states may have a year or two of waiting, according to a U.S. Department of Agriculture (USDA) Forest Service map. Most of western Pennsylvania, for example, has three more years before the cicadas take over its counties, CBS Pittsburgh reported.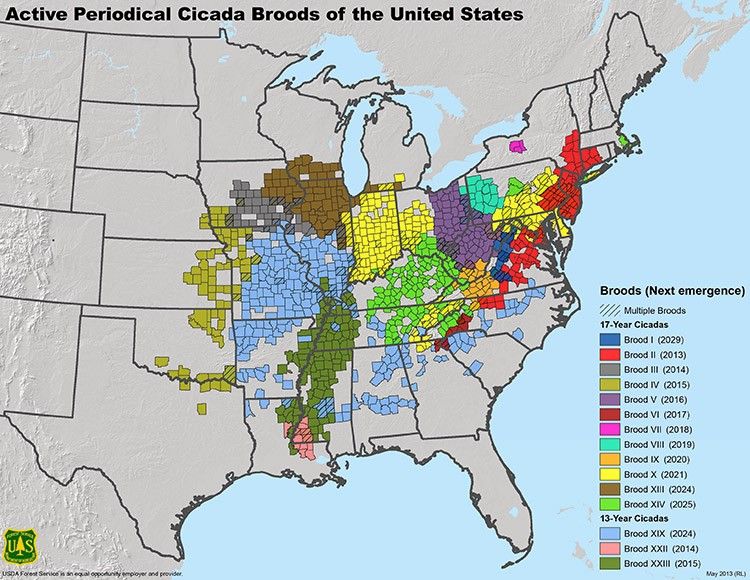 Photo credit: USDA Forest Service
Cicadas may be a nuisance to humans, and a terror for those who aren't big fans of flying bugs, but their emergence is actually beneficial to the environment. Laying their eggs in the trees provides a natural pruning that increases tree growth—though, the process can damage young trees. (To prevent this, simply cover the saplings with netting and they should survive, Jim Fredericks, chief entomologist with the National Pest Management Association, told U.S. News and World Report.) Cicadas' burrows aerate the soil and their decaying bodies provide nutrients.
The invasion only lasts six weeks. Once the baby cicadas, also called nymphs, have hatched from their eggs in the trees, they'll fall to the ground and burrow into the soil, not emerging for another 17 years. Underground they survive off moisture from tree roots. Cicadas don't eat solid food.
Speaking of food. The adult cicadas are a gluten-free, low-fat, low-carb source of protein. They're a favorite treat of dogs and cats. They're "like Hershey's Kisses falling from the sky" for our four-legged companions, Gene Kritsky, a cicada expert at Cincinnati's College of Mount St. Joseph, told U.S. News and World Report.
Humans can eat them, too. American Indians used cicadas as a food source and several countries such as China still eat them served deep-fried. Many Americans see the cicada invasion as chance for a culinary experiment as well.
The Rising Creek Bakery in Mount Morris, Pennsylvania, is making special cookies and custard to mark the 17-year occasion. Bakers freeze cicadas, remove their wings and coat them in sugar before placing them on top of a chocolate chip cookie or custard with caramel sauce, CBS Pittsburgh reported.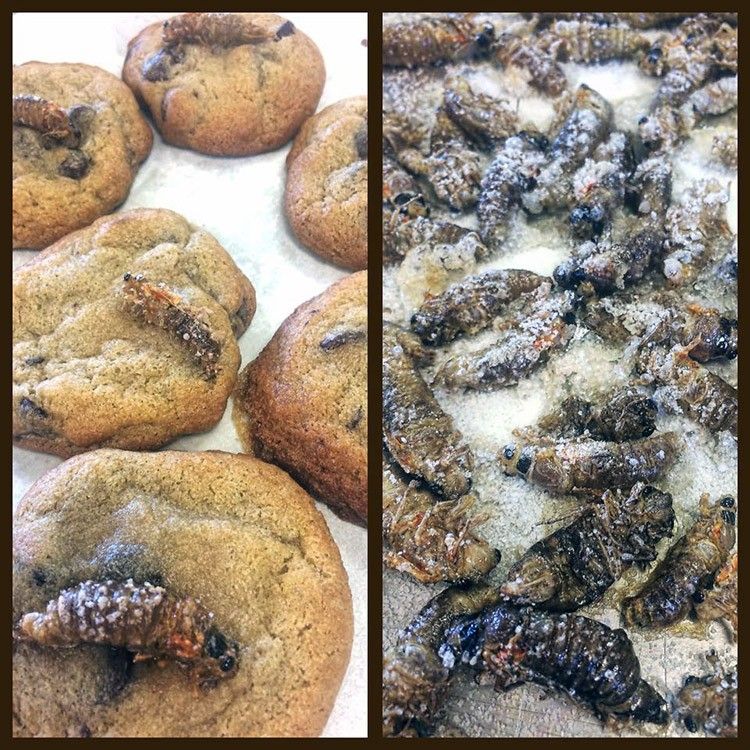 Photo credit: Rising Creek Bakery, Facebook
Another Pennsylvanian—Phil Enck, chef instructor and assistant professor at the Art Institute of Pittsburg—has prepared cicadas in multiple ways since the early 2000s. The first recipe he attempted was inspired by a Charleston shrimp and grits recipe, WESA, Pittsburgh's NPR member station, reported.
"We ground some of them up and we served some of them whole and once you get past the aesthetic of it, it was quite good," he told WESA. "The cicada itself kind of has the texture of a boiled peanut."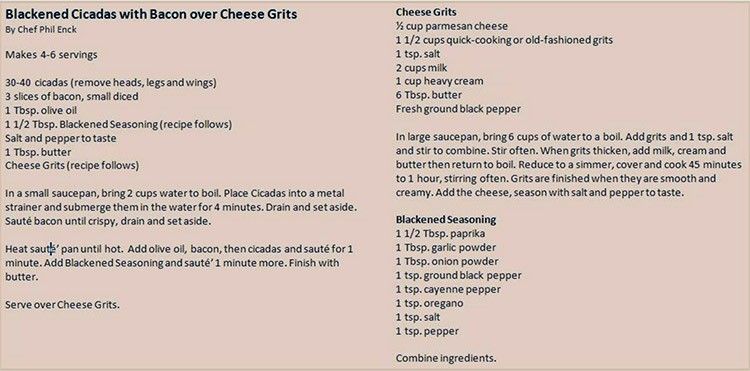 Recipe by Phil Enck
Recipes for chocolate-covered cicadas, crispy wok tossed cicadas, cicada pizza and cicada cookies are available on Cleveland.com.
If your mouth isn't watering at the thought of boiled or baked cicadas, don't worry. Here are some non-food related cicada facts for you to enjoy:
Cicadas, though often referred to as locusts, aren't locusts. Real locusts look like grasshoppers.
Only the males make the infamous cicada sound. They do so by rapidly vibrating drum-like tymbals on the sides of their abdomen.
Be aware you may get a few visitors if you're using a power tool or lawn mower. Cicadas can confuse the machine's noise for other cicadas.
Cicadas have five eyes.
"Honey dew" or "cicada rain" is really cicada urine.
They are cold-blooded, using their dark skin to absorb heat from the sun.
The 13-year and 17-year cicadas emerge at the same time every 221 years.
Raw cicadas taste like cold canned asparagus.
Cicadas don't bite or sting and aren't poisonous.
Chris Simon, a professor of ecology and evolutionary biology at the University of Connecticut–Storrs, talked to NPR's Jeremy Hobson on Here & Now about the behavior and history of Brood V cicadas. Listen here:
EcoWatch Daily Newsletter
United Nations Secretary-General Antonio Guterres speaks at a news conference at UN headquarters on Sept. 18. Drew Angerer / Getty Images
A vegan diet can improve your health, but experts say it's important to keep track of nutrients and protein. Getty Images
By Dan Gray
Research shows that 16 weeks of a vegan diet can boost the gut microbiome, helping with weight loss and overall health.
A healthy microbiome is a diverse microbiome. A plant-based diet is the best way to achieve this.
It isn't necessary to opt for a strictly vegan diet, but it's beneficial to limit meat intake.
New research shows that following a vegan diet for about 4 months can boost your gut microbiome. In turn, that can lead to improvements in body weight and blood sugar management.
Students gathered at the National Mall in Washington DC, Sept. 20. NRDC
By Jeff Turrentine
Nearly 20 years have passed since the journalist Malcolm Gladwell popularized the term tipping point, in his best-selling book of the same name. The phrase denotes the moment that a certain idea, behavior, or practice catches on exponentially and gains widespread currency throughout a culture. Having transcended its roots in sociological theory, the tipping point is now part of our everyday vernacular. We use it in scientific contexts to describe, for instance, the climatological point of no return that we'll hit if we allow average global temperatures to rise more than 2 degrees Celsius above preindustrial levels. But we also use it to describe everything from resistance movements to the disenchantment of hockey fans when their team is on a losing streak.
samael334 / iStock / Getty Images
Berries are small, soft, round fruit of various colors — mainly blue, red, or purple.
A glacier is seen in the Kenai Mountains on Sept. 6, near Primrose, Alaska. Scientists from the U.S. Geological Survey have been studying the glaciers in the area since 1966 and their studies show that the warming climate has resulted in sustained glacial mass loss as melting outpaced the accumulation of new snow and ice. Joe Raedle / Getty Images
By Mark Mancini
On Aug. 18, Iceland held a funeral for the first glacier lost to climate change. The deceased party was Okjökull, a historic body of ice that covered 14.6 square miles (38 square kilometers) in the Icelandic Highlands at the turn of the 20th century. But its glory days are long gone. In 2014, having dwindled to less than 1/15 its former size, Okjökull lost its status as an official glacier.
Members of Chicago Democratic Socialists of America table at the Logan Square Farmers Market on Aug. 18. Alex Schwartz
By Alex Schwartz
Among the many vendors at the Logan Square Farmers Market on Aug. 18 sat three young people peddling neither organic vegetables, gourmet cheese nor handmade crafts. Instead, they offered liberation from capitalism.
Hackney primary school students went to the Town Hall on May 24 in London after school to protest about the climate emergency. Jenny Matthews / In Pictures / Getty Images