This website uses cookies to ensure you get the best experience while browsing it. By clicking 'Got It' you're accepting these terms.
They're Back: 17-Year Cicadas to Blanket Northeastern U.S.
Jun. 01, 2016 11:35AM EST
Food
Roughly a billion cicadas will soon take over parts of Ohio, West Virginia, Virginia, Pennsylvania, Maryland and New York, filling the air with their raucous mating call.
Brood V cicadas, just one of type of 17-year cicada, have already made their debut in Northeast Ohio, according to Cleveland.com. While Ohio will definitely see cicadas in 2016, other states may have a year or two of waiting, according to a U.S. Department of Agriculture (USDA) Forest Service map. Most of western Pennsylvania, for example, has three more years before the cicadas take over its counties, CBS Pittsburgh reported.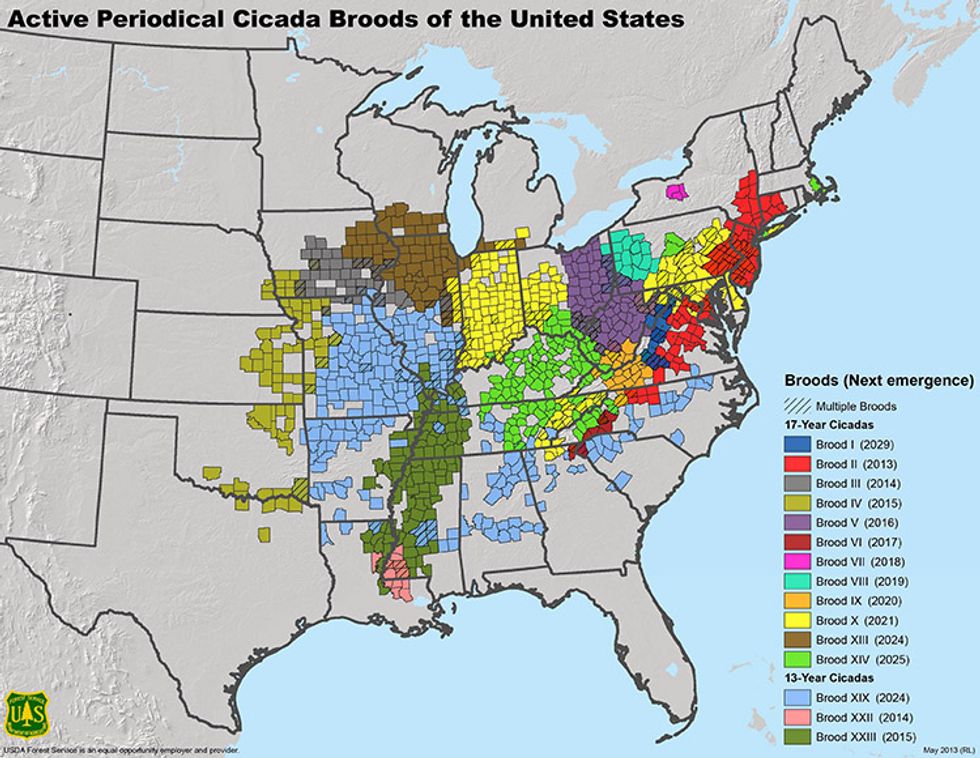 Photo credit: USDA Forest Service
Cicadas may be a nuisance to humans, and a terror for those who aren't big fans of flying bugs, but their emergence is actually beneficial to the environment. Laying their eggs in the trees provides a natural pruning that increases tree growth—though, the process can damage young trees. (To prevent this, simply cover the saplings with netting and they should survive, Jim Fredericks, chief entomologist with the National Pest Management Association, told U.S. News and World Report.) Cicadas' burrows aerate the soil and their decaying bodies provide nutrients.
The invasion only lasts six weeks. Once the baby cicadas, also called nymphs, have hatched from their eggs in the trees, they'll fall to the ground and burrow into the soil, not emerging for another 17 years. Underground they survive off moisture from tree roots. Cicadas don't eat solid food.
Speaking of food. The adult cicadas are a gluten-free, low-fat, low-carb source of protein. They're a favorite treat of dogs and cats. They're "like Hershey's Kisses falling from the sky" for our four-legged companions, Gene Kritsky, a cicada expert at Cincinnati's College of Mount St. Joseph, told U.S. News and World Report.
Humans can eat them, too. American Indians used cicadas as a food source and several countries such as China still eat them served deep-fried. Many Americans see the cicada invasion as chance for a culinary experiment as well.
The Rising Creek Bakery in Mount Morris, Pennsylvania, is making special cookies and custard to mark the 17-year occasion. Bakers freeze cicadas, remove their wings and coat them in sugar before placing them on top of a chocolate chip cookie or custard with caramel sauce, CBS Pittsburgh reported.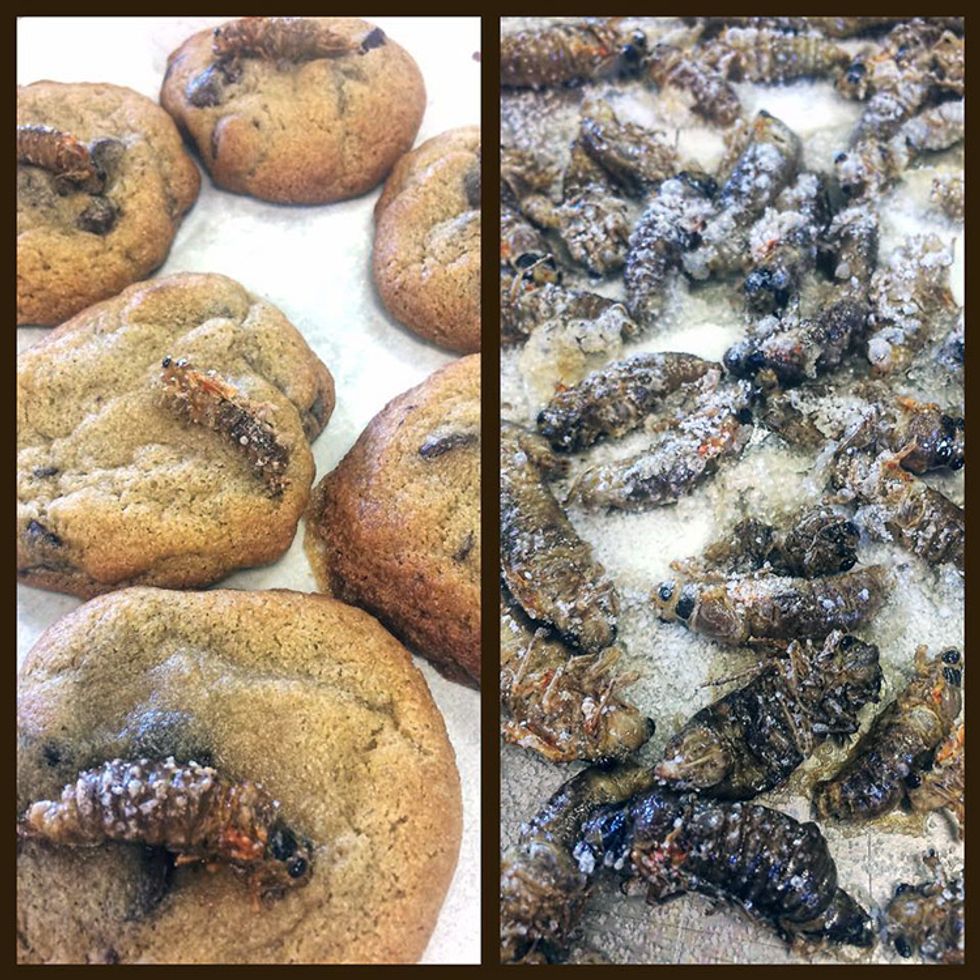 Photo credit: Rising Creek Bakery, Facebook
Another Pennsylvanian—Phil Enck, chef instructor and assistant professor at the Art Institute of Pittsburg—has prepared cicadas in multiple ways since the early 2000s. The first recipe he attempted was inspired by a Charleston shrimp and grits recipe, WESA, Pittsburgh's NPR member station, reported.
"We ground some of them up and we served some of them whole and once you get past the aesthetic of it, it was quite good," he told WESA. "The cicada itself kind of has the texture of a boiled peanut."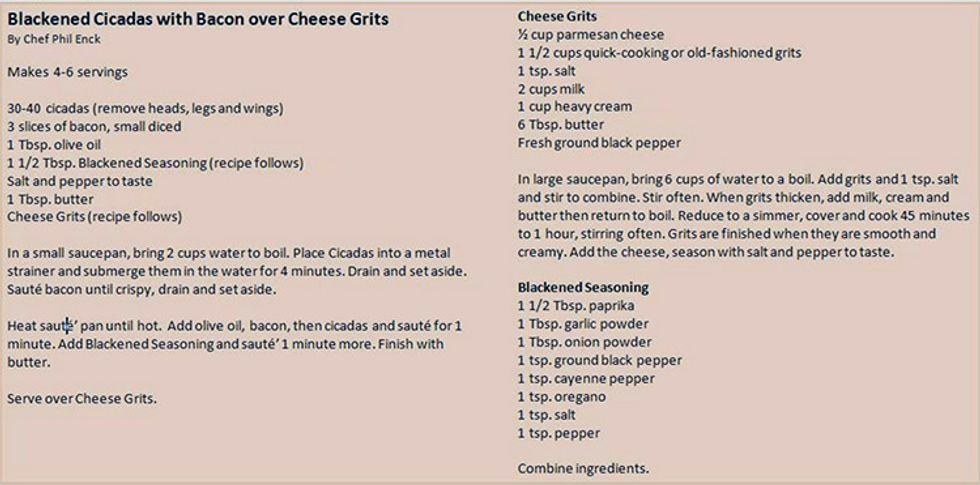 Recipe by Phil Enck
Recipes for chocolate-covered cicadas, crispy wok tossed cicadas, cicada pizza and cicada cookies are available on Cleveland.com.
If your mouth isn't watering at the thought of boiled or baked cicadas, don't worry. Here are some non-food related cicada facts for you to enjoy:
Cicadas, though often referred to as locusts, aren't locusts. Real locusts look like grasshoppers.
Only the males make the infamous cicada sound. They do so by rapidly vibrating drum-like tymbals on the sides of their abdomen.
Be aware you may get a few visitors if you're using a power tool or lawn mower. Cicadas can confuse the machine's noise for other cicadas.
Cicadas have five eyes.
"Honey dew" or "cicada rain" is really cicada urine.
They are cold-blooded, using their dark skin to absorb heat from the sun.
The 13-year and 17-year cicadas emerge at the same time every 221 years.
Raw cicadas taste like cold canned asparagus.
Cicadas don't bite or sting and aren't poisonous.
Chris Simon, a professor of ecology and evolutionary biology at the University of Connecticut–Storrs, talked to NPR's Jeremy Hobson on Here & Now about the behavior and history of Brood V cicadas. Listen here:
EcoWatch Daily Newsletter
The CDC has emphasized that washing hands with soap and water is one of the most effective ways to prevent the spread of COVID-19. Guido Mieth / Moment / Getty Images
The Centers for Disease Control has emphasized that washing hands with soap and water is one of the most effective measures we can take in preventing the spread of COVID-19. However, millions of Americans in some of the most vulnerable communities face the prospect of having their water shut off during the lockdowns, according to The Guardian.
A California newt (Taricha torosa) from Napa County, California, USA. Connor Long /
CC BY-SA 3.0
Aerial photos of the Sierra Nevada — the long mountain range stretching down the spine of California — showed rust-colored swathes following the state's record-breaking five-year drought that ended in 2016. The 100 million dead trees were one of the most visible examples of the ecological toll the drought had wrought.
Now, a few years later, we're starting to learn about how smaller, less noticeable species were affected.
Disinfectants and cleaners claiming to sanitize against the novel coronavirus have started to flood the market.
Natthawat / Moment / Getty Images
Disinfectants and cleaners claiming to sanitize against the novel coronavirus have started to flood the market, raising concerns for the U.S. Environmental Protection Agency (EPA), which threatened legal recourse against retailers selling unregistered products, according to The New York Times.
A customer packs groceries in reusable bags at a NYC supermarket on March 1, 2020. Eduardo Munoz Alvarez/Getty Images
The global coronavirus pandemic has thrown our daily routine into disarray. Billions are housebound, social contact is off-limits and an invisible virus makes up look at the outside world with suspicion. No surprise, then, that sustainability and the climate movement aren't exactly a priority for many these days.
Ingredients are displayed for the Old School Pinto Beans from the Decolonize Your Diet cookbook by Luz Calvo and Catriona Rueda Esquibel. Melissa Renwick / Toronto Star via Getty Images
By Molly Matthews Multedo
Livestock farming contributes to global warming, so eating less meat can be better for the climate.