This website uses cookies to ensure you get the best experience while browsing it. By clicking 'Got It' you're accepting these terms.
They're Back: 17-Year Cicadas to Blanket Northeastern U.S.
Jun. 01, 2016 10:35AM EST
Food
Roughly a billion cicadas will soon take over parts of Ohio, West Virginia, Virginia, Pennsylvania, Maryland and New York, filling the air with their raucous mating call.
Brood V cicadas, just one of type of 17-year cicada, have already made their debut in Northeast Ohio, according to Cleveland.com. While Ohio will definitely see cicadas in 2016, other states may have a year or two of waiting, according to a U.S. Department of Agriculture (USDA) Forest Service map. Most of western Pennsylvania, for example, has three more years before the cicadas take over its counties, CBS Pittsburgh reported.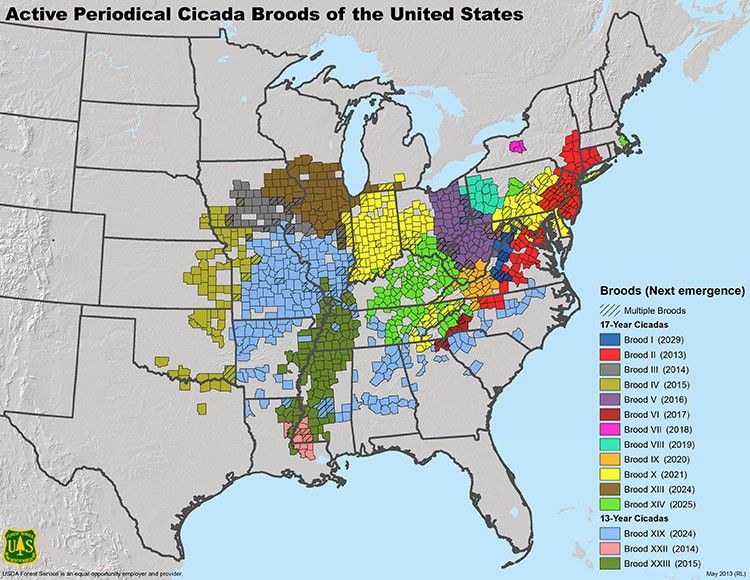 Photo credit: USDA Forest Service
Cicadas may be a nuisance to humans, and a terror for those who aren't big fans of flying bugs, but their emergence is actually beneficial to the environment. Laying their eggs in the trees provides a natural pruning that increases tree growth—though, the process can damage young trees. (To prevent this, simply cover the saplings with netting and they should survive, Jim Fredericks, chief entomologist with the National Pest Management Association, told U.S. News and World Report.) Cicadas' burrows aerate the soil and their decaying bodies provide nutrients.
The invasion only lasts six weeks. Once the baby cicadas, also called nymphs, have hatched from their eggs in the trees, they'll fall to the ground and burrow into the soil, not emerging for another 17 years. Underground they survive off moisture from tree roots. Cicadas don't eat solid food.
Speaking of food. The adult cicadas are a gluten-free, low-fat, low-carb source of protein. They're a favorite treat of dogs and cats. They're "like Hershey's Kisses falling from the sky" for our four-legged companions, Gene Kritsky, a cicada expert at Cincinnati's College of Mount St. Joseph, told U.S. News and World Report.
Humans can eat them, too. American Indians used cicadas as a food source and several countries such as China still eat them served deep-fried. Many Americans see the cicada invasion as chance for a culinary experiment as well.
The Rising Creek Bakery in Mount Morris, Pennsylvania, is making special cookies and custard to mark the 17-year occasion. Bakers freeze cicadas, remove their wings and coat them in sugar before placing them on top of a chocolate chip cookie or custard with caramel sauce, CBS Pittsburgh reported.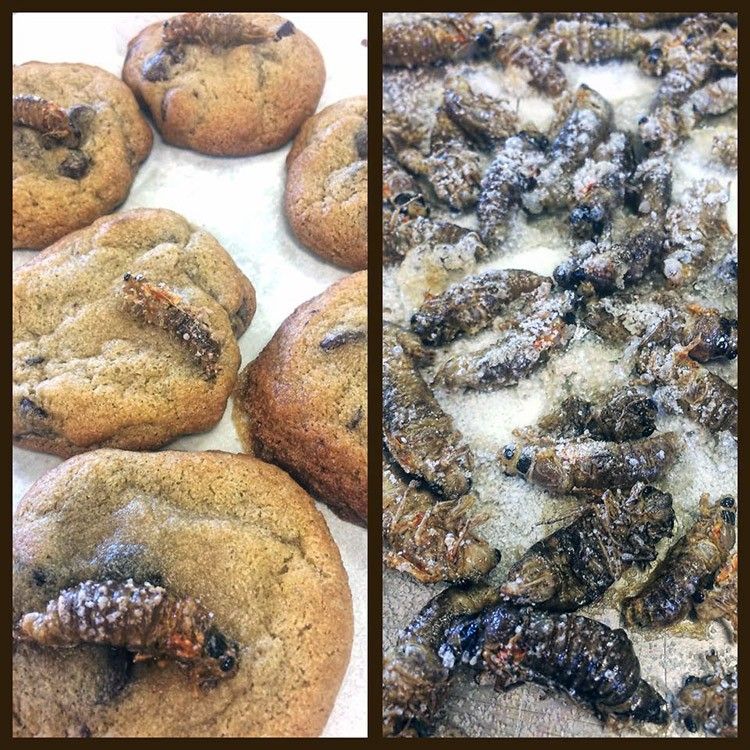 Photo credit: Rising Creek Bakery, Facebook
Another Pennsylvanian—Phil Enck, chef instructor and assistant professor at the Art Institute of Pittsburg—has prepared cicadas in multiple ways since the early 2000s. The first recipe he attempted was inspired by a Charleston shrimp and grits recipe, WESA, Pittsburgh's NPR member station, reported.
"We ground some of them up and we served some of them whole and once you get past the aesthetic of it, it was quite good," he told WESA. "The cicada itself kind of has the texture of a boiled peanut."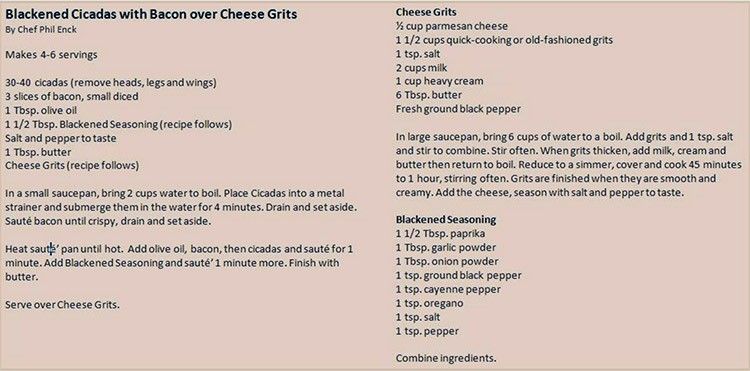 Recipe by Phil Enck
Recipes for chocolate-covered cicadas, crispy wok tossed cicadas, cicada pizza and cicada cookies are available on Cleveland.com.
If your mouth isn't watering at the thought of boiled or baked cicadas, don't worry. Here are some non-food related cicada facts for you to enjoy:
Cicadas, though often referred to as locusts, aren't locusts. Real locusts look like grasshoppers.
Only the males make the infamous cicada sound. They do so by rapidly vibrating drum-like tymbals on the sides of their abdomen.
Be aware you may get a few visitors if you're using a power tool or lawn mower. Cicadas can confuse the machine's noise for other cicadas.
Cicadas have five eyes.
"Honey dew" or "cicada rain" is really cicada urine.
They are cold-blooded, using their dark skin to absorb heat from the sun.
The 13-year and 17-year cicadas emerge at the same time every 221 years.
Raw cicadas taste like cold canned asparagus.
Cicadas don't bite or sting and aren't poisonous.
Chris Simon, a professor of ecology and evolutionary biology at the University of Connecticut–Storrs, talked to NPR's Jeremy Hobson on Here & Now about the behavior and history of Brood V cicadas. Listen here:
EcoWatch Daily Newsletter
Pexels
The world's population will hit 10 billion in just 30 years and all of those people need to eat. To feed that many humans with the resources Earth has, we will have to cut down the amount of beef we eat, according to a new report by the World Resources Institute.
Beachgoers enjoying a pleasant evening on Georgia's St. Simons Island rushed into the water, despite warnings of sharks, to rescue dozens of short-finned pilot whales that washed ashore on Tuesday evening, according to the New York Times.
Golde Wallingford submitted this photo of "Pure Joy" to EcoWatch's first photo contest. Golde Wallingford
EcoWatch is pleased to announce our third photo contest!

Six Extinction Rebellion protesters were arrested as they blocked off corporations in the UK. The group had increased their actions to week-long nationwide protests.
Sari Goodfriend
By Courtney Lindwall
Across the world, tens of thousands of young people are taking to the streets to protest climate inaction. And at the historic Apollo Theater in Harlem last month, more than a dozen of them took to the stage.
Pumpjacks on Lost Hills Oil Field in California. Arne Hückelheim, Wikimedia Commons
By Julia Conley
A national conservation group revealed Wednesday that President Donald Trump's drilling leases on public lands could lead to the release of more carbon emissions than the European Union contributes in an entire year.
Pixabay
By Marlene Cimons
For nearly a century, scientists thought that malaria could only spread in places where it is really hot. That's because malaria is spread by a tiny parasite that infects mosquitoes, which then infect humans — and this parasite loves warm weather. In warmer climates, the parasite grows quickly inside the mosquito's body. But in cooler climates, the parasite develops so slowly that the mosquito will die before the it is fully grown.
The summit of Mauna Kea in Hawaii, which is considered sacred by some Native Hawaiians. Charmian Vistaunet / Design Pics / Getty Images
A decade-long fight over the proposed construction of a giant telescope on a mountain considered sacred by some Native Hawaiians came to a head Wednesday when 33 elders were arrested for blocking the road to the summit, HuffPost Reported.